NFL Football: Where Are We at the Midway Point?
Yes, Kansas City is the last undefeated team standing, and will be so going into their week 11 matchup against the Denver Broncos, helpfully flexed to NBC's Sunday Night Football for the world to see. Yes, they've yet to allow a single team to score more than 17 points against them, the first team to perform that particular feat since the 1977 Atlanta Falcons. Yes, if the season ended today, the road to the Super Bowl would travel through Arrowhead Stadium.
No, the Kansas City Chiefs are not the best team in football today.

You can give them credit all day long for finding ways to win or toughing their way through tight matchups, but at the end of the day, they're looking a bit lost against what's really been quite a soft schedule. There was a point on Sunday when the Buffalo Bills, led by undrafted rookie quarterback Jeff Tuel, were poised to go up 17-3, before a poor wide receiver screen ended up in Sean Smith's hands and was returned the other way.
Full credit to the defense for being opportunistic, but Tuel had all day in the pocket at times – after starting the season so hot, the defense has really cooled down. The offense was even worse, only managing three field goals all day long.

That's not to say that the Chiefs are a bad time by any means, just that the lack of losses has to be looked at in context – and looking deeper, you see a lack of quality offenses inflating their impressive defensive statistics. Their last 5 games have seen them face off against fourth-stringer Tuel, Jason Campbell, Case Keenum, Terrelle Pryor, and Ryan Fitzpatrick – you have to go back to September to find a quarterback who started this year as the team's top quarterback option.
At a certain point, yes, you can only play who is on your schedule – but against a slate like that, a top team should be dominating, not squeaking out late victories. The bye week comes at a perfect time for Kansas City to regroup before taking on Denver, and they'll need to extra time to help find the spark that was present in their early games. Being the worst 9-0 team ever isn't exactly a bad place to be in – but it doesn't automatically make you the best in 2013, either.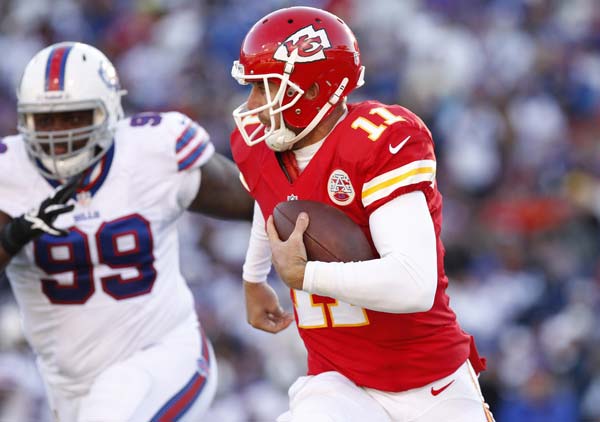 Other observations from week 9:

The New York Jets continued their bizarre pattern of looking competent one week and totally outmatched the next in their win over the Saints. The team has yet to string two results together – they've alternated wins and losses all the way down. Their defense was dominant Sunday, harassing Drew Brees all game long, while their offense played safe, consistent, and smart football, led by ex-Saint Chris Ivory's 139 yards on the ground.

You'd call them a playoff team for sure if it hadn't come on the heels of a 49-9 drubbing last week.Still, in a soft AFC, 8-8 might well be good enough to clinch the last playoff spot, and the Jets certainly look capable of doing that, even if they have to continue the maddening win-loss pattern for the rest of the way.


It's worth noting that since Carolina's thrown caution to the wind and opted to actually use their expensive backfield to attempt to convert fourth down plays, they've yet to lose. No, Minnesota, St. Louis, Tampa Bay, and Atlanta aren't a murderer's row, but they're beginning to build up a head of steam and a sense of continuity, and beginning to get the fans behind them. Like the Chiefs, however, their wins haven't come against the cream of the crop, and the schedule's about to get a bit tougher.

They travel to a rested San Francisco next week, and then have to host Tom Brady and the Patriots coming off of their bye the week after. While they currently sit in the sixth seed slot, it will take more than a fourth down conversion or two for them to stay there over the next two weeks.


Speaking of New England, did they just decide to save all of their points for one game? After struggling to wins over the last two weeks, they opened the flood gates in the second half of their game against Pittsburgh, rolling to a 55-31 shellacking. Tom Brady may have written down the names of each and every sportswriter who insinuated that he had lost a step and set out to prove them wrong with this week's performance.

With 432 yards and four touchdowns, he proved that any reports of his death are greatly exaggerated. Add in three 100-yard receivers and a 100-yard rusher, and we can put those storylines to bed for a week or two. The Patriots, at least for now, cannot be written out as Super Bowl contenders.


We know what Peyton Manning went as for Halloween – Nick Foles. Foles became only the sixth passer to throw for seven touchdowns in one game, and the second this year. He's also the first to do it with a perfect passer rating. It doesn't completely erase the memory of the past few weeks' worth of failed offense in Philadelphia, but it comes close.


Best wishes to both John Fox and Gary Kubiak in their attempts to get well soon. Both suffered medical issues this past week – Fox had to undergo heart surgery to replace an aortic valve, while Kubiak collapsed at halftime of the Sunday Night game. Here's hoping both of them have no lasting effects from this week's health scares and will be back on the sidelines soon.

What do you think?
We'd love to hear your comments and/or opinions. If you submit them here, other visitors can read them, rate them and comment on them. An e-mail address is not required.
From NFL Football: Where Are We at the Midway Point to NFL Football Blog