NFL Football Week 2: Highs and Lows
After two weeks, one thing appears clear:
The Denver Broncos are the class of the AFC.

In their first two games, they've scored 90 points against the last two Super Bowl champions. The next highest scoring team, the Packers, only has 66. It hasn't been all offense, either – they have a +40 net points total, tops in the league.
They're only the fourth team to beat the previous two Super Bowl winners in back-to-back weeks, and the first since the '92 Cowboys and '92 Eagles took down the Redskins and Giants to open and close the season, respectively. Perhaps neither Baltimore nor New York are as good as they were when they were world champions, but the point is that the Broncos aren't running up these totals against the Jaguars or Raiders – they're beating at least decent teams, and beating them badly.

The scary part is, they're not even dominating from cover to cover yet. In both their first two games, they started out slowly, up only 10-9 at halftime against the Giants, and trailing 14-17 at the half against Baltimore. While they haven't trailed in the fourth quarter for 11 straight regular season games, this has been a team that's struggled to start early. They have issues with their running game – a fumble from rookie Montee Ball at the goal line kept the Broncos from scoring on their first possession, for example, and it was Knowshon Moreno that took the load on the ground. They were penalized 13 times for 132 yards, keeping Giants drives alive and pushing them back further. There's room to clean some of that up, which is a frightening thought for their rivals in the AFC.

None of their struggles matter, though, when you have Peyton Manning in prime-Manning form. Through two games, he has 769 passing yards, 9 touchdowns, and zero interceptions. It's not just that he's throwing for insane yardage – he's protecting the ball while doing it. No one's ever thrown for more yards to open a season without turning the ball over, nor has anyone thrown as many touchdowns without turning the ball over.

His receivers have been benefiting, too, as Manning isn't just getting them the ball, he's getting it to them in space. For the second consecutive week, they went over 100 yards after the catch as they surgically destroyed the Giants secondary, aided by an offensive line that didn't allow a single sack.

"I feel at times we got to the quarterback, but we just didn't get a handle on him," Giants defensive end Jason Pierre-Paul said. "I don't feel like we put that kind of pressure on him."

With their next game being a home game against Oakland on Monday night, the Broncos have time to experiment and fix the minor issues they still have to deal with. One thing remains clear, though – with the possible exception of a trip to Foxborough in week 12, the Broncos should be favored in every game they play the rest of this regular season, and the rest of the AFCis trying to catch up.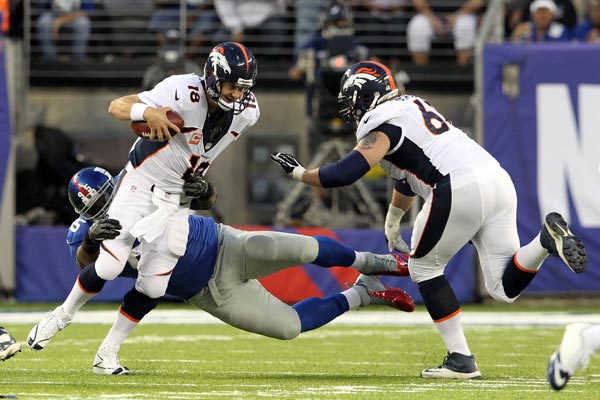 Other observations from the second week of football:
No one beats up on the San Francisco 49ers – if you beat them, its close an hard fought. That is, unless you're the Seattle Seahawks playing at home, where they don't just have the 49ers' number; they appear to have the entire league's. For the second straight time, the 49ers have come up to Seattle for a key divisional battle and left with their tail between their legs. The scoreline got more out of hand at the end of the game than the actual level of play would indicate, but don't let that fool you – the Seahawks physically dominated their Californian rivals from start to finish, shutting down their run game for the second consecutive week and running all over their vaunted rush defense.

This is the same team that struggled to beat Carolina on the road. It will be interesting to see if those were just week 1 jitters or if the gap between their home and road performances really is that large – we won't have a chance to find out, though, until week 4, as this week, they're already favored by 18 points over the visiting Jacksonville Jaguars. If they win the NFC West – and as big as this game was, it'll be matched by the December rematch in San Francisco – I don't see anyone beating them in January in Seattle.


New Orleans took control of the NFC South with a last-second come from behind victory in Tampa Bay. That makes two games in a row the Buccaneers have lost on a last-second field goal, first caused by the Lavonte David late hit, and now caused by settling for a 47-yard field goal attempt that would have allowed the Saints to win with a touchdown even if the made it – which they didn't. Of course that's going to give Drew Brees the time needed to drive the length of the field for the game-winning field goal, even on an off-day in which he threw two picks.

The score shouldn't have been as close as it was, either – the Saints had a 1st and goal at the one at the end of the second half. Their results? Incomplete pass, Ingram stuffed, Thomas stuffed, field goal taken off the board by penalty, Ingram stuffed. Just an idea – when you have one of the three sure-fire first-ballot Hall of Fame quarterbacks in the league, and a hodgepodge of ineffective running backs, throwing, even from the one, might be more successful. You can have that one for free.


Green Bay sure bounced back from their loss against San Francisco, didn't they? Aaron Rodgers tied the franchise record for passing yards on the way to 38-20 victory over Washington. It's kind of nice that Rodgers holds the record now – for a franchise that has started Rodgers, Favre, and Starr, seeing "Matt Flynn" as the single-game record holder felt a little off. They also got off the 44-game streak of not having a 100 yard rusher, as James Starks, who came in after Eddie Lacy suffered a concussion, fumbled for 132 yards. This isn't because Starks has suddenly become good, mind you – he was around for most of that streak, remember. This is more because Washington is falling apart at the seams.

This is the second week in a row they've been blown out of the water in the first half – which may not have been as big of a deal if RGIII was right, which he clearly isn't.  I don't think it's time to go to Kirk Cousins yet, though, despite my documented man-crush. RGIII needs to play through the rust and get over the mental hurdles that come from a devastating injury like this one. Not everyone is Adrian Peterson, able to go back to full speed immediately after a devastating injury – heck, Adrian Peterson wasn't at full speed until about halfway through the season last year, either. It does look, though, like the injury that ended Washington's 2012 season has put a damper on their 2013, as well.

What do you think?
We'd love to hear your comments and/or opinions. If you submit them here, other visitors can read them, rate them and comment on them. An e-mail address is not required.