NFL Football Midseason All-Pro Team
With half of the NFL season over, it's time to take a quick look around the league for a potential all-pro team.  This early in the season, all spots are still up for grabs, so rather than a full in-depth look, here's just a quick wrap-around to each position.
QB—Peyton Manning, Denver

Could there be any doubt?  No need to spin a roulette wheel on this one.  Although things have cooled off since his molten hot start to the season, his 29-6 TD to INT ratio is astounding, and he leads the league in yards and quarterback rating as well.  He can't move at all anymore – that crazy bootleg for a touchdown not withstanding – but who needs rushing yards when you've got a laser-rocket arm?

Runners-up: Aaron Rodgers, Green Bay; Philip Rivers, San Diego


RB—LeSean McCoy, Philadelphia

Maybe Chip Kelly's offense hasn't exactly set the world on fire, but it's sure done wonders for McCoy's career, as he leads the league in rushing through the halfway point.  It's not all blocking and scheme, though – he's forced 39 missed tackles as he continues to jump crazily around the field.  At over 1,000 yards from scrimmage already, he's the clear favorite to hold this spot the rest of the way.  Now, if only he could pass block.

Runners-up: Giovanni Bernard, Cincinnati; Jamaal Charles, Kansas City; Adrian Peterson, Minnesota; Marshawn Lynch, Seattle


FB – Anthony Sherman, Kansas City

Fullbacks are a dying breed, with only a dozen teams using one even half-time on the field at this point.  Sherman's been a bit of an outlet option for Alex Smith in the pass game, but he shines where a fullback traditionally has – blocking.  He's been paving the way for Jamaal Charles all year long, and while he's not exactly irreplaceable, he's played a valuable role in Kansas City's 9-0 start.


WR—Brandon Marshall, Chicago; Calvin Johnson, Detroit

No need to leave the NFC North for this one.  Johnson's putting up the highlight reel catches; keeping him off of a list like that would be cruel and unusual, even if he wasn't top three in all relevant receiving stats.  Even with his injuries so far this year, his raw stats – 821 yards and seven touchdowns despite often being triple covered – are enough to get him on this list.  Marshall's more of a slot receiver in the middle of the field and, just looking at raw catch totals, you may wonder why he's here instead of one of the other 800+ yard club members.

There is more to the position than just receiving – his run blocking on sweeps and other outside plays has been exemplary, and he's yet to have a single bad game.  That's enough to have him stand out over a crowded field.

Runners-up: Jordy Nelson, Green Bay; Andre Johnson, Houston; Antonio Brown, Pittsburgh; Wes Welker, Denver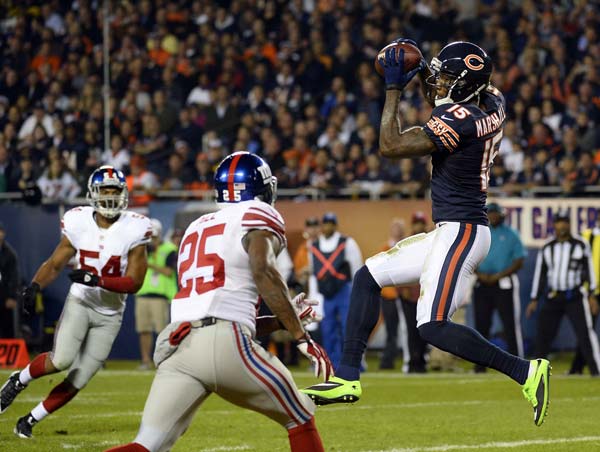 TE—Ben Hartsock, Carolina

Hartsock will not have this position in the final team, nor will he make the pro bowl, nor will he get much recognition.  I'll put one of the pass catching threats above him when we make the final team.  I just wanted an old-school blocking tight end to get his due.  With Jimmy Graham and Tony Gonzalez catching pass after pass in his own division, it's hard for someone who's yet to have a pass thrown at him get any press.

Yet, in Pro Football Focus' ratings, Hartsock has earned a 12.0 as a run blocker – by comparison, the next best blocking tight end, Ben Watson, is at 3.5.  That level of dominance deserves a tip of the hat, even if it's only temporary.

Runners-up:  Vernon Davis, San Francisco; Tony Gonzalez, Atlanta


OT—Nate Solder, New England; Joe Staley, San Francisco

Both are left tackles, so in 'reality', they wouldn't start on the same team.  Still – Staley has only allowed two sacks and seven QB hurries all season long, while paving the way for Frank Gore to produce for a team that's found no passing game though the first half of the year.  Solder's allowed Brady to get a little more scuffed up, but he's only in his second season, and has looked like a fixture for the next decade and a half.

Runner-up: Jordan Gross, Carolina


OG—Evan Mathis, Philadelphia; Louis Vasquez, Denver

Mathis is the best guard in football at the moment, and it's not even close – his play has reflected his athleticism, as well.  With Todd Herremans at the other slot, there's not a better pair of guards in the league at paving ways for the run game.  When it comes to the pass game, Vasquez hasn't let his quarterback get hit even once so far this season – one of only five starting guards who can claim that particular statistic at this point in the season.  Add in a solid performance in the run game, as well as the degree of difficulty considering the injuries along Denver's offensive line, and he earns the second nod.

Runner-up: David DeCastro, Pittsburgh


C—Chris Myers, Houston

It's not his fault his quarterbacks keep throwing it to the wrong team.  He's also kept his quarterbacks off the ground, and has been impactful in the Texans' zone-blocking system.  It's a shame the talent around him hasn't played up to his level; which is why don't go to a casino online and bet on Houston.

Runner-up: Manny Ramirez, Denver


PASS RUSHERS – Robert Quinn, St. Louis; Justin Houston, Kansas City

They don't technically play the same position – Quinn's a 4-3 defensive end while Houston sits as an outside linebacker in a 3-4 system – but they both play the same role – kill the quarterback.  Quinn has 10 sacks and 14 hurries, leading all defensive linemen despite having to chase down the likes of Colin Kaepernick and Russell Wilson.  Houston's 11 sacks don't lead the outside linebacker position, but his 36 hurries show that he's a disruptive force, whether he actually reaches the spot or not. Fire up tape of his day in Philadelphia in week 3 – that's about as good of a performance as you're going to see in the NFL.

Runners-up: Michael Bennett, Seattle; Michael Johnson, Cincinnati; Robert Mathis, Indianapolis


DEFENSIVE LINE—JJ Watt, Houston; Gerald McCoy, Tampa Bay; Muhammad Wilkerson, NY Jets

Watt's a no-brainer; he's unstoppable. He's not having the physics-defying season he had least year, but he's still the favorite to win defensive player of the year – again.  People overlook McCoy because the Buccaneers have no wins, but I think people would be surprised if they looked at the tape – McCoy's a human force of nature, the only Buccaneer contributing on the defensive line.  Only NdamukongSuh gets more pressure than he does, and McCoy does a much better job at clogging up the run lanes.  Wilkerson finishes off the line, having yet another fine season in New York.

Runner-up: Randy Starks, Miami


LB – Lavonte David, Tampa Bay; Sean Lee, Dallas

Two Tampa Bay players on my starting team?  It hasn't been the defense that has kept Tampa Bay out of the win column in 2013.  David's five sacks and five passes defended lead all 4-3 outside linebackers.  Lee is good in all aspects of the game – he doesn't have the rush liabilities of a Kiko Alonso, the coverage issues of a Brandon Spikes, or the run game issues of NaVorro Bowman.  Hence, he gets the nod.

Runners-up: Derrick Johnson, Kansas City; Malcom Smith, Seattle; Brandon Spikes, Cincinnati


CB—DarrelleRevis, Tampa Bay; AlterraunVerner, Tennessee

Even those who haven't been watching Tampa Bay have to acknowledge that Revis is still one of the best corners in football – and he's yet to really be at 100% this season due to his injury.  He has only allowed 0.4 yards per cover snap – that's plays where he's in one-on-one coverage – by far leading the league.  Verner leads the league with 17 passes defended, and is part of the best young group of cornerbacks in football.

Runners-up: Jason McCourty, Tennessee; Marcus Cooper, Kansas City; Richard Sherman, Seattle


S—Devin McCourty, New England; TJ Ward, Cleveland

McCourty has taken full advantage of Jairus Byrd's injury to become a solid deep man all season long.  Ward is possibly the best strong safety in football; a force to be reckoned with in the run game.  Take the best at pass coverage and run coverage, and you have your starting safeties.

Runners-up: Eric Berry, Kansas City; Earl Thomas, Seattle; DonteWhitner, San Francisco


ST—Matt Prater, Denver; Johnny Hecker, St. Louis; Cordarrelle Patterson, Minnesota

Prater has more opportunities to kick thanks to Denver's awesome offense, and has yet to miss a field goal.  He's second in the league in kickoff distance, too, though Denver's thin air helps with that.  Hecker leads the league in net return average – his kicks aren't just long, their high enough for his coverage guys to blow plays up quickly.  Patterson only returns kicks, but his two return touchdowns are enough to put him above Trindon Holliday for the general return category – hopefully, the Vikings will figure out some way to use his skills on offense.


What do you think?
We'd love to hear your comments and/or opinions. If you submit them here, other visitors can read them, rate them and comment on them. An e-mail address is not required.
From NFL Football Midseason All-Pro Team to NFL Football Blog