NFL Football and the Summer Olympics
By Bryan Knowles
We're nearly a month out from the opening day of the 2012 NFL season, and yet, I find myself spending more time watching badminton than training camp. The London Olympic Games have been drawing a lot of people's attention, despite the absence of my favorite sport. Watching Michael Phelps rocket back to earth, watching the gymnastics teams alternately succeed (women!) and fail horribly (men!), and watching the British commentators rave about, well, the wrong football has been fascinating.
American Football will, of course, never be an Olympic sport, because I believe to be an Olympic sport, you need to have some competition somewhere, never mind the physical toll a tournament would take or the risk of injury so shortly before an NFL season. While I'd love the arguments over who the starting US quarterback would be (it would be Aaron Rodgers. Sorry, Saints fans), the tournament would be a moot point. It did get me thinking, though, about the international aspects of the NFL. Other than a couple forays against Canadian teams in exhibitions in the 60s and 70s, and the short-lived World League / NFL Europe / NFL Europa minor league system, it's really never caught on as a sport to be played overseas. There's an American Football World Cup, which we've won both the times we've entered, but the fact that you've never heard of it shows how prestigious that is. Our team started Cody Hawkins at quarterback, who couldn't even hold on to his job at Colorado. There is no international competition.
But what if there were? Could we even dredge up one NFL-quality team from the players other countries have sent to the NFL over the years? What would this quasi-Olympic team look like?
...Hey, we're a month from games that actually count, we've got some time to waste on a mental exercise like this.
At quarterback, we're going to Canada, where Team International will be starting Mark Rypien. He was the first Canadian born QB to start in the NFL, and of course led the Redskins during their magical 1991 season. Tim Tebow could count here, too, as he was born in the Philippines- and perhaps an international team might take a more unorthodox style.
The skill positions just indicate the depth of the problem we have here - most of the athletes who would fit in a skill position end up playing sports like soccer in other countries. Couldn't you see Cristiano Ronaldo complaining that Mark Sanchez wasn't throwing him the ball enough? That being said, there's some talent to be had around here. Hines Ward was born in Seoul, and there's been some talk of him as a hall of famer, though I think that's probably a bit of a stretch. Still, most NFL teams today would take an in-his-prime Hines Ward. You'd probably have to outside the NFL, though, to find another wide receiver, as the drop off is sharp. Jerome Pathon (South Africa), who bounced around the NFL at the beginning of the 2000s, is probably the next best NFL option.
But the running game! You have a legitimate hall of famer and tough guy in BronkoNagurski (Canada), one of the true legends of the game. Nagurski played both ways, and was probably an even better linebacker than he was running back - he could absolutely destroy people. Despite playing in the '30s, he had the physical strength to play in any era - imagine a slightly thinner Patrick Willis, or a slightly taller Arian Foster. If our Team International is going to stand a chance, it's going to be behind Nagurski. You could spell him with a couple other bruising fullbacks in Tony Richardson (Germany) and the Nigerian Nightmare, Christian Okoye. Our team definitely would do better ten or twenty years ago, before the spread offense came into vogue.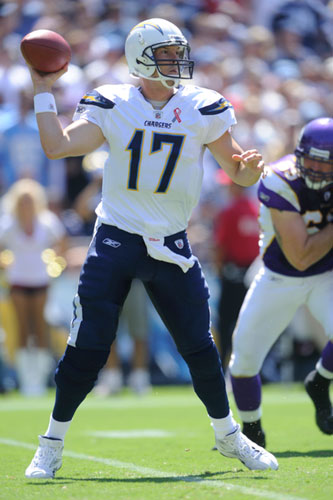 San Diego, California, U.S - San Diego Chargers quarterback Philip Rivers (17) during game action of the NFL football game between the Minnesota Vikings and San Diego Chargers in San Diego CA.
---
Blocking for these nightmares is a decent selection of linemen. There are four foreign-born linemen with multiple pro-bowl berths: Luis Sharpe (Cuba), John Alt (Germany), Bruno Banducci (Italy) and Jesse Sapolu (Western Samoa). Banducci was a six time pro bowler for the early '40s and '50s 49ers squads that regularly were the second best team in the old All American Football Conference, and made the 1940s All-Decade Team. The other names might be more familiar, all starring in the '80s and '90s. Throw in Ian Beckles of Canada for a fifth lineman, and the result isn't an elite line, but there's not really a weak link in it.
The Team International Defense is bolstered by three Hall of Famers. Ted Hendricks (Guatemala) won four Super Bowls, has consistently been named one of the top 100 players of all time, and made the 1970s and 80s All-Decade Teams and the All-Time Team. With him roaming around and threatening to blitz at any time, offensives couldn't rest easy. Clogging up the middle of the field, we have actually quite a few legends to choose from. Leo Nomellini (Italy) was an all-pro on both the offensive and defensive lines, and, like Nagurski, moonlighted as a professional wrestler. Ernie Stautner (Germany) was a beast on the Pittsburgh line in the 50s and 60s, before becoming a widely respected coach. Between the three of them, the International Team would have a strong leadership core on defense. We can finish a strong line, too, with OsiUmenyiora (Great Britain) still plying his trade as one of the NFL's top pass rushers, and Sean Jones (Jamaica), a former pro-bowler for the Houston Oilers.
Sadly, the exercise begins to fall apart as we leave the line. After Hendricks, we're missing a linebacker corps, really. Dat Nguyen (Vietnam) is one of the best college players of all time, but a neck injury cut his pro career short. After that, we're down to the level of the Ricardo McDonalds (Jamaica) of the world - a serviceable player, but not a particular standout. Things don't get much better in the secondary. Todd Lyght (Marshall Islands) had a solid career, peaking in the '99 Rams Greatest Show on Turf Super Bowl year. Terry Kinard (Germany) is in the college football hall of fame after a great career at Clemson. After that, the pickings are slim - Charles Romes (France) mean anything to you? Fourth most interceptions for the Bills? How about Vince Newsome (Great Britain) - and I mean for his play as a safety, not as the front office guru for Baltimore. The secondary suffers for the same reason the receivers do - people with that body type tend to go into soccer or other more popular international sports. Leo Messi is not going to become a safety when he can star for Barcelona. Great for him! Bad for Team International.
So, would this team give any US team a battle for a gold medal? ...No. Of course they wouldn't. Too many holes to compete against an all star squad. But there have been more international stars than you might have thought, considering the almost non-existent level of play around the world. This is a team that could compete for a playoff spot today, though it would have a very throwback level of play. It certainly would be fascinating to watch them try to keep up with the spread offenses and deep passing success of a modern team.
Now, if you'll excuse me, I've got to get back to the Olympics. All this women's water polo won't watch itself, you know.
---
What do you think?
We'd love to hear your comments and/or opinions. If you submit them here, other visitors can read them, rate them and comment on them. An e-mail address is not required.
---
From NFL Football and the Summer Olympics to NFL Football Blog | Sports Blog | NCAA Football Blog | NFL Football Archives | College Football Archives | MLB Baseball Blog | College Baseball Blog | MLB Baseball Archives | NBA Basketball Blog | NCAA Basketball Blog | NBA Basketball Archives | NCAA Basketball Archives | Fantasy Football | Fantasy Basketball | Fantasy Baseball | Soccer Archives | Olympics Archives | Stupid Athletes Archives | Other Archives | Football Forum | Basketball Forum | Baseball Forum | NFL Football Store | NBA Basketball Store | MLB Baseball Store | NCAA Football Store | NCAA Basketball Store | NCAA Baseball Store | Fatheads | NFL Football Tickets | NBA Basketball Tickets | MLB Baseball Tickets | NCAA Football Tickets | NCAA Basketball Tickets | NCAA Baseball Tickets |
---
Home Page
About Us | Contact Us | Site Search | Advertise | Terms of Use |
---