NFL Football: 2014 NFL Mock Draft
The trouble with mock drafts is the ease at which they crumble.  All it takes is one wrong pick at the top of the draft for the entire thing to collapse under its own weight—if the Texans , for example, take Jadeveon Clowney instead of Blake Bortles, that starts a cascade effect, where the team that you mocked to take Clowney has to take a new pick, and so on and so forth down the line.
That's why I prefer listing several options at each selection—a plan A, B and C, as it were.  It's closer to what a team would actually be doing as the draft approaches; no one would get so locked into one pick to the exclusion of all others.  So, while each team will have one player listed as a pick, you'll also get a couple other options for each pick.  Don't say I never got you anything.

We'll do the first half of the draft today, and the second half in a later article.

1. Houston Texans: Khalil Mack, OLB, Buffalo
The question about Jadeveon Clowney is if he's the best prospect of his generation, or simply the best prospect of this season.  If you believe he's a generational player, the next Reggie White or Bruce Smith, then you have to take him number one.  I'm on the other side of the argument—I think he's the best player in this draft, but not a better prospect than, say, Chris Long in 2008 or Mario Williams in 2005.

With JJ Watt already on the roster, Clowney wouldn't have nearly as big of an impact on Houston as someone at almost any other position.  What they need is a quarterback, but I'm not fully sold on any of them with the #1 pick, either.  Therefore, let's give the Texans an upgrade over Brooks Reed as a rush linebacker—Mack's the prospect I think is least likely to bust in the entire draft. Other possibilities: Blake Bortles, QB, UCF; Teddy Bridgewater, QB, Louisville

2. St. Louis Rams: Greg Robinson, OT, Auburn
Assuming the Rams keep this pick, this has to be an offensive lineman.  Jake Long is coming off of ACL and MCL surgery, and Roger Saffold was kicked inside to guard last season.  With so much talent at the position in this draft, the Rams could do a lot to ensure whoever's calling signals in 2014 has some time to work.  Other possibilities: Jake Matthews, OT, Texas A&M; Taylor Lewan, OT, Michigan.  Of course you can make bets about who will be the first or second players drafted this year.  Here's how to find the gambling site that is best for you.

3. Jacksonville Jaguars: Blake Bortles, QB, UCF
The Blaine Gabbert era is finally over.  Whether its Bortles or Teddy Bridgewater, the Jaguars have the opportunity to start fresh, and potentially give the team the franchise quarterback they've been desperately hoping for since Mark Brunell left.  I like Bortles better than Bridgewater, so he's the pick, but either way, the Jags would take steps to solidifying the position.  Other possibilities: Teddy Bridgewater, Khalil Mack.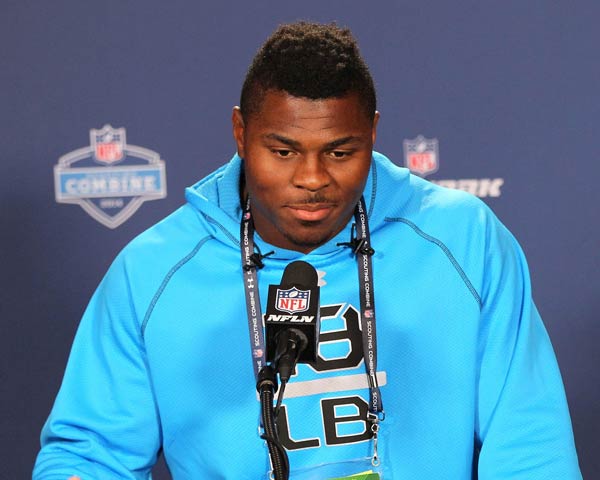 4. Cleveland Browns: Sammy Watkins, WR, Clemson
That's two quarterback needy teams I have passing.  I think the quality of the quarterbacks available at the end of the first and beginning of the second are close enough to the top talent to make passing on a top-10 pick a realistic scenario.  Teams could always trade back up into the end of the first round to get someone like Johnny Manziel, Derek Carr or Jimmy Garoppolo.   The Browns even have a pick waiting for them there anyway, giving them even more freedom to upgrade over Greg Lewis.  Other possibilities: Mike Evans, WR, Texas A&M; Blake Bortles.

5. Oakland Raiders: Jadeveon Clowney, DE, South Carolina
I mentioned that I was more on board with Clowney being a once-in-a-draft prospect, rather than once-in-a-generation.  He's still the best player available, and with the Raiders having holes everywhere, they can afford to just grab the top talent in the draft.  His ceiling is higher than Mack's, who I had the Texans take.  His floor is also lower.  His potential is worth the risk for the team that needs everything.  Other possibilities: Greg Robinson; Ha Ha Clinton-Dix, S, Alabama.

6. Atlanta Falcons: Jake Matthews, OT, Texas A&M
The Falcons would love if Clowney fell just one more slot, but in the absence of that, they could improve their offensive line.  Mike Johnson has had trouble staying healthy, while Sam Baker did not look good at all last season.  With a repaired offensive line, the Falcons should jump right back into contention.  Other possibilities: Jadeveon Clowney, Greg Robinson.

7. Tampa Bay Buccaneers: Mike Evans, WR, Texas A&M
Back-to-back Aggies!  The Buccaneers traded Mike Williams away this offseason, so the team's definitely in the market for a new #2 receiver.  If Watkins falls, they'd love that, but barring that, Evans would give quarterback Mike Glennon a big target to work with in the end zone.  Other possibilities: Sammy Watkins, Jadeveon Clowney.

8. Minnesota Vikings: Teddy Bridgewater, QB, Louisville

Matt Cassel would be fine to have as a backup, but as a starter, he leaves something to be desired.  The team trotted Christian Ponder and Josh Freeman out as starters last year, and neither exactly lit the world on fire.  It's time to start over at the quarterback position in Minnesota.  Other possibilities: Khalil Mack; Johnny Manziel, QB, Texas A&M.

9. Buffalo Bills: Eric Ebron, TE, North Carolina
The Bills could use more offensive weapons in their passing game.  While a wide receiver is slightly more in need, but with Watkins and Evans off the board, they could look at an upgrade over Scott Chandler.  Ebron's really a wide receiver in tight end's clothing, anyway, so he'll fit the need without too many issues.  Other possibilities: Brandin Cooks, WR, Oregon State; Mike Evans.

10. Detroit Lions: Brandin Cooks, WR, Oregon State
The rumors have the lions trading up to grab Sammy Watkins or Mike Evans, but we're not using trades in this draft.  The pecking order at receiver falls apart a little after the top two, but pairing the speed Cooks with the massive Calvin Johnson would be an intriguing possibility.  Add in the newly signed Golden Tate, and that's a pretty scary receiving corps.  Other possibilities: Odell Beckham Jr, WR, LSU; Mike Evans.

11. Tennessee Titans: C.J. Mosley, ILB, Alabama
What the Titans really need is a running back, but there's no one worth taking in the #11 slot.  They'd love if Khalil Mack dropped a little more, but I don't see him getting out of the top 10.  Instead, we'll give them C.J. Mosley.  The Titans are moving to a 3-4 defense, so they'll need players who could play inside there.  They have Wesley Woodyard, Akeem Ayers and Zach Brown in the mix as it stand now, but Mosley would allow at least one of them to kick outside.  Other possibilities: Anthony Barr, OLB, UCLA; Bradley Roby, CB, Ohio State.

12. New York Giants: Taylor Lewan, OT, Michigan
The Giants definitely need an upgrade on the offensive line; the only question is which player it will be.  Lewan's dropping a little bit due to off-field issues, but he could slide in at left tackle, moving Will Beaty to right tackle and Justin Pugh inside to guard.  That would improve three positions with one pick.  Other possibilities: Morgan Moses, OT, Virginia; Jake Matthews.

13. St. Louis Rams: Ha Ha Clinton-Dix, S, Alabama
With offensive tackle taken care of with the second pick, the Rams can look to fixing their secondary.  T.J. McDonald and Rodney McLeod simply weren't cutting it in the secondary, and in a division with Russell Wilson and Colin Kaepernick, they can't afford to have weaknesses back there.  Clinton-Dix would be an instant upgrade.  Other possibilities: Calvin Pryor, S, Louisville; Brandin Cooks.

14. Chicago Bears: Aaron Donald, DT, Pittsburgh
Let's keep this simple: the Bears will be taking the top defensive player available.  The defense fell apart last season, which is entirely out of character for the Monsters of the Midway.  Donald would replace the departed Henry Melton, and join Jared Allen and Lamarr Houston on a revamped defensive line.  Other possibilities: Ha Ha Clinton-Dix, Calvin Pryor.

15. Pittsburgh Steelers: Darqueze Dennard, CB, Michigan State
Take your pick of cornerbacks for the Steelers.  Ike Taylor is no longer capable of covering number-one receivers, so they'll have to upgrade with someone.   I like Dennard's physicality, though someone like Justin Gilbert has him topped in terms of speed.  Take your pick of the top corners, here.  Other possibilities: Bradley Roby; Justin Gilbert, CB, Oklahoma State.

16. Dallas Cowboys: Timmy Jernigan, DT, Florida State
They did sign Henry Melton this offseason, but the defensive line is still depleted and needs two or three more starters.  With no defensive ends worth picking in this slot, they can take their choice of top players to patch up the interior.  Other possibilities: Aaron Donald; Ra'Shede Hagemann, DT, Minnesota.

Next time: the second half of the first round.


What do you think?
We'd love to hear your comments and/or opinions. If you submit them here, other visitors can read them, rate them and comment on them. An e-mail address is not required.
NFL Football: 2014 NFL Mock Draft to NFL Football Blog