NFL Football 2012: The Jeff Demps Story
By Bryan Knowles
Signings at this point in the NFL preseason usually fly under the radar. Normally, all the big names are already getting settled in their new cities. Perhaps not this year – the New England Patriots, who always seem to be the leader in the "wait, they signed who?" news stories, are about to sign Jeff Demps, silver medalist in the 4x100 relay in the London Olympics. Demps, of course, played running back for the Florida Gators, playing a key role in their 2009 championship season – and by that, I mean, being their leading non-Tebow running back.
Demps had been projected as a third or fourth round draft pick, before he decided to focus on his track career for a shot at Olympic gold –or, well, silver, as it turned out, but that's pretty good, too. It looks like he'll be able to have his cake and eat it too, though – he'll likely be an instant upgrade to the Patriots return game, supplanting Julian Edelman and Danny Woodhead, and sliding in to a sort of utility role in the backfield, assuming he puts back on the weight he dropped to enhance his sprinting speed. Not an earth-shattering signing, by any means, but an interesting one – a silver medal brings with it a bit of cachet that mid-August signings normally lack.
He's not the first Olympian to enter the NFL, of course. Bob Hayes, of course, was the World's Fastest Man in 1964 in Tokyo, winning a gold medal in the 100 meters in a (then) blistering time of ten seconds flat, a world record. To say Hayes made a successful transition to the NFL would be an understatement – a multiple offensive threat, Hayes is credited with forcing defenses to develop the zone and bump and run defenses to try to have a hope of containing him, because no one could match his speed. A hall of famer, Hayes is the only man in the history of the world to have a gold medal and a Super Bowl ring.
He's not the only one, of course – Jim Thorpe is a legend in multiple sports, and his pro-football career actually caused him to be stripped of his decathlon gold medal for many years. 80 years later, an active pro-football career didn't stop Herschel Walker from being part of the Olympic bobsled team. Ollie Matson, a hall of fame running back, earned a couple medals in 1952 Helsinki. Even Carl Lewis got drafted by the Cowboys in 1984, though he never actually played in the league. That's just a selection – while there's never been a huge pipeline, the path from the Olympic track to the gridiron has been well travelled.
A world class athlete is a world class athlete, regardless of sport. Maybe Roger Goodell's dream of football becoming an Olympic sport is a bit ambitious, but a number of those medalists we cheered on for two weeks in London could easily make their impact felt on the field.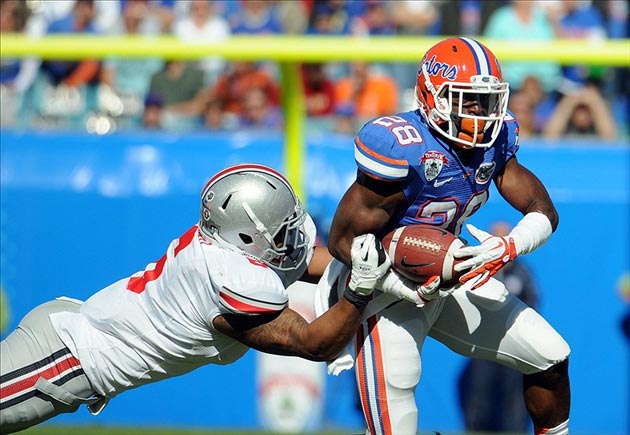 ---
Imagine Usain Bolt lining up as a receiver. You wouldn't be the first – the internet is lighting up with articles talking about his potential in the NFL, and which teams he could theoretically sign for, despite a complete lack of interest on Bolt's part. He's certainly got the attitude for it already down, and, unlike Chad Johnson, still has the speed and potential productivity to back up his attitude – and that's putting it lightly. The world's fastest man ran the first 40 yards at the Olympics in about 4.1 seconds – about a tenth and a half faster than Chris Johnson (4.24), Darrius Heyward-Bay (4.25), or Jacoby Ford (4.28), the fastest clocked active players at the NFL combine – and that's with computerized timing. Often, NFL scouts time people by hand, and there's always some error there.
Bolt could possibly break the four-second barrier. Unlike Hayes and company, he's never played football – at least, not the American kind, which is why he's shown more interest in Manchester United than the Dallas Cowboys. His slight frame would be a major impediment – at 6'5", 210 lb, he's closer to Bernie Kosar than Randy Moss. He'd probably end up being in the Ted Ginn mold – an electrifying returner who underperformed as a receiver. And, honestly, why would he do that? He makes millions as a sprinter and doesn't have 300 pound linemen trying to crush him. More power to him! It seems an easy choice to me.
But Bolt's not the only one who could trade in the Olympic rings for an NFL jersey. You think Julius Peppers is intimidating? Add an inch and ten pounds of muscle to his frame. Robert Harting gold in the men's discus, an event which requires a unique blend of speed and power – the rotation needed to get a good toss of the discus means you need to have nimble feet to go along with the raw strength needed to throw a four and half pound object more than two thirds of the way down a football field. Who blocks that guy? Imagine him coming off the edge as a pass rusher – not entirely unheard of, as Michael Carter was an Olympic shot putter before becoming a top level nose tackle in the NFL. Also, we know Harting's got some mad hops from looking at his post victory celebration run. Tell me you wouldn't have a good time watching this guy on Sundays. He might be total rubbish, but I just want to see him Hulking out after knocking down quarterbacks. Maybe we can set up some victory hurdles for him down the field, as well.
We could get into LeBron James' potential as a tight end, or [random soccer player's name here] as a kicker, but those have been done to death – the answers of course, are yes, and yes, they would be good, pretty much undoubtedly. But there're potential stars all around the Games. Put the judo champions like Teddy Riner on the offensive line and watch them turn pass rushers' momentum against them, having them on the turf before their quarterbacks even know what hit them. Could Ashton Eaton follow in Jim Thorpe's footsteps from the Decathlon to the gridiron? And what about Michael Phelps! The most decorated Olympian of all time could….well, he could always line up as…. Well, maybe if he added some more pounds… well, he might not get horribly maimed if we put him as… erm…. well… that is to say…
…OK, maybe some Olympians made the right choice of sport.
---
What do you think?
We'd love to hear your comments and/or opinions. If you submit them here, other visitors can read them, rate them and comment on them. An e-mail address is not required.
---
From NFL Football 2012: The Jeff Demps Story to NFL Football Blog | Sports Blog | NCAA Football Blog | NFL Football Archives | College Football Archives | MLB Baseball Blog | College Baseball Blog | MLB Baseball Archives | NBA Basketball Blog | NCAA Basketball Blog | NBA Basketball Archives | NCAA Basketball Archives | Fantasy Football | Fantasy Basketball | Fantasy Baseball | Soccer Archives | Olympics Archives | Stupid Athletes Archives | Other Archives | Football Forum | Basketball Forum | Baseball Forum | NFL Football Store | NBA Basketball Store | MLB Baseball Store | NCAA Football Store | NCAA Basketball Store | NCAA Baseball Store | Fatheads | NFL Football Tickets | NBA Basketball Tickets | MLB Baseball Tickets | NCAA Football Tickets | NCAA Basketball Tickets | NCAA Baseball Tickets |
---
Home Page
About Us | Contact Us | Site Search | Advertise | Terms of Use |
---