NFL Football 2012 Preseason: It's Only August
By Jake Brown
Remember….It's Only August
It seems as if many NFL fans tend to forget that it is only the month of August. These preseason games do not count. The games and the results have no relevance. A bad preseason record does not have an effect on what a team will do in the regular season. The importance of preseason is to shake some of the rust off. It is also important for young players and reserves to vie for more playing time.
For example, when I hear fans calling for Tim Tebow in just the second quarter….of the second PRESEASON game, it truly bothers me. These players are still getting game ready and ready for the season. These games are so irrelevant, that they are using replacement referees to officiate them. C'mon now. Fans need to make the realization that what matters comes in September, October, November, December, and January and February for the best of the best.
It is still training camp and there is an adjustment period for a lot of these players. Players are switching uniforms, getting healthy, learning new playbooks under new coaches. Training camp is the time to work out your flaws and make mistakes. If there is a time to make mistakes, it comes during training camp and preseason. In some cases it is better to make the mistakes because it is a learning experience that can be carried into the regular season when the games actually count for something.
The Jets are the perfect example of a team that is going to make mistakes in the preseason, especially on offense. They have brought in new offensive coordinator Tony Sparano. Sparano is bringing in a new playbook that the offense is still learning. It is all a learning process in August. Finding the right time and packages will take a little time for Tim Tebow and the offense. It is something that is not going to come easy.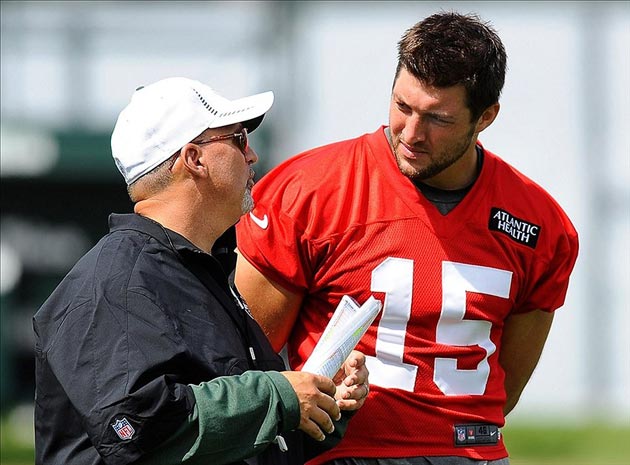 ---
For fans to judge every play with such scrutiny is extremely ignorant. The preseason has always been in many ways unnecessary, but a great chance for guys to prove themselves and a perfect time for the starting players to get back in the gist of things again. Four games is just enough time to get everyone game ready and prepared for the season.
So before you are ready to throw your remote at your television set after a Mark Sanchez interception, remember these games do not matter. Be happy that they make the mistake now and hopefully learn from it for the season. It's time for NFL fans to calm down and keep cool and cheer on. So until September 5th when the Giants and Cowboys kick off the season in Dallas, just enjoy the preseason without worrying about your team's preseason play. If the talent is there, your team will be fine. Enjoy watching the rookies and reserves fight for roster spots and grow in preseason. Don't worry about the statistics and the records. It's only August.
---
What do you think?
We'd love to hear your comments and/or opinions. If you submit them here, other visitors can read them, rate them and comment on them. An e-mail address is not required.
---
From NFL Football 2012 Preseason: It's Only August to NFL Football Blog | Sports Blog | NCAA Football Blog | NFL Football Archives | College Football Archives | MLB Baseball Blog | College Baseball Blog | MLB Baseball Archives | NBA Basketball Blog | NCAA Basketball Blog | NBA Basketball Archives | NCAA Basketball Archives | Fantasy Football | Fantasy Basketball | Fantasy Baseball | Soccer Archives | Olympics Archives | Stupid Athletes Archives | Other Archives | Football Forum | Basketball Forum | Baseball Forum | NFL Football Store | NBA Basketball Store | MLB Baseball Store | NCAA Football Store | NCAA Basketball Store | NCAA Baseball Store | Fatheads | NFL Football Tickets | NBA Basketball Tickets | MLB Baseball Tickets | NCAA Football Tickets | NCAA Basketball Tickets | NCAA Baseball Tickets |
---
Home Page
About Us | Contact Us | Site Search | Advertise | Terms of Use |
---