NFL Football 2012: Does the Pre-Season Matter
By Bryan Knowles
Does the preseason matter? Well, of course it matters! We've had a long off season with no football whatsoever, and we've tried to distract ourselves in various ways, but now it's back! No more having to pretend we understand the rules of the Canadian Football League, or sit through a four hour Red Sox – Yankees game. Of course the preseason matters! Football's back!
….oh, that's not what you meant. Of course, my bad.
Does the preseason matter? Well, of course it matters! The owners get to charge you full price for two extra games at home, with no risk factor! The odds that Aaron Rodgers or Tom Brady will get hurt are very low (sorry, Ryan Mathews!), and the wins and losses don't affect your bottom line. You can charge full price for people to watch Chase Daniel, Eric Bakhtiari, William Powell, Tommy Moore, and Courtney Roby – sounds like a great plan! To show you how great of a plan that is, I made up one of those names and you probably didn't even notice. The preseason matters; it's cold hard cash, baby!
…oh, that's not what you meant, either.
Does the preseason matter? This week, we were treated to Andrew Luck's debut performance of sorts, throwing for 188 yards and a trio of touchdowns as he led the Colts to a 38-3 drubbing of the Rams. But does that really mean anything? Surely, the Colts aren't going to bounce back from last season's disaster to become an offensive powerhouse so soon, right? I mean, it took Peyton Manning a year to get adjusted to the NFL game before he started shattering records. Does success in the preseason mean anything for a team?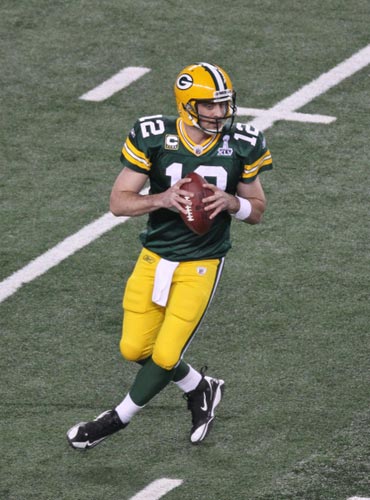 ---
We can all think of specific examples of preseason wonders that sputtered to a halt in the regular season. Just think back to the 2008 Detroit Lions, who started off with a spectacular 4-0 preseason … and then proceeded to not win a single game for the rest of the season. Or look at those 2005 Indianapolis Colts, who actually went 0-5 in the preseason, and then proceeded to lose only three more games the rest of the way, including the postseason. Surely, postseason success, or lack thereof, isn't a guarantee of anything. But is there a trend?
To find out, I opened up the history books. I cracked open the preseason records of every team from 1997 to 2011, to give us a nice thick sample without having to go too far back into ancient history. To be fair, I ignored the Hall of Fame game, because it gives teams an extra preseason game to potentially win or lose. Then, I compared it with their regular season performance, and tried to see if there was any relationship whatsoever between these meaningless exhibition games and later success.
Early results are not encouraging. The following table shows the results for every team over that period – it tells you the number of preseason wins, the number of teams who had that many wins, and the average number of wins those teams went on to have in the regular season. "Average change" compares the team to how they did in the previous year – did they win or lose more games? The final three columns tells you how many teams with a certain number of wins finished with a certain record – for example, 9 of the 32 teams that didn't win a game in the preseason ended up winning ten or more games that season, while 11 went on to win less than seven.
| Preseason Wins | Number of cases | Average wins | Average change | 10+ wins | 7-9 wins | <7 wins |
| --- | --- | --- | --- | --- | --- | --- |
| 0 | 32 | 7.4 | -0.9 | 9 | 12 | 11 |
| 1 | 117 | 7.3 | -0.1 | 29 | 37 | 51 |
| 2 | 160 | 8.2 | 0.3 | 58 | 52 | 50 |
| 3 | 125 | 8.4 | 0.1 | 27 | 45 | 35 |
| 4 | 39 | 8.2 | -0.3 | 32 | 15 | 10 |
Well, that's all over the place, but there's one thing that seems to be notable – there is a small correlation between the number of wins in the preseason and those in the regular season. It's not large, by any stretch of the imagination, but the difference between winning one preseason game and three preseason games ends up averaging more than one extra win in the regular season. That's not going to matter much for, say, the Colts or the Patriots, but for a borderline team like the Titans, one win could be the difference between the post season and staying home. We can also see that teams that win two or more games rarely win less than seven in the regular season – teams that go undefeated nearly always even break ten! It's not the end-all be-all of statistics, but it does seem to imply that better teams will win their preseason games, too.
But this table includes everybody, and that might not be fair. There are a lot of other factors that go in to a team's success, obviously. A team like the Patriots aren't going to worry too much about an 0-4 preseason, and neither should their fans. Years and years of successful football would seem to be a much better indicator of future success than four exhibition games which barely feature the starters. Similarly, a team like the Colts shouldn't get too excited, even if they manage a 4-0 preseason. So, perhaps it would be interesting to see what more borderline teams did.
I crunched the same numbers again, but this time limited the search to teams that went 7-9, 8-8, or 9-7 the year before. For this year, that means these results would be of interest to the Jets, Bengals, Titans, Broncos, Chargers, Raiders, Chiefs, Giants, Eagles, Cowboys, Bears, Cardinals, and Seahawks. Some of these teams have made big moves, some of them have tried to improve from within. Should they be paying attention to the preseason?
Well, this is more interesting:
| Preseason Wins | Number of cases | Average wins | Average change | 10+ wins | 7-9 wins | <7 wins |
| --- | --- | --- | --- | --- | --- | --- |
| 0 | 12 | 7.4 | -0.6 | 4 | 4 | 4 |
| 1 | 36 | 6.6 | -1.4 | 7 | 9 | 20 |
| 2 | 62 | 8.1 | 0.2 | 19 | 25 | 18 |
| 3 | 36 | 8.9 | 0.7 | 14 | 14 | 7 |
| 4 | 15 | 8.5 | 0.5 | 8 | 3 | 4 |
Now we're comparing apples to apples, and the numbers are a bit more stunning. The difference between one and three preseason wins is almost two and a half regular season wins! Teams that sputter to zero or one postseason wins, on a consistent basis, end up sliding back from where they were the year before – by almost a game in a half on average in some cases! Remember, these are the 7 to 9 win teams – a game and a half is a huge difference for these guys.
No one is going to remember those preseason records at this time next year – or next month, for that matter. But the statistics seem to bring up a point – does the preseason matter? Maybe a little more than you thought. Maybe you'll pay a little more attention to those final scores if you're afraid your team is on the bubble. Maybe, just maybe, there might be a little hint of the postseason in these meaningless games in August.
---
What do you think?
We'd love to hear your comments and/or opinions. If you submit them here, other visitors can read them, rate them and comment on them. An e-mail address is not required.
---
From NFL Football 2012: Does the Pre-Season Matter to NFL Football Blog | Sports Blog | NCAA Football Blog | NFL Football Archives | College Football Archives | MLB Baseball Blog | College Baseball Blog | MLB Baseball Archives | NBA Basketball Blog | NCAA Basketball Blog | NBA Basketball Archives | NCAA Basketball Archives | Fantasy Football | Fantasy Basketball | Fantasy Baseball | Soccer Archives | Olympics Archives | Stupid Athletes Archives | Other Archives | Football Forum | Basketball Forum | Baseball Forum | NFL Football Store | NBA Basketball Store | MLB Baseball Store | NCAA Football Store | NCAA Basketball Store | NCAA Baseball Store | Fatheads | NFL Football Tickets | NBA Basketball Tickets | MLB Baseball Tickets | NCAA Football Tickets | NCAA Basketball Tickets | NCAA Baseball Tickets |
---
Home Page
About Us | Contact Us | Site Search | Advertise | Terms of Use |
---