NFL Final Sunday Preview: Green Bay Packers vs. Minnesota Vikings
Let's start with the obvious – NBC flexing the Redskins – Cowboys game to Sunday Night Football for Week 17 is absolutely the right choice. It is almost exactly a pure play-in game – the Redskins have a couple very unlikely scenarios to get in with a loss, but those will all be cleared up by the time the game kicks off – and has almost entirely self-contained, meaning it's results don't significantly impact most other playoff scenarios. Given the choice, that's absolutely the best game to have in its own solitary block. However, it's not the most interesting game on the schedule this week. No, that goes to the most interesting and meaningful game of the entire season, as Adrian Peterson and the Vikings play host to Aaron Rodgers and the Packers, in a game that will effect seeding, playoff berths, and one of the NFL's biggest records.
Green Bay Packers (11-4) @ Minnesota Vikings (9-6) – Sunday, December 30th, 4:25PM Eastern, FOX.
Last Week: The Packers put on one of the more dominant performances in recent memory, rolling into Tennessee. They certainly looked in playoff form, as Rodgers ended up throwing for 342 yards, and scoring four touchdowns through the air and with his feet. A team that has, at points, seemed like they've been cursed this year, rattled off the most points they've scored since the first Reagan administration, hurrying and harrying Jake Locker all day long on their way to a 55-7 demolition. The Vikings, meanwhile, had a much harder matchup, rolling into the top team by record in the AFC. Common wisdom would say that Adrian Peterson would need to shatter records to keep the Vikings in the hunt, but he was held to only 86 yards rushing. No matter, though – on a day when AP was human, his teammates came to his rescue, and saved the Vikings season. The Vikings defense bottled up the powerful Texans offense, and Christian Ponder did just enough with the field position to help the Vikings along to a 23-6 victory.
Last meeting: A few short weeks ago, the teams met in Lambeau with the NFC North lead on the line. Adrian Peterson did everything a human being could possibly do, rushing for over 200 yards on only 21 carries. A replacement-level game-manager at quarterback should have been enough to seal a win with those kinds of numbers on the ground, but the Packers defense, despite bending, never broke. Two red zone interceptions of Ponder cut long drives short, and the Packers played safe football to get out with a 23-14 win.
What's at stake: For the Vikings, a playoff berth. A win would give them the #6 seed, while a loss would likely see them watch the playoffs from home – losses by the Bears, Cowboys, and Giants would still see them through, but that's not particularly likely. For the Packers, it's a week off, crucial for a team that's suffered through a wide variety of injuries this season. A win gives them a bye, and a loss would mean they'd have to hope for the bottom of the NFC West to triumph over the 49ers and Seahawks –again, an unlikely proposition. This means, oddly enough, that a Vikings win would most likely set up a rematch in Lambeau the very next week. There's also the little matter of Eric Dickerson's single season rushing record.
This time: Well, let's get Dickerson out of the way first. After a sub-par, by his standards, performance in Houston, Adrian Peterson sits 208 yards away from the record. The Packers have been slightly above average against the run this year, and have only let two running backs rush for more than 100 yards against them all season long. The first was Frank Gore back in week 1, who put up 112 yards on only 16 carries. The second? Adrian Peterson's 210 yard game a month ago. Twice have players rushed for 200+ yards on the same team twice in a year – and both were in 2,000 yard seasons. OJ Simpson slashed through the Patriots twice in 1973, and Jamal Lewis destroyed Cleveland twice back in 2003. Peterson has certainly been as dominant as either of those backs this season, so if anyone could put up the eye-popping numbers needed, it would be him – but the fact that the Vikings are still in contention might actually harm his chances. The offense goes through Peterson no matter what the situation, but if the Vikings were already eliminated, we could well have seen him tote the ball 40 times in an attempt to pull down the record. No need to save him if you're not going to the playoffs! However, if the game starts getting out of hand, even the Vikings, the worst passing team in football, are going to have to start throwing the ball more to try to keep up with the Packers, and that will cut into Peterson's raw numbers. I don't think he's going to quite make it, but 2,000 yards does seem within reach.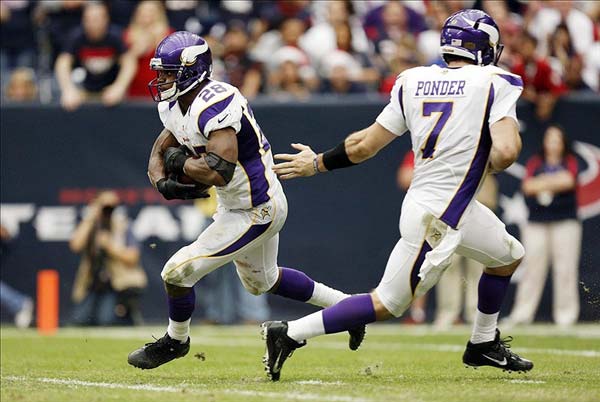 ---
As for that passing game, poor Christian Ponder just has not been putting up the sorts of numbers needed for a playoff-bound team. ESPN's QBR has him 25th best in the NFL, at 45.1. Football Outsiders has him 24th in both DYAR (which measures how much raw value over a replacement quarterback he's put up) and DVOA (which measures how much better or worse than average a player has been on each individual play). No matter how you measure it, he hasn't been safe enough with the ball. He throws far too many misfires. And, even with eight or even nine men in the box to try to keep Peterson in neutral, his average pass this season has only traveled 8.3 yards past the line of scrimmage, lowest in the league – and that includes incompletions. He's not even trying to throw the ball deep. If the Vikings are going to win this game, they're going to need to get the Packers over the top. It doesn't help that Percy Harvin is on IR and on his way out of town, or that his best receiver is a short-yardage tight end, but at a certain point, they're going to have to have the players around Peterson step up and deliver. They did last week against Houston, and they'll need to do it one more time to get the Vikings into the playoffs.
The Packers defensively have not been particularly susceptible to the pass this season, however, and unlike the last time we took a look at them, they're beginning to finally get healthy. Charles Woodson has an outside shot to come back this week, which would give them 10 out of 11 defensive starters back in the lineup for the first time in months. They embarrassed Ponder last time out, and will be looking to do more of the same. Expect eight or nine in the box again, to try to bottle up Peterson, as they dare Ponder to air it out deep. Past performance indicates that it still won't happen. More important will be actually bottling up Peterson. In their last meeting, Peterson earned two-third of his yardage after first contact – meaning the Packers had plenty of opportunities to take him down, but blew it. You can't chalk all that up to Clay Matthews missing the game. They need to wrap Peterson up early, because that's pretty much the only thing that can lead to their defeat – another day of watching him dash through their secondary.
It's a rare game that the Packers powerful offense doesn't take the focus, but there you have it. Rodgers has been the best quarterback in the NFC this season, and should be starting – or at least scheduled to start – the pro bowl when all is said and done. Jordy Nelson could return too, giving Rodgers yet another weapon in the passing game – as if he needed another one. Their running game has always been a work in progress, but it's ended up being about average due to the threat of the passing game. It's not quite as much all Aaron Rodgers as the Vikings are all Adrian Peterson, but it's close – of the potential playoff squads, only the Broncos and Cowboys are as unbalanced as either of these two teams. The Packers are going to get their points as long as they get onto the field – it's just a question of how much the Vikings can control the flow of the game.
Prediction: Adrian Peterson is not going to rush for 208 yards, I think. It's a lot to ask for, even for someone as good as he is. I think he will pass the 2,000 yard barrier, but unless the game becomes a blowout one way or another, the record will take a back seat in the play calling strategies for both teams. The Vikings haven't beaten the Packers since 2009, and even with a rocking Metrodome, I don't think they've got quite enough left in the tank to overcome Green Bay's offense. It's been a great season for them as they rebuild, but they'll come up just short – Green Bay 31, Minnesota 14.
---
What do you think?
We'd love to hear your comments and/or opinions. If you submit them here, other visitors can read them, rate them and comment on them. An e-mail address is not required.
---
From NFL Final Sunday Preview: Green Bay Packers vs. Minnesota Vikings to NFL Football Blog | Sports Blog | NCAA Football Blog | NFL Football Archives | College Football Archives | MLB Baseball Blog | College Baseball Blog | MLB Baseball Archives | NBA Basketball Blog | NCAA Basketball Blog | NBA Basketball Archives | NCAA Basketball Archives | Fantasy Football | Fantasy Basketball | Fantasy Baseball | Soccer Archives | Olympics Archives | Stupid Athletes Archives | Other Archives | Football Forum | Basketball Forum | Baseball Forum | Sports Trivia Questions | NFL Football Store | NBA Basketball Store | MLB Baseball Store | NCAA Football Store | NCAA Basketball Store | NCAA Baseball Store | Fatheads | NFL Football Tickets | NBA Basketball Tickets | MLB Baseball Tickets | NCAA Football Tickets | NCAA Basketball Tickets | NCAA Baseball Tickets |
---
Home Page
About Us | Contact Us | Site Search | Advertise | Terms of Use |
---