NFL Draft 2013: Best and Worst Decisions
Backseat driving should be a crime.  There is nothing worse than some nuisance or relative (is there a difference) telling you how to drive your own car.  I'm sure NFL GMs feel the same about backseat general managing, when idiots the world over proceed to second guess their draft-day decisions.
Well, too bad.  This is my version:

The best decisions I saw:

Baltimore Ravens take Matt Elam and Arthur Brown
Never count out Ozzie Newsome.  After losing Ed Reed, Ray Lewis, Matt Birk, Anquan Boldin, Darnell Ellerbe, and Paul Kruger since winning the Super Bowl, the Ravens have barely missed a beat.  Baltimore signed Elvis Dumerveil and Chris Canty at discounts to replace their lost pass rush, added star safety Michael Huff, and just drafted Elam to replace Reed and Brown to replace Lewis.  Baltimore managed to let other NFL teams overpay their secondary stars, shed serious future cap money due to old veterans, and still remain a contender.  Bravo.

Green Bay Packers take Eddie Lacy
Packers GM Ted Thompson is the best in the business at quietly adding to his teams' talent pool and filling holes.  Nonetheless, running back has been a gaping sore on the Packers' roster since 2010 so Thompson was astute to address it by adding Lacy.  Running backs have been devalued in this league by pass-heavy schemes and split carries but make no mistake: having a good feature back is essential to contention in the playoffs.  The Packers just solved a huge problem – and gave Aaron Rodgers a nice extension present.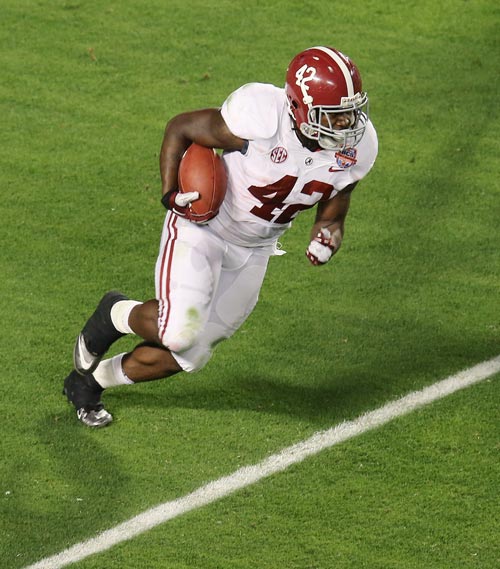 Jan 7, 2013; Miami, FL, USA; Alabama Crimson Tide running back Eddie Lacy (42) runs the ball against the Notre Dame Fighting Irish during the first half of the 2013 BCS Championship game at Sun Life Stadium. Photo Credit: Robert Mayer-USA TODAY Sports.

---

The worst decisions I saw (and there were many, these two were tough calls):
Dallas Cowboys Draft:

The Cowboys just seem to be stuck in the doldrums.  This draft did nothing to address their shortage of exciting, talented young players. Worse, it did nothing to address their overall dearth of talent, period.  Travis Frederick is a decent center but hardly a draft headliner.  If the Cowboys think extending Romo another decade will bring them back 1990s-era glory, they are mistaken.

Buffalo Bills Draft E.J. Manuel:
Bills fans should be excited: years of poor management will continue under the new regime.  What do you do when most teams have a quarterback rated as a third or fourth round prospect?  You draft him No. 16 overall!  And, of course, you do this when your team has needs everywhere and could sorely use the extra picks from trading down.  Wait, you don't?  This is why you haven't won since 1995?  Right, right.  Manuel is not a bad quarterback and he is a nice developmental prospect but getting him at No. 16 made no sense.


What do you think?
We'd love to hear your comments and/or opinions. If you submit them here, other visitors can read them, rate them and comment on them. An e-mail address is not required.