New Homes for NBA Players
By Jason Fryer

The NBA players below will be changing address for the start of the 2013 season….Where will their new address be?

Free Agents
Josh Smith (Boston Celtics or Brooklyn Nets):
I don't think there's a chance the free agent Atlanta native will resign with the Hawks this offseason. With Altanta in the back window, I feel there's one of two places that will sign Smith this offseason. For Smith to go to the Brooklyn Nets, he'll have to convince his former team to take Kris Humphries and a few other assets (a first round draft choice and MarShon Brooks) for the Hawks to complete a deal involving Smith. As for Boston, I still feel they will make a number of significant trades prior to the start of the start of free agency and will have the necessary cap space to sign Josh Smith.

With Doc Rivers out and Kevin Garnett and Paul Pierce at the end of their Celtic tenure, its hard not to admit that this team now belongs to Rajon Rondo. Oh by the way, guess who was Rajon Rondo's teammate at Oak Hill Academy in Virginia...you guessed it, Josh Smith. This seems like a perfect match for the Celtics and Josh Smith. With that said, I believe there's a 50-50 chance of which team I believe Smith will sign with during the offseason.

Monta Ellis (Dallas Mavericks):
The worlds smallest backcourt will officially be broken up with Monta Ellis deciding to opt out of the final year of his contract with the Milwaukee Bucks. With Ellis now a free agent, I believe he wants to become the dynamic scorer in the backcourt as he's always had to deal with another scoring guard wither it was in Golden State (Stephen Curry) or Milwaukee (Brandon Jennings). Mavs fans might not like this outcome but with Chris Paul likely headed back to the Clippers and Dwight Howard leaning toward signing in Los Angeles or Houston, this might be the next best option for the Mavericks to surround an aging Dirk Nowitzki with another dynamic scorer. With OJ Mayo opting out of his contract, Dallas can reformulate their backcourt with a scoring guard (Ellis) and defensive guard (Andre Iguodala? Tony Allen?) that would complement Ellis in the backcourt.

Al Jefferson (Philadelphia 76ers):
With young big men Derrick Favors and EnesKanter (both 21 years old) on their roster along with fellow Jazz free agent big man Paul Milsap (who I also feel will be moving on), I don't see where a quality big man like Al Jefferson would fit into the Jazz roster. With that said, I feel the best place for Al Jefferson to sign this offseason is in Philadelphia. During the 76ers run in the 2012 playoffs (which saw them one win away from the NBA Eastern Conference FInals), everyone saw the Sixers exposed in the front-court with no inside presence (they were using Spence Hawes and Lavoy Allen).

Philadelphia tried to address this problem last offseason with the acquisition of Andrew Bynum for All-Star Andre Iguodala. The trade didn't work as Bynum sat on the sideline for the entirety of the NBA season (his hair style became the most talked about topic with Bynum in Philadelphia), never dressing for a single game. Though Jefferson doesn't have the same inside presence that Bynum features, he also doesn't have the injurys or off the court problems. The past 6 seasons has seen the 28 year old big man averaged at least 17 points  and 7 rebounds per game in each of the past 6 seasons.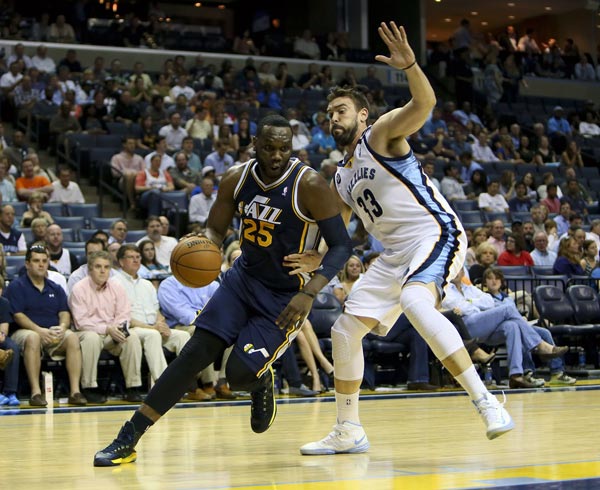 Andrew Bynum (Phoenix Suns):
Andrew Bynum is a tremendously talented offensive force, however, Bynum has had a history of significant injuries and off the court problems over the course of his career. With his injury history, there's no way I would ever consider giving Andrew Bynum a 5 year deal, but I would offer him a 1 year deal with a club option for a second season for over 12 million per year. Why would Bynum take a deal like this? Because Bynum needs to reestablish himself as a dominant force and show he can stay healthy for an entire season. As shocking as it is, Andrew Bynum is only 25 years old and a legitimate 7'0" offensive force, which is almost impossible to find in the NBA.

So why should a team sign him? If he's healthy and mentally right, he's a top 25 NBA player and possibly a great trade asset at the deadline for another team to acquire. Andrew could help a team acquire a number of future assets to help them rebuild for the future. So who should sign him? The Phoenix Suns. Yep the lonely Suns who need to rebuild their roster, the Suns have cap space, Bynum would become the "alpha-dog" (have you seen their roster lately), they could trade MarcinGortat (who is probably the only current Suns player that has trade value) for more assets, and they have a tremendous training staff. This seems like a match made in heaven for both the Suns and Bynum.

J.J. Redick (Atlanta Hawks):
No team will have more money this offseason than the Atlanta Hawks as they currently have 22.4 million dollars currently on their payroll for the 2013-14 season. Fans in Atlanta have are holding out hope that Dwight Howard decides to come home and play for the Hawks...sorry, that's not going to happen. So lets look at plan B; the Hawks have a top 5 power forward (Al Horford) on their books along with a quality point guard in Jeff Teague. With Atlanta deciding to go in a new direction under GM Danny Ferry, I believe Redick would be a perfect fit on their roster and give the Hawks the shooting guard this management team has been looking to add to their organization.
To go a step further (and expand on the Josh Smith situation), I would look to sign and trade Josh Smith to Brooklyn for Kris Humphries, MarShon Brooks, and a first round draft choice. I think Atlanta has done a terrific job at cleaning up their contracts and rebuilding their roster under Ferry.

O.J. Mayo (Milwaukee Bucks):
Like the Hawks, the Milwaukee Bucks will also have a great deal of cap space this summer (and might have more if they decide to amnesty Drew Gooden). With the cap space likely gone after this offseason (Brandon Jennings is in the final year of his rookie deal), this is the time to bring in a 2-guard that can fit in with Jennings and I believe Mayo can deliver. Mayo isn't a huge 2 guard (6'4") but is a guard that last year seemed figure out the NBA and started to look like the player that was drafted ahead of Russell Westbrook, Kevin Love (who he was traded for on draft night), and Brook Lopez and not the player that was deep on the Grizzlies bench.

I still believe OJ Mayo has a tremendous amount of talent and has to have the proper players and coaching around him to make him a successful player. With Jennings, Mayo, ErsanIlyasova, Larry Sanders (who finished 2nd in the NBA with 2.83 blocks per game), John Henson, and the 15th draft choice. the Bucks will have a solid core for the future. I'm not saying this is a championship contender, although they would be a contender in the overrated Eastern Conference. I think Jennings and Mayo could make for an athletic and young (Mayo is 25 and Jennings is 23) backcourt.


What do you think?

We'd love to hear your comments and/or opinions. If you submit them here, other visitors can read them, rate them and comment on them. An e-mail address is not required.