New Contract, Better Performance for Victor Cruz and the New York Giants?
Doubling back on a story from earlier this month, the Giants and star receiver Victor Cruz have come to an agreement on a long-term contract, replacing the $2.879 million tender the receiver had signed.Remember, he had been seeking an $11 million a year contract, and, while he didn't get those numbers, he's probably fairly happy with the deal they did end up agreeing upon.
The new deal is being reported as a six-year, $46 million dollar contract, but that's a bit misleading, as all of these longer deals are – when the guarantees are all laid out, it's more of a two-year, $16 million dollar contract, with a series of one year deals tacked on to the end.It's not Mike Wallace money, but it's quite the payday for a former undrafted player.

From the Giants perspective, it's probably a little bit more than they wanted to spend – an extra million or two a year; $35-40 million was probably somewhere along their target range.However, this does lock up their most exciting young receiver for years to come, and it happened before training camp – had a long-term deal not been agreed upon, this could have drawn out for months, could have been a distraction during the regular season, and then we would have had to go through all of this again in 2014.Is a little bit of extra money worth that piece of mind?I can't complain too strongly about that.

Of course, this leaves Hakeem Nicks as their odd man out.With this new contract, as well as all the money they have locked up in Eli Manning, paying big bucks to their other receiver is now going to seem like a bit of a luxury.The early talks with him went nowhere, and with the franchise tag being an onerous $11 million dollars next season.It puts the Giants in a bit of a bind – obviously, they're hoping Nicks bounces back to his 2011 form, where he approached 1200 yards, but a season like that will price him out of New York, putting him towards the top of a free agent class that could also include James Jones and Eric Decker.The pathways to a deal seem to have closed up with the Cruz deal in place.

Still, that's a problem for next year.They've got Cruz and Nicks for at least one more season and that's a combo that's been quite productive when they're both healthy. Add in Reuben Randle, who is primed for something of a breakout year, and you've got quite a good passing game going.Perhaps that's why the Giants felt confident extending Cruz; if they're as high on Randle as they say they are, perhaps they see him sliding in for Nicks in 2014 and beyond.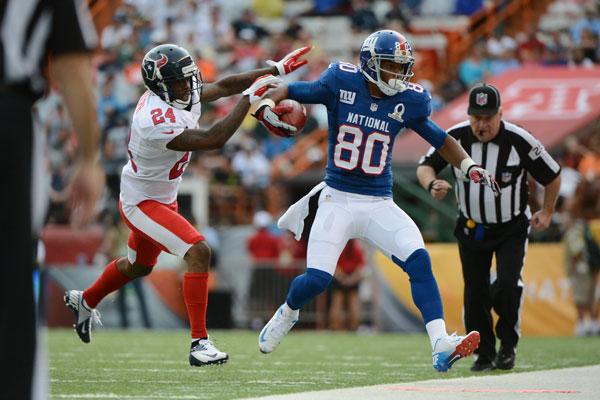 Six years is a decently long contract – what can the Giants expect out of Cruz for the next six years?I used Pro Football Reference's player season finder to find players with similar starts their career, to try and see what sort of playerCruz is likely to develop into, and came back with a list of sixteen.  Ignore JPP's place on the list; that's a glitch in the system.  It's not a bad list at all, either – ignoring DeSean Jackson and Brandon Marshall for the moment, because they haven't played six years since their comparison points here, and you've got one Hall of Famer in Steve Largent and two more strong cases in Terrell Owens and Issac Bruce – if he lives up to any of those examples, this deal is obviously a steal for the Giants.  On the flip side, you've got one of the all-time disappointments in David Boston, as well as three other players who didn't play for six more years due to injury or lack of production – Sterling Sharpe, Javon Walker, and John Jefferson.

I find the most interesting comparison to be the two Marks from the '80s Dolphins teams – Duper and Clayton.  Like Cruz, both of them got their first chance to start in their second season and, with a top quarterback throwing passes their way, had Pro-Bowl caliber breakout years in their second years.   I think both of them had a slightly better start to their career than Cruz did, but then again, Dan Marino was better than Eli Manning is, so that's a bit of a wash.  That kind of career – the long, productive career of the Marks Brothers, or Keyshawn Johnson or PlaxicoBurress if you want to stay in New York, seems to be the most reasonable expectations for Cruz at this point in his career – never the undisputed superstar of the league, but someone who will put up solid production, year after year.

That's why, if I was the Giants, I would have liked to pay slightly less, but as the terms of the contracts come out, the lack of guaranteed money late makes me feel confident. If Cruz develops into a solid receiver for more than half a decade, I'm fine paying him the money with this contract, and if he fades out, well, there's not a big financial penalty for letting him go in a couple years.

So, it's on Cruz's shoulders to perform like a star – to perform more like his 2011 numbers than his 2012 ones.  He's got to get his drops under control, and get his numbers back closer to those 18.7 yards per reception he had in his breakout year, as opposed to the 12.7 he managed last season.  If he does, he'll see every penny of this quite reasonable deal.  I'd count on him doing that, and not going the David Boston route – I expect New York will be showing off its salsa moves for years to come.


What do you think?
We'd love to hear your comments and/or opinions. If you submit them here, other visitors can read them, rate them and comment on them. An e-mail address is not required.