NCAA War on Improper Recruitment
There have been a number of interesting on the field stories to start this season-the emergence of Michigan's electrifying quarterback Denard Robinson, Alabama's humiliation of Penn State, and Arizona's upset of Big Ten powerhouse Iowa are some that come to mind-but the most significant issue of the 2010 college football season is playing out in NCAA boardrooms. With its implementation of harsh sanctions on USC and its suspension of more than ten UNC players, college football's governing body has declared war on any and all violators of its recruitment, eligibility, and conduct rules. Unlike in years past, when the size, power, and monetary value of the top programs would save them from the harshest NCAA scrutiny, today's investigators are bringing the hammer down and their punishments have actually hit some of college football's best programs the hardest.
Look out at the college landscape; the casualties of this all out war are readily apparent. USC, the owner of perhaps the richest college football legacy of any school, was slammed with a scholarship reduction, fines, and a two year bowl ban that will negatively affect the program's recruitment and on-field results for years to come. Michigan, college football's winningest program, is under a two year probation sentence for working players two hard in practice. UNC, a ranked program with the nation's best defense in 2009, has seen ten of its top players (including several potential first round picks) banned indefinitely. Florida and Alabama are both under enough scrutiny that Urban Meyer felt the need to state that he 'runs a clean program' at Florida last week and Nick Saban has threatened repeatedly to ban player agents and handlers from his practices. The list goes on and on.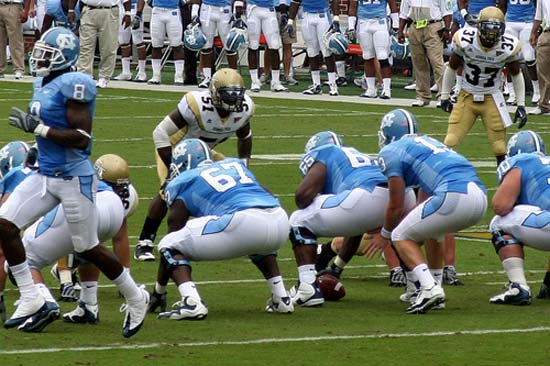 UNC in the 2009 Season at Bobby Dodd Stadium.
Thanks to hectorir at flickr.com for this photo.
---
However, despite massive, repeated, and ultimately redundant media coverage of each of these individual incidents, there has been little talk of the NCAA's informally declared war on its top programs. Despite the overwhelming evidence, no mainstream commentators-not even historically divisive and controversial ones-have ventured to take a stab at the issue. Why is that? Why has this strange pattern of new sanction enforcement flown under the radar? Most importantly, why has the NCAA shifted away from its previous system of coddling top programs and begun to go after them with the intensity and focus of a cheetah chasing a herd of gazelles?
None of these questions are easy to answer, mostly because, while the informal pattern is clear, no formal war on top programs has been declared for obvious reasons. This leaves anyone with an investigative interest only isolated factual evidence, future rumors, and a good dose of common sense to work with. This perhaps explains why no sports journalists from top sites like ESPN and Sports Illustrated have attempted to tackle the issue as yet: however obvious their claims might be, they would have no way to point to any specific NCAA statements concerning attacks on top programs, which would reduce the validity of their argument. Nonetheless, despite the lack of specific admissions by key players or obvious press, the pattern is clear and the evidence is easily noticeable to any involved fans who care to look. So, why is the NCAA going after these schools?
Visit Reggie Bush Jersey
Though the issue is still developing and there are no absolute answers to this question, I would suggest the best answer is that the NCAA is going after these schools because they violated the rules. That sounds deceivingly simple but when you combine that simple premise with college football's rapidly changing modern context, it makes the most sense. In an effort to be seen as truly fair in an age of instant media and constant fan scrutiny, the NCAA is clearly trying to present itself as an impartial mediator between the colleges, the fans, and the law. Massive violations like USC's ignorance of Reggie Bush's handouts were simply too big to ignore and, by a certain logic, if you can't ignore a problem you might as well use it as an example to prevent future issues in the future.
Visit Terrell Pryor Jersey
After all, if you hit USC this hard once and shatter its notions of invincibility, the program (and others of its ilk) will be far more vigilant and concerned with obeying the rules to the letter in the future. Moreover, punishing top programs like USC and Michigan refutes critics that the NCAA and BCS policymakers are too close to the top programs, conference leaders, and moneymakers of the sport and blunts suggestions that they use their influence to prevent small and mid-major programs from entering the limelight. Put simply, the NCAA's sanction war on top programs is a message: we want to help you, but the age of shadowy, cigar filled meetings between athletic directors and NCAA investigators is over. If you challenge us, violate the rules, and force us to punish you, then we will: we will bring down the hammer and teach you a lesson you won't soon forget.
College Football Scholarships By The Numbers
---
What do you think?
We'd love to hear your comments and/or opinions. If you submit them here, other visitors can read them, rate them and comment on them. An e-mail address is not required.
---
From NCAA War on Improper Recruitment to NCAA Football Blog | Sports Blog | NFL Football Blog | NFL Football Archives | College Football Archives | MLB Baseball Blog | College Baseball Blog | MLB Baseball Archives | NBA Basketball Blog | NCAA Basketball Blog | NBA Basketball Archives | NCAA Basketball Archives | Fantasy Football | Fantasy Basketball | Fantasy Baseball | Soccer Archives | Olympics Archives | Stupid Athletes Archives | Other Archives | Football Forum | Basketball Forum | Baseball Forum | NFL Football Store | NBA Basketball Store | MLB Baseball Store | NCAA Football Store | NCAA Basketball Store | NCAA Baseball Store | Fatheads | NFL Football Tickets | NBA Basketball Tickets | MLB Baseball Tickets | NCAA Football Tickets | NCAA Basketball Tickets | NCAA Baseball Tickets |
---
Home Page
About Us | Contact Us | Site Search | Advertise | Terms of Use |
---