NCAA Double Standard Newton vs Pryor
Crime and Unequal Punishment: the NCAA's Double Standard
Just this week, the NCAA enforcement body announced that five Ohio State football stars, including quarterback Terrelle Pryor, will be forced to sit the first five games of the 2011 season. The reason, according to NCAA officials, was that they all sold signed memorabilia from some of their college games and pocketed the money, which is a blatant violation of the NCAA rule code.
There are several ways to look at this issue and most of them have been covered by other writers. On one side, there is no reason for these players-who all have professional contracts of one kind or another coming their way-to sell this stuff for a couple thousand dollars. It's just dumb and it shows their lack of education and foresight. On the other side, it seems petty of the NCAA to suspend four top athletes for almost half a season because they made a couple thousand dollars off their own gear. That's pretty dumb too and all that will happen is that these players will go pro and their development will be stunted.
Visit Cam Newton Jersey
But I really want to delve into the deeper issue that a lot of commentators have been ignoring. What does this show fans about the NCAA and its "punishment standards?" Simply put, how the NCAA suspend these players for five games because they moronically scalped a few pieces of gear and do nothing about the Cam Newton scandal?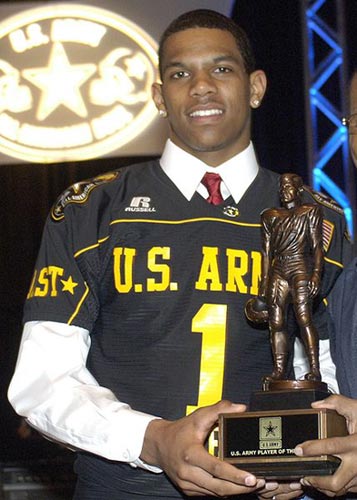 Terrelle Pryor Army player of the year.
Thanks to Michael Tolzmann at wikipedia.org for this photo.
---
Cam Newton's father tried to shop his son. That's what he did-let's not sugar coat it anymore please. It's a violation of every rule and, more importantly, every principle of the college game. After Cam's Florida expulsion, his father Cecil turned him into a modern "football prostitute" and offered his services to the highest bidder. This happened; we have the evidence to prove it. That Cecil was not in fact paid (so far as we know) and Cam may not have known should only lessen the punishment, the fact that he was not punished at all completely ridiculous. Seriously, Newton was shopped, went on to win the Heisman, and was never punished while these four guys are hit with NCAA's version of a Ford F150-how embarrassing is that?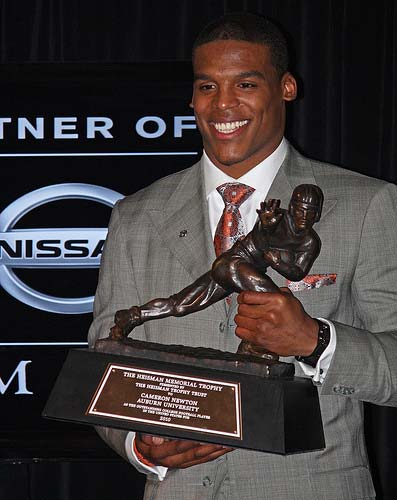 Auburn's Cam Newton holds up his 2010 Heisman trophy at the Marriott Marquis in Times Square.
Thanks to Chris Pusateri at flickr.com for this photo.
---
Shopping for a Terrell Pryor Jersey
Last year, I wrote an article stating that the NCAA was going to war over violations and enforcing its rules. I thought that was fine and still do. But the double standard is ridiculous. If you are going to punish anyone then punish everyone. More importantly, scale it to make the punishment fit the crime please. The American Justice System, for all its flaws, does not intentionally electrocute shoplifters while letting murderers go free. The NCAA should follow that example and, for the sake of college football, try to come up with a system that makes sense.
---
What do you think?
We'd love to hear your comments and/or opinions. If you submit them here, other visitors can read them, rate them and comment on them. An e-mail address is not required.
---
From NCAA Double Standard Newton vs Pryor to NCAA Football Blog | Sports Blog | NFL Football Blog | NFL Football Archives | College Football Archives | MLB Baseball Blog | College Baseball Blog | MLB Baseball Archives | NBA Basketball Blog | NCAA Basketball Blog | NBA Basketball Archives | NCAA Basketball Archives | Fantasy Football | Fantasy Basketball | Fantasy Baseball | Soccer Archives | Olympics Archives | Stupid Athletes Archives | Other Archives | Football Forum | Basketball Forum | Baseball Forum | NFL Football Store | NBA Basketball Store | MLB Baseball Store | NCAA Football Store | NCAA Basketball Store | NCAA Baseball Store | Fatheads | NFL Football Tickets | NBA Basketball Tickets | MLB Baseball Tickets | NCAA Football Tickets | NCAA Basketball Tickets | NCAA Baseball Tickets |
---
Home Page
About Us | Contact Us | Site Search | Advertise | Terms of Use |
---