NCAA College Football 2012 Preview
By Matt Green
In the midst of my individual team previews, the fans have called for an overall, blanket college football preview. And, as I am a man of the people, I have decided to undertake said preview. College Football is almost here. So let's get to it...
NATIONAL CHAMPIONSHIP CONTENDERS
FAVORITES
ALABAMA- they are always in the running with Saban bringing in top-notch talent year after year, and they also return their starting QB and top O-lineman in Barrett Jones. O yeah, and they still have Kirby Smart.
LSU- Last year's runner up is at it again. Their QB situation in 2011 was reprehensible, but Zach Mettenberger will try to bring some stability to the position while Mathieu, Mingo, and Montgomery look to continue defensive dominance in Baton Rouge.
USC- After the 2-year postseason ban, the Trojans are back with a vengeance. Kiffin has as much talent as anyone at his disposal. Matt Barkley and the offense are set, and it's up to the defense to win them a title, cause we know the offense is fine.
OKLAHOMA- I have some doubts about the Sooners, but Landry Jones is good. It's the skill positions that scare me, and the lack of defensive consistency in recent years. But, the talent is there, the question is: can they figure it out?
OREGON- Chip Kelly has built an incredibly stable program in Eugene, and the offensive talent is there yet again for the Ducks. As always, the question will be whether or not the defense can keep them in games and shut down offenses like USC.
THE BEST OF THE REST
GEORGIA- a lot of people will tell you UGA is overrated, and, while they may be, they still have a ton of playmakers on defense, most notably Jarvis Jones, and also have a solid QB in Aaron Murray. RB could be a black hole, but if they can get consistent production from the run game, look out for the Dawgs.
WEST VIRGINIA- Don't sleep on the Moutaineers. That offense, led by Geno Smith, is as explosive as any in America, and the Big 12 is down this year. Far down. Also, WVU's toughest games (Oklahoma and TCU) are both in Morgantown, so all the pieces are in place for West Virginia to make a run.
WISCONSIN- Every year, Wisconsin is underrated in preseason polls, and every year they wind up in the Rose Bowl (it seems like, anyway.) Bret Bielema has one of the top rushing attacks every single year, and the Big Ten is not going to be good this year outside of Michigan and maybe Michigan State (also, don't count out the Buckeyes and Urban Meyer).
DON'T SLEEP ON
TCU- I mentioned the mediocrity of the 2012 Big 12, and TCU may benefit. The schedule is not ideal (OK State, WVU, K-State, Texas, OU all in a row), but they have the talent to win any game on the schedule, and the extra motivation of being in the Big 12 won't hurt.
Shifting gears here, let's take a look at some of the Heisman contenders in 2012...
FAVORITES
MATT BARKLEY- Man crush. That is all.
LANDRY JONES- Doesn't have his usual slew of talented WRs, but the talent and system are there.
MARCUS LATTIMORE- All-around beast.
MONTEE BALL- Heisman finalist in 2011, and, if he stops running into street toughs on campus, should have another chance at the prize this year.
GENO SMITH- Not talked about much, but he put up incredible numbers in 2011, and he's back for more.
DENARD ROBINSON- it will be tough for such a small guy to maintain a rushing workload like he has, but boy, he is fast.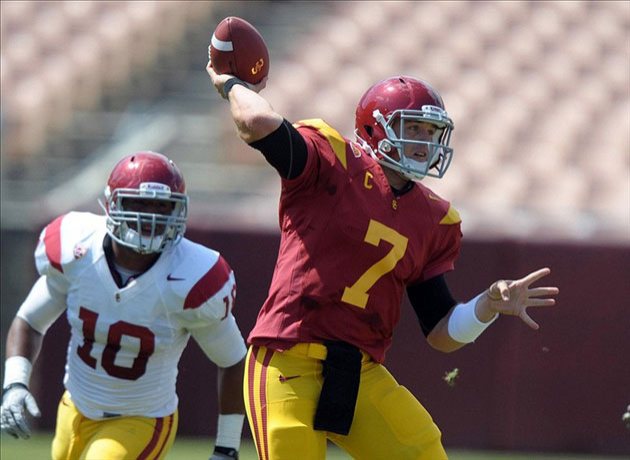 Apr 14, 2012; Los Angeles, CA, USA; Southern California Trojans quarterback Matt Barkley (7) is pressured by linebacker Hayes Pullard (10) in the 2012 spring game at the Los Angeles Memorial Coliseum. Photo Courtesy By Kirby Lee/Image of Sport-US PRESSWIRE.
---
DON'T SLEEP ON...
CASEY PACHALL- The TCU QB is flying under the radar, but with more freedom in the passing game this year, look out.
AARON MURRAY- He has nice WR weapons, a great coach in Richt, and all the tools a top QB needs.
TAJH BOYD- Clemson may not be a title contender, but the offensive system is good for numbers, and he's athletic as well.
LOGAN THOMAS- he's a mountain of a man at QB, has a sick arm and is still very mobile.
COLLIN KLEIN- He's unorthodox (especially passing), but few players are nearly as effective as this guy.
TYLER WILSON- he would be a favorite if Bobby Petrino hadn't been fired for, well, we all know why he was fired, but Wilson has talent and nice weapons.
DE'ANTHONY THOMAS- Speed, speed, speeeeeeeeeeed.
KEITH PRICE- broke onto the scene in the 2011 Alamo Bowl, and returns for a solid offense led by guru Sarkisian.
GAMES TO WATCH IN 2012
Week 1 (August 30- September 3)
Friday, August 31
Boise State at Michigan State
Saturday, October 27
Florida vs Georgia- Can we just please get back to calling it the World's Largest Outdoor Cocktail Party?
Michigan at Nebraska
Notre Dame at Oklahoma
Saturday, September 1
Notre Dame vs Navy- The game's in Dublin. Awesome.
Michigan vs Alabama
Saturday, November 3 (the best day EVER, just look at these matchups!)
Oregon at USC
TCU at West Virginia Alabama at LSU
Saturday, September 8
Florida at Texas A&M, Georgia at Missouri- Both A&M and Mizzou begin their SEC lives.
Washington at LSU
Thursday, November 8
Florida State at Virginia Tech
Saturday, September 15
Alabama at Arkansas
USC at Stanford
Saturday, November 17
Ohio State at Wisconsin
Stanford at Oregon
Oklahoma at West Virginia
Saturday, September 22
Michigan at Notre Dame
Friday, November 23
LSU at Arkansas
Saturday, October 6
Miami at Notre Dame- Catholics v Convicts is renewed!
Washington at Oregon
West Virginia at Texas
Saturday, November 24
Florida at Florida State
Michigan at Ohio State
Oklahoma State at Oklahoma
South Carolina at Clemson
Saturday, October 13
South Carolina at LSU
Texas vs Oklahoma
USC at Washington
Friday, November 30
Pac-12 Championship
Saturday, October 20
Virginia Tech at Clemson
LSU at Texas A&M
Kansas State at West Virginia
Sunday, December 1
Oklahoma at TCU
SEC Championship
ACC Championship
Big Ten Championship
---
What do you think?
We'd love to hear your comments and/or opinions. If you submit them here, other visitors can read them, rate them and comment on them. An e-mail address is not required.
---
From NCAA College Football 2012 Preview to NCAA Football Blog | Sports Blog | NFL Football Blog | NFL Football Archives | College Football Archives | MLB Baseball Blog | College Baseball Blog | MLB Baseball Archives | NBA Basketball Blog | NCAA Basketball Blog | NBA Basketball Archives | NCAA Basketball Archives | Fantasy Football | Fantasy Basketball | Fantasy Baseball | Soccer Archives | Olympics Archives | Stupid Athletes Archives | Other Archives | Football Forum | Basketball Forum | Baseball Forum | NFL Football Store | NBA Basketball Store | MLB Baseball Store | NCAA Football Store | NCAA Basketball Store | NCAA Baseball Store | Fatheads | NFL Football Tickets | NBA Basketball Tickets | MLB Baseball Tickets | NCAA Football Tickets | NCAA Basketball Tickets | NCAA Baseball Tickets |
---
Home Page
About Us | Contact Us | Site Search | Advertise | Terms of Use |
---