NBA Trade Deadline Breakdown
This year's trade deadline was the most active ever. Future history books on the NBA will remember the 2011 Trade Deadline as the breaking point for owners. Stars moved from small markets to big markets, from the west to the east, and the power structure of the NBA changed dramatically. Nuggets forward Carmelo Anthony started this process by forcing a trade to New Jersey (that deal is covered in its own article on the NBA page so check it out!) and everything spun out of control from there. Let's take a look at all the major deadline trades and assess how each team did. Of course, if you disagree with this analysis, or want to provide your own two cents, please post your thoughts on the Forum!
The New Jersey Nets trade point guard Devin Harris, power forward Derrick Favors, and two future lottery picks for point guard Deron Williams.

This trade was a gamble the Nets had to make and I applaud them for having the guts to pull the trigger. The Nets needed a franchise leader and an identity and Williams will provide that for them. If they can add power forward David West in free agency this year (certainly not a given but a likely possibility) then they will have a contending core. Plus, I like their odds of keeping Williams past 2012: the new CBA will certainly have more provisions intended to help smaller markets keep their star players and caps will be lower. Deron Williams loves New York and the Knicks won't have money to pay him so this could end up being the deal of the decade.
Looking for a Carmelo Anthony Jersey
You also have to admire Utah GM Kevin O'Connor for not playing games and moving his franchise forward. The GM's job is to use all means available to secure his franchises' future and that is exactly what O'Connor did: he refused to spend a full year begging Williams to stay and instead got value for him in return. If the Jazz can draft well (a mixed proposition the last few years) then the franchise should be just fine without Williams.
The Los Angeles Clippers trade point guard Baron Davis and a 2011 first round pick to the Cleveland Cavaliers for point guard Mo Williams and forward Jamario Moon.

I hated this deal for the Clippers. Here is why: Baron Davis was engaged for the first time in his career (and an engaged Baron is a better player than Williams) and the Clippers had only one hole to fill in their otherwise young and exceptional starting lineup: small forward. Conveniently, there were at least three small forwards (Harrison Barnes, Derrick Williams, Terrence Jones, and Jordan Hamilton) who project as strong starters in this draft and the Clippers had the pick to acquire whichever one of them that they wanted. Until they gave it away of course-we are talking about the Clippers after all. It's not a true curse Clippers fans: it's just missed opportunities and poor management.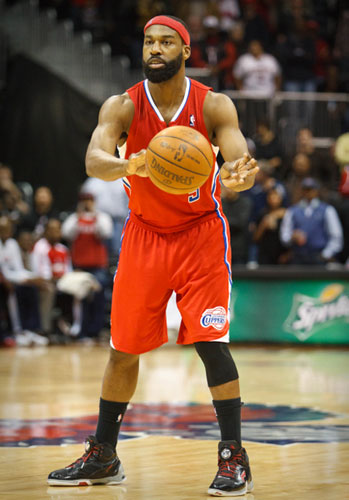 Los Angeles' Baron Davis in Atlanta Hawks 101-100 victory over the Los Angeles Clippers at Philips Arena in Atlanta, GA.
---
On the other side, give credit to Cleveland owner Dan Gilbert for realizing his summer mistake (he should have blown up the roster a day after LeBron James left) and spending millions of dollars to acquire an unprotected lottery pick in this year's draft. That means that the Cavaliers will have (at least) two top ten picks this year and one next year (trust me they will still be terrible). Who cares if Davis is a bit difficult: if they draft well (and trade away their useful older vets and expiring deals next season for younger complimentary assets or more picks) then Cleveland will be back into contention soon enough. And, unlike last time, their period of contention will not be entirely dependent on the capricious whims of one particular player.
The Washington Wizards send point guard Kirk Hinrich and center Hilton Armstrong to the Atlanta Hawks for guard Mike Bibby, guard Maurice Evans, guard Jordan Crawford, and a 2011 first round pick.

This might be the most underrated deal of the deadline. The Hawks acquired a highly capable and tough point guard who can defend both backcourt positions and will solidify a strong starting unit. Atlanta is still not a frontline contender but the Hawks are now a sneaky good team that could go on a run in the playoffs.
Meanwhile, Wizards GM Ernie Grunfeld, who was rightly maligned as poor executive in recent years, seems to have found himself and returned to the management style he used to build the 1990s Knicks. This deal, along with the original deal to acquire Hinrich in the summer, netted the Wizards three first round draft picks and a mentor for rookie sensation John Wall. Under new owner ted Leonsis, the Wizards seem to be rebuilding patiently and the team should be ready to make noise in a couple of years.
The Boston Celtics trade center Kendrick Perkins and guard Nate Robinson to the Oklahoma City Thunder for forward Jeff Green, center Nenad Kristic, and the Clipper's future first round pick.

A lot of analysts hated this deal for Boston but I strongly disagree with that assessment. The Celtics are the best team in the East this year and Perkins has not been healthy once; the additions of Jermaine and Shaquille O'Neal seem to have solidified the middle. Plus, Boston is sure to secure several buyout candidates over the coming week to create a very strong frontcourt rotation. What Boston did not have (before this week at least) was a credible sixth man wing capable of defending star small forwards. Jeff Green should fill that role admirably. More importantly, the Celtics' move also plans for the future: Green is talented enough to complement Rondo and should form part of the Celtics core that takes over when the Big Three are gone. Top sports analysts are fond of saying "Boston's time is now" but there is really no reason for Boston to fade in the coming years. The Celtics have an All-NBA point guard in Rajon Rondo, an intriguing shooting guard in rookie Avery Bradley (who is extremely underrated and was the best man defender in college basketball last year), an emerging power forward in Glen Davis, and just added a highly capable wing in Green and a future lottery pick from the Clippers. Boston will also have the cap space (and the historic franchise-big market allure) to sign center Dwight Howard in 2012, so why should people think Boston is going anywhere?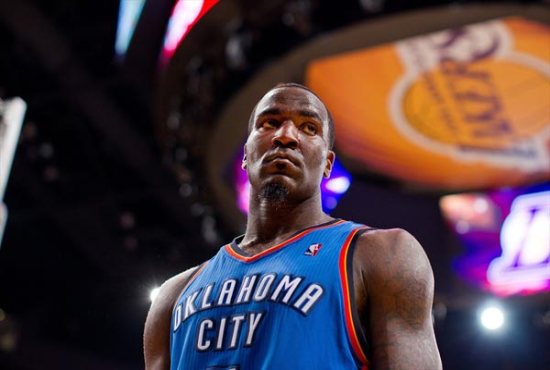 The Boston Celtics center Kendrick Perkins (43).
---
This trade was also a major victory for the Thunder. The tough, young, and versatile Perkins should provide the last piece that Oklahoma City needed to be a contender. The Thunder now have a frontcourt rotation capable of going deep into the playoffs and winning a championship. GM Sam Presti said it would take time but he certainly delivered on his promise.
The Charlotte Bobcats trade forward Gerald Wallace to the Portland Trail Blazers for center Joel Pryzbilla, forward Dante Cunningham, and two first round draft picks.

And so, the rebuilding movement officially begins in Charlotte. The team parlayed Wallace-their best player and "franchise cornerstone"-into salary relief and two picks that will really help in a long term rebuilding process. The Bobcats will now be well under the cap (and in the league cellar) next season and still have some of the worst contracts in the game on their payroll (Stephen Jackson, Matt Carroll, and DeSagana Diop) but there is a salary floor in this league so that's not much of a big deal. After all, no free agents are headed to Charlotte anyways so they better get to it and start building through the draft.
On the Blazers side, the addition of Wallace makes Portland an intriguing and surprisingly dangerous team. No one in the west really wants to face this group: their starting lineup of Andre Miller, Brandon Roy, Gerald Wallace, LaMarcus Aldridge, and Marcus Camby is extremely solid (elite when Roy is healthy) and making Wesley Matthews and Nicholas Batum super-subs will create the leagues' deepest bench. That's not even mentioning the fact that the Miller-Matthews-Wallace-Batum-Aldridge lineup might just play the most effective small ball in the game.
The Charlotte Bobcats trade center Nazr Mohammad to the Oklahoma City Thunder for guard Morris Peterson and forward D.J. White

This was the second part of the Thunder's effort to become contenders; securing a highly competent backup center who can start when Perkins is injured. Mohammad, who is ageing as well as any big man in the game, will fill that role admirably and now the Thunder have an excellent frontcourt rotation of future stud Serge Ibaka, Nick Collison, Nazr Mohammad, and Kendrick Perkins. That is a frontcourt group capable of supporting a contending roster, particularly one headlined by talented guard Russell Westbrook and wing Kevin Durant. It was also a smart trade by the Bobcats who managed to make two straight intelligent personnel moves for the first time in franchise history because they got an intriguing talent (White) in return for an expiring contract. I was also surprised to hear that Morris Peterson still plays basketball but hey you learn something every day.
The Houston Rockets trade small forward Shane Battier and guard Ishmael Smith to the Memphis Grizzlies for center Hasheem Thabeet, forward DeMarr Carroll, and a first round draft pick.

This was a very smart move for Houston. GM Darryl Morey acquired Thabeet, the number two overall pick in the 2009 draft, and a draft pick this year for two players on expiring deals. Thabeet's potential remains intriguing and, while many have pegged him as a bust, Memphis is widely viewed as a toxic environment so it is possible that he could still be developed.
However, the Rockets will miss Battier's leadership (though don't be surprised if they quietly resign him this summer) and, more importantly, these kinds of moves are exactly the reason why the Rockets are unable to contend year after year. Morey, ever the MIT mathematician, always seeks deals where he knows Houston will improve but, as a result, those improvements are nearly always incremental and the team remains capped out and far away from elusive contention. This was the year for a real blockbuster for an impact player and Morey missed his window of opportunity. On the Grizzlies side, Memphis managed to unload (what it views as) a major draft bust and acquire a glue player who can help them make the postseason.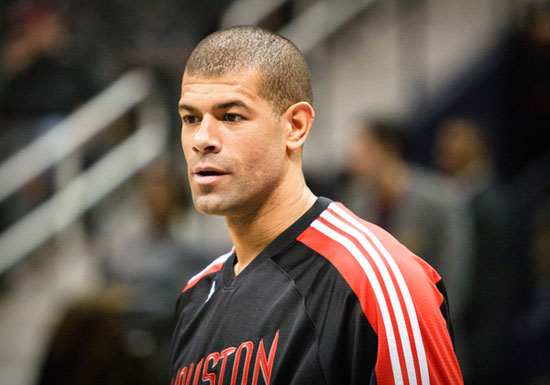 Houston's Shane Battier in pregame warmups in Atlanta Hawks 112-106 loss to the Houston Rockets at Philips Arena in Atlanta, GA.
---
The Houston Rockets trade guard Aaron Brooks to the Phoenix Suns for Goran Dragic and a first round pick.

This is another lateral move by Houston; the Rockets come out a bit ahead with the pick but Brooks should have been used as a major piece of a blockbuster deal. These kinds of small deals just move the Rockets away from contention. I really like the deal for Phoenix though because they replace Dragic (a bust) with the talented Brooks. Under Steve Nash's tutelage, Brooks-who was nearly an All Star in last season-could really become a top notch player.
The Chicago Bulls trade small forward James Johnson to the Toronto Raptors for the Miami Heat's first round draft pick in 2011.

This deal made sense for both sides. The Bulls were trying to add another pick and 2.9 million in cap space so that they could make a deal for a starting shooting guard. That did not happen (though not for lack of effort-the Rockets simply overvalued Courtney Lee and no one ever knows what the Grizzlies are thinking) but the Bulls still came out ahead because Johnson was a project who was not getting any minutes on a contending team. Now they get a relative do-over on that draft pick this summer while the Raptors get an intriguing player and, unlike Chicago, Toronto has the minutes available to see if Johnson is worth developing.
The Boston Celtics send Semil Erden and Luke Harangody to the Cleveland Cavaliers for a future second round draft pick.

This was a very smart move by Boston GM Danny Ainge. Ainge knows that there will be a number of very useful players waived this week (Troy Murphy and T.J. Ford among others) and cleared the roster spots necessary to sign them to deals. On the Cleveland side, the Cavaliers get a free look at the intriguing Erden and will use Harangody's local appeal (he is a Midwestern kid who starred at Notre Dame) and blue collar work ethic as a smart PR play.
The Boston Celtics send Marquis Daniels and cash considerations to Sacramento for a future second round draft pick.

Boston cleared another roster spot (Daniels is out for the rest of the year with a spinal injury) and Sacramento got paid to get themselves above the league's salary floor. Everybody wins.
---
---
What do you think?

We'd love to hear your comments and/or opinions. If you submit them here, other visitors can read them, rate them and comment on them. An e-mail address is not required.
---
From NBA Trade Deadline Breakdown to NBA Basketball Blog | Sports Blog | NFL Football Blog | NCAA Football Blog | NFL Football Archives | College Football Archives | MLB Baseball Blog | College Baseball Blog | MLB Baseball Archives | NCAA Basketball Blog | NBA Basketball Archives | NCAA Basketball Archives | Fantasy Football | Fantasy Basketball | Fantasy Baseball | Soccer Archives | Olympics Archives | Stupid Athletes Archives | Other Archives | Football Forum | Basketball Forum | Baseball Forum | NFL Football Store | NBA Basketball Store | MLB Baseball Store | NCAA Football Store | NCAA Basketball Store | NCAA Baseball Store | Fatheads | NFL Football Tickets | NBA Basketball Tickets | MLB Baseball Tickets | NCAA Football Tickets | NCAA Basketball Tickets | NCAA Baseball Tickets |
---
Home Page
About Us | Contact Us | Site Search | Advertise | Terms of Use |
---