NBA Season Recaps: The 1969-1970 NBA Season
By Lorenzo Tanos

It was a long time coming indeed for the team that once drafted high-profile failures like Paul Hogue, Art Heyman and Tom Stith.  With the help of smart draft choices such as Willis Reed, Bill Bradley, Walt Frazier and Cazzie Russell, and a savvy trade for Dave DeBusschere the year prior, the New York Knicks were now championship material, and they played the part.
But it's not like they didn't get a good fight from the Milwaukee Bucks, who went 56-26 in just their second season behind the much-hyped Lew Alcindor, the 7'2" center out of UCLA considered the NBA's hottest prospect since Wilt Chamberlain.
And speaking of Wilt, he may have been gone for all but 12 regular season games, but he was back in time for the Playoffs to help the Lakers back to the Finals...and another loss.
NBA Champions – New York Knicks (d. Los Angeles Lakers, 4-3)

MVP – Willis Reed (New York Knicks, 21.7 ppg, 13.9 rpg)

Rookie of the Year – Lew Alcindor (Milwaukee Bucks, 28.8 ppg,14.5 rpg, 4.1 apg, 1st round, 1st pick)
LEAGUE LEADERS – Jerry West (Los Angeles Lakers, 31.2 ppg), Elvin Hayes (San Diego Rockets, 16.9 rpg), Lenny Wilkens (Seattle SuperSonics, 9.1 apg), Johnny Green (Cincinnati Royals, 55.9% FG), Flynn Robinson (Milwaukee Bucks, 89.8% FT), Jim Davis (Atlanta Hawks,335 fouls)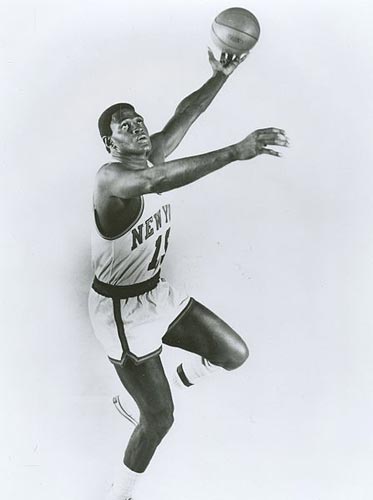 "THE LOGO" IS FIRST "TRUE" SCORING LEADER – The NBA would start basing yearly leaders on averages, and what better player to become the first scoring leader based on averages than Jerry West.  After a slightly down 1968-69, West took advantage of Wilt Chamberlain and Elgin Baylor missing a combined 98 man-games, averaging 31.2 ppg to pick up the slack.  Had the NBA based its leader boards on totals, 1969-70 Rookie of the Year Lew Alcindor would have taken the scoring title, as the blue-chipper from UCLA scored a total of 2,361 points, good for a 28.8 ppg average.

JUMPING BACK TO PROMINENCE – The season before, Johnny Green's career seemed to be good as over.  Once one of the NBA's best rebounders and most athletic players, the 6'5" power forward normed just 4.5 ppg and 4.7 rpg in 1968-69 for the Philadelphia 76ers.  With no takers following the 1968-69 season, Green was signed by the Cincinnati Royals as a free agent, and the 36-year-old "Jumpin' Johnny" saw his career enjoy an unexpected revival.  He averaged 15.6 ppg and 10.8 rpg for the Royals, and would play three more seasons afterwards, all of which were more productive than 1968-69.

REBUILDING STARTS NOW – The Boston Celtics, after winning 11 titles in 13 seasons, were in unfamiliar territory in 1970 – an early vacation after not making the Playoffs.  Without Bill Russell and Sam Jones, the Boston Celtics were now John Havlicek (24.2 ppg, 7.8 rpg, 6.8 apg) and a gaggle of deluxe role players (Don Nelson, Larry Siegfried), aging vets (Bailey Howell, Tom Sanders) and promising youngsters (Jo Jo White, Don Chaney).  That's why it was a bit of surprise that the Celtics, now coached by another former standout, Tommy Heinsohn, still finished 34-48.

A LOOK AT THE LEAGUE LEADERS/TITLE WINNERS – A great deal of the New York Knicks' success had to do with defense, as they led the league in defense by almost six points, allowing opponents to score only 105.9 ppg.  Three Knicks were part of the NBA's All-Defensive First Team in 1970, representing all three main positions – forward Dave DeBusschere (14.6 ppg, 10.0 rpg), MVP-winning center Willis Reed (21.7 ppg, 13.9 rpg) and guard Walt Frazier (20.9 ppg, 6.0 rpg, 8.2 apg).  Aside from those three, the Knicks got production from veteran shooting guard Dick Barnett (14.9 ppg) and Bill Bradley (14.5 ppg, 4.0 apg), though Cazzie Russell (11.5 ppg) was a bit of a disappointment after posting career numbers the previous season.  In any case, the key to the Knicks' title win was defense, and this was a team that played it very well.

A LOOK AT THE CELLAR DWELLERS – Though the San Diego Rockets had one of the league's best power forwards in Elvin Hayes (27.5 ppg, 16.9 rpg), "Big E" was the lone star on a rather colorless Rockets team that finished 27-55 in 1969-70.  The Rockets that year had four other players averaging in double figures – small forward Don Kojis (15.3 ppg, 6.9 rpg), guards Jim Barnett (14.9 ppg) and Stu Lantz (14.5 ppg) and power forward John Block (14.5 ppg, 7.4 rpg), but you certainly won't hear those names compared to Hayes, who was by far the Rockets' best player in 1969-70.  As a bit of trivia, the Rockets' lowest scorer that season was one Pat Riley (5.3 ppg), who would spend most of the next six seasons as a key reserve for the Los Angeles Lakers.  You might have heard of him.


What do you think?

We'd love to hear your comments and/or opinions. If you submit them here, other visitors can read them, rate them and comment on them. An e-mail address is not required.