NBA Season Recaps: 1979-1980 NBA Season
By Lorenzo Tanos

One of them was the hottest backcourt prospect since Oscar Robertson and Jerry West in 1960. The other was actually drafted the year before, but decided to stay in college for his senior year – he was a small-town product who turned a smaller Division I school into NCAA championship material.  And unlike the typical NBA superstar of the day, they were unselfish players with great fundamentals and extremely high basketball IQs to make up for their lack of elite athleticism.
These players were Earvin "Magic" Johnson and Larry Bird, who debuted in 1979-80 for the Los Angeles Lakers and Boston Celtics respectively.  They were the shot in the arm the NBA so sorely needed, and while the NBA's surge in popularity would come a few years into their careers, Bird and Magic would lead their teams as they topped their respective conferences, hinting at an iconic rivalry to follow soon thereafter. 

But first, it would be Magic's time to shine, as the Lakers would win the 1980 Finals, with Johnson scoring 42 points in the deciding Game 6 and playing center – a bit out of position, but not unsurprising, considering his excellent height (6'9") for a point guard.

NBA Champions – Los Angeles Lakers (d. Philadelphia 76ers, 4-2)

MVP – Kareem Abdul-Jabbar (Los Angeles Lakers, 24.8 ppg, 10.8 rpg, 4.5 apg, 3.4 bpg)

Rookie of the Year – Larry Bird (Boston Celtics, 21.3 ppg, 10.4 rpg, 4.5 apg)

LEAGUE LEADERS – George Gervin (San Antonio Spurs, 33.1ppg), SwenNater (San Diego Clippers, 15.0 rpg), Micheal Ray Richardson (New York Knicks, 10.1 apg), Micheal Ray Richardson (New York Knicks, 3.2 spg), Kareem Abdul-Jabbar (Los Angeles Lakers, 3.4bpg), Cedric Maxwell (Boston Celtics, 60.9% FG), Fred Brown (Seattle SuperSonics, 44.3% 3P), Rick Barry (Houston Rockets, 93.5% FT), Darryl Dawkins (Philadelphia 76ers, 328 fouls).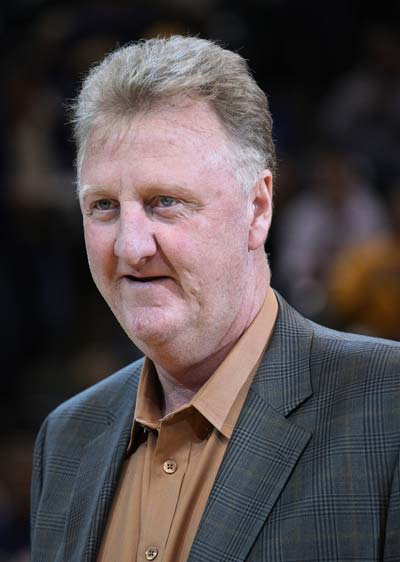 THE BRAVES GO TO CALIFORNIA/A TALE OF TWO (UCLA) CENTERS – The year before, the Buffalo Braves moved west to become the San Diego Clippers, and hopes were high as they added star center Bill Walton in 1979-80, one year after a 43-39 season in their new home.  Unfortunately, Walton's chronic foot injuries kept him off the court for all but 14 games, and it wouldn't be until 1982-83 when the former MVP would make his return to the court.  With Walton out, SwenNater was a pleasant surprise as 1979-80's leading rebounder for the season.

The Netherlands-born Nater was a backup to Walton in UCLA, never starting a college game, but nonetheless got drafted late in the first round of the 1973 Draft and cut his teeth in the ABA.  That's where he emerged as a star, and upon joining the NBA, he fit in immediately as one of the league's best rebounders not named Moses Malone.

DIALING IN FROM LONG RANGE – The three-point shot was introduced for the 1979-80 NBA season, not long after it was last seen as a defining characteristic of ABA rules.  In its first few years, the trey was used more as a "secret weapon" rather than an offensive staple – nobody made more than 100 three-pointers in its first season in the NBA.  Leading the league in three-pointers made and three-point shooting percentage respectively were San Diego's Brian Taylor (90) and Seattle's "Downtown" Freddie Brown (44.3% 3P).

A LOOK AT THE TITLE WINNERS –The Los Angeles Lakers were loaded in 1979-80.  They had Kareem Abdul-Jabbar (24.8 ppg, 10.8 rpg, 4.5 apg, 3.4 bpg) winning another MVP trophy, they had Jamaal Wilkes (20.0 ppg, 6.4 rpg) playing at the peak of his game, they had one of the league's better young point guards in Norm Nixon (17.6 ppg, 7.8 apg), and they had another skilled point guard coming in – Magic Johnson (18.0 ppg, 7.7 rpg, 7.3 apg), who was actually listed as a shooting guard.  Probably the only weakness was power forward, where the platoon of Jim Chones and Spencer Haywood was quite average at this point.  After handily beating the Phoenix Suns and Seattle Sonics in five games each, the Lakers would win the 1980 Finals against Julius Erving and the Philadelphia 76ers, 4-2.

A LOOK AT THE LEAGUE LEADERS – With Larry Bird (21.3 ppg, 10.4 rpg, 4.5 apg) onboard one year after he was drafted as a college junior (Bird went on to play his senior year), the Boston Celtics made a dramatic 32-game improvement from 29-53 to 61-21. But he wasn't alone in his efforts, as the C's also had another talented young forward in Cedric Maxwell (16.9 ppg, 8.8 rpg), former MVP Dave Cowens (14.2 ppg, 8.1 rpg, 3.1 apg) a step slower but still productive, and Tiny Archibald (14.1 ppg, 8.4 apg) proving that sometimes, less really is more; no longer the big scorer of old after an Achilles injury, Archibald focused more on playmaking and intangibles as a Celtic.

For what it's worth, the Celtics even had Pete Maravich (11.5 ppg) for 26 games.  Despite all that, the Celtics still fell to the Philadelphia 76ers in the Eastern Conference Finals, though it wouldn't be long before they were back winning titles again.

A LOOK AT THE CELLAR DWELLERS – It was a long season for the Detroit Pistons in 1979-80, and it wasn't because that was the name of one of their best players, hometown hero and recent second-round selection John Long (19.4 ppg, 4.9 rpg, 1.9 spg).  The Pistons finished a horrid 16-66 in a season where their franchise center Bob Lanier (21.7 ppg, 10.1 rpg as a Piston) was shipped to the Milwaukee Bucks for a player they hoped would be a franchise player in his own right.

Unfortunately, that player was Kent Benson (12.1 ppg, 7.1 rpg, 3.0 apg as a Piston), and he's known nowadays as one of the most underwhelming first-overall picks in history.  The Pistons also featured an unhappy Bob McAdoo (21.1 pg, 8.1 rpg in 58 games), a couple other hometown boys in high-leaping combo forward Terry Tyler (12.3 ppg, 7.6 rpg, 2.7 bpg) and Greg Kelser (14.2 ppg, 5.5 rpg), and little else.


What do you think?

We'd love to hear your comments and/or opinions. If you submit them here, other visitors can read them, rate them and comment on them. An e-mail address is not required.
From NBA Season Recaps: 1979-1980 NBA Season to NBA Basketball Blog