NBA Season Recaps: 1978-1979 NBA Season
By Lorenzo Tanos

The year before, the Seattle SuperSonics overcame a horrid start to make it to the NBA Finals, only to fall short against the equally surprising Washington Bullets.  In 1979, both teams were no longer surprising, topping their respective divisions and facing off in a rematch of the previous year's encounter.
And the Sonics would win this time around, in their 12th year in the NBA and with a very young lineup led by Gus Williams, Dennis Johnson, JackSikma and, in what should be considered a steal, power forward Lonnie Shelton acquired from the New York Knicks for Marvin "The Human Eraser" Webster.

The Bullets still featured Elvin Hayes, Bob Dandridge, Wes Unseld, Kevin Grevey and future Lakers GM Mitch Kupchak as their key players, while elsewhere, the Denver Nuggets and San Antonio Spurs were contending behind their respective top scorers David Thompson and George Gervin,  the Philadelphia 76ers had a "good doctor" in the house in Julius Erving, and the Kansas City Kings topped the Midwest with their young backcourt of Otis Birdsong and Rookie of the Year Phil Ford.

It was a very competitive NBA, but unfortunately, not a very colorful one, as basketball lagged far behind football and baseball in popularity, and was once again turning into an afterthought on the sports pages.

NBA Champions – Seattle SuperSonics (d. Washington Bullets, 4-1)

MVP – Moses Malone (Houston Rockets, 24.8 ppg, 17.6 rpg)

Rookie of the Year – Phil Ford (Kansas City Kings, 15.9 ppg, 8.6 apg)

LEAGUE LEADERS – George Gervin (San Antonio Spurs, 29.6 ppg), Moses Malone (Houston Rockets, 17.6 rpg), Kevin Porter (Detroit Pistons, 13.4 apg), M.L. Carr (Detroit Pistons, 2.5 spg), Kareem Abdul-Jabbar (Los Angeles Lakers, 4.0 bpg), Cedric Maxwell (Boston Celtics, 58.4% FG), Rick Barry (Houston Rockets, 94.7% FT), Bill Robinzine (Kansas City Kings, 367 fouls)

NOBODY'S WATCHING, SO WHY PLAY "D"? – With increased apathy in the league came more apathetic defense – the NBA, which was scoring just 102 ppg the year before the ABA merger, was now up to 110.3 ppg in 1978-79, as teams would content themselves to run up the score and think of defense later.  The trade-off, however, was more room for the likes of David Thompson, Julius Erving, George Gervin and others flourishing in the wide-open game and wowing fans with their displays of grace and athleticism.

WASTED TALENT – While drug use in sports was quite prevalent in the decadent 1970s, it was pro basketball that was especially seen as a haven for wasted, strung-out athletes blowing their potential on cocaine and other prohibited substances – another reason for the league's lack of popularity in the late '70s.  David Thompson, Marvin Barnes and Spencer Haywood were among the higher-profile NBA players active in this period that suffered through drug abuse during and/or after their NBA careers.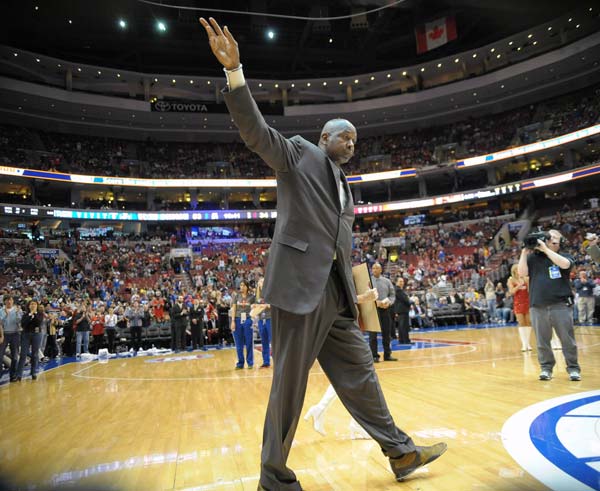 THE FIRST PREPS-TO-PROS MVP – 1978-79 marked the first year early preps-to-pros star Moses Malone (24.8 ppg, 17.6 rpg) would win MVP honors, as he teamed up with Calvin Murphy (20.2 ppg, 4.3 apg), a fully-recovered Rudy Tomjanovich (19.0 ppg, 7.7 rpg) and a now-complementary point forward Rick Barry (13.5 ppg, 6.3 apg, an NBA-record 94.7% FT) to take the Houston Rockets to a 47-35 record.  The Rockets, however, would be swept 2-0 in the first round of the Eastern Conference Playoffs  by the Atlanta Hawks, which featured two more casualties of the NBA's most druggy era – super sixth man John Drew (22.7 ppg, 6.6 rpg) and "Fast" Eddie Johnson (16.0 ppg, 4.6 apg).

A LOOK AT THE TITLE WINNERS – The Seattle SuperSonicsmade one key change for the 1978-79 season, while keeping top guys such as Gus Williams (19.2 ppg, 4.0 apg), Dennis Johnson (15.9 ppg, 4.7 rpg, 3.5 apg), Freddie Brown (14.0 ppg) and John Johnson (11.0 ppg, 5.0 rpg, 4.4 apg). That key change was acquiring Lonnie Shelton (13.5 ppg, 6.2 rpg) from the Knicks for the (would-be) underachieving Marvin Webster.  That meant young center Jack Sikma (15.6 ppg, 12.4 rpg) would get promoted to a starting job.  The minor tweak didn't lead to a much better regular season record, but they paid off when it counted the most, as the Sonics disposed of the team that beat them the year prior, the Washington Bullets, in a five-game NBA Finals series.

A LOOK AT THE LEAGUE LEADERS – The previous year's champs, the Washington Bullets, brought back most of their key contributors in 1978-79, and all of them remained productive.  Elvin Hayes (21.8 ppg, 12.1 rpg) and Wes Unseld (10.9 ppg, 10.8 rpg, 4.1 apg) were among the best at the four and five respectively, the young backcourt of Kevin Grevey (15.5 ppg) and Tom Henderson (10.8 ppg, 6.0 apg) knew their roles and played them well, and Bobby Dandridge (20.4 ppg, 5.7 rpg, 4.7 apg) was versatility and defensive intensity personified.  Also, Mitch Kupchak (14.6 ppg, 6.5 rpg) was a very capable sixth man for the Bullets.  Unfortunately, this Bullets lineup fell short to the Seattle SuperSonics in the 1979 Finals, an effective rematch of the 1978 Finals that favored the Western Conference this time around.

A LOOK AT THE CELLAR DWELLERS – The New Orleans Jazz (26-56) weren't as bad as their record would suggest – power forwards Truck Robinson (24.2 ppg, 13.4 rpg for the Jazz) and Spencer Haywood (24.0 ppg, 9.6 rpg) both passed through, Pete Maravich (22.6 ppg, 5.0 apg) was still gunnin' 'em up, and young center Rich Kelley (15.7 ppg, 12.8 rpg, 3.6 apg, 2.1 bpg) had his best season yet.  But what the Jazz didn't quite have was good chemistry, and the team did have a few holes, such as at point guard, where an aging Gail Goodrich (12.7 ppg, 4.8 apg) was far from being the same productive player he was for the Los Angeles Lakers.  And the Jazz didn't have much of a bench either.  All told, it wasn't the best of sendoffs, as the Jazz would be moving to Utah for the 1979-80 season.


What do you think?

We'd love to hear your comments and/or opinions. If you submit them here, other visitors can read them, rate them and comment on them. An e-mail address is not required.
From NBA Season Recaps: 1978-1979 NBA Season NBA Basketball Blog