NBA Season Recaps: 1976-1977 NBA Season
By Lorenzo Tanos

With the ABA having dissolved and four teams from that league getting absorbed by the NBA, the league grew to 22 members in 1976-77, as two teams that were doormats of their respective conferences just a few years back fought for the NBA championship that season.  We're referring to the Portland Trail Blazers, who finally got one healthy year out of 1974 top pick Bill Walton, and the Philadelphia 76ers, who landed the biggest catch among ex-ABA stars – Julius "Dr. J" Erving.
As far as the ABA teams go, Erving's old team, the New York Nets, were dead last in the NBA with a 22-60 record, while the Denver Nuggets and their high-flying guard David Thompson finished 50-32, good for second in the Western  Conference. 

NBA Champions – Portland Trail Blazers (d. Philadelphia 76ers, 4-2)

MVP – Kareem Abdul-Jabbar (Milwaukee Bucks, 26.2 ppg, 13.3 rpg, 3.9 apg)

Rookie of the Year – Adrian Dantley (Buffalo Braves, 20.3 ppg, 7.6 rpg)

LEAGUE LEADERS – Pete Maravich (New Orleans Jazz, 31.1 ppg), Bill Walton (Portland Trail Blazers, 14.4 rpg), Don Buse (Indiana Pacers, 8.5 apg), Don Buse (Indiana Pacers, 3.5 spg), Bill Walton (Portland Trail Blazers, 3.2 bpg), Kareem Abdul-Jabbar (Los Angeles Lakers, 57.9% FG), Ernie DiGregorio (Buffalo Braves, 94.5% FT), Lonnie Shelton (New York Knicks, 363 fouls)

BOUNCING BACK FROM THE CELLAR – The Chicago Bulls yo-yoed their way back to a 44-38 record in 1976-77, just a year after going 24-58 and two after posting a 47-35 record.  Aside from new head coach Ed Badger sticking by Dick Motta's defensive principles, the Bulls had some much-needed help from Artis Gilmore (18.6 ppg, 13.0 rpg), the 7'2" giant who made his name with the ABA's Kentucky Colonels.

THE CURIOUS CASE OF BIG RED – Always a bit of a strange player, Dave Cowens (16.4 ppg, 13.9 rpg, 5.0 apg) played for only 50 games in 1976-77 due to what he described as "burnout"; during this time away from the Celtics, Cowens had even tried driving a cab, but Big Red wouldn't quit his day job just yet, as he was available for most of 1977-78 and posting better numbers than those he recorded in 1977.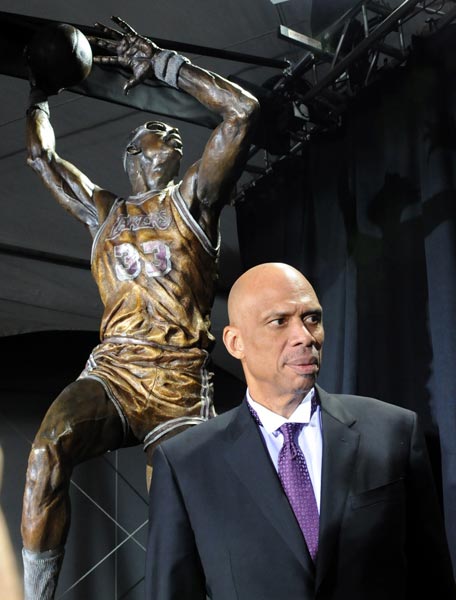 BRINGING THE RUNNING GAME OVER – FOR THE MOST PART – The ABA teams were known to run it up, and it was no surprise that the NBA's top-scoring teams in 1976-77 both came from the ABA – the San Antonio Spurs (115.0 ppg) and the Denver Nuggets (112.6 ppg).  The Indiana Pacers were in the middle at 11th with 106.8 ppg, while the Nets brought up the rear with just 95.9 ppg.
A LOOK AT THE TITLE WINNERS – Just six seasons ago, the Portland Trail Blazers were an expansion team.  Now they were shaping up as top contenders for the title, as all the pieces seemed to have fallen into place.  Bill Walton (18.6 ppg, 14.4 rpg, 3.8 apg, 3.2 bpg) was joined by former ABA standout Maurice Lucas (20.2 ppg, 11.4 rpg), while the backcourt of Lionel Hollins (14.7 ppg, 4.1 apg), Dave Twardzik (10.3 ppg) and Larry Steele (10.3 ppg, 1.5 spg) was a particularly hard-nosed one.

At small forward, Bob Gross (11.4 ppg, 4.8 rpg) and natural guard Herm Gilliam (9.3 ppg, 2.5 rpg) made a solid platoon.  Led by head coach Jack Ramsay, the Blazers fought their way past the Bulls and the Nuggets before sweeping the Lakers in four games in the Western Conference Finals, then defeating the Dr. J-led Philadelphia 76ers 4-2 in the Finals.

A LOOK AT THE LEAGUE LEADERS – Despite a rather middling 53-29 record, the Los Angeles Lakers had the NBA's best win-loss clip in 1976-77, behind Kareem Abdul-Jabbar's MVP campaign (26.2 ppg, 13.3 rpg, 3.9 apg, 3.2 bpg) and the strong play of Cazzie Russell (16.4 ppg) and Lucius Allen (14.6 ppg, 5.2 apg) in the backcourt.  Kermit Washington, who would gain widespread notoriety the year after for "The Punch" – his attack on then-Rockets forward Rudy Tomjanovich – also had a solid year, averaging a near-double-double (9.7 ppg, 9.3 rpg) as the Lakers' top enforcer.  As Kareem didn't exactly have an All-Star supporting cast, the Lakers got eliminated in the Western Conference Finals by Bill Walton and the Portland Trail Blazers.

A LOOK AT THE CELLAR DWELLERS – Without Julius Erving, the 1976-77 New York Nets floundered in their first season in the NBA following the merger.  While they did have quite a few playground heroes on their lineup at various points in the season – John Williamson (20.8 ppg as a Net), Tiny Archibald (20.5 ppg, 7.5 apg) and Bubbles Hawkins (19.3 ppg) –the Nets' frontcourt was extremely weak, with an aging Bob Love (10.1 ppg as a Net – one of three stops he had this season) and Mel Daniels (3.5 ppg) making cameo appearances, and Mike Bantom (18.6 ppg, 8.6 rpg as a Net) forced to see more action than usual.  With all the trades, injuries (Archibald played just 34 games) and the overall lack of talent, the post-Dr. J Nets were barely worth watching in their NBA debut.


What do you think?

We'd love to hear your comments and/or opinions. If you submit them here, other visitors can read them, rate them and comment on them. An e-mail address is not required.
From NBA Season Recaps: 1976-1977 NBA Season to NBA Basketball Blog