NBA Season Recaps: 1965-66 NBA Season
By Lorenzo Tanos

Suddenly, the chinks in the Boston Celtics' armor started appearing.  Though still good enough to finish with the NBA's second-best record, the Celtics weren't the unstoppable force they were in recent years.  And that meant more chances for other teams (Philadelphia, Cincinnati and Los Angeles, in specific) to catch up.  Even the initially-pathetic Baltimore Bullets had some fight in them, and so did the St. Louis Hawks, who were transitioning to Zelmo Beaty and Lenny Wilkens as their stars following the retirement of Bob Pettit and the ongoing decline of Cliff Hagan and Richie Guerin.  Parity was returning to the NBA, but how long would it last?
NBA Champions – Boston Celtics (d.  Los Angeles Lakers 4-3in NBA Finals).

MVP – Wilt Chamberlain (Philadelphia 76ers, 33.5 ppg, 24.6 rpg, 5.2 apg).

Rookie of the Year – Rick Barry (San Francisco Warriors, 25.7 ppg, 10.6 rpg).

LEAGUE LEADERS – Wilt Chamberlain (Philadelphia, 33.5ppg, 2,649 points), Chamberlain (24.6rpg, 1,943 rebounds)  Oscar Robertson  (Cincinnati, 11.1apg, 847 assists), Zelmo Beaty (St. Louis, 344 fouls), Chamberlain (54.0% FG),  Larry Siegfried (Boston, 88.1% FT).

NEW, IMPROVED AND LESS PRODUCTIVE – Since 1959-60, Wilt Chamberlain had totally dominated the scoring parade, but this time around, he had two tough challengers in Jerry West (see below) and Oscar Robertson, who both averaged 31.3 ppg and were less than 300 points away from Chamberlain in terms of total points.  Indeed, times were changing for Wilt, who had put up the gaudiest numbers of anyone in the NBA at that time and since then, and 1965-66 would mark the start of a more team-oriented Big Dipper.  He would lead the Philadelphia 76ers in points, rebounds, assists and field goal percentage, and win his second MVP award, but as you'll see below, it wasn't enough to win him a title...yet.

"THE HICK FROM CABIN CREEK" TAKES OVER – Though 1965-66 would prove to be a blip in Elgin Baylor's career and not a sign of an imminent slowdown, his injury-riddled (16.6 ppg, 9.6 rpg) performance meant the Lakers were more reliant on Jerry West than ever.  Though his numbers (31.3 ppg, 7.1 rpg, 6.1 apg, an NBA-record 840 FTs out of 977) suggested a one-man show, West was ably supported by Baylor, Rudy LaRusso and the young UCLA-bred back court of Walt Hazzard and Gail Goodrich, among others.  The Lakers would take the Western Division with a 45-35 record, and give the Boston Celtics a tough time in the 1966 NBA Finals, which went the distance at seven games.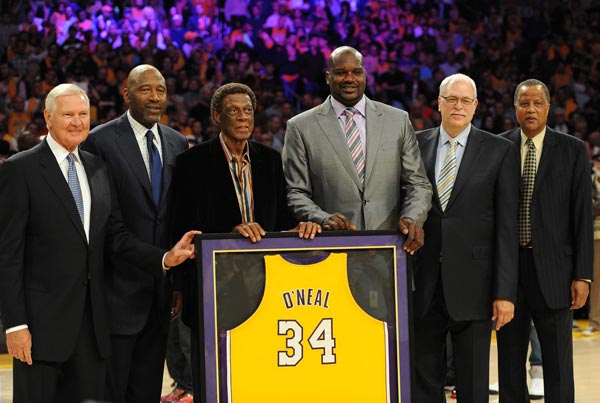 A LOOK AT THE TITLE WINNERS – For the first time in years, the Boston Celtics failed to secure the best regular season record.  But they still won the NBA Finals, albeit barely, taking seven games to put the L.A. Lakers away.  Truth be told, the Celtics' lineup appeared to be thinning – Sam Jones (23.5 ppg, 5.2 rpg), Bill Russell (12.9 ppg, 22.8 rpg, 4.8 apg) still led the way on offense and defense respectively, and John Havlicek (18.8 ppg, 6.0 rpg), Tom Sanders and K.C. Jones all had good years.  Don Nelson proved to be a good addition to the team, and Larry Siegfried (13.7 ppg, league-best 88.1% FT) was a "super seventh man", if you can call him that.  For the most part, it was Russ, Hondo, the Jones boys and a gaggle of role players, but a cohesive unit that nonetheless got the job done when it counted the most.

A LOOK AT THE LEAGUE LEADERS – Now fully acclimated in his return to his hometown, Wilt Chamberlain (33.5 ppg, 24.6 rpg, 5.2 apg) was still the NBA's best scorer, but no longer was he flirting with 50-ppg, or even 40-ppg seasons.  He was sharing the rock more and teaming with combo guard Hal Greer (22.7 ppg, 5.9 rpg, 4.8 ppg) and young forwards Billy Cunningham (14.3 ppg, 7.5 rpg) and Chet Walker (15.3 ppg, 8.0 rpg), all of whom would make the Hall of Fame.  Two more youngsters, Wali Jones and Luke Jackson were productive role players, and so were veterans Dave Gambee and Al Bianchi.  Unfortunately, the Philadelphia 76ers lacked depth (only six players played at least 24 mpg), and that's perhaps what did them in during the Eastern Division Finals.

A LOOK AT THE CELLAR DWELLERS –  Assuming territorial picks and drafting strictly by worst record to best was still in place in 1966, the Detroit Pistons would have had dibs on Michigan star Cazzie Russell, who went on to have a good NBA career, but not one worthy of being called "the next Oscar Robertson," as he was.  That may or may not have been a motivation for the Pistons to tank 1965-66, but even if they didn't, they were simply short in the talent department.  With 25-year-old Dave DeBusschere (16.4 ppg, 11.6 rpg) as their starting small forward and head coach (one season removed from splitting time in the NBA and MLB), the Pistons were woefully lacking in punch.
DeBusschere was, even at his age, one of the NBA's best two-way threats, Ray Scott and Eddie Miles were solid at power forward and off-guard respectively, but the team didn't have a pure point guard to speak of!  (Miles, Rod Thorn and Joe Caldwell were all natural shooting guards.)  No surprise they finished last in assists...and last in the NBA.  And good thing they got the second pick in the 1966 Draft, which they used on Dave Bing, a point guard who would become one of the NBA's best in due time.


What do you think?

We'd love to hear your comments and/or opinions. If you submit them here, other visitors can read them, rate them and comment on them. An e-mail address is not required.