NBA Season Recaps: 1964-65 NBA Season
By Lorenzo Tanos

Celtics win.  What else is new?  While Boston encountered more opposition than usual the year before, the NBA's ultimate dynasty had a bit less to worry about in 1964-65.  For one, Wilt Chamberlain was stuck on a slumping San Francisco Warriors team, and when he was shipped in midseason to the Philadelphia 76ers (technically going back home, even if the 76ers used to be the Syracuse Nationals), he didn't have much star talent waiting for him outside of Hal Greer – Larry Costello and Johnny Kerr were winding down their careers, while Chet Walker was just scratching the surface of his potential.  Elgin Baylor and Jerry West's support on the L.A. Lakers was solid, but unspectacular, and the Cincinnati Royals, once so close to winning the Eastern Division, slipped a bit.
NBA Champions – Boston Celtics (d.  Los Angeles Lakers 4-1 in NBA Finals)

MVP – Bill Russell (Boston Celtics, 14.1 ppg, 24.1 rpg, 5.3 apg)

Rookie of the Year – Willis Reed (New York Knicks, 19.5ppg, 14.7rpg, 2nd round, 1st pick)

LEAGUE LEADERS – Wilt Chamberlain (San Francisco/Philadelphia, 34.7ppg, 2,534 points), Bill Russell (24.1rpg, 1,878 rebounds)  Oscar Robertson  (Cincinnati, 11.5apg, 861 assists), Bailey Howell (Baltimore, 345 fouls), Chamberlain (51.0% FG),  Larry Costello (Philadelphia, 87.7% FT).

A CHANGE HAS COME – Three years prior, St. Louis Hawks rookie Cleo Hill, an African-American, was allegedly frozen out repeatedly by the team's white stars – Bob Pettit, Cliff Hagan and Clyde Lovellette – following an impressive 26-point debut.  In 1964-65, the Hawks had, for the first time, a predominantly black team in what was still the NBA's Southern-most market.  To wit, nine of the 14 players who suited up for the Hawks in 1964-65 were black – starters ZelmoBeaty, Lenny Wilkens and Bill Bridges, and reserves Chico Vaughn, John Barnhill, Paul Silas, John Tresvant, Ed Burton and Bill McGill.  The team's franchise player remained Pettit, who averaged 22.5 ppg and 12.4 rpg at 32, while Beaty (16.9 ppg, 12.1 rpg) and Wilkens (16.5 ppg, 4.7 rpg, 5.5 apg) emerged as bona fide stars in 1965.

MEGA-TRADE! – By today's standards, a two-team, eight-player trade is simple compared to the now-prevalent multi-team, multi-player trades, many of which include future draft rights.  But on June 18, 1964, it was big news when eight players found new NBA homes.  Hoping to shake things up, the struggling Detroit Pistons sent top scorer Bailey Howell, shooter Don Ohl, reserve forward Bob Ferry and freshly-drafted rookies Les Hunter and Wali Jones to the Baltimore Bullets, who gave them 1962-63 Rookie of the Year Terry Dischinger, way-undersized (6'3") power forward Don Kojis and promising young guard (and future NBA exec) Rod Thorn.  Though both Detroit and Baltimore finished below .500, they did somehow improve on their 1963-64 records.

SHOULD HAVE BEEN THE OTHER WAY AROUND – The New York Knicks were still struggling in 1964-65,but were showing some signs of promise with their two prize rookies – first-rounder and top overall pick Jim Barnes, a product of Don Haskins' successful Texas Western (now UTEP) program, and second-rounder Willis Reed out of Grambling State.  Both young big men had strong rookie years, with Reed (19.5 ppg, 14.7 rpg) winning Rookie of the Year, but if you come to think of it, Reed would have ideally been the top pick and Barnes the second-rounder based on how their careers turned out.  Reed, of course, is now in the Basketball Hall of Fame.  Barnes, like Art Heyman the year before him, peaked in his rookie year (15.5 ppg, 9.7 rpg) and had a journeyman-caliber NBA career from 1964 to 1971, mostly as a reserve forward/center.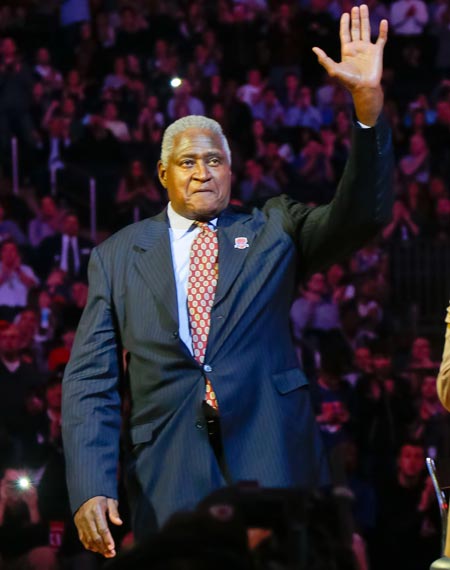 A LOOK AT THE LEAGUE LEADERS/TITLE WINNERS  – The Celtics had their best regular season yet at 62-18, and leading the way together with Bill Russell (14.1 ppg, 24.1 rpg, 5.3 apg) was Sam Jones, who averaged a career-best 25.9 ppg.  Tom Heinsohn (13.6 ppg) was a shadow of his former self, but then again, John Havlicek (18.3 ppg, 4.9 rpg) had another strong year as sixth man, Tom Sanders (11.8 ppg, 8.3 rpg) was a defensive stopper at forward, and the Celtics got some quality off-the-bench minutes from veteran Willie Naulls and rookies Ron Bonham, Mel Counts and John Thompson – yes, that same John Thompson of Georgetown Hoyas fame.  And making another strong impact despite a lack of gaudy numbers was point guard K.C. Jones (8.3 ppg, 4.1 rpg, 5.6 apg), who took care of things defensively in the backcourt.

A LOOK AT THE CELLAR DWELLERS –  With a productive, yet unhappy Wilt Chamberlain in the lineup, the San Francisco Warriors were a lowly 11-33.  Without him, they could only go 6-30.  No matter how you feel about Chamberlain's alleged selfishness, it was a bad trade by all measures – Chamberlain to the Philadelphia 76ers (formerly the Syracuse Nationals before 1963) in exchange for journeymen Connie Dierking and Paul Neumann, recently-retired Lee Shaffer's contract, and cash.  Shaffer, who averaged 13.1 ppg the year before for the 76ers, quit the NBA to go into business, while Neumann and Dierking reprised their roles as hardly-distinguished reserves at guard and center respectively.  Meanwhile, starters Guy Rodgers, Al Attles and Tom Meschery all regressed, Wayne Hightower was demoted to reserve forward, and the only player making a consistent impact with and without Chamberlain was second-year forward/center Nate Thurmond, who had a breakout season with 16.5 ppg and 18.1 rpg.


What do you think?

We'd love to hear your comments and/or opinions. If you submit them here, other visitors can read them, rate them and comment on them. An e-mail address is not required.