NBA Season Recaps: 1963-64 NBA Season
By Lorenzo Tanos

The Boston Celtics just kept on winning, winning and winning.  The C's made it six straight in 1963-64, as well as their seventh championship in eight seasons, but competition was heating up.  Wilt Chamberlain, now averaging a career-low 36.9 ppg, was concentrating on spreading the ball around a bit, and that somehow translated into a few more wins for the San Francisco Warriors.  The Cincinnati Royals added Jerry Lucas to a lineup with MVP Oscar Robertson (who narrowly missed another 30-10-10 season), Wayne Embry and Jack Twyman, and the L.A. Lakers and St. Louis Hawks had dual scoring punches in Elgin Baylor and Jerry West and Bob Pettit and Cliff Hagan respectively.  Still, it was the Celtics' teamwork and defense that prevailed as their dynasty continued reigning over the entire NBA.
NBA Champions – Boston Celtics (d.  San Francisco Warriors 4-1 in NBA Finals)

MVP – Oscar Robertson (Cincinnati Royals, 31.4 ppg, 9.9 rpg, 11.0 apg)

Rookie of the Year – Jerry Lucas (Cincinnati Royals, 17.7 ppg, 17.4 rpg, 2.6 apg, 1st round, territorial, 1962)

LEAGUE LEADERS – Wilt Chamberlain (San Francisco, 36.9ppg, 2,948 points), Bill Russell (24.7rpg, 1,930 rebounds)  Oscar Robertson  (Cincinnati, 11.0apg, 868 assists), Wayne Embry (Cincinnati, 325 fouls), Jerry Lucas (Cincinnati, 52.7% FG),  Robertson (86.8% FT).

WORTH THE WAIT – Jerry Lucas, the top pick in the 1962 NBA Draft, sat out the entire 1962-63 season, and believe it or not, it was a Cleveland-based businessman named George Steinbrenner who prevented Lucas from seeing action in '63.  Or sort of – Lucas had joined the future New York Yankees owner's Cleveland Pipers in the ABL for 1962, and with the NBA surprised by the Ohio State star's decision to join a lesser league, it reacted by trying to convince the Pipers to join the league.  A messy legal battle ensued, and with Lucas still under contract to Steinbrenner, he was legally barred from playing pro ball in what should've been his rookie season.   Fortunately, he was far from a bust as a rookie in 1963-64 – Lucas averaged 17.7 ppg and 17.4 rpg and displayed a strong inside-outside game that made him unique at the time for a big man.

THE FIRST RUSSELL VS WILT FINALS – With the Philadelphia Warriors having moved the year before to San Francisco, that set the stage for the possibility of a Finals showdown between Bill Russell and Wilt Chamberlain.  And this time, Wilt had a more talented lineup surrounding him – the Guy Rodgers and Al Attles backcourt was maturing, Tom Meschery was coming into his own as a rugged small forward, and Wayne Hightower had his best NBA season at power forward.  (Incidentally, Hightower also played for Overbrook HS in Philadelphia and Kansas in the NCAA, just like the Big Dipper.)  Still, that wasn't enough – and pundits felt Chamberlain was still too obsessed over his own stats despite a career-best 5.0 apg – as Russell's Celtics run roughshod over the Warriors, 4-1, in the 1964 NBA Finals.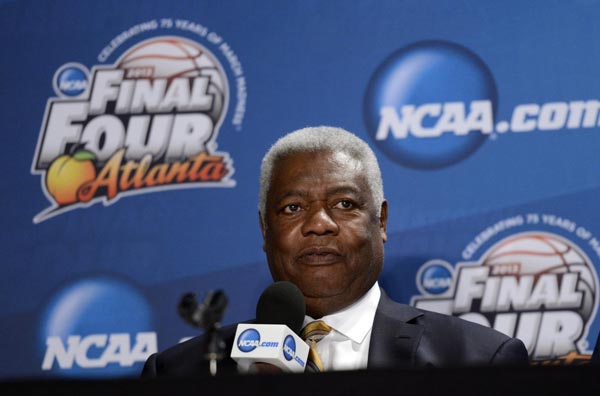 THE BULLETS REDUX – Last we heard of the Baltimore Bullets, they had disbanded early in the 1954-55 season after going 3-11.  This Baltimore Bullets was not an expansion team, and was not related to the original Bullets of the '40s and '50s, but was rather the relocated Chicago Packers/Zephyrs.  And it looked like the move had done them well.  Walt Bellamy (27.0 ppg, 17.0 rpg), Terry Dischinger (20.8 ppg, 8.3 rpg) and high-leaping rookie Gus Johnson (17.3 ppg, 13.6 rpg) couldn't lead the Bullets to the Playoffs, but at least they did improve markedly, with a 31-49 record.

A LOOK AT THE LEAGUE LEADERS/TITLE WINNERS  –With Bob Cousy retired and Tom Heinsohn, Frank Ramsey, Jim Loscutoff and Clyde Lovellette slowing down, the Boston Celtics were now spearheaded by Bill Russell (15.0 ppg, 24.7 rpg, 4.7 apg) on defense, Sam Jones (19.4 ppg) on offense and their new super sixth man John Havlicek (19.9 ppg, 5.4 rpg) on both ends.  K.C. Jones (8.2 ppg, 4.7 rpg, 5.1 apg) would ably replace Cousy as starting point guard, making up on defense what he lacked on offense.  And the Celtics were able to reload with role players like former Knicks starter Willie Naulls and ABL refugee/1961 third-overall pick Larry Siegfried, then an NBA rookie.  The Celtics may have changed more than they did in previous years, but were still championship material without a doubt.

A LOOK AT THE CELLAR DWELLERS –  Quite interestingly, the 1964 New York Knicks had three first-overall picks in their lineup – Bob Boozer (1959), Bill McGill (1961) and Art Heyman (1963).  Among those three, only Boozer had a semblance of a successful NBA career; he was, in fact, the Knicks' leading scorer with 17.5 ppg.  (He averaged just 11.0 ppg as a Royal earlier that year.)Heyman (15.4 ppg, 4.0 rpg) and McGill (16.0 ppg, 5.9 rpg as a Knick) never had it this good again in the NBA, and as you can see from McGill's rebounding numbers (and his 26 mpg), he wasn't always giving it his 100% on the boards, even if he could score.  With Boozer, Len Chappell (17.3 ppg, 9.8 rpg) and Johnny Green (14.5 ppg, 10.0 rpg) the only bright spots, Richie Guerin traded early on to St. Louis, Johnny Egan (14.1 ppg, 5.8 apg) not quite up to snuff as Guerin's replacement at the point, and Tom Gola already past his prime as a player, it was another bad year for the struggling Knicks in '64.


What do you think?

We'd love to hear your comments and/or opinions. If you submit them here, other visitors can read them, rate them and comment on them. An e-mail address is not required.