NBA Season Recaps: 1960-1961
By Lorenzo Tanos

The 1960-61 season was memorable as being the hyped debut of some of the young men who made up the U.S. national team that dominated the 1960 Olympics.  Oscar Robertson and Jerry West, of course, didn't disappoint one bit, especially Robertson, who came very close to averaging a triple-double, but would do so eventually.  As for the veteran players, 1960-61 saw the second year of the burgeoning Bill Russell vs Wilt Chamberlain rivalry, a battle of defense versus offense, a team-oriented game versus individual glory.  And the benefits of the 24-second shot clock kept coming, though at this point, it looked a bit like too much of a good thing, what with all those pinball machine-type scores.  Here we move into the'60s and see how the decade started for the NBA as professional basketball continued growing in popularity.
NBA Champions – Boston Celtics (d.  St. Louis Hawks 4-1 in NBA Finals)

MVP – BilL Russell, Boston Celtics (16.9 ppg,23.9rpg, 3.4 apg)

Rookie of the Year – Oscar Robertson, Cincinnati Royals (30.5ppg, 10.1rpg, 9.7 apg – 1st round, territorial)

LEAGUE LEADERS – Wilt Chamberlain (Philadelphia, 38.4ppg, 3,033 points), Chamberlain (27.2rpg, 2,149 rebounds)Oscar Robertson  (Cincinnati, 9.7apg, 690 assists), Paul Arizin(Philadelphia, 335 fouls), Chamberlain (Philadelphia, 50.9% FG), Bill Sharman (Boston, 92.1%)

A NEW KIND OF MVP – If Wilt Chamberlain was chosen MVP in 1960 for his statistical dominance, Bill Russell proved in 1961 for a second time that you don't need to be a super scorer to become the NBA's finest.  Aside from his obvious contributions as a rebounder, Russell was the NBA's top defender regardless of position during his heyday, and some believe that he (and Wilt) would have set unbreakable records in blocks/blocks per game had the stat been compiled during their playing days.  But going beyond actual numbers, Russell simply had that preternatural ability to shut down opposing players, and that's what mattered at the end of the day when he won all those MVP awards in the '50s and '60s.

A CHANGING OF THE GUARD – The 1960 NBA draft class was notable for two players who would become the NBA's finest guards of the '60s, Royals territorial pick Oscar Robertson, and second-overall selection Jerry West, who joined the Lakers in their first year in Los Angeles.  But The Big O and The Logo weren't the only Hall of Fame guards debuting that year – Lenny Wilkens (1st round, #6) would quietly take over as the St. Louis Hawks' point guard after a slow build-up as a rookie, and get started on a 15-year career as a player and a career spanning four decades as one of the NBA's premiere coaches, and a repeated example of how nice guys don't always finish last.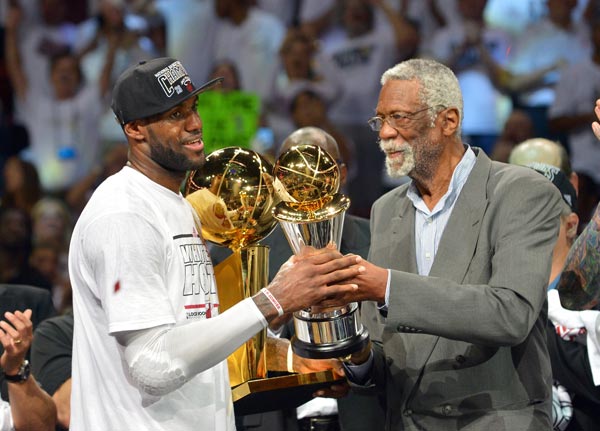 THE 50% CLUB – The 1960-61 NBA season was one of the highest-scoring on record, and aside from the unbelievably fast game pace, vastly-improved shooting helped achieve those numbers (league average 118.1 ppg).  Leading the way was Wilt Chamberlain, last year's Rookie of the Year/MVP, who became the first NBA player to shoot over 50% from the field (50.9%).  Unfortunately, he shot at a slightly lower clip (50.4%) from the free throw line, setting a trend for big, talented centers who just can't sink a pair.  Also posting excellent shooting numbers were Cincinnati's Jack Twyman (48.8%) and Oscar Robertson (47.2%), the Nationals' Larry Costello (48.2%) and Pistons second-year forward Bailey Howell (46.9%).

I AM IRON MAN – Also, Chamberlain averaged 47.8 minutes per game in 1961, or close to one complete game's worth of minutes per outing.  That, plus more dominating numbers – 38.4 ppg, 27.2 rpg and, as mentioned above, close to 51% shooting from the field, and an abysmal 50% shooting from the line.

A LOOK AT THE LEAGUE LEADERS/TITLE WINNERS –Three lineup changes.  That's all the Boston Celtics did in 1960-61, as the only players missing from their 1959-60 lineup were reserve center John Richter and guard Maurice King, who played just one game for the C's in the previous season.  They were replaced by forward Tom Sanders, a first-round pick out of NYU who could play tight defense at both forward spots as a potential replacement for Jim Loscutoff.  With the bench relatively intact, the roles of the Celtics' key players hardly changed either, though Sam Jones would see his minutes increase and his offensive role become more prominent.  Other than that, it was more of the same from Messrs. Russell, Cousy, Sharman, Heinsohn and Jones (K.C. and Sam), and the rest of the Celtics juggernaut.

THE CELLAR DWELLERS – If the Knicks were on the way down in 1959-60, the team had seemingly hit bottom in 1960-61, though they still had two obviously talented players in forward Willie Naulls (23.4 ppg, 13.4 rpg) and Richie Guerin (21.8 ppg, 7.9 rpg, 6.4 apg).  Unfortunately, Kenny Sears, who led the league in field goal percentage the two previous seasons, started playing shorter than his 6'9" height would suggest (14.4 ppg, 5.6 rpg, down from 18.5 and 13.7), and third overall pick DarrallImhoff was a flop, mostly playing behind Phil Jordon at center.  Compared to the star-studded lineups of other teams, the Knicks really had a rough go as their tailspin continued to start off the '60s.


What do you think?

We'd love to hear your comments and/or opinions. If you submit them here, other visitors can read them, rate them and comment on them. An e-mail address is not required.