NBA Season Recaps: 1958-1959 Season
By Lorenzo Tanos

After the previous year's semi-upset at the hands of the St. Louis Hawks, the Boston Celtics convincingly won the NBA Finals in 1959, as business returned to usual en route to a classic dynasty that has yet to be equaled in NBA history.  And meanwhile, on the other side of things, the Cincinnati Royals sank further into sub-mediocrity, while the Detroit Pistons would begin a mostly unimpressive run where things would only look up in the mid-late '60s with Dave Bing and early '70s with Bob Lanier.  Here's our recap of the 1958-59 NBA Season, as well as some of the more interesting goings-on in the league as the NBA soldiered on in its modern, post-shot clock age.
NBA Champions – Boston Celtics (d. Minneapolis Lakers 4-0 in NBA Finals).

MVP – Bob Pettit, St. Louis Hawks (29.2 ppg, 16.4 rpg, 3.1 apg).

Rookie of the Year – Elgin Baylor, Minneapolis Lakers (24.9 ppg, 15.0 rpg, 4.1 apg – 1st round, #1).

LEAGUE LEADERS – Bob Pettit (St. Louis, 29.2 ppg, 2,105 points), Bill Russell (Boston, 23.0rpg, 1,612 rebounds),  BobCousy  (Boston,8.6apg, 557 assists), Walter Dukes (Detroit, 332 fouls), Kenny Sears (New York, 49.0% FG), Bill Sharman (Boston, 93.2% FT).

AN INSTANT SUPERSTAR AND PIONEERING "SKY WALKER" – Elgin Baylor had an airborne game before it was fashionable to have one.  Though he didn't throw down dunks back in the day (as that was tantamount to showboating and poor sportsmanship), his acrobatic lay-ups and all-around versatility helped the cellar-dwelling Minneapolis Lakers of 1958 return to contention in just one season.  That said, his supporting cast (an aging Vern Mikkelsen and Larry Foust and the mostly average backcourt of Dick Garmaker, Rod Hundley and Slick Leonard) left a lot to be desired, and the Lakers (33-39 in the regular season) were easily swept by the Boston Celtics in the 1959 NBA Finals.

CLOSER TO 50% - As 50% field goal shooting became basketball's new equivalent of .400 in baseball, Kenny Sears of the New York Knicks came painfully close, shooting 49.0% en route to a career-high 21.0 ppg.  Little did he know that two years later, the 50% threshold would be broken by a far more notable player who was, much to his chagrin, commonly known as "The Stilt."  But we'll get to him soon enough, in another season recap.  (Additional trivia – Basketball-Reference.com lists Sears as the 1958-59 Win Shares leader with 11.9, putting him ahead of MVP Bob Pettit and higher-profile stars Paul Arizin, Cliff Hagan and Elgin Baylor!)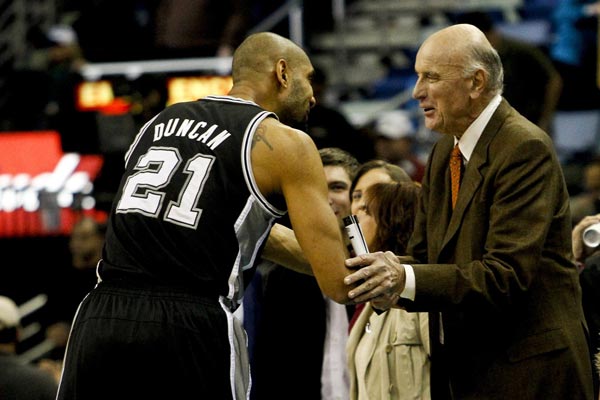 FROM HERO TO ZERO – Legend has it that Bill Russell's unforgiving defense rendered Neil Johnston's hook shot useless, which is why he seemingly fell off the face of the earth in the years immediately following Russell's debut.  Not true – Johnston was actually slowed down by knee injuries in 1958, and after a strong, yet slightly down 1957-58 season (19.5 ppg, 11.1 rpg), the bottom fell out for the Philadelphia Warriors star, as he came off the bench in 1958-59, averaging just 6.3 ppg and 5.0 rpg.  He would retire after that season, and go on to coach another talented Warriors big man, and once again, we'll be getting to him really, really soon.  Clue – He hated "The Stilt", but preferred the nickname "Big Dipper" for the most part.

A LOOK AT THE LEAGUE LEADERS/TITLE WINNERS –Averaging almost 117 points per game to lead the league, the Boston Celtics were, without a doubt, the NBA's finest in 1958-59, with six players once again averaging in double figures – Bill Sharman (20.4 ppg), Bob Cousy (20.0 ppg, 5.5 rpg, 8.6 apg), Tom Heinsohn (18.8 ppg, 9.7 rpg), Bill Russell (16.7 ppg, 23.0 rpg), Frank Ramsey (15.4 ppg, 6.8 rpg) and Sam Jones (10.7 ppg, 6.0 rpg).  All of these players, plus seldom-used rookie K.C. Jones (3.5 ppg, last on the '59 Celtics) would make it to the Hall of Fame.  This was, simply put, a team that had it all – looking at the top scorers list respectively, the Celts had a backcourt scorer, an ace floor leader, a frontcourt gunner, a defensive presence in the middle, a super sixth man and yes, a super seventh man.  Additionally, starting power forward "Jungle Jim" Loscutoff (8.3 ppg, 7.0 rpg) was the consummate enforcer and protector of the Celtics' superstars with his physical play and tenacious rebounding.

THE CELLAR DWELLERS – Shaken by the tragedy of Maurice Stokes' career-ending brain injury suffered n the last game of the 1957-58 season, the Cincinnati Royals relied solely on Stokes' best friend and fellow blue-chip youngster Jack Twyman (25.8 ppg, 9.1 rpg) on offense, and no one else.  Everyone else on the starting lineup – guards John McCarthy and Bucky Bockhorn, forward Dave Piontek and center Jim Palmer – were average at best, and so was top reserve backcourt man Med Park.  Furthermore, second-overall pick Archie Dees, a 6'8" power forward out of Indiana, was a bust.  If there was any young player with real promise in the Royals' '58-'59 season, it was third-rounder Wayne Embry, ironically nicknamed "Goose" because his burly frame (6'8"-240) gave the impression he had no neck.  Together with Twyman and Oscar Robertson, he would help revitalize the Royals, but that would be a few more years down the line...


What do you think?

We'd love to hear your comments and/or opinions. If you submit them here, other visitors can read them, rate them and comment on them. An e-mail address is not required.