NBA Season Recaps: 1957-58 NBA Season
By Lorenzo Tanos

Oh well, you can't win 'em all.  That's probably what could be best said to, and about the 1957-58 Boston Celtics.  As mentioned earlier, the win in the 1957 Finals was the start of something big, but 1957-58 saw another team win the big one and surprise the barely-changed, and even deadlier Celtics.  Also, two out of the NBA's eight teams moved to new locations, one of which remains home to one of those teams that relocated.  We'll find out about that and more as we move on to a second NBA season recap for the week, covering the 1957-58 season.
NBA Champions – St. Louis Hawks (d. Boston Celtics 4-2 in NBA Finals)

MVP – Bill Russell, Boston Celtics (16.6 ppg, 22.7 rpg, 2.9 apg)

Rookie of the Year – Woody Sauldsberry, Philadelphia Warriors (12.8 ppg, 10.3 rpg – 5th round, #60)

LEAGUE LEADERS – George Yardley (Detroit, 27.8 ppg, 2,001 points), Bill Russell (Boston, 22.7 rpg, 1,564 rebounds),  BobCousy  (Boston,7.1apg, 463 assists), Walter Dukes (Detroit, 311 fouls), Jack Twyman (Cincinnati, 45.2% FG), DolphSchayes (Syracuse, 90.4% FT)

24 SECONDS = 100 PPG FOR ALL – For the first time, all NBA teams averaged at least 100 points per game for the entire 1957-58 season – this proved that the 24-second shot clock, in its fourth season of implementation, was indeed good for the NBA, as this led to faster, more open basketball.  Of course, this didn't lead to more scientific basketball strategies, but the bare-bones offenses of those days were still much more pleasing to the average fan (or even the thinking fan) than fourth-quarter stalling, incessant fouling and other slowdown tactics of the pre-shot clock era.

2,000 MAN – George Yardley, the Detroit (formerly Fort Wayne) Pistons' star forward, was more than just one of the NBA's first bald players – he was also the first man to score 2,000 points in an NBA season.  With 2,001 points and an average of 27.8 ppg in 1957-58, Yardley had his best NBA season by far that year, as he excited crowds in the larger market (see below) of Detroit with his flashy, and rare-for-the-times style of play.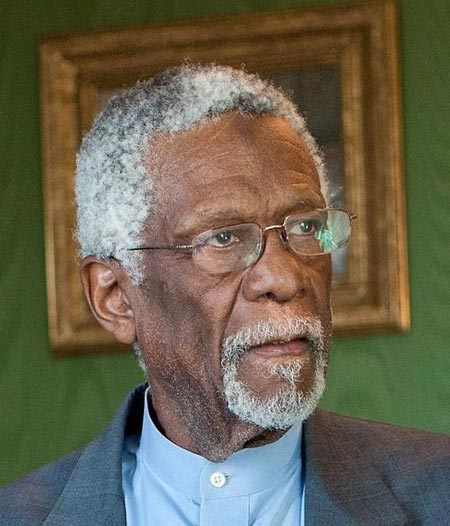 NEW HOMES, LARGER MARKETS – Though the NBA remained at a solid eight teams in 1957-58, two Western Division teams made moves to bigger markets, even if the moves didn't exactly result in more wins.  The Pistons, once based in Fort Wayne, Ind., moved to Detroit in 1957, and they've been in the Motor City since then.  The Royals, formerly of Rochester, N.Y., moved farther west to Ohio in 1957 to Cincinnati (thus making them better matched for the Western Division and not a geographical anomaly), though the team would make another move and a half (Kansas City/KC-Omaha) before settling in Sacramento, where they've been based since 1985 as the Kings.

A LOOK AT THE LEAGUE LEADERS – Apart from Jim Loscutoff being out for most of the season, Sam Jones joining as a reserve forward/guard and future star and Frank Ramsey being available all year long, the Celtics didn't make any changes.  And it helped them finish a league-best 49-23, as Bill Russell (also available for one full season) won MVP honors in just his second year.  Unfortunately, the Hawks' star forward/center Bob Pettit was too much for the Celtics to handle, as he scored 50 points in the memorable and deciding Game 6 of the 1958 Finals, which the Hawks won 110-109.

A LOOK AT THE TITLE WINNERS –Failures for the most part as the Tri-Cities Blackhawks and Milwaukee Hawks, St. Louis' NBA team finally hit its stride in 1957-58.  And ironically, it was the players acquired from Boston for Bill Russell who made a big difference – Cliff Hagan (19.9 ppg, 10.1 rpg) and Ed Macauley (14.2 ppg, 6.6 apg).  They were joined by Bob Pettit (24.6 ppg, 17.4 rpg) and Slater Martin (12.0 ppg, 3.6 apg) and role players Charlie Share, Jack McMahon and others in a team that upset the mightier Boston Celtics for the NBA Championship in 1958 – the only time an NBA team not from Boston would win the title from 1956 to 1966.

THE CELLAR DWELLERS – Once a dominating force with George Mikan in the middle, the 1957-58 Minneapolis Lakers truly hit bottom that season with a 19-53 record.  Hometown boys Vern Mikkelsen and Dick Garmaker remained with the team and played quite well, and Larry Foust joined from the St. Louis Hawks to put up some solid numbers, but the team was weak almost everywhere else.  Rod Hundley and Jim Krebs, who were picked first and third overall in the 1957 Draft, were huge disappointments as rookies, though they'd go on to have decent, not great careers overall.  The Hundley acquisition was particularly painful for the Lakers, as his rights came from the Royals in a multi-player trade that sent star center Clyde Lovellette to Cincinnati.


What do you think?

We'd love to hear your comments and/or opinions. If you submit them here, other visitors can read them, rate them and comment on them. An e-mail address is not required.