NBA Season Previews: The Southwest Division
By Lorenzo Tanos

DALLAS MAVERICKS
CENTERS – A look at the Mavericks' centers almost has one pining for the return of Chris Kaman, who was allowed to skip off to the L.A. Lakers.  That's because the pickings are very slim, with the likes of Samuel Dalembert, DeJuan Blair, Brandan Wright and Bernard James competing for minutes.  Dalembert, whose career has seen better days, could be the starter on account of his defensive aptitude and height.  Speaking of height, that's what Blair doesn't have in the middle, and while he works hard and knows how to rebound, he may get the bulk of his minutes as a reserve power forward.
As for Wright, injuries rendered the former lottery pick a lost cause for some, but he stayed healthy last season, averaging career-highs of 8.5 ppg and 4.1 rpg and blocking over a shot per game.  He's a dark horse candidate for a surprise breakout season if Dalembert can't cut it at starter.

GRADE – D


FORWARDS – Last season was a rough one for Dirk Nowitzki, as the Mavs' longtime franchise player struggled through the lowest numbers since his rookie year – 17.3 ppg, 6.8 rpg, 2.5 apg.  That was due to injuries that caused him to miss 29 games, and while he's certainly a step slower at 35, it's reasonable to expect a bit of a comeback season from the sweet-shooting big man.  As for someone who's certainly lost more than a step, one should look no further than Shawn Marion, he of the goofy shooting stroke and high motor.

Last season saw "The Matrix" get a bit "reloaded" (12.0 ppg, 7.8 rpg, 51.4% FG), and while he's still a solid athlete and defender, he's definitely not at All-Star level at age 35.  As mentioned above, Blair looks like a good candidate to back Nowitzki up at the four, while Jae Crowder was a reliable defender as a rookie.  He can shoot the ball from outside, which doesn't quite show in his rather pedestrian 38.4% from the field. 

GRADE – B-


GUARDS – The Mavericks will be parading a fresh new backcourt in 2013-14.  Gone are Darren Collison and O.J. Mayo, and in their places are Jose Calderon and Monta Ellis.  Both players are reliable shooters, while Ellis is still capable of big scoring nights, but they both come with one glaring weakness that won't sit well with head coach Rick Carlisle – defense.  Still, their positives overwhelm the negatives, and both men represent an upgrade over their predecessors.  Off the bench, Even the second unit is reloaded, as the Mavs brought back Devin Harris to back up Calderon, and added Wayne Ellington as a backup for Ellis.

As long as you don't expect another 2008-09 from Harris, you won't be disappointed if he stays healthy.  Ellington had some moments as a part-time starter for the Cleveland Cavaliers in 2012-13 (10.4 ppg as a Cav), but is best known for his three years as a Minnesota Timberwolves reserve.  He may be a third-stringer, though, behind Ellis and Vince Carter, who's still serviceable off the bench, if far removed from the glory days of "Vinsanity."  2013 first-rounder Shane Larkin (son of MLB legend Barry) will miss the first few months of 2013-14 with injury, but should settle in as a capable fifth guard once he's healthy.

GRADE – B-


COACHING – Rick Carlisle (41-41 for Dallas Mavericks in 2012-13) – B+

SUMMARY – The Dallas Mavericks missed the Playoffs last season with a vastly-overhauled lineup, and after yet another radical change, they may do the same in 2013-14.  Simply put, the Mavs will be well below average on defense, especially with Jose Calderon and Monta Ellis onboard – Sam Dalembert may block some shots at center, but like most of the team's key players, he's lost a step.  (Yes, that disclaimer again.)  As it is, not even Dirk Nowitzki's potentially successful comeback from a down season could be enough to save the Mavericks from an uncharacteristic early exit in 2013-14.

OVERALL GRADE – C+

PREDICTED RANKING – 5th out of 5, Southwest Division -- not a good casino bet.


---
CENTERS – Say what you want about Dwight Howard, how he's buried the Lakers since his departure from the team, and even how he's complained about Tobias Harris wearing his #12 jersey for the Orlando Magic.  But he's apparently happy to be free from the Lakers' toxic environment, and with that in mind, he should be back to his old Defensive Player of the Year form now that he's free of the distractions of L.A.

Howard's arrival, aside from meaning more wins for the Rockets, also means a trip to the bench for one of last year's breakout stars, Omer Asik.  Finally given a starting shot last season, Asik averaged 10.1 ppg and 11.7 rpg, and asserted himself as a strong defensive presence.  Those numbers are almost sure to go down, even if the Rockets opt for a lineup with Howard at center and Asik at power forward, or vice versa.

GRADE – A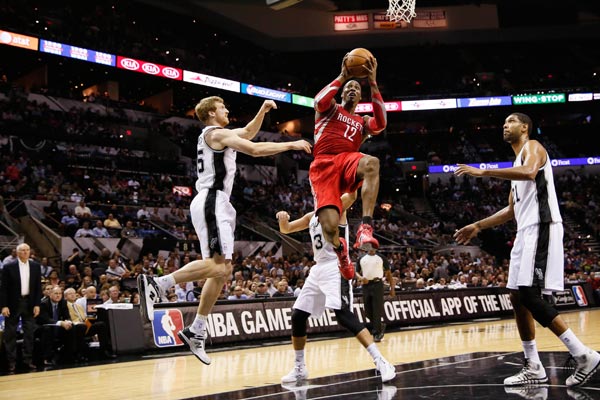 FORWARDS – The surest thing among the Rockets' forwards is Chandler Parsons, who's entering his third year and coming off a season where he established himself as a do-everything three with above-average height for the position.  He will be relieved by Omri Casspi, who provides strong three-point shooting, yet little else.  At power forward, Houston has been starting Howard in preseason games, but since he and Asik are more comfortable at the center spot, we could see a second-year player step up to the plate.

Terrence Jones and Donatas Motiejunas didn't get much playing time last season, but both have potential to become productive starters a few years down the line.  Also up for consideration for minutes at the four and five is Marcus Camby, who's 39, virtually useless on offense, but still solid on the defensive end. 

GRADE – C


GUARDS – Of course, it wasn't just Asik and Parsons breaking out for the Rockets last season. James Harden gave Rockets opponents all the reason to "fear the beard", averaging 25.9 ppg, 4.9 rpg and 5.8 apg and emerging as a superstar in his first season after three with the Thunder.  He and Jeremy Lin were the reasons why the Rockets' fast-paced offense was so successful in an NBA where more and more teams are putting a higher premium on defense.

Lin's numbers (13.4 ppg, 6.1 apg) weren't as good as those he posted when he broke out for the New York Knicks the season prior, but he did well in co-facilitating the offense with Harden, and had some big nights amid a somewhat inconsistent year as a shooter and scorer.  Off the bench, the Rockets will turn to defensive aces Ronnie Brewer at the two-guard and Patrick Beverley at the point.  Journeymen Francisco Garcia and Reggie Williams and rookie point guard Isaiah Canaan could all provide valuable depth off the bench.

GRADE – B+


COACHING – Kevin McHale (45-37 for Houston Rockets in 2012-13) – B-

SUMMARY – You've got to give a lot of credit to Kevin McHale for making the Rockets' breakneck, transition-heavy offense work.  And while last year they had some problems shutting the other team down, the addition of Dwight Howard should resolve a lot of those issues, while Ronnie Brewer and Marcus Camby, while only likely to start in a pinch, can also shore up that defense.  James Harden will again be the go-to-guy for the Rockets, proving 2012-13 was no fluke, and Jeremy Lin and Chandler Parsons are above-average starters at their positions.

So could this be the year the Rockets make it deeper into the Playoffs?  Weaknesses at the four spot aside, the Rockets look capable of topping the Southwest while at least making it to the second round of the postseason.

OVERALL GRADE – B+

PREDICTED RANKING – 1st out of 5, Southwest Division -- a solid online casino bet.


---
MEMPHIS GRIZZLIES
CENTERS – For a franchise player, Marc Gasol (14.1 ppg, 7.8 rpg, 4.0 apg, 1.0 spg, 1.7 bpg) doesn't score much.  But he's got the franchise tag for good reason – he's the 2012-13 NBA Defensive Player of the Year – and the team's best overall player with Rudy Gay now a Toronto Raptor.   Expect more of the same from the one-time "other" Gasol brother – versatile all-around play, great passing skills for a big man, and stifling defense from the post.  He'll be getting a workmanlike backup in 2013-14 in the form of Kosta Koufos.  Koufos started last season for the Denver Nuggets due to JaVale McGee's repeated trips to George Karl's doghouse, but will be returning to a more familiar reserve role as a hard-working sort who can block shots and make the most of limited touches by shooting extremely well from the field. 

GRADE – A-


FORWARDS – On a team that's helped return the emphasis of NBA teams to defense, Zach Randolph is a definite anomaly – his defense has typically been inversely proportional to his offensive skills.  While he'll never be a stopper, Randolph is still a skilled scorer in the paint, someone who can get to the line and make his free throws, as well as one of the league's finest rebounders.  At small forward, Tayshaun Prince is the opposite – never his team's best scorer, but always one of its best, if not the best defenders.

What you see is what you get – he's one of those players who'll never post gaudy numbers, but whose contributions are most evident outside of the stat sheet.  Randolph and Prince should be backed up this season by Ed Davis and Quincy Pondexter respectively.  Both are above-average defensively, and Pondexter's outside shooting was something the Grizzlies sorely lacked in 2012-13.  Davis is a fantastic per-minute shot blocker who has room to grow.

GRADE – B-


GUARDS – Quietly good. That's the best way to describe Mike Conley, who facilitates things on both ends.  Conley (14.6 ppg, 6.1 apg, 2.2 spg) made a well-deserved appearance on the NBA's All-Defensive second team in 2012-13, and became more assertive as an outside shooter as well; as mentioned above, that was one of the Grizz's areas for improvement last season.  That's mainly because Tony Allen never was, and probably will be effective from outside.  A first-team All-Defensive selection, Allen embodies the Grizzlies' hard-hat mentality, and should continue to team up with Conley on the NBA's best defensive backcourt.

Going back to outside shooting, the Grizzlies may have found themselves someone who can help in that regard.  Mike Miller, who debuted for the Grizzlies in his co-Rookie of the Year campaign in 2000-01, returns to the team that drafted him, and brings a winning mentality and a reliable stroke from long range.  Jerryd Bayless will again be the top backup at point guard.  He's capable of big scoring nights, but remains quite inconsistent.

GRADE – B


COACHING – David Joerger (Assistant for Memphis Grizzlies in 2012-13) – C+

SUMMARY – The Grizz made a huge mistake dumping Lionel Hollins after he led them to their most successful postseason thus far.  His unusual, yet effective style – deliberate offense mixed with a full-court pressing defense (normally, teams that run the full-court press are equally fast-paced on offense) – was arguably key in helping the Grizzlies overachieve.  If it's any consolation, Hollins' defensive lieutenant Dave Joerger is now in charge, which should ensure that the talents of defensive aces Tony Allen, Mike Conley, Tayshaun Prince, Marc Gasol, Ed Davis and Kosta Koufos are maximized.  But to fix what isn't broken by playing faster?  Hopefully the youthful Joerger's plans to pick up the tempo a bit would prove to be effective, if carried out.

OVERALL GRADE – B

PREDICTED FINISH – 3rd out of 5, Southwest Division


---
NEW ORLEANS PELICANS
CENTERS – As last season's first-overall pick, Anthony Davis had an up-and-down season as most rookies do, and was also slowed down a bit by nagging injuries.  Now that he's in his second year in the league, Davis should step up big-time for the Pelicans, posting double-doubles from the center spot and swatting shots left and right.  He's quite polished off the pick-and-roll, but may need to work a bit on his post-up moves.  With Jason Smith expected to play more power forward than center, defensive specialist Greg Stiemsma will likely be Davis' chief backup in the middle.  Stiemsma could be pushed by second-rounder Jeff Withey, a legit seven-footer out of Kansas who's a bit of a project.

GRADE – B+


FORWARDS – Ryan Anderson successfully avoided the Most Improved Player jinx in 2012-13, finishing second in scoring despite being used by the then-Hornets as a sixth man.  With Robin Lopez now with the Portland Trail Blazers, Anderson should return to the starting lineup as power forward, where he confounds defenses with his three-point shooting.  Despite being more of an outside player, Anderson is above-average (though not great) as a rebounder, making him a rare stretch four who can also help on the boards.  Jason Smith may take on reserve duties at power forward, and should contribute as a capable shooter and shot blocker. 

Small forward duties will see three strong defensive players – Al-Farouq Aminu, Darius Miller and Lance Thomas – splitting most of the minutes.  Aminu is a good shot blocker and ball hawk for his position, not to mention one of the best-rebounding small forwards.  His shooting, while erratic, shouldn't be much of an issue for the Pelicans, as he's usually the fifth option on offense anyway.  Miller and Thomas will be used mainly as defensive stoppers off the bench, not far from the roles they were usually tasked to play for their respective high-profile college programs. 

GRADE – B-


GUARDS – Thanks to arguably the most brilliant draft-day trade of the season, the Pelicans now have three of the brightest backcourt players below the age of 25 at their disposal.  Jrue Holiday, acquired from the Philadelphia 76ers for the rights to sixth-overall pick Nerlens Noel (who may likely miss the entire season), was a rare bright spot for the Sixers last year, as he emerged as an elite point guard on both ends with the numbers (17.7 ppg, 4.2 rpg, 8.0 apg, 1.6 spg – all career-highs) to show.  At shooting guard, Eric Gordon led New Orleans in scoring in 2012-13 amid another injury-riddled season where his shooting, particularly from beyond the arc, was far from consistent.

The starting two-guard spot may be his to lose.  Tyreke Evans, acquired from the Sacramento Kings for Greivis Vasquez, is the wild card here.  He's seen his numbers decline slowly, but steadily since his 2009-10 Rookie of the Year campaign, and while he may be a much more consistent shooter now and also happy to be out of Sacramento, his role may be that of a versatile sixth man and reliever to both Holiday and Gordon.  Veteran shooter Anthony Morrow and disappointing second-year combo guard Austin Rivers will also be in the mix.

GRADE – B


COACHING – Monty Williams (27-55 for New Orleans Hornets in 2012-13) – C+

SUMMARY – Head coach Monty Williams will have a tough decision to make come 2013-14 – how to distribute those backcourt minutes among three talented youngsters?  And it may also be put up or shut up time for Williams, as an improved Anthony Davis and the return of Ryan Anderson to the starting lineup should also bode well for a better chance of making the Playoffs in 2013-14.  Playing in a stacked Southwest division, the newly-renamed New Orleans Pelicans will likely finish fourth place, and assuming all the pieces are indeed in place, the Pelicans could make it to the Playoffs in 2014, though all that youth and the sheer quality of the competition could mean a first-round exit.

OVERALL GRADE – B

PREDICTED FINISH – 4th out of 5, Southwest Division


---
SAN ANTONIO SPURS
CENTERS – The Spurs have somehow managed to be so successful in recent seasons despite not having any elite talent at the center spot.  (Except Tim Duncan, that is, though he's typically used at the four spot.)  That might change this season.  With DeJuan Blair now with the Dallas Mavericks, the Spurs look to have Tiago Splitter as the team's full-time starting center, and he's made his share of improvements over three NBA seasons.  And the Spurs do have faith in the Brazilian big man, having signed him to a lucrative four-year contract.

Expect a career year out of Splitter in 2013-14, especially since he doesn't have much backing him up.  The Spurs could use either Aron Baynes or Jeff Ayres (formerly Jeff Pendergraph) as reserve center; both are wide bodies capable of scoring from inside and rebounding, but little else.

GRADE – C+


FORWARDS – At 37, Tim Duncan continues to defy age, playing a step slower but remaining the cornerstone of the Spurs' franchise, not to mention the team's ubiquitous pick-and-roll offense.  Duncan averaged 17.8 ppg, 9.9 rpg and 2.7 bpg in 2012-13, marking a late-career renaissance of sorts after two comparatively subpar years, but what's really impressive is how he shot an astonishing 81.7% from the free throw line, addressing a long-time weakness.  Don't stick a fork in him just yet – Duncan just might have two to three more good years remaining.  At small forward, Danny Green made a huge impact as a three-point shooter and defensive ace; he was especially effective in the 2013 NBA Finals, sinking a total of 27 treys in what turned out to be a losing effort for the Spurs. 

Off the bench, three-point specialist Matt Bonner and versatile Boris Diaw can both relieve Duncan and do a solid job at it.  Diaw may also be considered as a reserve small forward or center, and while he doesn't get as much playing time or touches as he used to, he's still capable of contributing everywhere else.  But while the Spurs are covered whenever Duncan or Green may need a breather, frontcourt depth could be an issue if injuries pile up.  That may not be too likely, but that's something the Spurs can ill afford.

GRADE – B+


GUARDS – When talking of the Spurs' aging nucleus, Tony Parker is usually mentioned alongside Duncan and Manu Ginobili, but he actually shouldn't be – at 31, he can't be considered old, and he's also coming off one of his better seasons, one where he actually shot decently from three-point range aside from facilitating the pick-and-roll and splitting defenses with his driving ability.  Look for another strong campaign from Parker, with Kawhi Leonard now firmly entrenched as starting off-guard.  In just his second season, Leonard started 57 of 58 games for the Spurs, averaging 11.9 ppg, 6.0 rpg, 1.6 apg and 1.7 spg and emerging as a lockdown defender.  A favorite of head coach Gregg Popovich, he has nowhere to go but up as the Spurs' best young player.

Backcourt depth is excellent for the Spurs, with Manu Ginobili, Marco Belinelli, Nando DeColo, Cory Joseph and Patty Mills onboard.  Ginobili, now 36 and coming off two injury-shortened seasons, may further scale things back in 2013-14 with Belinelli coming over from the Bulls.  Belinelli is a bit one-dimensional, but a valuable guy to have around as a kick-out option from long range.   As Parker's main backups at the point, defensive-oriented Joseph and hot-shooting Mills (he of that 34-point late-season effort in 2011-12) complement each other, but Belinelli's arrival may mean a cut in playing time for one of both.

GRADE – A-


COACHING – Gregg Popovich (58-24 for San Antonio Spurs in 2012-13) – A

SUMMARY – As the San Antonio Spurs grow older, more experts are speculating that any given season in the 2010s would be the first where they wouldn't be in the thick of the Western Conference championship.  Yet they keep soldiering on, defying age and proving to be the same old Spurs (S.O.S., anyone?) with their nonpareil execution, while grooming younger players like Kawhi Leonard, Tiago Splitter and Danny Green for bigger roles in the future.  Taking stock of everything, the Spurs may probably concede the Southwest Division to the Houston Rockets, but their combination of veteran experience, coaching brilliance, strong fundamentals and stingy team defense should ensure another deep run in the 2014 postseason.

OVERALL GRADE – B+

PREDICTED FINISH – 2nd in Southwest Division


What do you think?

We'd love to hear your comments and/or opinions. If you submit them here, other visitors can read them, rate them and comment on them. An e-mail address is not required.
From NBA Season Previews: The Southwest Division to NBA Basketball Blog