NBA Season Previews: The Southeast Division
By Lorenzo Tanos

ATLANTA HAWKS
CENTERS – With Josh Smith having skipped off to the Detroit Pistons, Al Horford is now the go-to guy for the Hawks' frontcourt, and arguably the franchise player following Smith's departure.  Though he missed almost all of the 2011-12 season, Horford came back in 2012-13 with a vengeance, posting career-highs in points and rebounding (17.4 ppg, 10.3 rpg) but somehow missing All-Star consideration.  There should be no way Horford misses the All-Star Game in 2014 given his present situation.
Instead of long-time Hawk Zaza Pachulia, who now plays for the Bucks, Horford should have Gustavo Ayon as his top backup at center.  Just as expected, Ayon was a big flop for the Orlando Magic, who gave upon him in midseason and shipped him to the Milwaukee Bucks.  While not worth mentioning in the same sentence as Ryan Anderson (whom the Magic gave up in order to acquire him), Ayon can rebound and defend well and make his backup minutes count.

OVERALL GRADE – B+


FORWARDS – The Hawks will be parading a refreshed frontcourt in 2013-14, with Paul Millsap and DeMarre Carroll expected to hold down the starting power forward and small forward spots respectively.  Millsap, despite standing just 6'8", is more of a four than anything else, and should continue contributing as an above-average scorer and rebounder.  In addition, he's a better defender than many give him credit for.  Small forward could be a problem, as the top candidates to start at that spot wouldn't be considered starters on most other teams – DeMarre Carroll and James Johnson, both free agent acquisitions.

Both players excel most on the defensive end, and Johnson in particular is a good passer and athletic energy guy, but a Carroll-Johnson platoon spells trouble at the three spot.  Another scenario would be Millsap at three and Elton Brand, acquired from the Mavs, at the four.  Brand's productivity has nosedived big-time since those 20-10 days with the Clippers, but as a backup four and a capable vet, he could be one of the best out there.

OVERALL GRADE – C


GUARDS – Somehow, one gets the feeling that Jeff Teague is, at this point, as good as he's going to get.  While he made strides in his game last season, averaging a career-high 14.6 ppg and 7.2 apg, it would appear that he's a good, but not great solution at the one spot, and that the Hawks aren't completely sold on him.  And his defense remains inconsistent.  That's why Atlanta drafted some competition for Teague in the form of German point guard Dennis Schroder, whom some believe may be the point guard of the future.

An athletic, energetic player, Schroder will probably watch and learn as a rookie, but it won't be surprising if the Hawks have to decide on whether to re-sign Teague or to go with Schroder in 2014-15.  At shooting guard, the Hawks could do better than Kyle Korver, a great three-point shooter and clutch player, but more of a role player than a starter on a quality team.  He will be backed up for now by athletic defender Jared Cunningham and scorer John Jenkins.  Lou Williams would ideally be the Hawks' sixth man and top guard off the bench, but he isn't expected to be back until early 2014, before the All-Star Break.

GRADE – C


COACHING – Mike Budenholzer (Assistant for San Antonio Spurs in 2012-13) – B-

SUMMARY – The Atlanta Hawks seem to have been spinning their wheels for the longest time – good enough to make the Playoffs but not good enough to go far in the Playoffs.  Here we see no game-changing signings of note, and while Paul Millsap is good, he's not the defensive player and all-around contributor Josh Smith was.  If there's a wild card for the Hawks this season, it's new coach Mike Budenholzer, a former Spurs assistant who could bring fundamental basketball and a focus on defense to Atlanta.  If he proves to be as good as his former mentor Gregg Popovich in coaching defense and maximizing his team's talent, the Hawks could exceed those middling expectations, though probably place no higher than fifth in the Eastern Conference race.

OVERALL GRADE – C+

PREDICTED RANKING – 3rd of 5, Southeast Division


---
CHARLOTTE BOBCATS
CENTERS – Could Al Jefferson be what the Bobcats need to get past the 30-win mark?  Given the talent level at other positions, that just might be a possibility.  Jefferson was a legitimate double-double machine for both the Minnesota Timberwolves and Utah Jazz, and he's as deadly as ever from the low post.  As his production had recently slid a bit with the Jazz, moving to the moribund Bobcats could bring Jefferson's stats back up to 20-10 territory.  But there's a huge caveat to having Al Jeff on the Bobcats lineup – he's not a good defender.

Conversely, Bismack Biyombo, who may likely back up Jefferson in the middle, blocks a lot of shots, but at 6'9", he's woefully undersized, and he's still a huge project on offense.  Still, the Hornets may opt to have Biyombo and first-rounder Cody Zeller compete for the starting power forward spot, and have veteran Brendan Haywood, another substandard scorer, back up Jefferson.

GRADE – B-


FORWARDS – Not a few pundits were unimpressed with Michael Kidd-Gilchrist, last year's second-overall pick who averaged just 9.0 ppg and 5.8 rpg as the Bobcats' starting small forward.  While he's a good defender, he's probably not a future franchise player as his draft position last year may suggest, and he can't shoot the ball from outside either.  He may once again be backed up by fellow second-year man Jeffery Taylor, a strong defender but little more than a role player for the Bobcats.  At power forward, the Bobcats will be replacing Byron Mullens, a seven-footer many considered soft (must be all those threes he kept taking) with a college star (Cody Zeller) who is also thought to be too soft to be an NBA big man.

If anything, he has more upside than Mullens, should be a decent scorer and rebounder, and should be considered the favorite to start.  As stated above, his main competition may be Bismack Biyombo, still a project on both ends of the floor entering his third year in the league.  We don't need to tell you how far behind his offense is compared to his defense, but while he can block shots (1.8 bpg), he still needs work on his defensive technique – Ben Wallace he isn't, as far as 6'9" center/forwards go.

GRADE – F


GUARDS – Kemba Walker is, without question, the top returning player for the Bobcats, having enjoyed a breakout season as a second-year pro with averages of 17.7 ppg, 5.7 apg and 2.0 spg.  As his playmaking skills and outside shooting continue to improve, so should the Bobcats.   He'll again be playing alongside Gerald Henderson, who scores well (15.5 ppg in 31.4 mpg) but has yet to develop a consistent outside shot.  And yes, the backups remain the same – 20-ppg scorer turned hot-and-cold instant offense sixth man Ben Gordon at shooting guard, and inconsistent combo guard Ramon Sessions.  Long story short, this should be more of the same for the Bobcats as far as the backcourt goes, though some improvement can be expected out of Walker, who's entering his third year in the league.

GRADE – C


COACHING – Steve Clifford (Assistant for Los Angeles Lakers in 2012-13) – C

SUMMARY – The Charlotte Bobcats did add a potential 20-10 center/forward, they have a young, productive point guard who's getting better, and their new head coach Steve Clifford is an experienced NBA assistant who last worked for the Los Angeles Lakers and is a protégé of both Jeff and Stan Van Gundy.  Add these changes up, and take rookie Cody Zeller into consideration, and you still don't get a team that's anywhere close to making the postseason.  30 wins?  Maybe, as a best-case scenario.  20 wins or less?  Won't be surprising if the Bobcats' weaknesses (youth, poor defense, inconsistency) manifest themselves big-time.

OVERALL  GRADE – D-

PREDICTED RANKING – 5th of 5, Southeast Division


---
MIAMI HEAT
CENTERS – Once again, Chris Bosh may be playing center out of necessity, unless Greg Oden makes a miraculous recovery following years of knee injuries that have drawn him (the wrong kind of) comparisons to fellow injury-prone Portland Trail Blazers franchise-type draftees Bill Walton and Sam Bowie.  Going back to Bosh, he's been doing quite well as the Heat's third offensive option behind LeBron James and Dwyane Wade, and an all-important presence in the paint who can also stroke it from outside if necessary.  His rebounding stats (6.8 rpg in 33.2 mpg) are arguably his main Achilles heel at this point in his career.  As for Oden, it's been over three years since we've last seen him on court, and while he's young enough to still eke out a decent NBA career at least, it's way too much to expect the same things we did out of him as a freshman at Ohio State.

GRADE – A-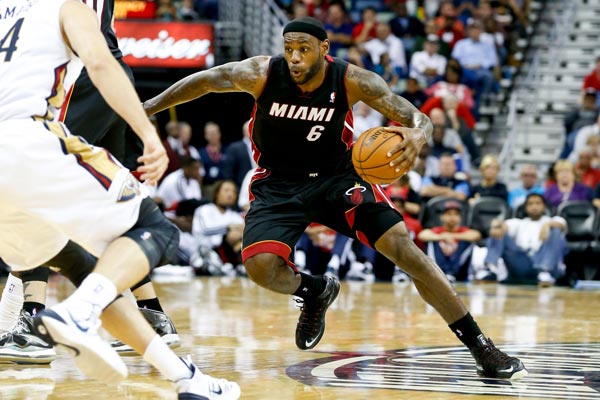 FORWARDS – Make no mistake, LeBron James is truly deserving of all his accolades, including last season's regular season and Finals MVP awards.  As he enters his 11th NBA season, James is as dominating as you can get (26.8 ppg, 8.0 rpg, 7.3 apg, 1.7 spg, 56.5% FG, 40.6% 3P) on both ends of the floor, and still in the prime of his career. Barring unexpected injuries, similar numbers are almost given this season.  He may once again play slightly out of position at power forward, though, as Michael Beasley will be returning this season to the team where he debuted, and where he played quite well in the two seasons ahead of "The Decision."

If Beasley could get his head together straight, he could start at the three. If not, James could play small forward while Udonis Haslem does his usual workmanlike job at power forward, while scoring less than ever.  The always-colorful Chris Andersen could serve as Haslem's backup if that's the case.  Also, Shane Battier remains on the Heat, providing, on top of his outside shooting, defense, a high basketball IQ and other intangibles.

GRADE – A


GUARDS – Could Dwyane Wade stay healthy for an entire regular season and postseason?  If he can, then almost every other team in the NBA can effectively concede.  He's been receiving treatment to his knees in the offseason, which should improve his chances of sticking around, and being arguably the best second-in-command player in the NBA right now.  His backup, once again, will be Ray Allen, who's now 38 and far removed from his prime, but still the owner of one of the NBA's sweetest strokes and a valuable clutch player, as you might have seen in Game 6 of the 2013 Finals.

The point guard spot should again see Mario Chalmers and Norris Cole platooning at the position. Chalmers is to the Heat of today what John Paxson was to the 1990s Chicago Bulls dynasty – a solid, but unspectacular complementary player with a steady outside shot.  Cole, now entering his third season in a similar capacity, has made a great transition from collegiate gunner to defensive ace as a pro.

GRADE – A-


COACHING – Erik Spoelstra (66-16 for Miami Heat in 2012-13) – A

SUMMARY – Could the Heat make it a three-peat? They've got all they need to make it happen, and didn't make too many changes to their lineup, losing only Mike Miller among key contributors and adding Greg Oden and Michael Beasley.  Even without the benefit of a 27-game winning streak like what they had last season, the Heat should be considered a good possibility to return to the NBA Finals, though whoever they face in the Eastern Conference Finals would likely make it hard for them.

OVERALL GRADE – A

PREDICTED RANKING – 1st of 5, Southeast Division


---
ORLANDO MAGIC
CENTERS – Formerly Spencer Hawes' backup on the Philadelphia 76ers, Nikola Vucevic was a revelation for the Orlando Magic last season, averaging 13.1 ppg and 11.9 rpg and receiving consideration for Most Improved Player.  Rebounding is obviously his main strength, as he set the Magic franchise record for most boards in a single game with 29 last season.  As he's only 23, Vucevic should continue improving on both ends of the floor.  The question, however, is who his backup is going to be.  Would it be veteran journeyman Solomon Jones or 2012 second-rounder Kyle O'Quinn?  Neither player inspires much confidence as a reserve pivot, as the Magic continue suffering from depth issues in the middle.

GRADE – C


FORWARDS – And speaking of revelations, Tobias Harris sure came to life when he was traded from the Milwaukee Bucks (4.9 ppg) to the Orlando Magic (17.3 ppg. 8.5 rpg).  Was it a fluke, or is Harris the Magic's small forward of the future?  That could be determined by how quickly he improves in certain areas, such as shot selection and perimeter defense.  Meanwhile, Glen Davis was enjoying a career season (15.1 ppg, 7.2 rpg) when he went down with a foot injury, and that might be as good as it gets for "Big Baby" – his numbers were more a product of playing for a bad team than any substantial improvement.

He now has competition from promising second-year man Andrew Nicholson and energy guy Jason Maxiell, who spent the past eight seasons with the Pistons as an undersized (6'7") yet effective power forward on defense and rebounding.  Mo Harkless is another second-year player with promise, and he'll likely be Harris' backup at the three.  As for Hedo Turkoglu, you can stick a fork in him – he's done.  Turkoglu, who once averaged 19.5 ppg, 5.7 rpg and 5.0 apg for the Magic (that was just six seasons ago), played in only 11 games last season, averaging less than three in all the above categories in 17.2 mpg.

GRADE – D+


GUARDS – Jameer Nelson isn't old, and he certainly wasn't unproductive in 2012-13 (14.7 ppg, 3.7 rpg, 7.4 apg – all career-highs), but it feels like he's been around forever.  And it also feels like he might not be the right man to lead the Magic back to the Playoffs, though that may have something to do with the talent around him, as well as recent injury history.  It's also worth noting that his shooting (39.2% FG) has gone way south since 2008-09, when he shot a tad above 50%. By the end of the year, Nelson, the longest-tenured member of the Magic, may be starting alongside one of the team's newest members, second-overall pick Victor Oladipo.

He excels in defense, is a good athlete, and was considered one of the most NBA-ready players in the 2013 Draft, though he may come off the bench early on for Arron Afflalo.  He's another strong defender at the two-guard spot, and makes a good starter for many teams, but he may need a trade.  Expect Doron Lamb, Ronnie Price and E'Twaun Moore to all get minutes off the bench, which would be more than they'd get had they been playing for a better team.

GRADE – C-


COACHING – Jacque Vaughn (20-62 for Orlando Magic in 2012-13) – C

SUMMARY – With the possible exceptions of Nikola Vucevic and Arron Afflalo, a lot of the Magic's veterans have the team's lack of overall talent to thank for their extended minutes.  And while Victor Oladipo may have a long NBA career ahead of him, he shouldn't be mistaken as an instant savior.  The Magic are almost sure to miss the Playoffs in their second A.D. (After Dwight) season, and you can expect these guys to be in the running for the Andrew Wiggins sweepstakes in 2014.  The Magic and the Charlotte Bobcats will make it a race to avoid finishing in the cellar of the Southeast Division this season.

OVERALL GRADE – C-

PREDICTED RANKING – 4th of 5, Southeast Division
---
WASHINGTON WIZARDS
CENTERS –  With a last-minute trade having sent Marcin Gortat to the Wizards, the center position has been upgraded from questionable with a fading Okafor to promising with the "Polish Hammer" probably due for a comeback season of sorts.  Gortat had a subpar season for the Suns in 2012-13, but with his moving to a new, and hopefully happier environment, a 15-10 season or close to that isn't unconceivable.

As for the team's reserves at the five spot, Kevin Seraphin had his moments, but he's not yet there.  Jan Vesely, who stands seven feet flat, could be considered too, but the jury's almost out on him as far as being a lottery bust is concerned.  If Gortat continues to regress, the Wizards could also start Nene at center and have someone like Trevor Booker or Al Harrington fill in at power forward. 

GRADE – C+


FORWARD – Injuries could be a potential sore spot at power forward, where Nene has made a career out of missing some to most games in a season.  To wit, Nene has played in 70 or more games only five times in 11 years. But when he's healthy, he can contribute (12.6 ppg,6.7 rpg, 2.9 apg) and provide a lot of energy, while shooting at a high clip from the field.  Last season, Al Harrington missed most of the year for the Orlando Magic, which doesn't bode well for a player expected to provide quality minutes off the bench at the three and four spots.

Trevor Booker played in just 48 of 82 games in 2012-13, while second-year small forward Chris Singleton, a strong defender, will probably be out until late November.  Additionally, Trevor Ariza missed 26 games for the Wizards last season.  That means the key intangible third-overall pick Otto Porter may provide is health.  He may be this year's version of Michael Kidd-Gilchrist – a good complementary player and a starter, but likely not a future superstar.

GRADE – C


GUARDS – And we have even more injuries to report, as John Wall and Bradley Beal combined to miss 59 games in 2012-13, a big blow considering they're the best the Wizards have got on offense.  Wall, however, returned from injury to play the best basketball of his young career (18.5 ppg, 4.0 rpg, 7.6 apg), while Beal overcame a slow, erratic start to average 13.9 ppg, good for second in scoring.  That, and the injuries above, made it ironic that Martell Webster, quite injury-prone himself on previous teams, was quite sturdy as he played 76 games as the Wiz's starting small forward while playing the best basketball of his career.

With Otto Porter a possible starter at three, Webster could compete with new acquisition Shannon Brown to become Beal's top backup in 2013-14.  Point guard will likely be backed up by Eric Maynor and Kendall Marshall, while Glen Rice Jr. comes in as a second-round pick with a good chance of making the final lineup.
 
GRADE – B-


COACHING – Randy Wittman (29-53 for Washington Wizards in 2012-13) – C+

SUMMARY – Some sources predict a Playoffs trip for the Wizards in 2013-14.  With Marcin Gortat replacing Okafor at center, and the Wiz now packing a very deep rotation at guard, that just might be plausible.  Still, everything is contingent on the Wizards' key players staying healthy – keep in mind that Bradley Beal, John Wall and Al Harrington missed their share of games to injury, while Nene has a long history of injuries that make 70 games or more a coin-toss of sorts heading into 2013-14.

OVERALL GRADE – C

PREDICTED RANKING – 3rd of 5, Southeast Division
What do you think?

We'd love to hear your comments and/or opinions. If you submit them here, other visitors can read them, rate them and comment on them. An e-mail address is not required.
From NBA Season Previews: The Southeast Division to NBA Basketball Blog