NBA Season Previews: The Pacific Division
By Lorenzo Tanos

GOLDEN STATE WARRIORS
CENTERS – It looks like we'll have to accept the possibility that Andrew Bogut won't be as impressive statistically as he was with the Milwaukee Bucks.   Long plagued by injury problems, including ankle injuries that limited him to 32 games in 2012-13, Bogut's return last season yielded mixed results, as he averaged a career-low 5.8 ppg, together with 7.7 rpg and 1.7 bpg, the latter of which were impressive for 24.6 minutes per game.
With all the offensive weapons on the Warriors' lineup, Bogut may indeed be focusing more on defense and rebounding, which he remains very good at.  His backups include Festus Ezeli, who actually started the most games at center in 2012-13 as a rookie, and veteran Jermaine O'Neal.  Ezeli is a huge project on offense whose specialty is on the other end of the floor. O'Neal, who just turned 35, hasn't been a starter since 2009-10, but remains a threat to block shots and a quite a decent scorer.

GRADE – C


FORWARDS – David Lee is the epitome of steady and effective at the power forward spot, regularly posting 20-10 nights while shooting extremely well from the field (51.9%) and from the stripe (79.7%).  He also passes the ball very well for a big man.  That said, he won't be confused for a defensive stopper, but even then, he's clearly the Mr. Inside to Stephen Curry and Klay Thompson's Mr. Outside roles.  Mr. All-Everything, on the other hand, should be Andre Iguodala, who joins the team following a solid campaign for the Denver Nuggets.

As Mark Jackson is a defensive-oriented coach, Iguodala's addition is a huge one for the Warriors; he's a definite stopper on the defensive end who puts up good numbers in almost all categories.  He also makes a nice alternative at playmaker, as expected reserve point guard Toney Douglas is more of an off-guard trapped in a one's body.  This may all add up to diminished minutes for the promising, yet inconsistent Harrison Barnes at small forward.  At power forward, Lee could be backed up by another new addition, offensively-gifted big man Marreese Speights.

GRADE – B+


GUARDS – No other team has a pair of starting guards who could light it up from downtown like Stephen Curry and Klay Thompson.  Following a wash of a 2011-12 season where he missed most of the lockout-shortened campaign due to injury, Curry was back with a vengeance in 2012-13, averaging 22.9 ppg  and 6.9 apg and shooting 45.3% from long distance, as he led the Warriors to a surprising first-round upset of the Denver Nuggets in a high-scoring first round series.  He was ably assisted by Thompson, who shot 40.1% from three while impressing in his first season as a full-time starter.

Thompson just might get some serious All-Star consideration as he enters his third NBA season.  Reserve firepower will be provided by Douglas, who, as mentioned above, is a two-guard masquerading as a point.  Seth Curry, an undrafted rookie (and Stephen's younger brother), could add to the fireworks from long range, and fan favorite Kent Bazemore could be due for additional minutes.  Nonetheless, without Jarrett Jack as reserve point guard, the Warriors' second backcourt unit has downgraded considerably from last season. 

GRADE – B+


COACHING – Mark Jackson (47-35 for Golden State Warriors, 2012-13) – B+

SUMMARY – Backcourt depth may be questionable, but with a skilled defender in Andre Iguodala thrown into the mix, the Warriors should continue their improvement on defense while becoming better overall.  Having Andrew Bogut available for most, if not all of the year, would help as well.  In all, the Warriors have something good going for them, and have a good chance of getting past the first round of the Playoffs as the ignominy of 16 postseason misses in 18 tries (from 1994 to 2012) becomes more and more of a distant memory.

OVERALL GRADE – B

PREDICTED RANKING – 2nd of 5, Pacific Division


---
LOS ANGELES CLIPPERS
CENTERS – DeAndre Jordan had a good 2012-13 season for the Clippers, but it could have been better.  For one, his shot blocking fell considerably (from 2.0 bpg in 2011-12 to 1.4 bpg), and he shot a comical 38.6% from the free throw line, dropping his career average to 42.4%.  But while Jordan may be the NBA's worst free throw shooter this side of Chris Dudley, he's deadly accurate from the field (64.3%), and a vital cog in rebounding and defense.  Conversely, newly-acquired Byron Mullens is a beefy seven-footer with a bizarre love affair with the long bomb.

He took a total of 208 three-point attempts in 2012-13, making 66 of them (for a low 31.7%), while shooting just 38.5% from the field, completely inexcusable for a man of his size.  He'll stretch the defense all right, and he's not a bad rebounder, but something has to be done about that field goal percentage of his.  If Mullens plays power forward, journeyman Ryan Hollins could see minutes as Jordan's backup.

GRADE – B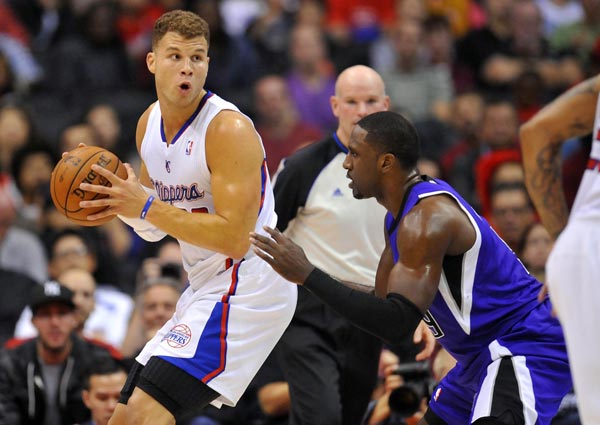 FORWARDS – While the knee injury that took Blake Griffin out of the 2012 Olympics weighed down on his scoring and rebounding numbers (18 ppg, 8.3 rpg), he did, at least, improve his free throw shooting significantly (66.0%, up from 52.1%) while becoming a better defender.  Expect those numbers to go up again as he continues exciting Clippers fans in tandem with former "Lob City" facilitator Chris Paul.  That's right – he did say that "Lob City" is now nonexistent with Doc Rivers replacing Vinny Del Negro as head coach.   He will likely be backed up by Mullens, Antawn Jamison, or by blue-collar bruiser Lou Amundson.  Jamison comes over from the hated Lakers, and despite his advanced age and diminished skills, he's still a reliable off-the-bench scorer, if a subpar defender at either forward position.

With Caron Butler now playing for the Milwaukee Bucks, small forward will be contested by Matt Barnes and Jared Dudley.  Barnes, despite coming off the bench, won top defensive player honors within the Clippers' organization, and quietly had one of his better seasons, averaging a career-high 10.3 ppg as Butler's backup.  Dudley was acquired from the Phoenix Suns in the trade that sent Butler to the Bucks, and will do his usual bit scoring mainly from the outside, where he shoots a career 40.5% from three-point range.

GRADE – B+


GUARDS – Playing a dual role as chief playmaker and top perimeter defender, Chris Paul had another good season on both ends of the floor.  The question, however, would be how quickly he adapts to Doc Rivers' more deliberate, motion-heavy offense.  Regardless of how things turn out in the transition from basic, fast-paced "Lob City" plays to half-court motion sets, Paul will be reunited with someone who had been a very reliable and productive backup a while back at the New Orleans Hornets (now Pelicans) – Darren Collison.  Since his surprising rookie season as CP3's backup, and replacement starter when he went down with injury, Collison has been up and down.

He still needs a bit of work on his outside shot, but should at least be one of the NBA's best backup playmakers, and a good finisher as always.  The battle at shooting guard should be an interesting one, as J.J. Redick, Jamal Crawford, Willie Green and first-round pick Reggie Bullock will all be competing for minutes.  Redick is the most reliable outside shooter of the four, and while some still contend that he's one-dimensional, he's the type of player who could thrive in Rivers' system.  Crawford may reprise his role as Mr. Instant Offense off the bench, while Green and Bullock look to be third-stringers.

GRADE – B+


COACHING – Doc Rivers (41-40 for Boston Celtics, 2012-13) – B+

SUMMARY – Doc Rivers doesn't just want to prove that the Celtics made a mistake trading him for a future draft pick – that's right, trading a coach for a 2015 first-rounder.  He wants the Clippers to play smarter and more technical, and to hunker down more on defense, even if they weren't bad defensively last year.   He'll need to get a lot of buy-in from the Clippers, as he already has the tools to make his system work – a star point guard/frontcourt scorer combo (Chris Paul/Blake Griffin), a defensively-sound center (DeAndre Jordan) and more than enough outside shooters (J.J. Redick, Matt Barnes, Jared Dudley, Byron Mullens).  That buy-in should determine how far the Clippers go in the Playoffs, where they're sure to be returning in 2014. Fornow, they're favorites to top the Pacific Division.

PREDICTED RANKING – 1st of 5, Pacific Division


---
LOS ANGELES LAKERS
CENTERS – And so ends the Dwight Howard experiment – adding D12 to the Lakers turned out to be a wrench thrown at the team's chemistry, as it can be argued the Lakers went 47-35 and made the Playoffs despite of, and not because of Howard's talented, yet divisive presence.  With Howard now playing for the Houston Rockets, his replacement in the middle will be Chris Kaman, last seen with the Dallas Mavericks and a few years removed from his peak, though still potentially productive at age 31.

He definitely won't be the defensive force Howard was, but he should at least be a better team player.  He will be relieved by Jordan Hill, former eighth overall pick turned role-playing forward/center.  Despite having yet to live up to his draft billing, Hill is one of the NBA's best per-minute rebounders, and a very serviceable backup at both four and five.  If both Kaman and Hill get into foul trouble, Robert Sacre could be of help as a third-stringer.

GRADE – C


FORWARDS – Forced to deal with injuries, adjustment to a new system, adjustment (or lack thereof) among an All-Star lineup of players and the stigma of a horrible 2011 and 2012 Playoffs, Pau Gasol posted his most underwhelming numbers ever – 13.7 ppg, 8.6 rpg, 4.1 apg – in 2012-13.  To his credit, he did step up his game as the Lakers fought back from a losing record in the second half of the season, and should see his numbers go back up as the primary scoring option up front.  The question, however, would be who starts at the other corner spot, and who comes off the bench at power forward.

With Metta World Peace in New York and Earl Clark in Cleveland, talent at the three and overall frontcourt depth are now big issues.  Journeyman Shawne Williams and second-rounder Ryan Kelly could compete for backup minutes at PF, while the small forward spot could see lottery bust Wes Johnson, Williams and undrafted rookie Elias Harris as top candidates to start.  Harris, who has international playing experience as part of the German national team, is a former collegiate teammate of Sacre's at Gonzaga, and could be an interesting prospect, having impressed the Lakers in summer league competition.  As for Johnson, it could be put up or shut up time for the former Syracuse star, who has yet to put up consistent or impressive numbers in three years as a pro.  The Lakers may also consider starting new acquisition Nick Young at small forward, even if he's a natural two-guard.

GRADE – C


GUARDS – Just a few years ago, Kobe Bryant and Steve Nash would have made for a dream backcourt – the closest of the "Next Jordans" to MJ himself playing alongside the NBA's finest passer.  But Bryant has since suffered from an Achilles tear (at the homestretch of the 2012-13 regular season, no less), and Nash will be turning 40 next February; it goes without saying that he's lost a few steps since his MVP days with the Phoenix Suns.  Despite Bryant's injury likely putting him on the shelf in the first few weeks of the 2013-14 season, he should remain the focal point on offense for the Lakers.  Nash, on the other hand, seems capable of another productive season at the point.
 
If Young doesn't start at small forward, he could find himself taking minutes from three-point specialist Jodie Meeks at shooting guard.  He's one of those players that thrive best in up-tempo offenses like that of head coach Mike D'Antoni.  Steve Blake and Jordan Farmar, who's back after a season in Israel, will get reserve minutes at the point.  Taking D'Antoni's system into consideration, Farmar could make it as a second-stringer as the better athlete and scorer, though Blake remains the backup with better point guard skills.  All things considered, the Lakers have become much deeper in the backcourt.

GRADE – A-


COACHING – Mike D'Antoni (40-32 for Los Angeles Lakers, 2012-13) – C-

SUMMARY – Although Dwight Howard's departure could do wonders for the Lakers' chemistry, this isn't a case of addition by subtraction – after all, he remains one of the NBA's best centers, especially on defense.  Chris Kaman isn't bad, but he's a definite downgrade, while letting Metta World Peace sign with the New York Knicks may have been a mistake.  Through it all, Mike D'Antoni remains installed at head coach, preaching his "seven seconds or less" offense in a league where defense is again becoming a priority.  The addition of a decent, though not great, center and the deepening of the Lakers' backcourt reserve unit, at the end of the day, won't be enough to help this team escape what could be a first-round playoff exit at best.

OVERALL GRADE – C+

PREDICTED RANKING – 3rd of 5, Pacific Division


---
PHOENIX SUNS
CENTERS – In an eleventh-hour trade, the Phoenix Suns sent Marcin Gortat and a handful of backup guards to the Washington Wizards in exchange for Emeka Okafor and a 2014 first-rounder.   At this point, it's hard to determine who's got the better of the deal – injuries have slowed Okafor down in recent years, while Gortat had a down season himself in 2013-14.  But for now, Okafor should help out on the boards and block his share of shots while fifth-overall pick Alex Len adjusts as a rookie.

Len will most likely be slowed down early on as he'll be fresh off ankle surgery, but he has the potential to be a productive big man, particularly on the defensive end.   For now, the rotation may feature Okafor as starting center and Ukrainians Viacheslav Kravtsov and Len as second- and third-stringers, with Len progressively getting more minutes as the season wears on.

GRADE – C-


FORWARDS – This season marks Channing Frye's return to the Phoenix Suns after missing all of 2012-13 due to an enlarged  heart.  Despite being listed as a forward/center, Frye is still the Suns' most reliable threat from outside, and while he's never been a good rebounder, he'll likely be back doing what he does best – positioning himself outside for the long bomb, while doing more conventional big man duties like blocking about a shot per game.  At this point, he may be best as a reserve, especially if one of the Morris twins – Marcus and Markieff – becomes more consistent.

Not only do the Morris twins look alike, they also play alike, and are equally capable of contributing at the three or the four.  Markieff appears to be the better rebounder, while Marcus may be the better scorer.  P.J. Tucker will also be in the mix as a way-undersized small forward and inside player, as would Gerald Green, who's a phenomenal athlete, but still very inconsistent, especially when it comes to field goal shooting (36.6% in 2012-13 for the Pacers).  All told, the Suns have lots of options at three and four, but no clear-cut starter.

GRADE – D-


GUARDS – Could Eric Bledsoe emerge as a quality starting point guard in 2013-14?  The former Clippers backup is thought of by many as a potential breakout star this season, but his game remains riddled with question marks, particularly his inconsistency and lack of pure point guard skills.   He is, however, a far better defender than incumbent starter Goran Dragic, who isn't bad on the defensive end either.  In his first season as a full-time NBA starter, Dragic averaged 14.7 ppg, 7.4 apg and 1.6 spg for the Suns, but he's far from perfect – for one, he's not that reliable from outside.

Expect an interesting battle for the starting spot from both point guards, or a small lineup featuring Dragic at the one and Bledsoe as a woefully short (6'1") two.  The latter scenario looks even more likely now that Shannon Brown, Malcolm Lee and Kendall Marshall are with the Washington Wizards.  We could be seeing Green and late first-rounder Archie Goodwin fight for the starting two spot.  Green, as mentioned above, is way too inconsistent to be anything more than a stopgap solution.  Goodwin, on the other hand, may have entered the NBA Draft a year or two too early.

GRADE – D-

COACHING – Jeff Hornacek (Assistant for Utah Jazz in 2012-13) – C

SUMMARY – And the rebuilding (read: tanking?) continues for the Phoenix Suns, with quite a young lineup, a few promising cornerstones for the future (Alex Len, Eric Bledsoe), a first-time head coach with NBA playing experience (Jeff Hornacek) and multiple first-rounders waiting for them in the 2014 Draft.  As such, this looks like a 20-win year at best; they don't have any bona fide superstars in the lineup, and while Hornacek wants to instill a defensive mindset like most new coaches are wont to do, the makeup of his team isn't exactly one that suggests a top-half finish in terms of points allowed.  Before the proverbial steps forward, the Suns will have to take another step back, and this seems to be it.

OVERALL GRADE – D

PREDICTED RANKING – 5th of 5, Pacific Division


---
SACRAMENTO KINGS
CENTERS – DeMarcus Cousins has yet to meet a Sacramento Kings coach whom he likes.  In fact, some may say he's made a career out of running Kings coaches (Paul Westphal, Keith Smart) out of town.  That's such a pity, because if you overlook his obvious maturity issues, Cousins is arguably the NBA's most skilled young center, capable of scoring inside and outside, hauling down tons of boards and passing well from the post.  That said, he tends to make a lot of bad decisions on- and off-court, and if Mike Malone could be the coach to work well with Cousins, we could see him become one of the NBA's best centers, period.   Off the bench, the Kings still have Chuck Hayes, who's still the league's shortest center at 6'6", but one of its hardest-working.  He doesn't score much, but can hustle and defend, two things Cousins doesn't always do well, if at all.

GRADE – B


FORWARDS – And  here come the question marks.  Once again, the Kings have a lot of prospects at the three and the four, but no definitive starter at either small or power forward spots.  Logically speaking, Jason Thompson and Carl Landry appear most likely to start at four and three respectively, but Landry will miss some time early in the season due to injury.  Thompson, a former late lottery pick for the Kings, has been spinning his wheels since his rookie year – he's a decent rebounder and scorer from the paint who hasn't gotten much better since his debut.

Patrick Patterson, a midseason addition for the Kings last year, could stretch defenses with his outside shooting, and could also start at the four if we get another samey performance from Thompson.  As for the small forward spot, other options aside from Landry include athletic, yet oft-injured Travis Outlaw and yet another hustle guy with limited pro skills – Luc Mbah a Moute. John Salmons was the starter at three last season, and may likely start while Landry's out.  It seems like forever since he was last relevant and efficient from the three spot – last year, he was just plain ineffective AND inefficient.  (8.8 ppg, 2.7 rpg, 3.0 apg, 39.9% FG in 30 mpg)

GRADE – D-


GUARDS – The key addition for the Kings this year was Greivis Vasquez, who joined the team in the trade that sent Tyreke Evans to the New Orleans Pelicans.  Vasquez averaged 13.9 ppg, 4.3 rpg and 9.0 apg for the then-Hornets, and his numbers scream pure pass-first point guard and future All-Star.  But here's the caveat – with fewer offensive targets, those numbers may go down, and word is that Malone may prefer to use Isaiah Thomas at the starting point guard spot, especially with Vasquez playing quite tepidly in the preseason.  Despite his youthful inconsistency, he played quite well overall for the Kings as their starting point guard in 2012-13, but his lack of height (5'9") hurts him on defense, and he may be best suited as a Nate Robinson-style scoring point guard off the bench on most other teams.
 
At the two spot, the Kings hope Ben McLemore can step up right away as the starting off-guard.  He's drawn some comparisons to a young Ray Allen, so that should be something to look forward to as a potential kick-out option if and when Cousins gets double-teamed in the paint.   (That is, if Cousins focuses on playing in the paint.)  Marcus Thornton, who had an uneven 2012-13, may reprise his role as hot-shooting sixth man, while Jimmer Fredette's days as a King may be numbered.  It's obvious his high-scoring game at BYU has failed to translate to the NBA style of play.

GRADE – C


COACHING – Mike Malone (Assistant for Golden State Warriors in 2012-13) – C

SUMMARY – The Kings will most likely be better than the Suns in 2013-14, and a 35-win season doesn't seem farfetched.   But the team still remains a few pieces short of making the Playoffs – quality starting forwards wouldn't hurt.  And the usual question marks remain, mainly, when will DeMarcus Cousins finally grow up?   If we suddenly see a 360-degree change in attitude from the enigmatic young center, the Kings could surprise fans, but for now, it looks like another early exit for the Lakers' one-time blood rivals.

OVERALL GRADE – C-

PREDICTED RANKING – 4th of 5, Pacific Division


What do you think?

We'd love to hear your comments and/or opinions. If you submit them here, other visitors can read them, rate them and comment on them. An e-mail address is not required.
From NBA Season Previews: The Pacific Division to NBA Basketball Blog