NBA Season Previews: The Northwest Division
By Lorenzo Tanos

DENVER NUGGETS
CENTERS – Just because George Karl isn't the Nuggets coach any more doesn't mean JaVale McGee is out of the woods.  In fact, he may need to work extra hard to convince new head coach Brian Shaw that he deserves to be part of the starting lineup, and not the second, or even third center off the bench, just as he was last year with Kosta Koufos (now a Grizzly) and Timofey Mozgov.  Let's get down to brass tacks – McGee is a fantastic shot blocker, but he's not a fantastic defensive player.
In fact, his goofball attitude sometimes makes him a terrible one.  That said, he has far more upside than Mozgov, as the starting center job may be his to lose for the 2013-14 season.  J.J. Hickson could also give the starting center spot a go, but while he averaged a double-double last season for the Trail Blazers, he's an even more inconsistent defender than McGee, minus the shot blocking skills.

GRADE – C


FORWARDS – Kenneth Faried and Hickson are two similar players in the sense that they can rebound like madmen (or in Faried's case, like a "Manimal"), but lack NBA-level defensive skills.  They're also surprisingly decent scorers, and whoever gets to start should have a chance at averaging a points-rebounds double-double.  But neither can shut the other man down, and that's something they may have to focus on – Faried, who's an above-average ball-hawk and shot blocker, has some potential in that regard.  Fortunately for defensive-oriented Shaw, Wilson Chandler can lock down on "D", and that could help him at least make up for the losses of Andre Iguodala and Corey Brewer.

He probably may be best used as a sixth man, and a reserve at both forward spots and shooting guard too, once Danilo Gallinari returns.  "Gallo", who is the Nuggets' best-shooting frontcourt man, is coming off an ACL injury suffered late in the 2012-13 season, and it remains to be seen when he'll be ready to return to action.  Expect power forward Darrell Arthur and injury-prone small forward Damion James to come over from Memphis and Brooklyn respectively to add some depth.

GRADE – C+


GUARDS – With Iguodala now suiting up for the Warriors, who's going to take over?  Based on experience, Randy Foye could be considered, but while he's a good shooter and an experienced backcourt man, he's best suited as a third guard who can come off the bench and provide relief at the two and the one.  Instead, the Nuggets could choose to give second-year wingman Evan Fournier a chance to step up – he's a better athlete and defender, and arguably a better fit in Shaw's system.  Still, his inexperience represents a calculated risk on the Nuggets' part.

At the point guard spot, Ty Lawson is unquestionably the man Denver wants as a starter, as he continues to mature on both ends while putting up good, if not yet great numbers.  Andre Miller, who turns 38 late in the 2013-14 season, is still around, but might concede a lot of playing time to free agent signing Nate Robinson, who's developed a lot of playmaking skills in recent years after starting out his career as a high-powered combo guard with height (5'9") that screams pure point guard.

GRADE – B-


COACHING – Brian Shaw (Assistant for Indiana Pacers in 2012-13) – B

SUMMARY – Shaw wants to kick it old-school, but not in a George Karl, Mike D'Antoni sort of way.  He wants the Nuggets to walk it up, take it slow and focus on defense, defense and even more defense.  Having lost Andre Iguodala to the Golden State Warriors and added Randy Foye in his place, the Nuggets won't be as tough in that regard as they were last year, but at least they have somebody who can teach them some "D", which will come in very handy for a team once stuck in a '70s/'80s time warp and still boasting of mediocre defenders like Kenneth Faried, J.J. Hickson and yes, even shot-blocking machine JaVale McGee.

OVERALL GRADE – C+

PREDICTED RANKING – 3rd of 5, Northwest Division


---
MINNESOTA TIMBERWOLVES
CENTER – Nikola Pekovic successfully proved last season that his 2011-12 breakout was no fluke, but as evidenced by the total 39 games he missed those past two seasons, he needs to stay healthy in order to provide ample frontcourt support to Kevin Love from the five spot, not to mention justifying the lucrative five-year deal he agreed to when re-signing with the T-Wolves.  His competition at the pivot consists of raw first-rounder Gorgui Dieng, and well-traveled veteran Ronny Turiaf.  Both players excel on the defensive end, and any offensive contribution from them should be considered as icing on the cake.  Minnesota may be in trouble, though, if the team has to start either Turiaf or Dieng in the middle should Pekovic's minor injury problems manifest again.

GRADE – C+


FORWARDS – Speaking of injured big men, hopefully franchise power forward Kevin Love could stay relatively free of aches and pains in 2013-14.  Love was limited to 18 games in 2012-13 due to hand injuries, and given that the injuries were to his shooting hand, his averages fell dramatically – 18.3 ppg, 14.0 rpg and an abysmal 35.2% from the field.  He's played well so far in the pre-season, though the true test will be in the regular season, where Love, assuming his injury is fully-healed, should return to being a legit 25-15 threat in points and rebounding and a top candidate for MVP honors.

What remains to be seen, though, is whether Derrick Williams could keep up the improvement he made last season in Love's absence.  Williams, who can play both forward spots, is the favorite to start at the three, though if he underachieves, he may be pushed by Chase Budinger, who also missed much of last year due to injury, or defensive ace Corey Brewer, who may not be that big a bust after all following a strong 2012-13 campaign as one of the Nuggets' key reserves.  Reserve power forward duties will be contested by a number of players, including veteran Dante Cunningham.

GRADE – B+


GUARDS – Indeed, the T-Wolves may not have had half the problems they did last season if it was not for all those injuries.  These were the same injuries that had caused Ricky Rubio to have a season very similar to his first, though there's no reason he shouldn't post some marked improvements in his third, and hopefully first injury-free, season as a pro.  He's more than just a flashy passer, but also a skilled facilitator and a pesky defender.  A.J. Price will step into Luke Ridnour's old role as reserve point guard.

At off-guard, Kevin Martin comes over from the Oklahoma City Thunder, and while last year's run as the Thunder's sixth man suggested that he may be slowing down before the age of 30, he's too young and too good to be washed-up, and should make a grand return to the starting lineup in Minnesota as a second offensive option to Love and additional target for Rubio.  Top reserve honors at shooting guard position looks to be hotly contested – rookie Shabazz Muhammad, second-year man Alexey Shved and diminutive combo guard J.J. Barea should all compete for reserve minutes at the two.
 
GRADE – B-


COACHING – Rick Adelman (31-51for Minnesota Timberwolves in 2012-13) – B+

SUMMARY – The Minnesota Timberwolves, like the Orlando Magic, will be playing their 25th season in 2013-14, and considering the talent on their lineup, a winning season would make quite a good anniversary present for the team.  But that won't happen with last year's bad luck with injuries; Love and Rubio both missed chunks of 2012-13 with their respective injuries, and in their absence, the Wolves weren't exactly overflowing with talent.  As for the head coach, offense-oriented nice guy Rick Adelman may be considered by some to be a dinosaur in an NBA climate where defense and "scientific play" is getting more priority again, but he's a skilled coach and a respected motivator who should once again make the most of what he has, which, this time, should be a lot.

OVERALL GRADE – B-

PREDICTED RANKING – 2nd of 5, Northwest Division


---
OKLAHOMA CITY THUNDER
CENTERS – The Oklahoma City Thunder find themselves with one of the weaker offensive collections of centers in the league, with Kendrick Perkins likely to start despite averages (4.2 ppg, 6.0 rpg, 1.1 bpg) that won't cut it for most other teams.  He's a tough, gritty defensive player who takes up a lot of space, but if not for the lack of depth, he'd probably be best suited riding the bench.  That lack of depth shows itself in the form of draft bust Hasheem Thabeet, whose career numbers of 2.3 ppg and 2.8 rpg are not what anyone would expect out of a second-overall pick.  Still, his height (7'3") and defensive aptitude ensure that the Thunder will give him yet another chance.  Rookie Steven Adams has a lot of potential, especially on the defensive end; best-case scenario, he'll replace Perkins as starting center at some point in the 2013-14 season.   Worst case, he'll move past Thabeet in the depth chart.

GRADE – C-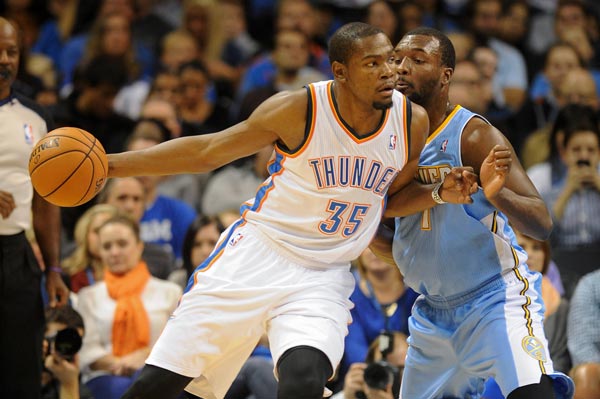 FORWARDS – Fortunately, there's nothing bad one can say about the Thunder's other frontcourt players, as Kevin Durant is clearly one of the NBA's best pound-for-pound players and a multi-time scoring champion, while Serge Ibaka is one of the league's top defenders, and a surprisingly well-rounded player who makes his free throws and can score decently (career-high 13.2 ppg and 57.3% FG in 2012-13) on top of swatting shots and snaring his share of rebounds.  The backups are also quite decent – Nick Collison is still part of the Thunder and, together with Durant, the only carryover from the last Seattle SuperSonics team before the move to OKC.

He's not the star some people believed he would become following his decorated career as a Kansas Jayhawk, but a solid veteran who hustles and fights on the boards.  Ryan Gomes returns following a season in Germany, and can be a decent scorer at small forward.  He may, however, be pushed down to the third string if Perry Jones makes some progress; he was widely considered a steal after falling to #28 overall in the 2012 Draft, but hardly got off the bench and spent a lot of time in the D-League.

GRADE – A


GUARDS – Unfortunately, it looks like Russell Westbrook's streak of 394 consecutive regular-season games played will come to a halt as he recovers from a setback to his previous right meniscus tear suffered early in the 2013 Playoffs.  A dynamic two-way point guard when healthy, Westbrook will likely be replaced for the meantime by combo guard Reggie Jackson, who had a great summer league for the Thunder to build up on the improvements he made in his second NBA season.  And that's not to mention his admirable postseason run, where he averaged 15.3 ppg, 5.3 rpg and 4.7 apg as a starter filling in for Westbrook.

At the two, Thabo Sefolosha holds the starting spot down because he's such a gifted defender, but with erstwhile sixth man Kevin Martin now part of the Timberwolves, this could be the time for 2012 first-rounder Jeremy Lamb to get more burn.  Like Jones, Lamb spent stretches with OKC D-League affiliate Tulsa, though this could be his time to shine, what with Westbrook out and Sefolosha arguably better suited as a threes-and-D guy and first guard off the bench.

GRADE – B-


COACHING – Scott Brooks (60-22 for Oklahoma City Thunder in 2012-13) – B

SUMMARY – The Thunder have spent the past few years as a pleasant anomaly among playoff teams – a high-scoring, fast-paced squad that could go deep in the postseason and win a lot of games in the regular season.  That, however, may change in 2013-14, as the Thunder deal with Russell Westbrook's injury setback, Kevin Martin's defection to division rivals Minnesota, and the continued lack of a more complete, polished center than Kendrick Perkins.  Granted, OKC will still be a top contender to top the Northwest with Kevin Durant scoring in bunches and doing a whole lot else on the court, but this is a team that isn't quite as talented as the previous year's edition.

PREDICTED RANKING – 1st  of 5, Northwest Division


---
PORTLAND TRAIL BLAZERS
CENTERS – After an up-and-down career as the "other" Lopez twin, Robin Lopez had what amounts to a breakthrough season for the New Orleans Hornets (now Pelicans) in 2012-13.  Like his brother Brook, Robin is still a subpar rebounder, but he blocks shots, and can score and shoot well enough to firmly establish himself as a starter in his new home in the Pacific Northwest.  He immediately gains an edge over Meyers Leonard, a late lottery pick last season for the Blazers who had a decent rookie year.  Leonard is similar to Lopez in the sense that he's a big man who can shoot (while being below-average on the boards), but while he's a better shooter, he's still very raw, especially on defense.

GRADE – D+


FORWARDS – LaMarcus Aldridge remains the Blazers' best and steadiest frontcourt player, having averaged 21.1 ppg, 9.1 rpg and 2.6 apg in 2012-13, the latter two of which were career-highs.   With his jump-shooting and scoring skills, Aldridge remains one of the NBA's better power forwards in those areas, but don't expect anything better than average defense from him.  He'll be backed up by Thomas Robinson, a high lottery pick for the Kings in 2012, but looking more and more like a bust despite entering the league last season as one of the more NBA-ready rookies.

At small forward, Nicolas Batum quietly put up career-best numbers in almost every major stat, while solidifying his position as the team's best defender.  His versatility is not to be discounted.  Backing him up is yet another versatile three in Dorell Wright, who, as a Sixer, continued to prove to be a one-year wonder two years removed from a 16.4 ppg season for the Warriors.  He's nonetheless very capable as a reserve, and someone who can help the Blazers in both outside shooting and defense.

GRADE – B


GUARDS – Last year's Rookie of the Year Damian Lillard exploded onto the scene as a first-year starting point guard for the Blazers, silencing critics who had doubts he'd be able to make a smooth transition from the get-go, from being a collegiate off-guard to being a pro point guard.  He makes a good foundation for the future and a bona fide star at the present, but he shares a common weakness with so many of his teammates, and that's on the defensive end of things.

And like Aldridge is paired next to a strong defender in Batum, Lillard will be sharing backcourt duties with the team's best defensive guard in Wesley Matthews.  Despite dealing with minor injuries and inconsistency, Matthews continued making himself very useful to the Blazers, and should keep his starting two-guard spot, even with heightened competition in the form of first-rounder C.J. McCollum, a deadly scorer for Lehigh and the first senior selected in the 2013 Draft.

Point guard is also much deeper now, as Lillard has both Mo Williams and Earl Watson as backups.  If McCollum's injury history betrays him, Mo Will could spend some time as a reserve two, while Watson's an active ball-hawk who brings years of defensive knowhow to the table.

GRADE – B-


COACHING – Terry Stotts (33-49 for Portland Trail Blazers in 2012-13) – C

SUMMARY – Portland's biggest weakness last year was an extremely shallow bench, and while the acquisitions of Mo Williams, Thomas Robinson and Dorell Wright and the drafting of C.J. McCollum and Allen Crabbe have addressed that concern, one big problem remains, and that's defense – Aldridge and Lillard are as far as you can get from stoppers, and the center duo of Robin Lopez and Meyers Leonard still has room to improve in that department.  The Blazers will be better in 2013-14, but not good enough to return to the Playoffs for the first time in the post-Brandon Roy era.

OVERALL GRADE – C

PREDICTED RANKING – 4th  of 5, Northwest Division


---
UTAH JAZZ
CENTERS – Good news – Al Jefferson, who admits to being a poor defender, is no longer with the Jazz.  Bad news – Al Jefferson, who was the team's most-skilled low-post scorer and rebounder, is no longer with the Jazz.  If you take the good with the bad, Al Jeff did the Jazz much more of the former than the latter, and Utah looks to be in trouble with Enes Kanter and Andris Biedrins splitting time at the pivot.  In limited duty, Kanter averaged 7.2 ppg and 4.3 rpg and shot very well from the field (54.4%) and the charity stripe (79.5%), but at 21 with no collegiate experience, he's as raw as you can get.

Biedrins, who averaged 11.9 ppg as recently as 2008-09, averaged half a point for the Warriors in 2012-13 in nine minutes per game.  That's right, 0.5 ppg.  If it's any consolation, he can still rebound quite well.  Also in the mix is late first-rounder Rudy Gobert, a 7'2" project from France who may, at the very least, get more NBA playing time than the now-infamous Frederic Weis.

GRADE – D


FORWARDS – If losing Jefferson to free agency wasn't bad enough, the Jazz also lost Paul Millsap without getting anyone in return.  Unlike Jefferson, Millsap was an above-average defender on top of being a good scorer and rebounder, and in his place steps Derrick Favors, who'll be getting just the kind of break he needs as a young pro, at the expense of playing for a bad team.  Favors has had huge defensive potential since his rookie year out of Georgia Tech, and could potentially contend for Most Improved Player honors if he makes the most out of those extended minutes at the four, and maybe at the five in a pinch.  Candidates for the backup power forward spot include defensive specialist Dominic McGuire and shooter Brian Cook, neither of which make good second-stringers on most teams.

At the small forward spot,  the Jazz again look to field a very weak rotation, but unlike fellow top four picks Kanter and Favors, the jury is in on former second-overall selection Marvin Williams – he wasn't worth the gamble at #2.  Williams followed up seven underwhelming seasons for the Hawks with an even more mediocre campaign for the Jazz in 2012-13 (career-low 7.2 ppg and 3.6 rpg), though he's still got the edge over the athletic Jeremy Evans and the all-washed-up Richard Jefferson, who also posted career-low numbers (3.1 ppg) for the Warriors in 2012-13.

GRADE – D-


GUARDS – It's no surprise why Trey Burke is an early favorite for Rookie of the Year despite being "only" the ninth pick overall in the 2013 Draft.  A capable playmaker and creator for the Michigan Wolverines, Burke will miss the first part of the 2013-14 season due to injury, which could be a problem for the meantime – Jamaal Tinsley leads a cast of otherwise undistinguished backups that also includes Lester Hudson, Scott Machado and John Lucas III.  And it shouldn't be surprising either if Gordon Hayward emerges as the Jazz's top offensive threat in 2013-14.

A skilled outside shooter who can play both two and three, Hayward's future looks quite bright despite the Jazz's outlook for 2013-14 being decidedly grim.  If Hayward is used as starting small forward (he's 6'9" after all), then another youngster, Alec Burks, could have an edge over veteran Brandon Rush.   Burks is a good finisher and slasher, but needs work on his jumper if he wants to gain more minutes at the two spot.

GRADE – C


COACHING – Tyrone Corbin (44-38 for Portland Trail Blazers in 2012-13) – D

SUMMARY – Combine the loss of offensive cornerstones Al Jefferson and Paul Millsap, the presence of a rookie point guard in Trey Burke and the fact that the anti-Jerry Sloan (Ty Corbin) is still coaching this team, and you've got a team that's in the Andrew Wiggins sweepstakes.  On the plus side, Jefferson and Millsap's departures should allow Derrick Favors and Enes Kanter to finally live up to their draft billing, and Gordon Hayward looks ready to break out as a full-time starter.

Still, the fact remains that this is not the Jazz of John Stockton and Karl Malone, with Jerry Sloan preaching defense from the bench.  This is the lottery-era Jazz of Ty Corbin, though even if the Jazz would replace him as coach, it's hardly likely a defensive-minded coach could work wonders with this team and prevent them from taking an early vacation.

OVERALL GRADE – D+

PREDICTED RANKING – 5th of 5, Northwest Division


What do you think?

We'd love to hear your comments and/or opinions. If you submit them here, other visitors can read them, rate them and comment on them. An e-mail address is not required.
From NBA Season Previews: The Northwest Division to NBA Basketball Blog