NBA Season Previews: The Central Division
By Lorenzo Tanos

CHICAGO BULLS
CENTERS – Joakim Noah quietly had himself his best NBA season yet, averaging career-highs in scoring (11.9 ppg), rebounds (11.1 rpg), assists (4.0 apg) and blocks (2.1 bpg) while playing in his first All-Star Game.  And he could get even better, at least on offense, with Derrick Rose back to handle playmaking duties.  Though not as gimpy as other talented young big men (read: Andrew Bynum), Noah has missed notable parts of three out of his six seasons, which makes finding him a quality backup paramount.  Dexter Pittman, despite losing over 100 pounds since his college days, may not be that quality backup, and Nazr Mohammed, 36, may have outlived his usefulness after 15 seasons bouncing around as a journeyman big.
GRADE – B
FORWARDS – Even with two All-Star games to his name, Luol Deng is still a fixture on those All-Underrated Teams.  His numbers (16.5 ppg, 6.3 rpg, 3.0 apg) are good, but not great, and he's not a good shooter from the field (41.2% and 42.6% in his last two seasons, both All-Star years), but where he truly stands out is defense.  Defense, on the other hand, has never been one of Carlos Boozer's specialties, but he's also been quite steady for the Bulls as a regular source of double-doubles.
 
Bench depth may be a problem at the forward spots.  Aside from Taj Gibson, who epitomizes the term "energy guy", there isn't anyone else on this Bulls lineup who can be credible in reserve duty.  This could be a chance for first-rounder Tony Snell to step up – while still a questionable pick, he can at least compete with journeyman D.J. White as Deng's backup at the three.  Expect a D-League run for Erik Murphy, who has good bloodlines (former NBA center Jay Murphy), a good shooting touch, the ability to play three and four, but a history of off-court problems as a Florida Gator.

GRADE – B


GUARDS – Now here's where Bulls fans should get excited, because 2010-11 MVP Derrick Rose should be back in uniform and ready to return to action for the 2013-14 season.  Granted, some early struggles can be expected, but we shouldn't see much drop-off in play from pre-injury levels, if at all.  Rose's return means Kirk Hinrich will be heading back to the bench; he's now far removed from the days when he was a decent starting point guard, but he makes for a good backup.   While Rose/Hinrich/Marquis Teague looks good to go for the point guard rotation, off-guard may be a bit of a question mark.

Mike Dunleavy Jr. had another solid-but-unspectacular year for the Bucks in 2012-13, and should provide more of the same – accurate outside shooting and mismatches at the two spot.  At this point, he may be best suited as a backup to Jimmy Butler, who emerged in 2012-13 as a part-time starter and the Bulls' "threes-and-D" guy.  Fifth guard duties maybe taken up by Mike James, who very quietly started 23 of 45 games for the Dallas Mavericks in 2012-13.  Remember when he averaged 20.3 ppg for the Raptors?  You don't?  We understand.

GRADE – B+


COACHING – Tom Thibodeau (45-37 for Chicago Bulls, 2012-13) – A-

SUMMARY- With Derrick Rose back at point guard, with an almost-intact starting lineup and a coach (Tom Thibodeau) who preaches defense and coaches it well, the Bulls could be the top threat to the Miami Heat in the Eastern Conference.  Thibodeau deserves a lot of credit for squeezing a 45-37 season out of the Rose-less Bulls in 2012-13, and he should continue getting the most out of his men in 2014, while helping his Bulls rank among the NBA's top defensive teams.  The team's Achilles heel, however, may be a sheer lack of frontcourt depth, if not a shooting guard situation (Butler/Dunleavy) that doesn't have them ranked in the top half of the league in terms of talent.

OVERALL GRADE – B+

PREDICTED RANKING – 1st of 5, Central Division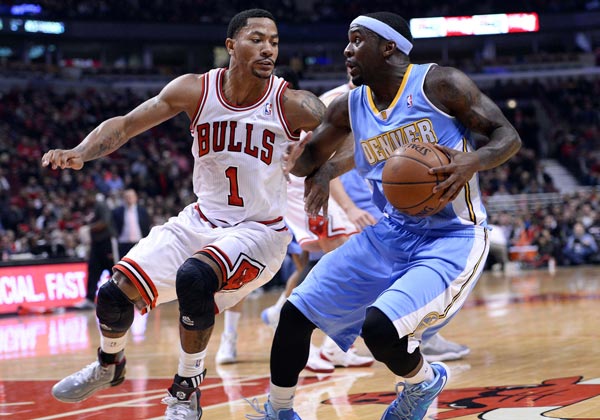 ---
CLEVELAND CAVALIERS
CENTERS – Last year, Andrew Bynum changed hairdos more than he played games, as his time with the Philadelphia 76ers was a wash; he missed the entire season due to injuries to both knees.  If he could give the Cavs anything close to what he provided the Lakers while healthy, that could make Cleveland a much-improved team in 2013-14, but that's a huge "IF."  Chances are he'd be playing most of the season and starting, and he better, because the Cavaliers don't have much else to speak of in the middle.

Tyler Zeller was solid as a rookie, but was a poor shooter (43.8%) and rebounder (5.7  rpg in 26.4 mpg) for a seven-footer.  And there's no need to elaborate on why you don't want Desagana Diop getting a lot of minutes.  The former lottery pick, who comes over from the Bobcats to the team that drafted him eighth overall in 2001 barely exists on offense, and while he can block shots, it's a miracle he's still back for a 13th season in the NBA.  Anderson Varejao (see below for more) could also start at center, but that is yet another big IF.

GRADE – B


FORWARDS – Anderson Varejao was having a monster season in 2012-13, averaging 14.1 ppg, 14.4 rpg and 3.4 apg, when he was sidelined for the year due to a blood clot in his lung.  Due to that and other injuries, Varejao has played a total of 81 games in three seasons, and the Cavs could really benefit from him should he be available for at least most of the 2013-14 season.  Assuming Bynum and Varejao are both healthy, Tristan Thompson may be demoted to the bench, for while he had a strong sophomore campaign at power forward (11.7 ppg, 9.4 rpg), he is not in any way, shape or form a small forward in terms of playing style.
 
One player who can play both forward spots is first overall pick Anthony Bennett, who dealt with some injury problems himself following his lone season at UNLV.  He can score from anywhere and make an immediate impact if shoulder surgery hasn't slowed him down much, if at all.  Earl Clark is another option at both forward spots following last season's sort-of breakout season as one of the Lakers' top frontcourt reserves.  Then there's Alonzo Gee, last season's starting small forward who will most likely be riding the bench for the Cavs this season.  All in all, the forward spots are stacked for Cleveland in 2013-14, with more than enough options in case the injury bug bites hard.

GRADE – B


GUARDS – While the Cavs' frontcourt is fraught with question marks due to injury problems (Bynum, Varejao) and youth (Bennett), the backcourt is a sure thing with Kyrie Irving now fully entrenched as franchise player and Dion Waiters coming off a surprisingly productive rookie year.  Though Irving has missed some time with injuries, his numbers (22.5 ppg, 3.7 rpg, 5.9 apg, 1.5 spg) put him among the best in the league even at a very young age.  He'll contribute again on both ends of the floor and as a primary playmaker, and will benefit from having Jarrett Jack come over from the Golden State Warriors as a veteran backup who can start in a pinch.

Waiters, on the other hand, went from being the Syracuse Orange's sixth man as a college freshman to being the Cavs' starting off-guard, and while he went through the usual rookie ups-and-downs last season, he proved a lot of doubters wrong (including this writer), and should be even better as a second-year pro.  C.J. Miles can back up both two and three spots and provide some quality outside shooting and scoring.  One possibility as fifth guard is Carrick Felix, the Cavs' second-round pick in the 2013 Draft.  His best attributes are his athleticism and defense, both of which give him a good chance of cracking the roster.

GRADE – B


COACHING – Mike Brown (1-4  for Los Angeles Lakers in 2012-13) – C

SUMMARY – Could this be the year when the Cavaliers finally return to the Playoffs?  If Andrew Bynum and Anderson Varejao are healthy, the answer is an empathic "yes."  If one goes down for most of the year, the answer would be "maybe" – Kyrie Irving is a bona fide superstar, but Dion Waiters and (especially) Anthony Bennett aren't quite at star-level yet.  If both big men are out, and if Irving continues missing parts of the season, then the answer will have to be "no."  If anything, coach Mike Brown is now back in a more familiar and comfortable environment, and he'll ensure a tough defensive effort from his young team.  Though as young teams go, the Cavs could be in for more growing pains, especially if injuries continue being an issue.

OVERALL GRADE – B (if everyone's healthy)

PREDICTED RANKING – 3rd of 5, Central Division (again contingent on Bynum, Varejao, et al.'s health)


---
DETROIT PISTONS
CENTERS – Last season, the Pistons started natural power forward Greg Monroe at center and way-undersized, offensively-challenged Jason Maxiell at the four.  With Maxiell gone, Monroe can slide over to his natural spot, while allowing Andre Drummond to take over at the center spot.  Having just turned 20, Drummond may be ready for a Larry Sanders-type breakout season, meaning strong rebounding numbers, great shot blocking stats and decent scoring at best.

Just don't ask him to shoot anywhere outside the paint, or get him to the line that often – he shot close to 61% from the field as a rookie, while bricking it up from the charity stripe with a 37.1% FT clip.  Unfortunately, there aren't too many insurance policies should Drummond suffer from the sophomore jinx.  Josh Harrellson is the only other Piston listed as a center as of this writing.  Harrellson is the antithesis of Drummond; while a good rebounder, big Josh (6'10"-275) is most comfortable offensively when he's shooting from outside.

GRADE – D+


FORWARDS – Greg Monroe can do quite a lot at the four or the five.  With averages of 16.0 ppg, 9.6 rpg and 3.5 apg, it's obvious that he can stuff the stat sheets and pass very well.  But don't let that decent 1.3 spg deceive you – Monroe's defense still leaves a lot to be desired.  Fortunately, the Pistons' big signing for the 2013-14 season was Josh Smith, who puts up good defensive numbers (1.2 spg, 1.8 bpg) and can play good defense.  He's also of the do-it-all variety, having averaged 17.5 ppg, 8.4 rpg, 4.2 apg for the Hawks last season.

Monroe at power forward and Smith at small forward, as hinted above, would be contingent on Drummond emerging as a capable starting center.  Otherwise, it could be Monroe at center, Smith at PF and either Kyle Singler, Jonas Jerebko or Charlie Villanueva at small forward.  Jerebko and Villanueva can also play backup at the four.  Singler started 74 games last season at the two and three spots, but he's best at this point in his career as a reserve.

GRADE – B-


GUARDS – Last season was the first where Brandon Jennings averaged more than 6 assists per game.  It was also his third in four where he shot under the 40% mark.  Yes, he is still very inconsistent at times, and still would rather shoot than facilitate, but in terms of the here and now, he could be an upgrade over the player he was signed-and-traded for, Brandon Knight.  At shooting guard, Kentavious Caldwell-Pope is in a promising situation; he doesn't have much competition at the two spot, and he's a good athlete and outside shooter who has a chance to contribute immediately.

As Singler started some games at off-guard last season, the former Duke standout could be a failsafe if KCP doesn't quite catch on.  Will Bynum is around as always as a sparkplug off the bench, while Chauncey Billups, fresh off two abbreviated seasons with the L.A. Clippers, may be winding down his career for the team where he had the most success.  Hopefully he serves as a stabilizing influence for Jennings.

GRADE – C


COACHING – Maurice Cheeks (Assistant for Oklahoma City Thunder in 2012-13) – B-

SUMMARY – With their new point guard, their new small (or power) forward and an extremely promising second-year center, the Detroit Pistons will improve somehow.  New head coach and former ace NBA playmaker Maurice Cheeks, who did well in helping mold Russell Westbrook into a superstar for the Oklahoma City Thunder, may help towards Brandon Jennings maturing as a player, and so could veteran Chauncey Billups.  But that might not be enough at the end of the day, as the Pistons are likely to miss the postseason yet again despite the improvements.

OVERALL GRADE – C-

PREDICTED RANKING – 5th of 5, Central Division


---
INDIANA PACERS
CENTERS – When he isn't making borderline homophobic and outright profane comments in press conferences, Roy Hibbert is a pretty good center, one of the league's best defenders at the position and a legit 7'2" in a league that doesn't have too many capable seven-footers.  As the anchor of the Pacers' stingy defense, he's an indispensable part of Frank Vogel's lineup.  His top backup may once again be Ian Mahinmi, who somehow saw his field goal shooting drop almost 10 percent from 54.6% to 45.3%.

His rebounding was also down significantly, but if it's any consolation, he did make some improvements defensively, which paid off in the form of improved shot blocking.  Hilton Armstrong returns from a spell in Europe and the D-League, and should contribute mainly on the defensive end.

GRADE – B+


FORWARDS – The big question here would be whether Danny Granger can return to at least 80 percent of his old self after missing all but five games of the 2012-13 season with patellar tendinosis.  In his absence, Paul George stepped up as the Pacers' top player, so he should have the luxury of playing a more complementary role on offense upon his return.  In any case, expect a lot of versatility from the wing positions if Granger can make a successful comeback.  Granger (or George) will play alongside the steady David West, who improved greatly in his second year with the Pacers.

The veteran power forward should continue contributing on the boards and defense, while chipping in about 16 to 18 points a game.  However, he may have to concede some playing time to Luis Scola, who can post similar scoring and rebounding numbers as a starter.  Scola had a down season for the Phoenix Suns last season and this year, he'll be coming off the bench and maybe playing some center, considering the lack of depth behind Hibbert.  Chris Copeland had some big scoring games for the Knicks as a 28-year-old rookie and will provide instant offense off the bench, mainly at the three.  He's an immediate upgrade over last year's backup SF, Gerald Green.

GRADE – B


GUARDS – Assuming Granger's healthy and productive for the whole year (again, that big "if"), 2012-13 Most Improved Player Paul George will slide over to the two-guard, where his versatility (17.4 ppg, 6.5 rpg, 4.1 apg), defense and athleticism will serve the Pacers well.  He has the makings of a potential superstar, though he might want to improve his shooting clip a bit – George shot just 41.9% from the field in 2012-13. George Hill, who beat out the disappointing (and regressing) D.J. Augustin for the starting point guard spot last season, had his best year yet, and while he doesn't post gaudy assist numbers, he's very steady in facilitating the offense – you'll need to look beyond the assist numbers.

Granger's return could also mean a trip back to the bench for Lance Stephenson, the former New York high school legend who's coming along quite well as a complementary player on defense, if not the future NBA Hall of Famer he was expected to be back in Brooklyn's Lincoln HS.  More reserve minutes will come from new acquisitions Rasual Butler and C.J. Watson, both of whom are quality role players and vital additions to a previously-thin bench.

GRADE – B+


COACHING – Frank Vogel (49-32 for Indiana Pacers in 2012-13) – A

SUMMARY – With an intact starting lineup, a comebacking Danny Granger and a much-improved bench, the Indiana Pacers could make even more noise in the regular season in 2013-14, and go deep into the Playoffs, though they may have to contend with a healthy Derrick Rose for the Chicago Bulls and the usual threat of the Miami Heat.  With a defensive-oriented and skilled coach in Frank Vogel and a lineup that doesn't have a definitive superstar at this point, the Pacers are like a poor man's version of Larry Brown's old "Play the Right Way" Pistons from the 2000s.  And that's a very good place to be for a young team with a young head coach, both of which still have room to get even better.

GRADE – B+

PREDICTED RANKING – 2nd of 5, Central Division


---
MILWAUKEE BUCKS
CENTERS – Last year was a breakthrough season for Larry Sanders, as he emerged from nowhere to take over as the Bucks' starting center.  Well, maybe not exactly out of nowhere, as he was their first-round selection in 2010, but few expected him to be anything more than a competent backup at center and power forward.  The question of who'll be Sanders' primary backup will depend on whether the disappointing Ekpe Udoh can get his act together and/or stay healthy.

If not, then Zaza Pachulia could fill that role, as he comes over from the Atlanta Hawks together with his old coach, Larry Drew.  He's a big and beefy, if slow presence in the middle who doesn't block too many shots, the antithesis of lanky, athletic shot blockers Sanders and Udoh.

GRADE – B-


FORWARDS – Ersan Ilyasova had an up-and-down 2012-13 after enjoying his own breakout year the season prior, but he nonetheless finished the year as the Bucks' starting power forward and performed better in the second half of the season than he did in the first.  When he's on, Ilyasova is a good, accurate shooter who can knock down some threes, while rebounding quite well for his position.  He could also start at small forward, which could be the case if John Henson makes some strides in his second NBA season.

Like Sanders and Udoh, Henson is a long, athletic big man who can block shots and play defense, but he may need at least 15 to 20 pounds of muscle to be truly effective.  The most likely scenario, though, would be Ilyasova starting at the four and Caron Butler, who joins the Bucks via a convoluted series of trades, starting at small forward.  Butler has regressed considerably in previous years due to injury, but to his credit, he has adjusted well as a more perimeter-oriented three.

Butler may be backed up by Carlos Delfino, who was acquired from the Rockets, though the main backup at small forward by the end of the year may be yet another "upside guy" with length, hops and quickness – 2013 first-round pick Giannis Antetokounmpo.  "The Greek Freak," however, is a bit of a project at an extremely young 18 years old at the start of the season.

GRADE – C


GUARDS – The Bucks will be parading a new-look backcourt in 2013-14, with O.J. Mayo coming over from the Mavericks, Brandon Knight from the Pistons, Gary Neal from the Spurs, Luke Ridnour from the Timberwolves and Nate Wolters from the second round of the 2013 Draft.  Mayo and Knight are locks to start for the Bucks; Mayo experienced a career renaissance for the Mavs, posting career highs in assists and three-point shooting as he returned to the starting lineup.

Knight is still a bit of a tweener as he enters his third NBA season, and while he's bound to get better, he's still a downgrade from the previous Brandon who started at the point – Jennings, who was sent to Detroit in exchange for the former Kentucky Wildcat.  Neal will provide strong three-point shooting, Ridnour is a veteran who will likely reprise his old role as the Bucks' backup point guard, while former South Dakota State scoring machine Wolters adds depth to the fresh new backcourt.

GRADE – C+


COACHING – Larry Drew (42-40 for Atlanta Hawks in 2012-13) – C+

SUMMARY – It may likely take a while for the Bucks to jell as a team, what with a drastically-overhauled lineup and a new coach (Drew) who doesn't stand out in any particular way, except for the fact he's much more easy-going and offensive-minded than his predecessor Skiles.  This may be a bit of a step back for Milwaukee, but once youngsters like Knight, Sanders, Henson and Antetokounpo mature, this could be a team to watch a couple years down the line.

OVERALL GRADE – C

PREDICTED RANKING – 4th of 5, Central Division


What do you think?

We'd love to hear your comments and/or opinions. If you submit them here, other visitors can read them, rate them and comment on them. An e-mail address is not required.
From NBA Season Previews: The Central Division to NBA Basketball Blog