NBA Season Previews: The Atlantic Division
By Lorenzo Tanos

BOSTON CELTICS
CENTERS – Who's going to take over in the middle for the Boston Celtics, now that Kevin Garnett is in Brooklyn?  The onus may fall on first-round pick Kelly Olynyk, who, at 7'0" flat, is the tallest player on a team sorely lacking in height.  He earned a reputation as one of the 2013 Draft's best frontcourt players on offense, and while there are concerns he may be too soft to be an NBA center, he seems to be the top favorite to earn the starting five job, despite his youth.
Unfortunately, the Celtics don't have much of a contingency plan in case Olynyk turns out to be a bust, or suffers through the usual rookie struggles.  Brazilian center Vitor Faverani is a wide, yet unproven body, while Jared Sullinger is another wide body, this time with (a bit of) NBA experience, though much more of a power forward.

GRADE – D


FORWARDS – Fortunately, it's going to be easier for the Celtics to find a replacement for Paul Pierce at small forward.  And it may be someone from last year's team.  Jeff Green, once a starter for the Oklahoma City Thunder, could step into Pierce's starting spot at the three.  How good could he be if given the minutes?  Despite averaging "only" 12.8 ppg in 2012-13, Green scored a career-high 43 points in March in a rare starting effort.

He can shoot and pass especially well as a versatile three.  Also providing versatility is Green's likely backup, Gerald Wallace.  Wallace's stock dropped big-time last year with the Brooklyn Nets, and with Green his top competition at starting small forward, he may be forced to embrace a reserve role for the first time since his days with the Sacramento Kings.  At power forward, candidates include Sullinger, Kris Humphries (another Net whose stock nosedived in 2012-13) and Brandon Bass.

Sullinger showed some promise before his season prematurely ended due to a back injury, and could do better with more touches.  Once a double-double machine of sorts, Humphries spent a lot of time in Avery Johnson's and P.J. Carlesimo's doghouses last season.   He's still young enough (28) to turn things around.  Finally, Bass is best suited as a combo forward off the bench, which he very well may be, assuming Sullinger avoids a sophomore jinx and Humphries cleans up his act after all the distractions of 2012-13.

GRADE – C


GUARDS – Rajon Rondo was making everyone except Celtics opponents happy when, after 38 games, his 2012-13 season ended due to an ACL tear.  That said, it remains to be seen when he'll be ready to return to court, but when he does, he should resume where he left off – as arguably the NBA's best pass-first point guard and one of the best defenders from the position.  In his absence, Avery Bradley should start at the point, though he's not a good enough passer for the position.  What he is, is a high-energy guard who can play stingy defense while picking up a lot of steals.

At shooting guard, the Celtics will have to choose between Courtney Lee, a good defensive player and outside shooter who doesn't get too many touches, and Jordan Crawford, a trigger-happy sort who's best used as an instant offense reserve on most teams.  Also in the mix is MarShon Brooks, who had a good year for the Nets in their last season in New Jersey, but hasn't seen much playing time since.  Undrafted rookie Phil Pressey, son of former NBA star Paul, could get minutes at the one spot on account of the lack of depth.

GRADE – B-


COACHING – Brad Stevens (Head coach for Butler in 2012-13) – C+

SUMMARY – So your two franchise guys will be spending their twilight years in the league playing for a divisional rival.  Your starting point guard and lone superstar may most likely miss a good part of the season.  You've got a rookie head coach with potential based on his NCAA Division I cred (Brad Stevens), but no NBA head coaching experience whatsoever.  There's little to no bench depth at center and guard.  And chances are a rookie (Kelly Olynyk) or two (Phil Pressey) could see significant minutes.  You're not making the playoffs with such an arrangement, though this arrangement may actually see the Boston Celtics not finish last in their division.

OVERALL GRADE – C-

PREDICTED RANKING – 4th of 5, Atlantic Division


---
BROOKLYN NETS
CENTERS – Well, what do you know – Brook Lopez made it through 2012-13 without suffering any consequential injuries.  And he posted some impressive numbers (19.4 ppg, 6.9 rpg, 2.1 bpg) in just a little over 30 minutes per game.  While his offense is definitely worth keeping an eye on, he still needs to work on his defensive fundamentals (don't let those block averages deceive you), and especially his rebounding, though that did improve quite nicely in 2012-13.

Coming off the bench at the five would be Andray Blatche, who played well in limited (20 mpg) duty and finally showed some maturity after whining his way out of the Washington Wizards.  Late first-rounder Mason Plumlee looks to be a likely third-stringer here, and may spend good parts of 2013-14 in the D-League.

GRADE – B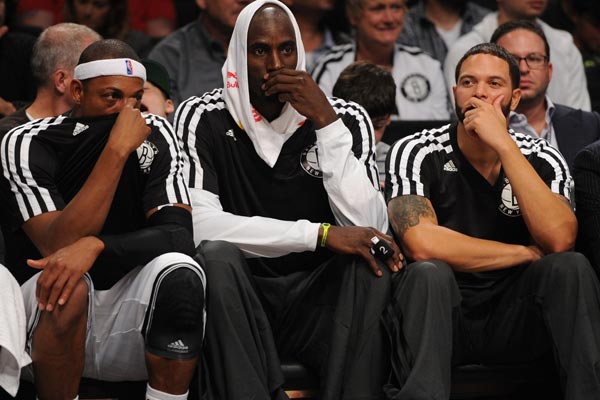 FORWARDS – Bear in mind that while Kevin Garnett and Paul Pierce should remain productive following their trade from the Boston Celtics, they are, as of this writing, 37 and 36 respectively.  They've seen better days.  And although there shouldn't be much of a drop-off in productivity from either man, they may not have more than three to four more years in the league.  As such, they're short-term solutions as the Nets hope to progress deeper into the Playoffs.  One of their backups – Andrei Kirilenko – makes for a good addition to the team, still versatile and sound defensively despite the reduced roles he's been playing.

Kirilenko will likely be Pierce's main backup, while Reggie Evans will step in at power forward when KG needs a breather.  He's a one-dimensional role player, but extremely good in that one thing he does well – rebounding.  If new head coach Jason Kidd needs more offense from the backup four spot, he could turn to Mirza Teletovic, who had some moments in very limited duty last season.

GRADE – B


GUARDS – Deron Williams sure came to life in the second half of the 2012-13 NBA season, after ankle injuries limited what he could do in the early goings.  Though injuries remain a concern, he's still up there among the NBA's best floor leaders, and he should enjoy a boost in assist numbers, with Garnett and Pierce serving as additional offensive options.  At shooting guard, Joe Johnson's numbers teetered closer to "average Joe" status in his first season following the "Iso Joe" era in Atlanta.  Though he may be slowing down a bit, he's still a well-above-average Joe, even with the possibility of him becoming the fourth offensive option with Pierce on board.

Main backups at the one and two positions should be Jason Terry and Alan Anderson respectively.  Terry, another acquisition from the Boston Celtics, is still capable of decent offense off the bench, while Anderson enjoyed a late-career breakout as a Toronto Raptor, contributing in the all-important areas of threes and defense.  He should serve a similar role off the bench for the Nets, but may not receive as much playing time as he did with the Raptors.

GRADE – B+


COACHING – Jason Kidd (Player for New York Knicks in 2012-13) – C-

SUMMARY – The Brooklyn Nets have taken a step forward in 2013-14, but it might not be long before they start taking the proverbial steps back.  Aside from Paul Pierce and Kevin Garnett, the likes of Joe Johnson, Jason Terry and Reggie Evans are now in their early 30s and aren't as productive as they used to be.  Another question mark is Jason Kidd, a first-time coach regardless of level; he's recently been in the news for the wrong reasons, and he may find the transition from coach on the floor to being an actual coach a bit difficult.

Still, he has more than enough tools at his disposal, and if the "new old" acquisitions mesh well with the incumbent players, the Nets could be one of several teams to give the Miami Heat a run for their money in the East.

OVERALL GRADE – B

PREDICTED RANKING – 1st of 5, Atlantic Division


---
NEW YORK KNICKS
CENTERS – Tyson Chandler had a very disappointing postseason for the Knicks in 2013, and while his 2012-13 regular season numbers strongly resembled those from the year prior, many weren't satisfied with those efforts.  Still, he remains the anchor of the Knicks' frontcourt defense, and the player who allows the Knicks to run an exciting, fast-paced offense while at the same time hunkering down on the opposing end of the court.

He'll be getting himself quite a good backup in 2013-14 in the form of Andrea Bargnani, but you'll have to take the bad with the good with a player like him.  He's a legit seven-footer who can stretch the defense and shoot from outside, but he isn't just notoriously bad on defense.  He's also dealt with nagging injuries in the past two seasons, and chances are he may have peaked as a Raptor (21.4 ppg in 2010-11). 

GRADE – B


FORWARDS – Once again, the center of the Knicks' offense will be Carmelo Anthony, who enjoyed his best season since his days with the Denver Nuggets and won his first-ever scoring title (28.7 ppg) in 2012-13.  He's clearly the Knicks' franchise guy at this point, and while it's too much to expect great defense from him, he makes things happen from anywhere on the court, is an underrated ball handler, and is an indispensable part of the team with no glaring weakness.  As for the other forward spot, the Knicks are hoping Amar'e Stoudemire could stay healthier, if not completely healthy, in 2013-14.

Reduced to seventh man duties in the 29 regular season games he played last year, Stoudemire could return to the starting lineup if the injury bug doesn't bite.   But as many have pointed out, having Stoudemire on the same starting lineup as Anthony and competing for shots and touches has the tendency of throwing chemistry off, so it would be interesting to see how coach Mike Woodson goes about this.  Ideally, Kenyon Martin would have made a good starter, as he can play defense (something Stoudemire doesn't do much of) and do the little things that help teams win.

But at 36, the original K-Mart is heading down the homestretch of his career.  Metta World Peace was brought in from the Lakers to shore up the frontcourt defense, and he could be another option as a starter, if the Knicks are willing to play small-ball without a true power forward as a starter. 

GRADE – B+


GUARDS – The point guard duo of Raymond Felton and Pablo Prigioni was just what the Knicks needed – a steady duo of playmakers – though they're more of the solid-but-unspectacular type.  Felton had one of his better campaigns in 2012-13, showing some toughness on defense and running the floor well, despite a rather tepid 5.5 apg in 34 minutes of play.  The real surprise, however, was Prigioni, a 35-year-old rookie from Argentina who came off the bench as a pass-first point guard with strong three-point shooting and defensive play.

His most interesting stats were 13 wins in his first 13 NBA career starts, and the best plus/minus stat (+24) on the team.  Even at 36, Prigioni may still have the inside track over NBA veteran Beno Udrih (late of the Orlando Magic) as Felton's top backup.  Shooting guard will again be split mainly among defensive ace Iman Shumpert and Sixth Man of the Year J.R. Smith.  Though Smith's off-court antics still tend to overshadow his brilliance on offense, he was arguably the most important re-signing the Knicks made in the offseason.  Tim Hardaway Jr., son of the legendary point guard of the same name and the Knicks' first-round pick in 2013, may see limited minutes at the two.

GRADE – B


COACHING – Mike Woodson (54-28 for New York Knicks in 2012-13) – B+

SUMMARY – The Knicks may not always play defense, but with Mike Woodson as head coach, they make it a point to think defense.  That, of course, is done as they remain one of the NBA's most potent offensive teams.  And while the Knicks improved both their offense (Andrea Bargnani) and their defense (Metta World Peace) while shoring up their bench, some question marks remain, such as whether Amar'e Stoudemire could stay healthy, or whether he can coexist with Carmelo Anthony as a secondary offensive option.  That makes them a dark horse for the Eastern Conference title, though if everything falls into place, the Knicks could be enjoying their best season since the Pat Riley/Jeff Van Gundy eras.

OVERALL GRADE – B

PREDICTED RANKING – 2nd of 5, Atlantic Division


---
PHILADELPHIA 76ERS
CENTERS – Last season, the 76ers were supposed to start Andrew Bynum in the middle, and we all know how that worked out – not very good, as Bynum missed the entire season due to injury.  As a result, the Sixers rotated Spencer Hawes, Kwame Brown and even 6'9" Lavoy Allen at center, and all three are back in 2013-14.  None of those, though, would have been starting had sixth overall pick Nerlens Noel been healthy from the get-go.

Originally expected to miss part of the 2013-14 season due to knee surgery, it looks more likely now that he'll be out for the whole year, thus making the Sixers look like boneheads for trading Jrue Holiday to the New Orleans Pelicans for the rights to Noel.  That leads us back to the Hawes/Brown/Allen rotation; Hawes will have first crack at starting center, and he'll have to shake off the inconsistency that has plagued him most of his career.

When he's on, he can be very productive on both ends, while sinking his free throws (77.7% in 2012-13), always a nice bonus if you're a center.   Brown, by some miracle, remains in the NBA, and the dearth of talent at center guarantees he'll get some backup minutes behind Hawes.  Allen is more of a power forward, and doesn't provide much aside from defense, which enabled him to start 37 games last season.

GRADE – D-


FORWARDS – After three years of vacillating between sixth man status and starting small forward, Thaddeus Young finally earned a starting berth in 2012-13, albeit as the Sixers' four.  Though he shot a career-low 57.4% from the line, Young posted career-highs of 7.5 ppg, 1.6 apg and1.8 spg to go with a very solid 14.8 ppg.   Don't look now, but he might be the Sixers' go-to guy in 2013-14, not because he's go-to guy material, but because Philadelphia won't have any choice.  Allen could also start at the four, while Young starts at the three, but the most likely team-up would be Young and Evan Turner, who silenced critics by posting his own set of career-highs – 13.3 ppg, 6.3 rpg, 4.3 apg and 0.9 spg in 35.3 minutes.

At this point, it may be best to consider Turner a poor man's Andre Iguodala for his versatility and improving defense.  Off the bench, the Sixers are very, VERY thin in the frontcourt, and we won't waste much time talking about how slim the pickings are beyond Allen.  Jason Richardson could come off the bench at three, but then again, the once-remarkable J-Rich, since hobbled by injury woes, is more of a two-guard. 

GRADE – D


GUARDS – Jrue Holiday is now a Pelican, and the Sixers now have someone in the middle who might not play in 2013-14 after all.  With Holiday now in the Big Easy, point guard duties will fall on the Sixers' second first-rounder, Michael Carter-Williams, who has good size at 6'6", the desire to hustle and defend, but not the defensive fundamentals nor the ability to shoot consistently.  He does have very strong passing skills and has loads of potential, but those rookie ups-and-downs will hurt Philadelphia.

If Richardson can't cut it as a starting two-guard, or if Turner does indeed start at three and not at the two, then the choices appear to be quite limited – second-year guy Tony Wroten and defensive-oriented young vet James Anderson.  Darius Morris could provide backup help at both guard spots, while Vander Blue, should he make the team, has a cool name, if nothing else.  At this point, we have no choice but to give the Sixers' backcourt the following grade…

GRADE – F


COACHING – Brett Brown (Assistant coach for San Antonio Spurs in 2012-13) – C

SUMMARY – Could the 2013-14 Philadelphia 76ers actually end up worse than the 1972-73 edition that won just nine games out of 82?  That may be too low of an expectation, but what's obvious is this – the 76ers didn't just go from bad to worse.  They went from bad to worst, as in worst in the entire NBA, and even 20 wins would be about five too many to expect from this ragtag roster.

OVERALL GRADE – D-

PREDICTED RANKING – 5th of 5, Atlantic Division


---
TORONTO RAPTORS
CENTERS – Could the Toronto Raptors have a Most Improved Player candidate in their hands with Jonas Valanciunas?  Think about it – he came on very strong in the last two months of the 2012-13 regular season, pulling down boards, showing effort on defense, and shooting with incredible accuracy from the field.  With Andrea Bargnani now a Knick, Valanciunas has the starting center position all to himself, and could be poised to put up big numbers, possibly in the neighborhood of 15-10 ppg/rpg, in 2013-14.

He'll have to step up this year, because Valanciunas' top backup is journeyman Aaron Gray, who's one of those guys who has enjoyed a fairly long NBA career because of his size (7'0"-270) and ability to rebound and take up space.  Amir Johnson could challenge for a starting center spot, but he's best utilized as a power forward.

GRADE – C


FORWARDS – Rudy Gay may not have totally justified his max contract as of yet, but upon joining the Raptors midway through the 2012-13 season, he upped his game considerably, averaging 19.5 ppg to lead the team, plus 6.4 rpg, 2.8 apg and 1.7 spg.  He should be the number one guy on offense, but still needs to improve his shot selection and cut down on those turnovers.  Gay will most likely be bookended by Amir Johnson, a strong defender and elite athlete who enjoyed a career year for the Raptors in 2012-13.

His main weakness is foul trouble (and free throw shooting too), which is where Tyler Hansbrough could come in as a backup.  Hansbrough was mostly up-and-down in his four years with the Indiana Pacers, but he can score from inside, grab rebounds and get to the line while making those free throws.  As for the reserve three spot, Steve Novak was a key acquisition from the Knicks in the Bargnani trade, and is as good as they get as a role-playing three-point specialist.

GRADE – C+


GUARDS – After starting out strong in his first year with the Raptors, Kyle Lowry tapered off as the season progressed, but with 2013-14 a contract year, he may be ready to bounce back if injuries don't slow him down like they did last year.   He is, by far, the Raptors' best perimeter defender.  He'll be joined at off-guard by DeMar DeRozan, a good athlete, an even better scorer and finisher, but not capable of doing much else and not any sort of a threat from outside.  With DeRozan continuing to improve, that means last year's eighth overall pick, Terrence Ross, may again be forced to watch from the bench while showing flashes of brilliance as a reserve shooting guard.

Lowry, on the other hand, will get backup support from D.J. Augustin, fresh from his worst-ever season on the Indiana Pacers.  If Augustin wants serious minutes and a possible chance of supplanting Lowry should his struggles continue, he'll have to shoot better than 35% from the field.

GRADE – C


COACHING – Dwane Casey (34-48 for Toronto Raptors, 2012-13) – C+

SUMMARY – The Toronto Raptors probably will be heading home early once again in 2013-14. But with a coach who preaches defense (Dwane Casey), a brilliant new general manager (2012-13 Executive of the Year Masai Ujiri) and a young lineup with potential to get better, the Raptors should make some progress while finishing in the middle of arguably the NBA's weakest division this season.  Already, Ujiri appears to be making the right moves – jettisoning Andrea Bargnani to the Knicks was addition by subtraction.

OVERALL GRADE – C

PREDICTED RANKING – 3rd of 5, Atlantic Division
What do you think?

We'd love to hear your comments and/or opinions. If you submit them here, other visitors can read them, rate them and comment on them. An e-mail address is not required.
From NBA Season Previews: The Atlantic Division to NBA Basketball Blog