NBA Playoffs Conference Finals Preview
As a Chicago Bulls fan, I am more excited for this rendition of the NBA Conference Finals then any in over a decade. The primary reason for that is the Bulls are back in the last four for the first time since Hall of Fame shooting guard Michael Jordan retired in 1998. But, there are a few other reasons as well. For the first time in years, the big-market Bulls and Heat are matched in a major playoff series and both have compelling stars and storylines. In the west, the Dallas Mavericks look better than they have since 2006 (maybe better than they ever have) and will face an interesting young team ready to make trouble in the west for years to come. Let's take a look at the upcoming matchups:
Chicago Bulls (1) vs. Miami Heat (2)
I have not been this excited for a playoff series since I hit puberty. Seriously. The last time I lived and breathed basketball was when Michael Jordan was in a Bulls uniform. Now, Chicago is back in the top four and the Bulls franchise has a new iconic star-Derrick Rose-who is ready to lead them to another glorious decade of dominance. In many ways, Rose is just as compelling as Jordan; he has the same tenacious fire in his belly and his humbleness and desire to compete at the highest level for his home city makes him the most likable star in the NBA today.
Looking for a LeBron James Jersey
Ok, enough gushing about Rose because it's not as if Miami lacks star power. The Big Three of Dwayne Wade, LeBron James, and Chris Bosh is the most talented threesome in the current NBA and could well be the most talented star group ever. The matchup of Derrick Rose and Dwayne Wade will be very interesting and I will also look to see whether All Defender Luol Deng can check LeBron James 1 on 1. That could be the biggest X factor in the series because, if he can, Chris Bosh and Joel Anthony will have a tough time against the Bull's deep and talented frontline.
While the Heat may have more talent, the Bulls benefit from the matchup. The Heat rely on top-down stardom rather than depth and have struggled to get consistent production out of their bench. Bosh will have a very tough time against the Bulls front line and James could have trouble with Deng (and/or Bogans or Brewer when they are in the game) so Wade and the bench will have to step up. The onus will also be on much maligned Miami point guard Mario Chalmers because, if he cannot produce consistently, then the Bulls will be able to double Wade in the backcourt and Bosh in the frontcourt and force James to beat them himself. That will be tough to do against the Bulls outstanding defense so Miami will have to step up and overcome what will be a difficult matchup. On the flip side, the Bulls have five capable starters and a deep bench but someone-Boozer, Noah, or Deng-will need to step up and become an alternate creator alongside Rose for the Bulls to be effective. It should be a compelling series that goes six or seven games and I will be very excited to cheer on my Bulls!
Dallas Mavericks (3) vs. Oklahoma City Thunder (4)
This is one of the most intriguing matchups of the postseason. Dallas is a veteran team that now has the toughness needed to contend deep into the playoffs. The Thunder are "the future" but they are ready to dominate the West now"¦.if they can get past Dallas.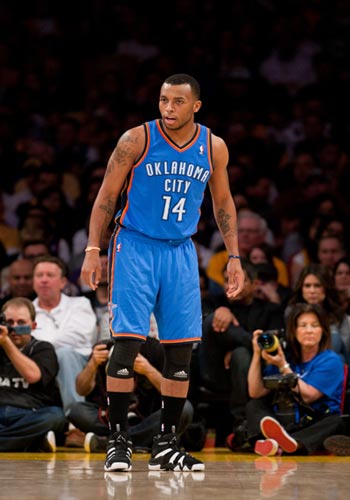 Guard Dequan Cook of the Oklahoma City Thunder against the Los Angeles Lakers during the first half of the Thunder's 120-106 victory over the Lakers at the STAPLES Center in Los Angeles, CA.
---
Shopping for a Derrick Rose Jersey
While there are a lot of intriguing matchups in this series, the two most compelling questions are: how will Dallas guard Durant and Westbrook? In large part, the Grizzlies caused the Thunder series problems and nearly stole the series because guard Tony Allen and forward Shane Battier could guard Westbrook and Durant one on one for long stretches of the game. Dallas does not have anyone capable of matching with either of those two guys. The only Mavericks player who stands a chance to match up with Westbrook is DeShawn Stevenson and having him in the game instead of Jason Terry hurts the Mavericks offensive rhythm. As for Durant, the Mavs can choose between Terry and Stojakovic but, unless Caron Butler returns, that will be a matchup nightmare for Dallas. In contrast, Westbrook is an elite perimeter defender capable of guarding Terry for long stretches (and Harden is a capable replacement when they want to rest Westbrook by putting him on Kidd) and the Thunder frontcourt duo of Perkins and Ibaka is as well-equipped as any to defend Dirk Nowitzki and Tyson Chandler. It won't be an easy series but those matchup issues should decide it in favor of Oklahoma City.
Visit Kevin Durant Jersey
Check back for our Conference Finals Review and NBA Finals Previews next week!
Check out our 2011 NBA Western Conference Playoff Finals Preview
---
What do you think?

We'd love to hear your comments and/or opinions. If you submit them here, other visitors can read them, rate them and comment on them. An e-mail address is not required.
What Other Visitors Have Said
Click below to see contributions from other visitors to this page...

Bulls/Heat Not rated yet
The Bulls did a great job in Game 1 especially in the second half making things tough on James and Wade using their bigs to step out and guard around the …
---
From NBA Playoffs Conference Finals Preview to NBA Basketball Blog | Sports Blog | NFL Football Blog | NCAA Football Blog | NFL Football Archives | College Football Archives | MLB Baseball Blog | College Baseball Blog | MLB Baseball Archives | NCAA Basketball Blog | NBA Basketball Archives | NCAA Basketball Archives | Fantasy Football | Fantasy Basketball | Fantasy Baseball | Soccer Archives | Olympics Archives | Stupid Athletes Archives | Other Archives | Football Forum | Basketball Forum | Baseball Forum | NFL Football Store | NBA Basketball Store | MLB Baseball Store | NCAA Football Store | NCAA Basketball Store | NCAA Baseball Store | Fatheads | NFL Football Tickets | NBA Basketball Tickets | MLB Baseball Tickets | NCAA Football Tickets | NCAA Basketball Tickets | NCAA Baseball Tickets |
---
Home Page
About Us | Contact Us | Site Search | Advertise | Terms of Use |
---