NBA Officiating Hits New Heights of Ridicule in Bulls vs. Heat Series
The NBA is rigged.

Lifetime basketball fans know this.  Deep down, they know.  Everyone who understands basketball, who knows the rules, who has seen the right calls has watched a game go wrong.  They have felt that turn in the stomach when they know, they just know, something isn't right...it's rigged.
I first learned in 2002.  The euphoria of the Jordan era was gone, replaced by the Lakers dynasty.  I watched the Sacramento Kings series against the Lakers and, after Game 6, I just knew.  The calls were so bad, the officiating so brazenly poor, that it was clearly no accident.

Any Chicago fans still carrying the illusion that the NBA is a real sport, with real winners and losers, was divested of that notion in Game 3 of the Bulls vs. Heat series.

After the first quarter, it was tight.  After a half and the third quarter, the game was neck and neck.  Somewhere in the next 12 minutes, the game unraveled – and the Bulls lost by ten.  For fans watching the game, between the eight minute mark and the final bell there were 6-9 (depending on how forgivingly you count) simply horrendous calls against the Bulls.  Jimmy Butler was hit with a foul on a perfectly legal defensive play.  Marco Belinelli had two bad called fouls.  Joey Crawford's call against Joakim Noah on a physical offensive rebound was one of the worst calls in NBA Playoff history.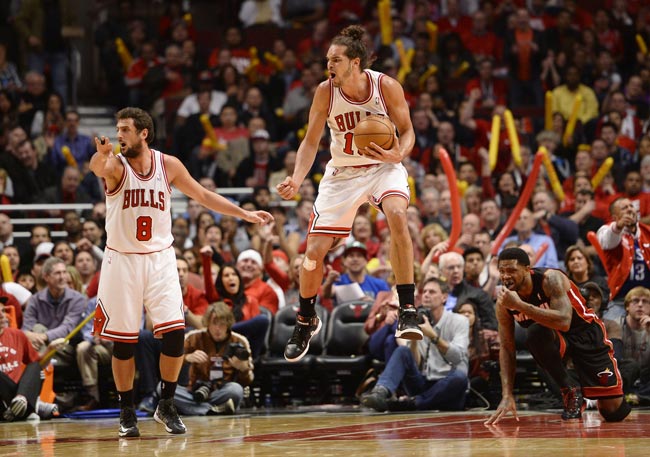 May 13, 2013; Chicago, IL, USA: Chicago Bulls center Joakim Noah (13) reacts to a call against the Miami Heat during the second half at the United Center. Miami defeats Chicago 88-65. Photo Courtesy by author Mike DiNovo-USA TODAY Sports.


In a few short minutes, it became clear: the refs were just not going to let the Bulls carry any momentum to finish the game.  They were going to ensure the Heat carried their lead to the end – without any mishaps.  The NBA isn't exactly scripted - like professional wrestling - but make no mistake: they knew who the winner was going to be before the first whistle.

Will I stop watching?  Probably not.  I've known for ten years and I've still watched.  My father, back in the wild 1980s, knew that wrestling was rigged.  But he still watched.  He knew – its entertainment not sport.

That is what Bulls fans must remember.  When your illusions about something you love are shattered – you can still love it – but love it for what it is.  The NBA is not a sport, it is just entertainment – and in that department the Miami Heat hold all the cards.
What do you think?

We'd love to hear your comments and/or opinions. If you submit them here, other visitors can read them, rate them and comment on them. An e-mail address is not required.