NBA Most Improved Team 2012-2013: The Minnesota Timberwolves
By Lorenzo Tanos
Come October 30, the Minnesota Timberwolves will have one of the most radically revamped lineups in the NBA. They will also have perhaps the "whitest team" the NBA has seen in quite a few years, but that's beside the point. If you were impressed with last season's 26-40 record (take note they went 17-65 in 2010-11), this upcoming season could be good enough to make the Wolves a surprise seventh or eighth seed in the Western Conference playoffs. At the very least, they'll be in the thick of the fight for the playoffs. We'll get to that in depth once we draw closer to the 2012-13 season kickoff, but since a lot more changes can happen in the next 2-3 months, we'll take a look at some of the reasons behind Minnesota's potential improvement this coming season.
The Return of AK47 - We didn't see Andrei Kirilenko suit up last year for any NBA team - with the lockout then in full swing, he opted to return to Russia to play the 2011-12 season. Despite reduced numbers in his last few years with the Utah Jazz, AK47 can still stuff the stat sheets. He's the classic "jack of all trades", and we mean this in a good way - the guy can really do a little bit of everything at the three. He'll be an immediate upgrade over the disappointing Wes Johnson, who was traded to the Phoenix Suns.
Stiemsanity will Be Better than the Darko Debacle - For some time, it looked like DarkoMilicic was on the verge of putting it together and becoming a Danny Ferry-type player - still a big-time lottery bust, but at least someone who could be considered a productive starter. However, injuries and "Darko being Darko" had to happen in 2011-12. He was mercifully waived by the Timberwolves last month, and his place in the lineup will be taken by one of last year's more surprising rookies, ex-Boston Celtic Greg Stiemsma. This is a man who played just 11 minutes per game as a college senior. Hardly anything was expected of him when he joined the Celtics. Yet he's one of the league's best shotblockers per 48 minutes, a hard worker and a fan favorite, even more so that he'll be playing just a short drive away from his hometown. He'll be a quality backup to Kevin Love and if Derrick Williams still doesn't pan out, he just might sneak into the starting lineup with Love again starting at PF.
Better Clubhouse Chemistry - You know what we're talking about here - Michael Beasley and Anthony Randolph are gone, having signed with Phoenix and Denver respectively. Randolph wasn't as toxic in the clubhouse as Beasley, but his career has been marked by inconsistent play and weight problems - the other kind of weight problem, that is. (Do you really think he weighs as much as his listed 225 pounds?) Beasley, on the other hand, has long been at odds with teammates, coaches and authority figures in general. It's a miracle the NBA hasn't suspended him despite several drug-related arrests. That said, both players are still young enough to live up to their tremendous potential, but I don't think Minnesota is shedding too many tears over their free agency departure.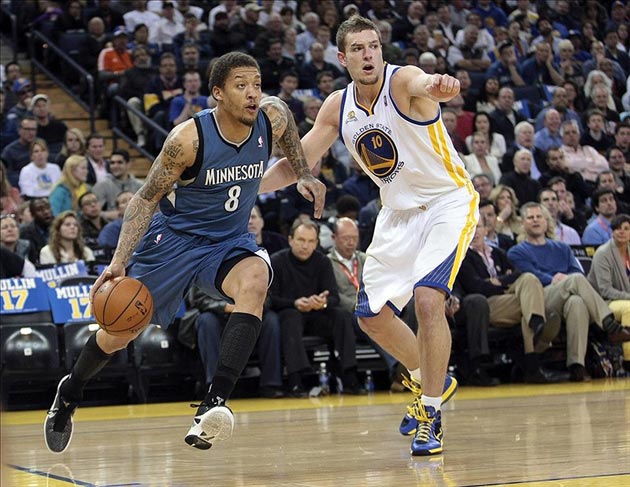 March 19, 2012; Oakland, CA, USA; Minnesota Timberwolves small forward Michael Beasley (8) drives in against Golden State Warriors power forward David Lee (10) during the second quarter at Oracle Arena. Photo Courtesy By Kelley L Cox-US PRESSWIRE.
---
The "Un-retirement" of Brandon Roy - Last season, the 2-3 wing positions were manned by two lottery busts - Wes Johnson and the oft-injured Martell Webster. They teased Timberwolves fans with the occasional flash of brilliance, but it was far more common to see their shots bounce off the rim time and time again. I think that even with bad knees, Brandon Roy will be better this season than both Johnson and Webster were, put together. He's a former NBA All-Star and he was, for quite a while, the Portland Trailblazers' franchise player. He probably won't turn in 20-5-5 performances on a regular basis, but he'll be a consistent second or third option on offense for the T-Wolves.
Of course, there are question marks. Once Ricky Rubio returns from his ACL injury, will he still have it in him to excite fans and facilitate the Wolves' offense? Is newcomer Alexey Shved as good as advertised? Can Derrick Williams develop into (at least) Michael Beasley minus the attitude problems, or will he turn out to be another high-profile draft mistake? And speaking of Roy, can he stay healthy in his comeback season? If the answer is "yes" to most, if not all these questions, the Minnesota Timberwolves just make their first post-Kevin Garnett era playoff appearance.
---
What do you think?

We'd love to hear your comments and/or opinions. If you submit them here, other visitors can read them, rate them and comment on them. An e-mail address is not required.
---
From NBA Most Improved Team 2012-2013: The Minnesota Timberwolves to NBA Basketball Blog | Sports Blog | NFL Football Blog | NCAA Football Blog | NFL Football Archives | College Football Archives | MLB Baseball Blog | College Baseball Blog | MLB Baseball Archives | NCAA Basketball Blog | NBA Basketball Archives | NCAA Basketball Archives | Fantasy Football | Fantasy Basketball | Fantasy Baseball | Soccer Archives | Olympics Archives | Stupid Athletes Archives | Other Archives | Football Forum | Basketball Forum | Baseball Forum | NFL Football Store | NBA Basketball Store | MLB Baseball Store | NCAA Football Store | NCAA Basketball Store | NCAA Baseball Store | Fatheads | NFL Football Tickets | NBA Basketball Tickets | MLB Baseball Tickets | NCAA Football Tickets | NCAA Basketball Tickets | NCAA Baseball Tickets |
---
Home Page
About Us | Contact Us | Site Search | Advertise | Terms of Use |
---