NBA Mock Draft 2013: Who I Would Take
This is the Best Sports Blog's mock draft for 2013.  Of course, it contains who the teams should pick, not who they are likely to pick.  No one can predict the minds of the average NBA GM!

Feel free to write out your own mock draft and lets compare picks.

So, on to the selections:

Cleveland Cavaliers: Nerlens Noel, C
Cleveland needs a frontcourt cornerstone to lead the franchise with Kyrie Irving.

Orlando Magic: Ben McLemore, SG
The best pure talent in the draft; Orlando needs a new star.

Washington Wizards: Otto Porter, SF
The local Washington hero is the most complete player in this draft – though he lacks the upside of Noel or McLemore.

Charlotte Hornets: Anthony Bennett, PF
The hyper-skilled forward gives Charlotte scoring it sorely lacks.

Phoenix Suns: Trey Burke, PG
Phoenix gets a young leader to take the franchise out of its doldrums

New Orleans Pelicans: Victor Oladipo, SG
A strong defender to pair with Grieves Vasquez in the backcourt

Sacramento Kings: Alex Len, C
A project – but one with arguably the best upside in the whole draft and a player who can star alongside DeMarcus Cousins

Detroit Pistons: Shabazz Mohammad, SF
A scoring wing and potential star for a Detroit team set in the frontcourt with Greg Monroe and Andre Drummond

Minnesota Timberwolves: C.J. McCollum, PG
The perfect scoring guard to pair with creator Ricky Rubio.

Portland Trail Blazers: Cody Zeller, C
A skilled big man to play alongside LaMarcus Aldridge.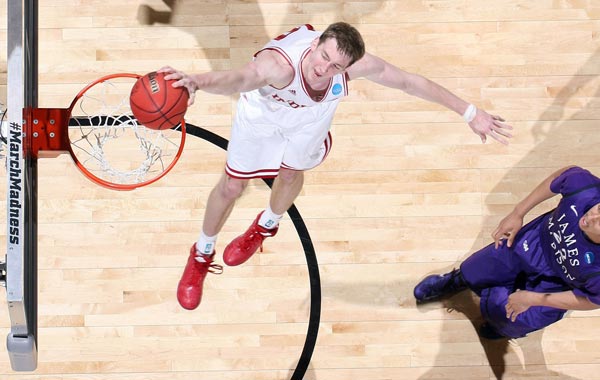 Oklahoma City Thunder: Dario Saric, F
An excellent, potential future star to stash in Europe for a year or two.

Dallas Mavericks: Steven Adams, C
He has the potential to be the best defensive big man in Dallas since Tyson Chandler – and one likely to stay.

Utah Jazz: Michael Carter Williams, PG
The Jazz fill their last major need position with a serious upside talent.

Milwaukee Bucks: Kentavious Caldwell-Pope, G
Scoring punch for a team that completely lacks it.

Boston Celtics: Dennis Schroeder, PG
A future point guard for Boston, one they can stash for a couple years while the Celtics decide what they have in Rajon Rondo and Avery Bradley.

Atlanta Hawks: Kelly Olynk, C
A skilled big man to help the Hawks continue to re-tool.

Atlanta Hawks: Tony Mitchell, SF
A high upside player for Atlanta as they re-tool into a real contender.

Cleveland Cavaliers: GorguiDieng, C
A low upside player – but a capable defender who solidifies Cleveland's frontcourt rotation.

Chicago Bulls: Allen Crabbe, SG
The kind of shooter Chicago desperately needs in the backcourt – and the perfect complement to the defense-oriented Jimmy Butler.

Utah Jazz: Jamaal Franklin, SG
An upside pick for a young, rising Jazz roster that isn't completely set on the wing

Brooklyn Nets: Rudy Gobert, PF
A high-upside pick for an ageing, capped out Nets roster.

Indiana Pacers: Mason Plumlee, PF
Why not add the second brother to the mix?

New York Knicks: Jeff Withey, C
Desperately needed young shot blocking for an old Knicks team.

Los Angeles Clippers: Reggie Bullock, SG
An upside player at a weak position on the roster.

Minnesota Timberwolves: Sergey Karasev, G
A smart backup for Ricky Rubio, one who can complete a strong backcourt rotation.

Denver Nuggets: GiannaAntetokoumpo, SF
A high-upside player to stash in Europe for a couple seasons.

San Antonio Spurs: Lucas Noguiera, C
The classic Spurs pick – is he the second coming of Tiago Splitter?

Oklahoma City Thunder: Shane Larkin, PG
A big-time athlete to come off the bench for the contending Thunder.

Phoenix Suns: Tim Hardaway Jr, G
A locker room leader for a dysfunctional, listless franchise.


What do you think?

We'd love to hear your comments and/or opinions. If you submit them here, other visitors can read them, rate them and comment on them. An e-mail address is not required.