NBA Free Agency: Team Grades and Analysis
By Lorenzo Tanos

Now, almost all of the big names have already been snapped up and agreed to terms with their new teams, or re-signed with their previous ones.  Considering the fact that some key contributors in the 2012-13 season remain unsigned, this free agent/trade report card shall only cover those who have been signed (or are very close to signing) as of presstime.  Grades do not take draft pick trades into account, nor do they cover free agent re-signings; instead, we're mainly looking at how the NBA's 30 teams have changed their lineups so far with veteran acquisitions via trade or free agency, or with the occasional undrafted European standout set to make his debut in 2013-14.
ATLANTA HAWKS
DeMarre Carroll (PF/SF, Utah) – FA
Jared Cunningham (SG, PG, Dallas) – Trade
Paul Millsap (PF, Utah) – FA
The Hawks have been focusing on bolstering their frontcourt in the off-season, what with Josh Smith now with the Detroit Pistons.  Aside from re-signing reserve small forward Kyle Korver, the Hawks acquired two players who can get some minutes at the four spot.  Paul Millsap will obviously be the starter, and while he's no all-around stat-stuffer like Smith, he's a rare example of a forward with tweener size who can cut it as an NBA power forward with his inside scoring and rebounding.  Carroll should compete with Ivan Johnson and Anthony Tolliver for reserve minutes, assuming one or both re-sign.  Cunningham, acquired via draft-day trade, brings energy and defense as a reserve at both guard spots.

OVERALL GRADE – B+
BOSTON CELTICS
Keith Bogans (SG/SF, Brooklyn) – Trade
MarShon Brooks (SG, Brooklyn) – Trade
Kris Humphries (PF, Brooklyn) – Trade
Kris Joseph (SF, Brooklyn) – Trade
Gerald Wallace (SF, Brooklyn) – Trade

Add 'em all up and you still don't get something equaling the contributions of Paul Pierce and Kevin Garnett, not even with potential taken into account.  This looks like a serious rebuilding year for the Celtics.

OVERALL GRADE – D
BROOKLYN NETS
Kevin Garnett (F/C, Boston) – Trade
Shaun Livingston (PG, Washington/Cleveland) – FA
Paul Pierce (SF, Boston) – Trade
D.J. White (SF, Boston) – Trade
Andrei Kirelenko - FA

While the Celtics should be slipping big-time as a result of their blockbuster trade with the Nets, Brooklyn could be making a bigger push in the 2014 postseason, with grizzled veterans Pierce and Garnett still capable of strong statistical contributions.  White and Livingston are two journeymen who might not be guaranteed a spot when the 2013-14 season begins.

OVERALL GRADE – A
CHARLOTTE BOBCATS
Al Jefferson (F/C, Utah) – FA

Jefferson's performance slid a bit in 2012-13,but part of it was due to the logjam at power forward and center (also featuring Paul Millsap, Derrick Favors and EnesKanter) the Jazz had last year.  With the Bobcats, Jefferson immediately becomes the top frontcourt option, not to mention a huge improvement over incumbents BismackBiyombo, Byron Mullens and Brendan Haywood and a capable mentor for rookie Cody Zeller.  Expect a return to 20-10 levels for Al Jeff.

OVERALL GRADE – A
CHICAGO BULLS
Mike Dunleavy Jr. (F/G, Milwaukee) – FA

The Bulls haven't been too busy in free agency this season, having only re-signed Nazr Mohammed and nabbed Mike Dunleavy Jr. from the Milwaukee Bucks so far.  Dunleavy should replace Marco Belinelli's outside shooting, while allowing for some matchup problems at shooting guard, where he can occasionally play.  That said, he's not a starting-caliber two or three at this point in his career.

OVERALL GRADE – C+
CLEVELAND CAVALIERS
Andrew Bynum (C, Philadelphia) – FA (Unsigned as of presstime)
Earl Clark (PF, L.A. Lakers) – FA
Jarrett Jack (PG, Golden State) – FA

After all those struggles in the post-"Decision" era, the Cavs may finally have the lineup they need to get back in the winning column.  Or do they?  Andrew Bynum missed all of the 2012-13 season with injury, so it remains to be seen if he'll be in good enough shape to produce in 2013-14.  If healthy, and most importantly, if his deal with the Cavs is finalized, he'll be a game-changer.  Jarrett Jack adds experience to the team's young and promising backcourt, while Earl Clark could build on what had been a career season with the Lakers as their top frontcourt reserve.
 
OVERALL GRADE – A+ with Bynum, A- without
DALLAS MAVERICKS
Jose Calderon (PG, Detroit) – FA
Monta Ellis (SG/PG, Milwaukee) – FA
Gal Mekel (PG, Maccabi Haifa, Israel) – FA

Originally, this group was supposed to include Devin Harris, though it looks like that deal has fallen through due to his injury problems.  Still, this is a formidable crop of free agent signees, with Monta Ellis leading the way.  Despite O.J. Mayo's improvement in the 2012-13 season, Ellis should be an upgrade at the off-guard spot, while Calderon gives the Mavs an experienced point guard and one of the league's best passers – again, an upgrade over Darren Collison.  International free agent Mekel will provide depth at the point.

OVERALL GRADE – A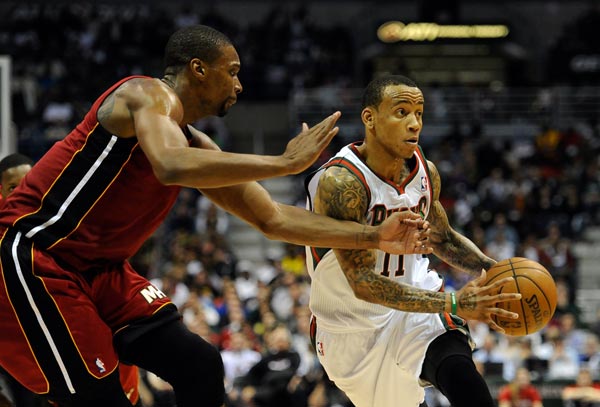 DENVER NUGGETS
Darrell Arthur (PF, Memphis) – FA
Randy Foye (PG/SG, Memphis) – Trade
J.J. Hickson (F/C, Portland) – FA
After a career season with the Portland Trail Blazers, it looks like J.J. Hickson will be back to the bench, though it's not conceivable that he could start if JaVale McGee finds himself in new Nuggets coach Brian Shaw's doghouse.  He has the talent to start, but like McGee, he could be a head case at times.  Arthur will likely get some meaningful minutes as Kenneth Faried's top reliever at power forward.  Randy Foye, on the other hand, provides some help from outside, but he is certainly no Andre Iguodala.

OVERALL GRADE – C
DETROIT PISTONS
Chauncey Billups (PG, Detroit) – FA
Gigi Datome (SF, Virtus Roma, Italy) – FA
Josh Smith (PF/SF, Atlanta) – FA

The key addition here is obviously Smith, who could either take over as the Pistons' starting power forward or start at the three alongside Greg Monroe and second-year man Andre Drummond.  Billups, while far removed from his glory days as an NBA player, returns to the team where he won an NBA Championship ring, and should be a stabilizing veteran presence for the Pistons' erstwhile youthful backcourt.
 
OVERALL GRADE – B+
GOLDEN STATE WARRIORS
Toney Douglas (PG/SG, Sacramento) – FA
Andre Iguodala (F/G, Denver) – Trade
Kevin Murphy (SG, Utah) – Trade
Jermaine O'Neal (F/C, Phoenix) – FA
Marreese Speights (F/C, Cleveland) – FA

And the improvement continues for the Warriors.  Iguodala was unquestionably the star of a three-team trade that also involved the Nuggets and the Jazz, and considering the Warriors' strength in the backcourt, he'll likely replace Harrison Barnes as the team's starting small forward.  O'Neal and Speights are capable workarounds in the middle should Andrew Bogut's injuries remain a concern.  Douglas could replace Jarrett Jack as top reserve at the point, while Murphy might find it hard to find minutes off the bench as a throw-in in the Iguodala trade.

OVERALL GRADE – A-
HOUSTON ROCKETS
OmriCasspi (SF, Cleveland)
Dwight Howard (C, L.A. Lakers)
Reggie Williams (F/G, Charlotte)

The Rockets got the biggest free agent prize of them all, and it goes without saying that Dwight Howard's arrival should make Houston competitive again.  He may, however, find himself uncharacteristically playing the four position, what with Omer Asik's breakout 2012-13 season, but regardless of which position he plays, D12 should be worth at least 15 more wins for the Rockets.  Off the bench, free agent signees OmriCasspi and Reggie Williams should get a good chance to make second string at small forward and shooting guard respectively.

OVERALL GRADE – A+
INDIANA PACERS
Chris Copeland (SF, New York) – FA
C.J. Watson (PG, Brooklyn) – FA

Following a surprising 2012-13 season where the young Pacers made it to the Eastern Conference Finals, Indiana appears to be bolstering their bench corps.  Copeland was a pleasant surprise for the Knicks last season as a 29-year-old rookie, and had some big scoring games as an instant offense guy at small forward.  His arrival likely means significant D-League time for the Pacers' 2013 first-rounder, Solomon Hill.  Watson could be stepping into D.J. Augustin's role as reserve point guard as a reliable, steady veteran.

OVERALL GRADE – B
LOS ANGELES CLIPPERS
Darren Collison (PG, Dallas) – FA
Jared Dudley (SF, Phoenix) – Trade
J.J. Redick (SG, Milwaukee) – Trade

In essence, the Clippers have been trying to improve their small forward and backcourt rotations through free agency and trades.  Of course, Chris Paul is all the point guard the Clippers need as a starter, but in the event he gets hurt, Darren Collison could take over in a pinch, much like he did when they were teammates on the New Orleans Hornets (now Pelicans).  Dudley and Redick, both acquired in a three-team trade that also involved the Phoenix Suns and Milwaukee Bucks, could start at small forward and shooting guard respectively.  No, they're not elite starters, but at least they could contribute more than Caron Butler and Willie Green did last year.

OVERALL GRADE – B+
LOS ANGELES LAKERS
Jordan Farmar (PG, AnadoluEfes, Turkey) – FA
Wesley Johnson (F/G, Phoenix) – FA
Chris Kaman (C, Dallas) – FA
Nick Young (SG, Philadelphia) – FA

Underwhelming as the Lakers may seem now following Dwight Howard's exodus to the Houston Rockets, they've actually made some smart off-season moves.  Kaman may not replace Howard's contributions, but if he's healthy, he should be a solid starter at center.  Draft bust Johnson and off-the-bench scorer Young could get some minutes in Kobe Bryant's absence, and once Bryant returns, the Lakers might want to try Johnson as starting small forward as the former fourth overall pick gets his nth chance to live up to his pre-draft billing.  Farmar, who makes his return to the NBA after one year in Turkey, was an off-the-bench favorite for the Lakers in his first few years in the league, and could challenge Steve Blake for the second-string role at point guard.

OVERALL GRADE – B
MEMPHIS GRIZZLIES
Donte Greene (SF, Atleticos de San German, Puerto Rico) – FA
KostaKoufos (C, Denver) – Trade

Following their Western Conference Finals run in 2012-13, the Grizzlies reacted by inexplicably firing Lionel Hollins, despite his being instrumental in turning the team into a defensive powerhouse.  But Memphis does have a solid hard-working nucleus in place, one that gained some additional work ethic and defensive intensity following the acquisition of Koufos from the Denver Nuggets.  Chances are he won't be starting like he did last year, as Marc Gasol is firmly entrenched as the Grizz's starting center.  Donte Greene returns from a year in Puerto Rico to compete for reserve small forward minutes with fellow youngsters Austin Daye and Jon Leuer.  Don't expect him to contribute much.

OVERALL GRADE – C+
MIAMI HEAT
If it ain't broke, don't fix it.  The reigning champion Heat have yet to acquire anyone via trade or free agency in the 2013 off-season.

OVERALL GRADE – N/A
MILWAUKEE BUCKS
O.J. Mayo (SG, Dallas) – FA
Luke Ridnour (PG, Minnesota)

The Bucks may not be finished yet as they try to improve their lineup in the offseason.  After losing Monta Ellis via free agency and J.J. Redick via trade, the off-guard spot will be taken over by O.J. Mayo, who had his best season in quite some time for the Dallas Mavericks in 2012-13.  He could find himself shouldering a greater load of the offense this season, and with that in mind, we hope he won't regress like he did after his first two NBA seasons.Ridnour, who keeps defying the odds by remaining relevant as a starting point guard and off-guard, will return to a backup role behind Brandon Jennings, though he may most likely start if Jennings signs elsewhere.

OVERALL GRADE – C+
MINNESOTA TIMBERWOLVES
Corey Brewer (F/G, Denver) – FA
Kevin Martin (SG, Oklahoma City) – Trade
Ronny Turiaf (F/C, L.A. Clippers) – FA

It was a long, hard, injury-riddled season for the Timberwolves in 2012-13, and though the team may likely struggle if Ricky Rubio and Kevin Love remain fragile, they've at least gotten deeper in the offseason.  Martin could return to the starting lineup after one year as the Thunder's super sixth man, while Brewer, who returns to the team that drafted him, will fight for the starting three spot with Derrick Williams, who temporarily avoided (or delayed) draft bust status by playing well in Love's absence last season.  Turiaf doesn't score much, but his defense will make him a valuable reserve at the four and five spots.

OVERALL GRADE – B
NEW ORLEANS PELICANS
Tyreke Evans (SG/PG, Sacramento) – Trade
Jrue Holiday (PG, Philadelphia) – Trade
Anthony Morrow (SG, Dallas) – FA
Greg Stiemsma (C, Minnesota) – FA

The Pelicans' backcourt wasn't as strong as it should have been in 2012-13, largely due to injuries to Eric Gordon.    That might not be the case this season, with the Pelicans having acquired Jrue Holiday via draft-day trade and Tyreke Evans shortly thereafter; Holiday could build on his successful 2012-13 campaign as starting point guard, while Evans may provide valuable relief at both guard spots.  That's not what you'd expect from someone who won Rookie of the Year honors so recently (2009-10), but there's also a chance he could start at small forward, thus relegating Al-FarouqAminu to the bench.  Morrow gives the Pelicans an off-the-bench sniper, while Stiemsma will provide post defense as Anthony Davis' top reliever at center.

OVERALL GRADE – A-
NEW YORK KNICKS
Andrea Bargnani (F/C, Toronto) – Trade

Was it really worth it to acquire Bargnani from Toronto in exchange for one key role player (Steve Novak) and two creaky veterans (Quentin Richardson and Marcus Camby) whose best NBA days are past them?  Despite being injury-prone himself, Bargnani could step in for Amar'eStoudemire should injuries continue slowing the latter down, but if Stoudemire, Tyson Chandler and Carmelo Anthony all remain healthy, Bargnani could find himself receiving backup minutes at all three frontcourt spots.

OVERALL GRADE – C
OKLAHOMA CITY THUNDER
With the Thunder receiving the rights to 2003 (yes, 2003) second-rounder SzymonSzewczyk in the Kevin Martin trade, it remains to be seen whether this would be a case of addition by subtraction.  For the meantime, it means the Thunder won't have much backing up Thabo Sefolosha at the shooting guard spot.

OVERALL GRADE – D
ORLANDO MAGIC
So far, the Magic haven't touched their lineup, which is a bit understandable considering the midseason overhaul that brought them Tobias Harris, BenoUdrih and Doron Lamb and their selection of Victor Oladipo as second overall pick in the 2013 Draft.
 
OVERALL GRADE – N/A
PHILADELPHIA 76ERS
Charles Jenkins (PG/SG, Golden State)

As documented in our draft recap, the 76ers took a gamble by swapping breakout point guard Jrue Holiday for draft pick Nerlens Noel, who may miss some time in his rookie year due to an ACL injury he suffered late in the 2012-13 NCAA season.  Aside from that, there are no veteran acquisitions to report on at this point.

OVERALL GRADE – N/A
PHOENIX SUNS
Eric Bledsoe (PG, L.A. Clippers) – Trade
Caron Butler (SF, L.A. Clippers) – Trade
Malcolm Lee (SG, Minnesota) – Trade

Could ex-Clippers Bledsoe and Butler be what the Suns need to help them make up for a hugely disappointing 2012-13 season?  Bledsoe, who continues to ooze with potential, might just be a candidate to start, even as a way-undersized shooting guard.  Butler, who has regressed in recent years, is at least a more stable choice to start at small forward than Michael Beasley.   With all that said, don't expect either player to lead the Suns back to the Playoffs.    Young shooting guard Malcolm Lee should join recently acquired first-round pick Archie Goodwin in providing backcourt depth, but little else.

OVERALL GRADE – C+
PORTLAND TRAIL BLAZERS
Robin Lopez (C, New Orleans) - Trade
Thomas Robinson (PF, Houston) – Trade
Earl Watson (PG, Utah) – FA
Dorell Wright (SF, Philadelphia) – FA

In Lopez, who had his best NBA season last year for the New Orleans Pelicans, the Blazers get a decent young starting center with good size, something the 6'9" J.J. Hickson doesn't have.  He's still a weak rebounder for a seven-footer, but he makes up for that with strong defense and shotblocking ability.  Robinson, on the other hand, will continue to be one Thomas with a lot of doubters, as last year's fourth-overall pick might not see much improvement to his playing time, if at all, as LaMarcus Aldridge's caddy at power forward.  Wright and Watson are capable veteran reserves who both have a good chance of lining up as second-stringers.

OVERALL GRADE – B
SACRAMENTO KINGS
Carl Landry (SF/PF, Golden State) – FA
Luc Mbah a Moute (SF/PF, Milwaukee) – Trade
Greivis Vasquez (PG, Sacramento) – Trade

With the unhappy Tyreke Evans now in the Big Easy, the Kings could be kicking off the Greivis Vasquez/Ben McLemore era with their acquisition of one of 2013's breakout point guards.  Like Evans, Vasquez has great size for the one position, but he's a pure pass-first point guard who should thrive in a lineup with so many offensive options.  Landry and Mbah a Moute provide offense and defense respectively as combo forwards, but as the Kings have Patrick Patterson, Jason Thompson and Chuck Hayes capable of starting at the four, both should make it an interesting competition for the starting small forward spot.


SAN ANTONIO SPURS
Marco Belinelli (SG, Chicago) – FA
Jeff Pendergraph (F/C, Indiana) – FA

The aging, yet still effective Spurs added some youth in the form of Belinelli and Pendergraph, but don't expect them to replace Manu Ginobili and Tim Duncan respectively at their respective spots.  Belinelli, however, looks like a shrewd addition with his outside shooting skills and ability to step up in crunchtime.

OVERALL GRADE – B-
TORONTO RAPTORS
Marcus Camby (C/F, New York) – Trade
Tyler Hansbrough (PF, Indiana) – FA
Steve Novak (SF, New York) – Trade
Quentin Richardson (F/G, New York) – Trade

The Raptors probably erred in trading Andrea Bargnani to the Knicks in what could be a lose-lose decision for both teams – Bargnani could find himself wasted off the bench for New York, while Camby, Novak and Richardson aren't starting material at this point in their careers.  If anything else, the trade does, at least, allow Camby to end his NBA career in the same city where it started.  Ex-Pacers reserve power forward Hansbrough might have his best chance yet to start as the Raptors' first key free agent signing in the 2013 offseason.

OVERALL GRADE – C-
UTAH JAZZ
AndrisBiedrins (C, Golden State) – Trade
Richard Jefferson (SF, Golden State) – Trade
Brandon Rush (G/F, Golden State) – Trade

The Andre Iguodala trade was a classic example of a deal where there was one big winner, and at least one big loser.  And the Jazz, unfortunately, are probably the biggest losers in this trade – Jefferson and Biedrins are well past their prime despite being relatively young, while Rush, who is coming off a major injury of his own, has yet to prove he can consistently contribute as an NBA starter.

OVERALL GRADE – D
WASHINGTON WIZARDS
Eric Maynor (Portland, PG) – FA

The Wizards are yet another lottery team that has been rather quiet so far in terms of free agent signings or trades for veterans.  But they got themselves a good one in Maynor, who's a considerable improvement compared to the likes of 2012-13 backup point guards A.J. Price and Shelvin Mack.

OVERALL GRADE – B-
What do you think?

We'd love to hear your comments and/or opinions. If you submit them here, other visitors can read them, rate them and comment on them. An e-mail address is not required.