NBA Draft Lottery 2012: How the Players Stand at the Halfway Mark
By Lorenzo Tanos

At this point, all the NBA teams have played close to 41 games.  With "halftime" approaching, how have this year's lottery selections been doing?  Here's a recap of this year's fourteen lottery picks and how they have helped their teams so far…IF they have helped their teams so far.
1. Anthony Davis (NOH, F/C) – Right now, he looks like a dark horse in the Rookie of the Year race.  Still, you can't blame him for the occasionally underwhelming play.  He did miss quite some time with injury, and games such as his 28-11 outing versus Milwaukee last November 17 (ironically his last before missing 11 straight games) are hard to come by.  Nonetheless, he's doing a good job as the Hornets' starting center, and can only get better over time.

2. Michael Kidd-Gilchrist (CHA, SF) – Solid, but unspectacular.  He's got numbers that bring to mind a poor man's Gerald Wallace, but his defense is far from that level and like most of the other 2012 rookies, he still suffers from bouts of inconsistency.  With his starting small forward job locked up, we shouldn't see the another Derrick Williams in MKG.

3. Bradley Beal (WAS, SG) – He's still inconsistent, but his shooting is improving and he's one of the brighter spots on a miserable Wizards team.  Beal made a huge impact against Oklahoma City on January 7, hitting the game-winning shot and once again proving that he deserves his spot as the Wizards' starting off-guard.

4. Dion Waiters (CLE, SG) – He's proven me wrong.  Waiters got off to a hot start, but an injury that took him out of action in the first two weeks of December saw him hitting a rookie wall of sorts upon his return.  Still, he's returned to the starting lineup as of January 9, and it's hard to call him a disappointment of a fourth overall pick.

5. Thomas Robinson (SAC, PF) – Can you say lottery bust?  Thought to be one of the more mature and developed players in the 2012 Draft lottery, Robinson hasn't been able to unseat Jason Thompson at power forward or move past journeyman-types Chuck Hayes and James Johnson in the reserve forward depth charts.  The jury's still out, but it looks like T-Rob's in store for a disappointing rookie campaign.

6. Damian Lillard (POR, PG) – Not only did he start off hot with the starting PG job served up on a silver platter, he has also emerged as THE leading candidate for Rookie of the Year with the season nearly halfway through.  Hopefully Lillard's career trajectory won't follow the same route as a slightly similar player who had a sensational first few years in the league, only to devolve into an average point guard over time – Damon Stoudamire.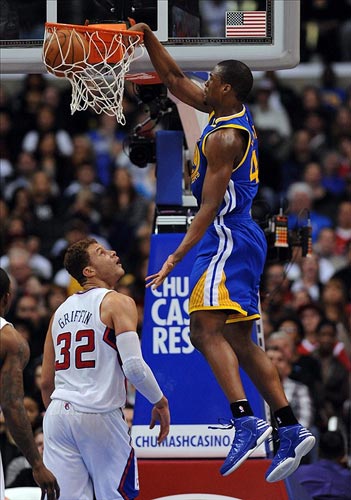 7. Harrison Barnes (GSW, SF)  – After hitting the so-called rookie wall late in November, Barnes has stepped up his game…a bit.  He's scored in double figures in five of his last seven games.  Still, he didn't score more than 15 points in any of those games, and he's still one of the weaker links on a starting lineup that features Steph Curry, Klay Thompson and David Lee.  (We might as well add that he's getting outplayed regularly by reserves Carl Landry and Jarrett Jack.)

8. Terrence Ross (TOR, F/G) – Talk about an up-and-down rookie campaign.  On January 2, Ross went 6-for-9 from long range and scored 26 points off the bench, a career high.  Two games later, he went scoreless against Oklahoma City in a game where he sprained his ankle in the fourth quarter.  Worse, his minutes are going to a very unlikely source, erstwhile journeyman Alan Anderson.   Expect more ups and downs once Ross is healthy enough to return.

9. Andre Drummond (DET, F/C) – It shouldn't be much longer before Drummond replaces the hard-working, yet severely undersized Jason Maxiell in the starting lineup.  He's got tremendous physical gifts, great size (6'11"-280) and is selective with his shots in a very good way – he's currently shooting 59% from the field.  Two things he can't do are shoot free throws and pass, but his defense, rebounding and improving post offense should ensure him of more exposure going forward.

10. Austin Rivers (NOH, PG/SG) – For a moment, we thought he'd be into something good following that 27-point performance against Minnesota last month.  Then he was back to his tentative ways, not getting to the line too often (and shooting a paltry 55% while at it) and playing quite passively and inconsistently in general.  With Eric Gordon back from injury, it looks like Doc Rivers' kid has just been introduced to the dreaded rookie wall.

11. Meyers Leonard (POR, C) – Currently out with a sprained ankle, Leonard hasn't shown much as the Blazers' backup center, except for a few games here and there where he actually rebounded like a seven-footer.  Unlike current starter J.J. Hickson, Leonard is a true center, but is too raw to see more than the usual 13-18 minutes off the bench.

12.Jeremy Lamb (HOU, SG, traded to OKC) – Nothing much to say here as he and the man at #13 have seen by far the least action among the 2012 lottery picks.  Not easy getting minutes when you're playing behind defensive ace Thabo Sefolosha, scoring sixth man Kevin Martin and the Reggie Jackson who doesn't call himself Mr. October or the Straw that Stirs the Drink.

13. Kendall Marshall (PHO, PG) – See above – hard to judge someone who's played just nine games with five minutes of burn per outing.  Playing for a struggling Phoenix lineup, Marshall is third in the point guard rotation behind GoranDragic and Sebastian Telfair.  We were expecting a bit more.

14. John Henson (MIL, F/C) – Henson was playing some good basketball shortly before Scott Skiles and the Milwaukee Bucks "mutually decided to part ways."  He went 20-9 against the Spurs on January 2, then had four straight games with double-digit boards.  Then he had just 5 points and 6 rebounds against the Bulls on the 9th.  The Bucks' frontcourt rotation this year has been weird, to say the least, but Henson may come out of it all as a productive reserve his rookie year.


What do you think?

We'd love to hear your comments and/or opinions. If you submit them here, other visitors can read them, rate them and comment on them. An e-mail address is not required.