NBA Draft 2013: Lottery Scorecard and Analysis
The 2013 NBA Draft is over.  By and large, the teams drafted well: a homage to better talent in the league's front offices than in years past and a stronger draft pipeline for role players later in the first round.  So, who did well in the lottery?
Number 1: Cleveland Cavaliers take Anthony Bennett, PF
Grade: B+

Bennett is a potential 20-10 player; a high scoring combo forward in the mold of Larry Johnson from the 1990s.  He also has range out to the NBA three point line but there are concerns: he has gained a lot of weight since the winter and was never an explosive athlete: will he begin to settle for long jumpers in the NBA like late-career Antoine Walker or Tim Thomas.  Still, the upside is here for Bennett to be part of a championship core.


Number 2: Orlando Magic take Victor Oladipo, G
Grade: B+

Orlando is trying to change to a workmanlike culture and find players who want to stay and thrive with the franchise.  Oladipo fits that mold and showed toughness and coach-ability at Indiana; he is probably the single most improved player in college basketball this decade.  The question is: can he learn to be a big time offensive threat, which began in his last year at Indiana, or will he be more of a defensive rotation player with range – like a rich man's Keith Bogans?

Number 3: Washington Wizards take Otto Porter, SF
Grade: A-

Porter was an excellent fit: he is the most complete forward in the draft and fits a position of dire need for Washington.  No one will confuse him with LeBron James but he can absolutely be the third best player on a contending core led by Bradley Beal and John Wall.

Number 4: Charlotte Bobcats take Cody Zeller, C
Grade: D+

I love Zeller.  He is tall, athletic, and capable of making big shots.  But he looks clearly like a complimentary player in the NBA – a better version of his brother Tyler.  He can probably develop into a fifth starter on a good team but that is not what the Bobcats needed on a roster devoid of talent and in a spot where Nerlens Noel and Ben McLemore were still available.

Number 5: Phoenix Suns take Alex Len, C
Grade: C

I like Len: he has excellent shooting touch and elite athleticism.  He is raw but his upside is strong.  However, Noel is a much better defensive presence with greater upside – even on the offensive end. Len is also not suited for the up-tempo system Jeff Hornacek intends to play. I think Len could become an excellent player but would have taken Noel – for the upside and for the system.

Number 6: Philadelphia (via New Orleans) takes Nerlens Noel, C
Grade: A

Excellent.  Philadelphia traded Jrue Holiday at his highest value and got both a cornerstone big man and a future 2014 pick.  Oh and I almost forgot – they landed top point guard prospect Michael Carter Williams to replace Holiday.  The consensus is Philadelphia will let Andrew Bynum go now but I am not so sure – why not resign him (balky knee included) to an incentive-laden deal, land in the top 5 next year (there is no way that roster can contend yet) and select a cornerstone player in 2014 to pair with Noel, Bynum, and Williams?

Number 7: Sacramento Kings take Ben McLemore, SG
Grade: A

McLemore is the best talent in the draft.  If I were Sacramento, I would ship out Cousins, Evans, and their other mercurial eggs on the roster and start fresh with new ownership and a winning culture.  If Cousins ruins McLemore, the entire league will be saddened.

Number 8: Detroit Pistons select Kentevarious Caldwell-Pope, SG
Grade: B

Can Brandon Knight play point guard?  This pick hinges on that question.  Pope has all the skills and athleticism to be Detroit's two guard of the future and, with Drummond and Monroe as cornerstones in the frontcourt, Detroit can be good again quickly if Knight becomes a true ball-handler.

Number 9: Utah Jazz (via Minnesota) select Trey Burke, PG
Grade: A+

The best fit in the draft.  Utah now has a complete core 1-5 that can contend for years to come.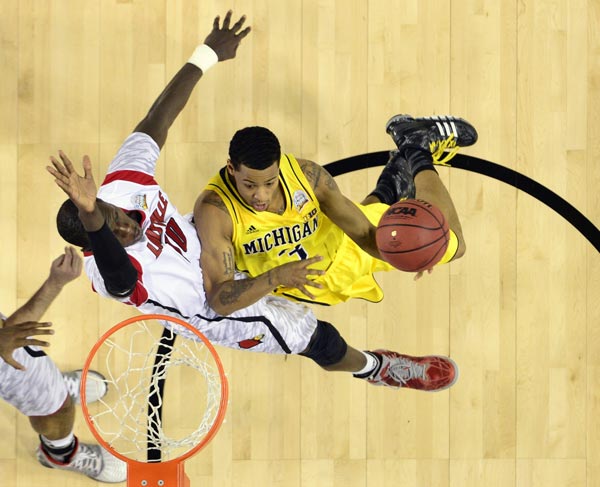 Number 10: Portand Trail Blazers select C.J. McCollum, SG
Grade: A-

I am a big fan of McCollum.  He is a real NBA scorer who will compliment Damien Lilliard nicely.  While a size challenged backcourt, the two should thrive as a scoring tandem.  However, Portland may have wanted to look for a replacement for LaMarcus Aldridge if he is looking to leave Oregon.

Number 11: Philadelphia 76ers take Michael Carter Williams, PG
Grade: A-

How can you not like Philadelphia selecting a great replacement for Jrue Holiday minutes after trading him to New Orleans?  Williams has his questions – mostly stemming from his inconsistency and poor shooting touch – but he has as much upside as any guard prospect in this draft.

Number 12: Oklahoma City Thunder select Steven Adams, C
Grade: B+

Yes, last year's Harden trade was awful.  Instead of amnesty-ing Kendrick Perkins (a no-brainer) and resigning Harden, Oklahoma City rolled the dice and have lost.  But Adams is a good consolation prize because he projects in the mid-term as an excellent defensive center who will pair well with Serge Ibaka in a big front-court.

Number 13: Boston Celtics (via Dallas) select Kelly Olynk, F
Grade: C

I thought this was a reach.  Shabazz Muhammad and GiannisAntentokuompo were high upside players that a clearly rebuilding Celtics roster should have taken to provide big time future upside.  That said, Olynk has a clear NBA role and will not totally bust out of the league.

Number 14: Minnesota Timberwolves (via Utah) select Shabazz Muhammad, SF
Grade: A-

Yes, Muhammad has his warts.  Most noticeably, he can't spell the word "pass" and has more comparisons to Michael Beasley than I care to admit.  But he is a big time talent as a scorer and I think he will mesh well with Ricky Rubio in the backcourt.

BONUS: Number 20: Chicago Bulls select Tony Snell, F
Grade: A-

Many fans hate this pick.  But consider: Snell is a workout wonder who has the elite size, length, and athleticism to be a special defender.  Who better to teach a raw player defense than Tom Thibodeau?  Even better, Snell is already a great shooter and has one of the best step back jumpers in college.  If he develops, he will be a great two way starting small forward and a candidate to replace Luol Deng.

What do you think?

We'd love to hear your comments and/or opinions. If you submit them here, other visitors can read them, rate them and comment on them. An e-mail address is not required.