NBA Deadline Trades
By Jason Fryer
I feel there are a few trades that should occur at the trade deadline and would greatly help both teams for different reasons.
1. Trade 1: New Orleans Hornets trade Chris Kaman to the Indiana Pacers for Dahntay Jones and Indiana's 2012 1st round pick.
This is a trade that can be great for both teams as one team can be helped in the short term and the other helped for the Long Term.
Why this works for Indiana: The Pacers are a team that is very close and has a nice nucleus with West, Hibbert, Granger, Collison, Hill, and Hansbrough. The Pacers showed last year in the playoffs that they need more depth on their team, especially at the 4 and 5 position. Currently, the Pacers have a few interesting reserves at the two guard positions along with the small forward position (Price and Stephenson), but need another backup center (Foster is a good 11th or 12th man but not a good backup center). That's where Kaman can be great for the Pacers. They would be receiving a solid backup center (if Hibbert was to get into foul trouble) and not have to give up any part of their core at the same time. The Pacers would also be able to keep there cap space with Kaman's contract up after this year and wouldn't have to pay Dahntay Jones's final year of his contract (he has a 2012-2013 player option for 2,900,000) and would only have to lose a mid to late 1st round pick.
Why this trade works for New Orleans: The Hornets are going nowhere and have already said they want to trade Kaman this year. The Hornets need to keep stockpiling picks in this year's draft (they have Minnesota's pick along with their own pick in the 2012 draft). The Hornets will also receive a guard who will help with the development of the young players they already have (Gordon, Aminu, Henry, Vasquez), and help with the first round picks in next year's draft. To me this is a win-win trade for both teams and will allow the Hornets to develop more players for the future.
2. Trade 2: Phoenix Suns acquire Jose Calderon, Derrick Favors, and Gordon Hayward, the Utah Jazz acquires Steve Nash, Leandro Barbosa, and Channing Frye, the Knicks receive Robin Lopez, and the Toronto Raports acquire Devin Harris, EnesKanter, ImanShumpert, and the Jazz 1st round pick.
Dear Suns fans, it's time to trade Steve Nash and start over like the Hornets did. Steve Nash has been tremendous for the Suns and the city of Phoenix but the Suns aren't going anywhere except to an early draft pick. This could be a great trade for all three teams and let the Suns finally start the rebuilding stage.
Why this trade works for Phoenix: This trade allows the Suns to finally start over, receive a few lottery picks players, not have to take on too much future money, trade a terrible contract (Frye), and still have a run and gun point guard. With this trade they could build their future with a nice frontcourt of Gortat, Favors, and Morris and at the same time have nice guard play with Calderon and Hayward (along with an early draft pick in next year's draft).
Why this trade works for Toronto: Toronto will be able to receive a lot of young and inexpensive talent in this trade (EnesKanter/ImanShumpert), a experienced point guard (Devin Harris), and a draft pick. The Raptors need to draft a lot more young talent to their team and start over with their young core with DeRozan, Davis, Shumpert, Kanter, and a few draft picks. The Raptors have wealthy owners (Maple Leaf Sports & Entertainment Ltd.), and would be able to amnesty a player if they wanted to (Harris, Kleiza, Johnson, Bargnani).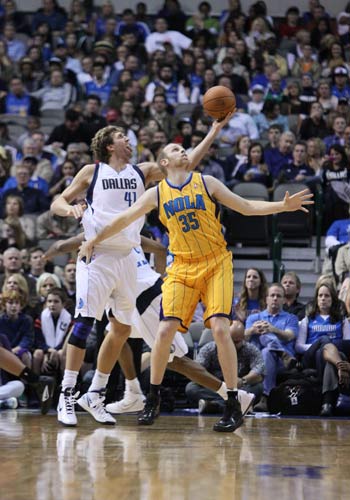 Dirk Nowitzki (41), Forward for the Dallas Mavericks, steals the ball from unsuspecting Chris Kaman (35), Center for the New Orleans Hornets, during the Mavericks 96 - 81 victory over the Hornets at American Airlines Center in Dallas, TX.
---
Why this trade works for New York: With the emergence of Jeremy Lin and other guards on the Knicks being effective (Fields, Bibby, Douglas, Walker, and maybe Baron Davis) the Knicks have enough depth at the guard position. With that said, the Knicks are thin at the four and five positions (Amare, Tyson, Jeffries) they need another effective big man: enter Robin Lopez. Robin Lopez would give the Knicks the necessary depth they need at the four and five position and would be an effective center off the bench. This would allow the Knicks to rest Tyson Chandler more and if he did get into early foul trouble would allow the Knicks to turn to Lopez to come in and help the Knicks with depth.
Why this trade works for Utah: The Jazz have effective big men already (Jefferson and Millsap) and would still receive another big man in the trade (Frye) to make up for the loss of Favors and Kanter. The Jazz would slide Nash at the one, and play him with Raja Bell (who Nash played with when the Suns went to the Western Conference Finals), CJ Miles/Josh Howard, Paul Millsap, and Al Jefferson. The Jazz would still have an effective bench with Barbosa, Frye, Miles/Howard, Watson, and Alec Burks. Lastly, this will eventually lead to the Jazz having a lot of money free next year (Nash and Barbosa are both free agents) and they could attempt to resign Nash and then play him with Alec Burks next year. This trade would be an effective trade in the present and for the future of the Jazz.
---
What do you think?

We'd love to hear your comments and/or opinions. If you submit them here, other visitors can read them, rate them and comment on them. An e-mail address is not required.
What Other Visitors Have Said
Click below to see contributions from other visitors to this page...

trade 2 -- not gunna happen Not rated yet
jazz will never ever give up 4 (!) future players/picks for a big contract like frye + old nash. they would destroy their future (+ all they got for d-will) …
---
From NBA Deadline Trades to NBA Basketball Blog | Sports Blog | NFL Football Blog | NCAA Football Blog | NFL Football Archives | College Football Archives | MLB Baseball Blog | College Baseball Blog | MLB Baseball Archives | NCAA Basketball Blog | NBA Basketball Archives | NCAA Basketball Archives | Fantasy Football | Fantasy Basketball | Fantasy Baseball | Soccer Archives | Olympics Archives | Stupid Athletes Archives | Other Archives | Football Forum | Basketball Forum | Baseball Forum | NFL Football Store | NBA Basketball Store | MLB Baseball Store | NCAA Football Store | NCAA Basketball Store | NCAA Baseball Store | Fatheads | NFL Football Tickets | NBA Basketball Tickets | MLB Baseball Tickets | NCAA Football Tickets | NCAA Basketball Tickets | NCAA Baseball Tickets |
---
Home Page
About Us | Contact Us | Site Search | Advertise | Terms of Use |
---