NBA 2013 Forecast
NBA teams are constantly changing. New players are drafted every summer and old players are let go, top guys and large contracts are traded at the deadline, and rosters are in constant flux. Major game changing player movements-like LeBron James and Chris Bosh's moves to Miami-can completely turn the league hierarchy on its head. However, teams tend to hang on to their franchise cornerstones and build from there so, with some margin for error, it is possible to project the NBA's top five teams in 2010. Here is the ordered list:
1. Miami Heat
Current Roster (top 7 players)
PG: Mario Chalmers
SG: Dwayne Wade, Eddie House
SF: LeBron James, Mike Miller
PF: Chris Bosh
C: Udonis Haslem

As much as it pains me to say it (I am one of those people who believe that superstars should compete against one another as titans of the game rather than band together) the Heat clearly project as the best team in the league for years to come. Their three superstar players are all 28 or younger and they will be able to add a couple draft picks and a mid-level exception player (barring major changes to the CBA) every single year, which should mean that they will actually get better over the next few years.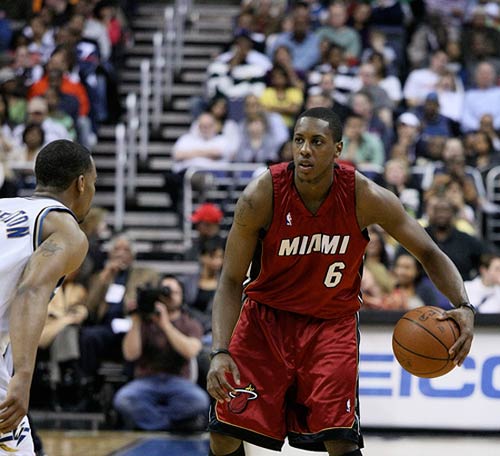 Thanks to Keith Allison at flickr.com for Mario Chalmers picture.

2. Chicago Bulls
PG: Derrick Rose
SG: Ronnie Brewer, Kyle Korver
SF: Luol Deng
PF: Carlos Boozer, Taj Gibson
C: Joakim Noah

As they are currently composed, the Bulls actually rank closer to fifth than second. Rose is a dynamic player who can be the top option on a championship team, Boozer, Deng, and Noah are all excellent complimentary players, and the team has an excellent bench. However, this ranking is based on my belief that the Bulls will be able to find a top player (Carmelo Anthony, Danny Granger, Andre Igoudala and other pieces, etc) to trade for using Deng's contract. This player, combined with the current team and future picks and mid-level buys, should keep the Bulls at the top of the Eastern Conference for years.

Here's an article about Derrick Rose Jersey.

3. Oklahoma City Thunder
PG: Russell Westbrook
SG: James Harden, Thabo Sefolosha
SF: Kevin Durant
PF: Jeff Green
C: Serge Ibaka, C. Aldrich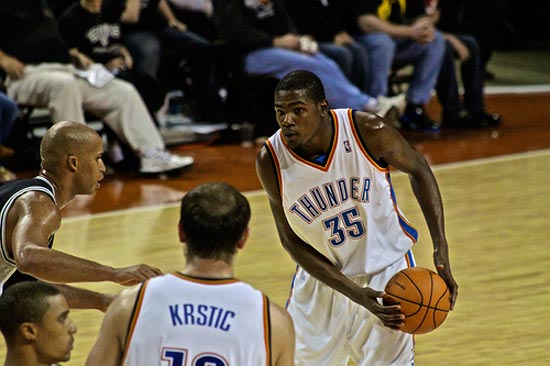 Thanks to aaronisnotcool at flickr.com for Kevin Durant's picture.


Thunder GM Sam Presti built this team the "right way." He refused to be tempted by a quick fix trade or signing (no mean feat for a GM) and quietly built the most talented young starting group in the league. Westbrook is a lightning quick guard who also has top notch playmaking abilities, Harden is a developing and crafty talent on the wing, Durant is the best player in the sport, Ibaka's potential is limitless, and Jeff Green is a good player entering his prime who will likely be traded for a true power forward to complete the lineup. There is no reason to think the Thunder won't be at the top of the west for the next six years, let alone three.

See Lebron James Jersey.

4. Los Angeles Lakers

The Lakers are the best team in the NBA right now but age is likely to start catching up to them soon. In three years Kobe Bryant will be thirty five and have the mileage of Washington Wizards Michael Jordan, Pau Gasol will be on the wrong side of thirty, and Andrew Bynum might well be playing in Shanghai after his knee replacement.




However, my guess is that this top notch front office team will find a way to filch (via trade) another talented player for the Lakers and, though Bryant and Gasol will be diminished somewhat, that should be enough to keep Los Angeles' darlings near the top of the league over the next three to five years.


Kobe Bryant, Lakers shooting guard, stands ready to shoot a free throw against the Golden State Warriors. Thanks to Sgt. Joseph A. Lee at wikipedia.org for this photo.

5. New Jersey Nets
This is a total gut pick on my part. The Nets have been awful in recent years and don't look much better this season. However, they have a new owner who will spend what it takes, will have the New York market to work with before 2013, and have a young core of Brook Lopez, Derrick Favors (who I think they will warm to once he sets foot on court), and Devin Harris already in place. The Nets should add top notch talent in this draft and the next, pair it with a top free agent (likely in 2012 since there is not much talent in the 2011 class) and be a top contender by 2013.

Honorable Mention:
Orlando Magic:
The Magic are a talented team but they have proven the last couple years to be a few steps away from a championship. The problem is they are totally capped out and those few steps look like Mount Everest.


Portland Trail Blazers
The Blazers are the deepest team in the league and talented GM Rich Cho will continue Kevin Pritchard's former hobby of adding complimentary talent in the draft. However, Brandon Roy and LaMarcus Aldridge are not the cornerstones of a championship team no matter how deep the rest of your squad happens to be.


New York Knicks
The Knicks should make this list: they have star talent in Amare Stoudemire and Anthony Randolph, good complimentary players in Danilo Gallinari, Raymond Felton, Bill Walker, and Toney Douglas, and enough cap room to add a top free agent in both 2011 and 2012. The problem is that no one has any confidence in the Knicks ownership and management if Donnie Walsh retires (as expected) and James Dolan is left to make his hire of choice. Read more about the Knicks at Knicks GM.


Houston Rockets
The Rockets are, like the Blazers, a very good and deep team poised to contend for years. However, Yao will be out of the picture in 2013 and can the Rockets replace him?


What do you think?

We'd love to hear your comments and/or opinions. If you submit them here, other visitors can read them, rate them and comment on them. An e-mail address is not required.
What Other Visitors Have Said
Click below to see contributions from other visitors to this page...

Way Off Not rated yet
You dont even have the Spurs in your top 9. PLEASE... Look at the standings now and what you predicted earlier. Not even close to being accurate with all …
2012 Sacramento Kings Projection Not rated yet
It might be a bit soon by 2013, but the Sacramento Kings might have been a sleeper pick in the honorable mention section. Tyreke Evans averaged 20 …