My Top 5 NBA Players by Position
By Jason Fryer
There are a number of great players in the NBA currently. I wanted to separate the debate between the best player at each position and the best player for there team. There are a ton of great debates that can be made between players at each position, which include: Paul vs. Rose, Wade vs. Bryant, James vs. Durant, Nowitzki, Aldridge, Love, or Griffin, and Howard vs. Bynum.
Point Guard: Derrick Rose
I have no problem if someone responds ""¦hey you're a Bulls fan and have a biases towards Rose over CP3." At the same time, even if I took my Bulls biases out of this argument, I still feel there are other reasons for me choosing Rose over Paul, Rondo, and Westbrook. First, the reason I decided to choose Rose over Rondo is because though Rondo is a better defender and passer than Rose, the other aspects of Rondo's game show the deficiencies that he has compared to Rose. Outside of Rose's rookie year, he's averaged at least 20 points per game, while still having 6 or more assist per game. Rondo on the other hand has never averaged more than 15 points per game, has one of the worst free-throw percentages in the NBA (62.1% career shooter, (Rose 82%)), and is a career 24.5% shooter from the perimeter (Rose has improved into the 33% level and is only improving).
Also, Rose hasn't played with another a fellow all-star player in his short career, Rondo on the other hand has played alongside 3 future Hall-Of-Famers. Russell Westbrook is one of the most gifted players in the NBA but he plays with the 2 time defending scoring leader and has forced his shot too many times. Had Russell Westbrook decided to not sign the 5 year extension last week and decided to become the "go to" player on another team, he would have the potential of being known as the best or second best point guard in the NBA. I feel Westbrook is a tremendous player, (maybe even underrated) but I think he needs to become more of a facilitator (averaging 5.6 assist per game this week) as he has two of the best shooters in the NBA (Durant and Harden). As for CP3, he's a tremendous player but has only won one playoff series (making it to the second round before being eliminated by San Antonio in 2008), doesn't have a MVP award, and hasn't ever defeated Derrick Rose head to head in a game. Chris Paul is a better defender and facilitator than Rose, but Rose is a better scorer and does more for his team than Chris Paul.
Shooting Guard: Kobe Bryant
I feel the amount of 2 guards in the NBA is limited and only getting smaller as the years go on. In my mind, there are only two individuals that can be mentioned in this argument: Kobe Bryant or Dwayne Wade. Over the years, Kobe has proven that he wants to be the star on his team, and not let anyone else even be considered in the same light he's mentioned in. Also, as great a player as Wade is, he's shown that he's a player that wants to win but not to the extent that Kobe takes it. Outside of Michael Jordan, over the past 20 years I'm not sure there's been a player that hates to loose more than Kobe Bryant. This was shown in a surprising statistic, as prior to last year, Dwayne Wade hadn't won a playoff series before beating the Mavericks in the 2006 NBA Finals. Wade also showed that he needs another great player to play with to compete in a series while Kobe proved he might not win a series on his own, but he will make a team sweat it out (2006 NBA playoffs, the 7th seeded Lakers took the 2nd seeded Suns to a 7th game) while Wade has only won only one playoff series without a fellow Hall-Of-Famer (2004 NBA playoffs vs. Hornets). Lastly, Kobe has proven that for a player that's played in so many games, he's extremely durable and almost never misses a game. Wade on the other hand has missed at-least 6 games in a season 5 times (including this year) and in two of those seasons only played in 51 games. In my mind, there is more to the best player at a position than just how many points and rebounds a player averages.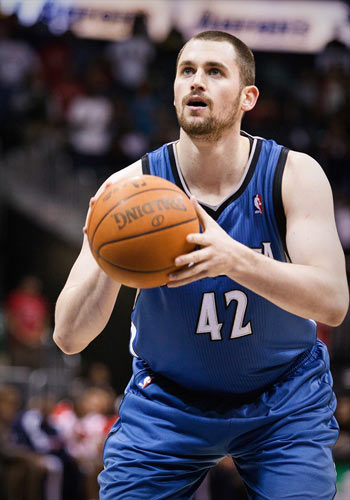 Minnesota's Kevin Love in Atlanta Hawks 111-105 victory over the Minnesota Timberwolves at Philips Arena in Atlanta, GA.
---
Small Forward: LeBron James
I know my friend Paul feels that Kevin Durant is the best small forward in the league, but as much as I love watching Durant, its not close between the two players. I feel Durant is a better scorer between the two (although LeBron is averaging 29.1 points per games vs. Durant's 25.7 points per game), and is a better shooter than LeBron, but every other aspect of the game favors James over Durant. I feel LeBron is actually an underrated defender as he can guard 4 different positions and force a player to change the type of style they play with (example: the eastern conference finals against Derrick Rose). LeBron's also a much better passer than Durant (has recorded at-least 5.9 assists per game while Durant career high in assists per games 3.3, (this year)). Lastly, on the show "Inside The NBA," Charles Barkley brought up the point that Dirk Nowitzki used to settle for shots on the perimeter and allowed for smaller guards and forwards to guard him (this was on display during the 2007 Warriors-Mavericks series when the Warriors put Steven Jackson on Dirk and he settled for every outside shoot). Since that series, Dirk has improved this aspect of his game and now has taken smaller players into the post and destroyed them. Durant needs to improve on this aspect of his game as he settles for to many outside shots. The same goes for LeBron, as he needs to keep improving his post game. If he becomes a solid post player, he would become a triple threat player from that position and would be the most dominant player in the NBA.
Power Forward: Kevin Love
Once again, Paul and I have different picks on who we feel is the best power forward currently in the NBA. First, Dirk Nowitzki was the best player last year in the NBA playoffs, but this year looks a tad slow and hasn't recovered from the celebration that occurred last year. Blake Griffin is the best athlete at the power forward position, and maybe a top 5 athlete in the entire NBA, unfortunately for Blake, there's more to the NBA than just dunking and rebounding. I feel his defense and mid-range game has improved but is still far away from being fully developed. In 3-5 years I might change my stance and place Blake as the top player at his position but currently Blake isn't close to being considered the elite player at the power forward position. I feel the top two power forwards currently in the NBA are LaMarcus Aldridge and Kevin Love. Fist for Aldridge, he's done a tremendous job at becoming the leader on his team with Brandon Roy being forced into retirement. When examining both Aldridge and Love's games, it's startling how different these two players are. With Love, he's a great three-point shooter (40.4% this year), the second best rebounder in the NBA (Dwight Howard), and a double-double machine. Kevin Love is a throwback to the great power forwards of the past and we haven't seen a player like Kevin Love since the mid-1980's. As for LaMarcus Aldridge, he's a great low-post player that has a nice mid-range game to help go along with his post game. Aldridge is a better defender than Love, but not on the boards as Love averages almost 5 more rebounds per game. If you're a Blazer or Wolves fan your lucky to watch these player play everyday, but in my opinion Kevin Love is currently the best power forward in the NBA, and fortunately for people in Minnesota will be able to watch him for at least 3 more years.
Center: Dwight Howard
Sorry Shaq, but this position debate isn't even close. Dwight Howard is by far the best center in the NBA. If Andrew Bynum and Dwight Howard switched teams, Bynum would have no-where to go (all the Magic players play on the perimeter), while Dwight would have the best shooting guard in the league, along with one of the most skilled players in the NBA (Gasol). Bynum has a better post game and is a better free-throw shooter than Dwight, but in every other aspect of the game, Dwight is heads and shoulders above Andrew Bynum and for that matter every other current NBA center. If Dwight does decide to develop a post game, he could become the most dominant player in the NBA.
For another view, see Who Are Basketball's Best Players at Each Position
---
What do you think?

We'd love to hear your comments and/or opinions. If you submit them here, other visitors can read them, rate them and comment on them. An e-mail address is not required.
---
From My top 5 NBA Players by Positionss to NBA Basketball Blog | Sports Blog | NFL Football Blog | NCAA Football Blog | NFL Football Archives | College Football Archives | MLB Baseball Blog | College Baseball Blog | MLB Baseball Archives | NCAA Basketball Blog | NBA Basketball Archives | NCAA Basketball Archives | Fantasy Football | Fantasy Basketball | Fantasy Baseball | Soccer Archives | Olympics Archives | Stupid Athletes Archives | Other Archives | Football Forum | Basketball Forum | Baseball Forum | NFL Football Store | NBA Basketball Store | MLB Baseball Store | NCAA Football Store | NCAA Basketball Store | NCAA Baseball Store | Fatheads | NFL Football Tickets | NBA Basketball Tickets | MLB Baseball Tickets | NCAA Football Tickets | NCAA Basketball Tickets | NCAA Baseball Tickets |
---
Home Page
About Us | Contact Us | Site Search | Advertise | Terms of Use |
---