Mock 2013 NFL Draft
By Eric Caldwell

1. Kansas City Chiefs
    Luke Joeckel, OT – Texas A&M

-While this may not be the sexiest pick in the world, safety over ceiling is going to be KC's strategy after spending big in free agency.  Joeckel displays mesmerizing footwork and hand placement in his pass-set, frustrating defenders with a nifty shuffle-jab that discourages the inside lane, separating him noticeably from the other tackles in this class.  Though Braden Albert was dealt franchise money to play LT in this new-look Chiefs' offense, his stay with the franchise will likely be cut short as reports indicate that he may be dealt before draft day, allowing Joeckel to take over without competition.
2. Jacksonville Jaguars
    Dion Jordan, DE/OLB - Oregon

-I'm not 100% sold on Jordan - he has a worrying tendency to cross his feet when he cuts and his overall technique leaves a lot to be desired.  Luckily, these prospects are all young and have plenty of time to correct these athletic imperfections.  Contrarily, this kid has the potential to absolutely wreak havoc on quarterbacks, often demonstrating the speed to blow by blockers like a gust of wind and utilizing his unique 34" wingspan to create and close space.  At the NFL level, Jordan is due for a bit of an adjustment period as he'll surely find the challenge of competing with athletes closer to his own caliber daunting, but with the God-given tools at his disposal it should only be a matter of time before he's able to make a name for himself blitzing quarterbacks.
 
3. Oakland Raiders
    Shariff Floyd, DT - Florida

-The Raiders are now the neediest team in the NFL at this point, relying on a number of cost cutting moves to try and correct the errors of Al Davis' final seasons.  Thusly, new GM Reggie McKenzie was force to decimate the defensive line, cutting Tommy Kelly, Desmond Bryant, and Richard Seymour in order to free up cap space.  Floyd could be the guy whom the next-generation Raiders' defense is built around, providing a hefty presence at the point of attack that should moderately improve a run-defense that ranked 15th in 2012, also totaling just 25 sacks.  As a Junior at UF, Floyd anchored one of the most feared defenses in the country, amassing 13 tackles for a loss during his final season.
 
A variety of needs including DE and CB give the Raiders plenty of options at #3, but I also wouldn't be surprised if McKenzie were to trade back in order to stockpile some picks that were carelessly tossed away in the Seymour and Carson Palmer deals.
 
4. Philadelphia Eagles
    Eric Fisher, OT - Central Michigan

-Arguably the top overall player in the class of 2013, Eric Fisher could be the long-awaited savior of the Philadelphia O-line (and Michael Vick's brain tissue).  Standing fearsome at 6'7" and 306lbs, Fisher may look better suited for carrying refrigerators on the "World's Strongest Man" competition than cleaning up for this month's draft.  Fortunately, his towering frame makes him an ideal candidate for a day-1 RT, though he's shown consistently that his size hasn't hindered his mechanics, giving him an invaluable fitness of maneuverability.  Demetress Bell, Danny Watkins, and King Dunlap top the list of failed Eagles' O-line experiments in recent years; maybe Fisher will finally put an end to all the headaches.
 
5. Detroit Lions
    Dee Milliner, CB - Alabama
  
-The first player from the National Championship squad selected, Milliner embodies the next generation of SEC defensive backs to bounce from an enthusiastic pre-draft season straight into NFL stardom.  Riding on his idealistic size (6'0"/200lbs) and well-disciplined coverage skills, the 2012 All-American solidified his spot in the top-10 with an eccentric performance against Notre Dame in the title game, where he was targeted all night, continuously showcasing the ability to locate and make plays on the ball in the air.  Ziggy Ansah and Tavon Austin would both make good selections here as well, but a cornerback prospect of this talent level will be too tempting for this 19th ranked pass-defense to avoid.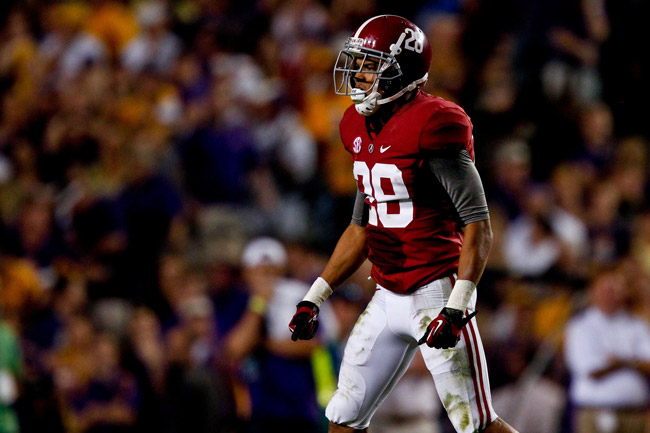 November 3, 2012; Baton Rouge, LA, USA; Alabama Crimson Tide defensive back Dee Milliner (28) against the LSU Tigers during a game at Tiger Stadium. Alabama defeated LSU 21-17. Photo Credit: Derick E. Hingle-USA TODAY Sports.


6. Arizona Cardinals *(from CLE)*
    Lane Johnson, OT - Oklahoma

-The Titans, Chargers, and Dolphins will all be vying for the services of this big and talented LT, so the Cards aren't going to pull any punches if making a draft-day trade is necessary to get their guy.  The talent drop-off at the position after Johnson is fairly substantial, so it's going to be move-up or miss-out just as soon as Joeckel and Fisher are taken.
 
Here are some things to make Cardinals fans smile about moving up to make what most consider a boring pick.  Firstly, Johnson is more than just an offensive tackle, he's a recently converted tight end, denoting to the athleticism of this 6'6"/310lb tank in a way that's going to make edge-rushers tremble.  Secondly, since Arizona only lies one spot behind Cleveland, the cost to move up and make this acquisition is going to be minute compared to what San Diego or Miami would have to sacrifice.  Finally, Kevin Kolb had potential until he met Levi Brown and Nate Potter…need another reason?
 
7. Cleveland Browns *(from ARI)*
    Ezekiel Ansah, DE - BYU
  
-This is where the draft should start to get interesting, as the Browns have holes all across their defense, but the lingering availability of Geno Smith makes their quarterback necessity seem more pressing.  Ultimately, I don't think Cleveland will take the bait, choosing rather to continue the reconstruction of this young defense with highly praised pass-rusher who's also experiencing a bit of a fall.
 
Ansah's football career thus-far has been short-lived, playing for only three years after leaving his native Ghana to attend BYU.  However, during his Senior season he displayed a freak athleticism and almost psychic instinct that's had this hand-in-the-dirt end rocketing up draft boards.  The novice's brief success makes him a risky pick, but if Cleveland hits on this pick then their D-line will be set for the next decade.
 
8. Buffalo Bills
    Geno Smith, QB - West Virginia

-Let me start out by saying that I hate this pick, the Bills would be gutless for making it, and I honestly don't think Geno Smith will be starting in the league 5 years from now.  He lacks any sort of precision passing game, folds like a page-corner under pressure, and doesn't look like he'll ever be comfortable stepping up in the pocket.
 
Now that that's off my chest, I'll elaborate on why the trigger will be pulled here.  It's actually fairly obvious when you break it down to the essentials - Buffalo is dead at QB and has been for several years and Geno Smith is the best quarterback in this class, as of now.  Despite it may set the franchise back even further, the fans need to see this pick to be reassured that this team is doing everything possible to win more games, be it relevant or not to quarterback play.  The Bills should really use this pick to add another pass-rusher or sure up their line with one of this class's gifted OGs, but who knows, they could get lucky and land a gem.  Even Aaron Rodgers had his doubters.
 
9. New York Jets
    Jarvis Jones, OLB - Georgia

-Last year's Quinton Coples selection was ill-advised considering the Jets' 3-4 scheme.  Jarvis Jones will be a much better fit, adding a pass-rushing threat quintessential to keeping guys like Tom Brady on their toes.
 
Once touted as the clear-cut #1 player on this board, Jones stock has declined slightly since concerns about his injury history have emerged.  Still, the fact of the matter is that Jones was the most productive linebacker in college football over the last 2 years, sprinting from sideline to sideline to get in on tackles and filling holes like a cork, always within the vicinity of the football when the whistle blew.  There's a very good chance this kid ends up walking away with Defensive Rookie of the Year honors.
 
10. Tennessee Titans
      Star Lotulelei, DT - Utah

-Remember that once dominant defensive era of Titans football when Albert Haynesworth was eating up the middle third of the field?  Point being, while Jurrell Casey is serviceable, Tennessee needs a player who can command double teams and bulldoze through the interior like a piece of heavy machinery.  Although Lotulelei has a lazy demeanor, the flashes of true demonstrative ability that he's shown are more than enough to justify taking him in the top-10.  This will be a boom-or-bust pick for the Titans, but you have to take a chance on upside in this type of situation.
 
11. San Diego Chargers
      Jonathan Cooper, G - North Carolina

-After missing out on Lane Johnson, the Chargers will be looking to exhaust all options to beef up their offensive line.  I love Jonathan Cooper here - he's a big, yet shockingly quick pulling guard with a wide base and the athleticism to essentially act as a full back at the second level.  At 6'2"/306lbs, Cooper will be a fine wedge at the point-of-attack, exploiting superb leverage to gain ground in one-on-one situations.
 
12. Miami Dolphins
      Barkevious Mingo, DE/OLB - LSU
-The Dolphins are looking for a pass-rusher to compliment Cameron Wake, and since their primary target, Lane Johnson, is already off the board, Bark Mingo will become the player of emphasis.  At 6'4" and 240lbs, the lanky Bayou Bengal standout lacks the desired muscle mass to consistently fight off blocks from 300lb offensive tackles at the next level, but he should bulk up once he's placed in an NFL strength program.  What really sets him apart, though, is his explosive speed.  Mingo clocked a 4.58 at the Combine, which was the second fastest time among defensive ends, insinuating that he'll be trouble for opposing blockers if he can create space by himself.
 
13. New York Jets *(from TB)*
      Tavon Austin, WR/KR - West Virginia

-I'm going to go ahead and assume this Revis deal gets worked out, allowing the Jets to get a jumpstart on this rebuilding process.  Tavon Austin has generated a hive-like buzz in the past month, wowing scouts and analysts with his flashy speed (4.34 40-yard dash).  Perhaps the Jets' offense won't be so laughable if they add some players who can spread the field, since they probably won't be finding their next franchise signal-caller in this class.
 
14. Carolina Panthers
      Johnathan Hankins, DT - Ohio St.

-The Panthers are a one man show on offense right now, while they're getting older by the day at key positions and struggling to plug holes defensively.  Hankins, who moves extremely well for a man his size (6'3"/320lbs), will fill the glaring void in the middle and give this 23rd ranked D a base to build around.
 
In college, Hankins appeared to move only at his own discretion, consuming double teams while refusing to give up a single inch, all the while retaining the awareness to shuffle sideline-to-sideline to put the defense in a position to make plays.  He shows tremendous effort and athleticism and could be another valuable piece for this needy Carolina defense.
 
15. New Orleans Saints
      Damontre Moore, DE/OLB - Texas A&M

-Rob Ryan will be looking for a rush linebacker to help usher in his usage of the 3-4, and "Damonster's" rare combination of athleticism and shaped technique make him the ideal candidate.  Due to a lack of consistent pressure, the Saints were second worst in the league in pass-defense, giving up 292 yards per game and tallying just 30 sacks along the way.  On his own, Moore recorded 12.5 sacks during his Senior season, showcasing great handwork and an explosiveness that should overshadow his lackluster Combine performance come draft day.
 
16. St. Louis Rams
      Cordarrelle Patterson, WR - Tennessee

-Whether or not Patterson will be able to improve his clumsy body-control and sloppy route-running will be a story for training camp, but for now, the Rams just need to surround Sam Bradford with some weapons.  Though he may be a work in progress, Patterson definitely has the size and speed of a #1 receiver, deceptively hitting the gas and gliding past DBs with the help of his long, lanky legs.  Bottom line - Chris Givens will return as the leading receiver on this team, accounting for just short of 700 yards.  Something needs to be done about that.
 
17. Pittsburgh Steelers
      Xavier Rhodes, CB - FSU

-Don't look now, but the once ferocious Pittsburgh D is starting to look old and beat-up.  Ike Taylor's efforts were faultless last year, but the FA departure of Keenan Lewis means that the #2 cornerback spot will be up for grabs.  Rhodes, a First Team All-ACC selection in 2012, is the ideal candidate to step in, owning his third of the field on a weekly basis as he earned a reputation as one of college football's few shutdown corners.  This 18 slot may also be a target in the draft day trading game, as plenty of sought-after defensive linemen still linger on the board.
 
18. Dallas Cowboys
      Chance Warmack, G - Alabama

-Dallas has needed a major O-line upgrade for years, as evident in Romo's constant dodging and dancing in the backfield.  The Boys are loaded with offensive talent, but they have to construct a respectable line in order to put it on the plain of those seemingly mechanical aerial attacks.  Warmack has been the obsession of ESPN's analysts since September, embarrassing those superb SEC defensive linemen with his colossal size and the downhill force that has to feel more like an 18-wheeler bearing down on you than a human being.  I'm sure Romo would prefer a well-rounded LT here, but Dallas doesn't have the ammunition to put themselves in the position where Lane Johnson would still be a possibility.
 
19. New York Giants
      Alec Ogletree, LB - Georgia

-Tom Coughlin likes to take the best player on the board, and Ogletree should be an immediate plug-in for this ever-shifting defensive front-7.  What makes Ogletree special is his ability to line up all over the 2nd level.  If you need him to commandeer the defense at MLB, he can be a hard-hitting enforcer.  If you need him to rush from a 3-4 OLB spot, he's got the lanky physique to make an impact coming off the edge.  Hell, even if you need another DB, as 6'3" safety recruit out of high school, Ogletree is a viable option.
 
20. Atlanta Falcons *(from CHI)*
      Bjoern Werner, DE - FSU

Arthur Blank has recently expressed the desire to move up in this draft; keeping in mind the team has severe needs at defensive end and cornerback.  Fortunately, this class is celebrated for its abundance of edge-rushing threats, and Werner would be the perfect selection to take over John Abraham's spot in that 4-3.  With his hand in the dirt, The Germanator was almost unstoppable, finishing third in the nation with 13 sacks, including 3.5 against the rival Gators.  Blank just needs to keep in mind that if Atlanta can't replace the starters they lost defensively, they're going to have a really tough time making it back to the post-season.
 
21. Cincinnati Bengals
      Kenny Vaccaro, S - Texas

-Reggie Nelson has been a solid pickup for the Bengals these past couple of years, but this team could really benefit from a safety who has the range to play sideline-to-sideline.  Enter Kenny Vaccaro, a long, 215lb tackling machine who can flop from enforcing the box to man-coverage whenever needed.  Moreover, consider that this would be a great value pick, as Vaccaro is widely considered the best safety in the class of '13 and a top-12 prospect by some - he will slide due to the far more pressing needs of teams picking earlier.
 
Also, Cincinnati struggled mightily when it came to defending short passes in their Wildcard game against Houston.  Adding a safety who has the tug-and-pull mentality can cover backs and tight ends should drastically repair this malfunction.
 
22. St. Louis Rams (from WAS)
      Matt Elam, S - Florida

-Don't think that Jeff Fisher is going to let two first rounder picks slide without trying to upgrade his defense.  Even if the Rams can agree to terms with veteran safety Quentin Mikell, the safety position will be looked at as a major vulnerability for a team that has done an otherwise great job filling in holes in the defense.  Considering this coaching staff and the youth in the secondary, this team has great chance to improve on its 14th ranked pass defense in 2013.
 
Elam was viewed as the enforcer on a Gators defense that ranked third in the nation in total defense, forcing 30 turnovers (5 by Elam) while permitting just under 13 ppg.  The former Florida High School Player of the Year is one of those rare players who you just can't take your eyes off of, somehow finding a way to make plays at every hash-mark.  The Dwyer HS grad also has a nasty tendency to attack the ball once momentum has stopped or all other options exhausted, a playing style which familiarizes itself with Jeff Fisher football.
 
23. Minnesota Vikings
      Desmond Trufant, CB - Washington

-In the NFC North, pass defense is paramount, as you'll be facing the likes of Aaron Rodgers, Jay Cutler, and Matthew Stafford week-in and week-out.  How do you think you're going to fair with Chris Cook trying to cover Megatron or Brandon Marshall?
 
Trufant is a dynamic athlete, blazing up the Combine stretch with a 4.38 second 40-yard dash and consistently exhibiting this explosive speed in his breaks on film.  Though slightly undersized, Trufant specializes more in playing the ball while it's in the air and breaking on short routes than locking down towering wideouts.  His unique quickness and instinct in space could give him an opportunity to make an impact in the return game, while the 2012 All Pac-12 selection may need to shape his technique before he starts to make a real impact.  Regardless, Trufant is a day-one starter for a team as decimated defensively as the Vikings. 
 
24. Indianapolis Colts
      Sheldon Richardson, DT - Mizzou

-The Colts 3-4 scheme has lacked a true NT since it was implemented, this year finishing as the fourth worst team in the league against the run.  Richardson could be the big man who finally treats this ailment, demonstrating astounding quickness and footwork for a man who tipped the scales at 295.  Indy has plenty of options with this pick, as their needs at RB and pass rusher are dire, while the interior O-line could use an upgrade as well, but I think finding a long term solution to a problem that has plagued the team for years will be too tempting for defensive-minded Chuck Pagano.
 
25. Minnesota Vikings (from SEA)
      Justin Hunter, WR - Tennessee

-The Vikings have made it public that they would like to add another starting receiver via the draft, even if it means trading up to do so.  I don't think giving up extra picks is going to be necessary with the general lack of interest at the position, but Justin Hunter is one of those intriguing borderline first round prospects who are going to have a chance to really make an impact.  At 6'4" and 196lbs, Hunter led the Vols in receiving yardage with 1,083 yards in 2012, adding 9 scores as well, both more than his teammate, Cordarrelle Patterson, who seems to be getting all of the attention.
 
Hunter is also a phenomenal route-runner, showing a springy plant-foot when creating separation and tracking down the ball like a blood hound.  However, Hunter needs a lot of work on his body control before he becomes an all-purpose threat at the next level, as he has a tendency to make unnecessary movements in pursuit of the ball and hesitates post-catch.
 
26. Green Bay Packers
      Barrett Jones, OL - Alabama

-Even when healthy, the Packers' offensive line was atrocious in 2012, once again making their multi-million dollar quarterback an early candidate for IR.  Aaron Rodgers is on the verge of signing the biggest contract in league history, so this pick really just boils down to common sense - protect your assets!
 
Jones can play four positions up front and demonstrated great leadership qualities throughout his stay at Alabama.  The Outland Trophy winner also has well-developed fundamentals and always grinds to the end of the whistle, showing the grit and toughness that one comes to expect from NFL offensive linemen.  Jones would probably have to bulk up a bit before jumping into a starting lineup, but with Green Bay's line in shambles, you should see him day-one regardless.
 
27. Houston Texans
      Eric Reid, S - LSU

-The Texans are one of the more complete teams in the league, sporting a defense that is quickly earning a reputation as one of the NFL's nastiest.  The FA departure of Glover Quin opens up a hole at FS that Ed Reed can only fill for so long.  Reid is a long-term solution, as I feel that Kubiak will address the defense rather than jump at a sub-par #2 receiver, choosing value over immediate need in the back-end of the first round.
 
Reid was a stud at LSU and likely would have been a top-16 pick if he had entered in 2012.  The All-SEC selection specializes in patrolling the back end of the field, locating the ball in the air like a receiver and seldom losing in jump-ball scenarios.  Reid also demonstrates superb form tackling, leading into ball carriers like a battering ram and showcasing an impressive perception of angle tackling.
 
28. Denver Broncos
Johnthan Banks, CB - Mississippi St.

-This is another fairly obvious selection.  Denver's dreadful secondary single-handedly cost them their Divisional Playoff game against Baltimore, and with Champ Bailey on the cusp of retirement, defensive backs will surely be John Elway's first priority come draft day.  Johnthan Banks was once considered a dark-horse top-10 pick after demonstrating unworldly ball-skills and dazzling footwork, coupled with elite size, early in the season.  Banks lacks elite speed and has been exposed lacking a willingness to make one-on-one tackles, causing his stock to tumble in recent months.
 
29. New England Patriots
      Jesse Williams, DT - Alabama

-Predicting for the Patriots is never easy - they never draft solely off of need and I feel that their sense of the "best player available" varies considerably from that of most of the league's execs.  That being said, Williams will be a good addition for a team that has chosen to focus on the defensive side of the ball recent in recent years.  At 6'4"/320lbs, Williams showed uncanny athleticism for a big guy, tossing aside blockers to flash a great burst of lateral movement and going on to record a 40-time low of 4.78 seconds at his Alabama Pro-Day.  Williams should start out as a rotational role-player, but could be the eventual successor to Vince Wilfork.
 
30. Chicago Bears *(from ATL)*
      Tyler Eifert, TE - Notre Dame

-Bears' fans will be screaming for a left-tackle, but I feel that new coach, Marc Trestman, will be eyeing a player who can open up the field and inflate the passing game.  Tyler Eifert is the clear-cut best tight end in the class of '13, relaying an extraordinary quickness and smooth route-running that will make him a mismatch for almost any linebacker at the next level.  Chicago might not want to risk the trade-down and take their guy in the 20th slot, but with their newly acquired assets I feel that this team will move back up if necessary.
 
31. San Francisco 49ers
      Margus Hunt, DT/DE - SMU

-When you talk about a player with a lot of raw potential, Hunt is the exact image that comes to mind.  Towering over the line at 6'8", Hunt is capable of dancing his way to the quarterback with ease, but his hand placement and leverage need a lot of work if he hopes to earn a starting spot in this league.  The recent departure of long-time nose-guard Isaac Sopoaga means the Niners are going to be doing some shuffling along the defensive front, and the Estonia native would be the perfect complement to Justin Smith at the opposite 3-4 end spot.
 
32. Baltimore Ravens
      Kevin Minter, ILB - LSU

-The veteran losses that the reigning champs have suffered don't hurt nearly as much from a talent perspective as they do the overall locker room atmosphere.  The Ravens will go from hero to zero if they can't perform an immediate restoration on the defensive side of the ball.  A healthy Lardarius Webb should help, but speed at the linebacker and safety positions now becomes a major issue, which Baltimore is going to have to look to this draft to address.


Adding a quick sideline-to-sideline linebacker like Kevin Minter is a good start, both from a talent and leadership standpoint.  Minter was the heart and soul of a Bayou Bengal defense that dragged a struggling offense through a rigorous SEC schedule to a Chick-fil-a Bowl bid.  Choosing Ray Lewis' predecessor while he was still a member of the team (along with the coordinators that originally built the defense) would have been the ideal game plan, but on the bright side, at least this coaching staff now officially has championship experience.

What do you think?
We'd love to hear your comments and/or opinions. If you submit them here, other visitors can read them, rate them and comment on them. An e-mail address is not required.