Miami's Big Three a Big One? James in a Rough Spot for Heat
LeBron James signed with the Miami Heat to be part of a "Big Three" with Dwyane Wade and Chris Bosh, with multiple titles in mind. In his second postseason with the club, Miami looks more like the Cleveland teams that James used to play on; a one man club with James trying to will the team to victory.
Unfortunately, for James, the end result was predictable.
The Heat managed to knot their Eastern Conference semifinal series at two games apiece with the Indiana Pacers, a team with no superstars, on Sunday. The Pacers are the epitome of "team" basketball and the antithesis of what Miami has constructed. Can the Heat survive the Pacers with James the only one firing on all cylinders?
The Bosh Injury
With Bosh, the Heat had a legitimate inside presence and were capable of holding their own on the boards. He provided a capable third scorer and prevented excessive defensive double teams on Wade and James. Unfortunately for the Heat, Bosh strained an abdominal muscle in Game One of the series and has not played again since. Without Bosh, the Heat is a completely different team.
Miami struggled in Game Two and Three, losing the rebounding battle by 10 in a three point defeat in Game Two and then by 16 in a 19 point blowout that put the Heat behind in the series. Roy Hibbert was extremely dominant in the low post for Indiana in Game Three, scoring 19 points while pulling down 18 rebounds and blocking five shots.
Bosh is expected to miss the remainder of the series. He rehabbed in south Florida rather than make the trip to Indiana for Games Three and Four and no timetable is set for his return.
Wade's Meltdown
While James did his best to try and will Miami to victory, he didn't get much help in Games Two or Three. That includes Wade, who saw his scoring taper from 29 points in Game One to 24 to 5 in the Game Three debacle. In the opening three games, Wade hit 18 of 58 field goal attempts, including a 2 for 13 performance in Game Three. His five points were the second lowest output in a playoff game in his career.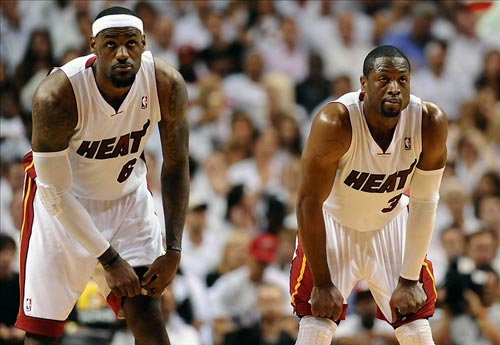 Miami Heat small forward LeBron James (6) and Dwyane Wade (3) during the second quarter of game 5 of the 2012 NBA eastern conference semi-finals against the Indiana Pacers at the American Airlines Arena. Photo Courtesy By: Steve Mitchell-US PRESSWIRE.
---
What made the outing worse was the flaring hostilities between Wade and Miami coach, Erik Spoelstra, on the bench. Wade snapped at Spoelstra, apparently not liking what the coach said. Several players intervened before the issue escalated but the discord was evident. Both sides downplayed the incident following the game.
Vanishing Supporting Cast
Miami signed players like Shane Battier, Mike Miller and Udonis Haslem to help take some of the pressure off James and Wade if one or both players were having an off night. That hasn't happened in this series. Battier was scoreless in Games One and Three with just five points in Game Two. Miller's line was not much better, with 2, 0 and 6 points. Haslem went 2, 4 and 0 in the first three games.
The only player off the bench that was much of a contributor was center Joel Anthony. He posted nine points and seven rebounds in Game One, no points and six rebounds in Game Two and 10 points with one rebound in Game Three.
Game Four
The Heat evened the series with a 101-93 win on Sunday in Indianapolis. James tallied 40 points, had a game high of 18 rebounds and nine assists. Wade shrugged off the doldrums that plagued him from the field in the first three games, hitting 13 of 23 shots en route to 30 points. The duo combined scored 70 of Miami's 101 points. No other Heat player scored more than eight points, other than Haslem, who had 14.
The supporting cast was again conspicuous in its absence: Battier was one for seven and finished with three points, while Miller had two. Dexter Pittman, who started in Game Three, never came off the bench. After trailing by eight at the half, Miami turned to James and Wade in the second half. The duo responded, outscoring and outrebounding the entire Pacers squad in the final 24 minutes.
Do you think the Heat has what it takes to win the series?
About the Author: When he's not watching sports, Porter Olson is a writer and blogger for UsDirect.
---
What do you think?

We'd love to hear your comments and/or opinions. If you submit them here, other visitors can read them, rate them and comment on them. An e-mail address is not required.
---
From Miami's Big Three a Big One to NBA Basketball Blog | Sports Blog | NFL Football Blog | NCAA Football Blog | NFL Football Archives | College Football Archives | MLB Baseball Blog | College Baseball Blog | MLB Baseball Archives | NCAA Basketball Blog | NBA Basketball Archives | NCAA Basketball Archives | Fantasy Football | Fantasy Basketball | Fantasy Baseball | Soccer Archives | Olympics Archives | Stupid Athletes Archives | Other Archives | Football Forum | Basketball Forum | Baseball Forum | NFL Football Store | NBA Basketball Store | MLB Baseball Store | NCAA Football Store | NCAA Basketball Store | NCAA Baseball Store | Fatheads | NFL Football Tickets | NBA Basketball Tickets | MLB Baseball Tickets | NCAA Football Tickets | NCAA Basketball Tickets | NCAA Baseball Tickets |
---
Home Page
About Us | Contact Us | Site Search | Advertise | Terms of Use |
---