LSU vs Alabama Preview
Let the countdown begin
LSU @ Alabama on Saturday to decide
who stays alive for a chance to play in New Orleans
I usually don't like to overhype a non-championship game (conference championship or BCS championship game) but I do feel this is the most important non- championship game since Michigan vs. Ohio State on November 18th, 2006. Like that game, this game features the number 1 ranked LSU Tigers and number 2 ranked Alabama Crimson Tide. Though there are still plenty of great matchups to still occur: (Stanford vs. Oregon on November 12th, Oklahoma vs. Oklahoma State on December 3rd, along with other conference championship games) this is the biggest game of the year (outside the national championship). With that said, I wanted to write a preview that would prepare people for the as CBS is calling it "The game of the century."
Breaking down the matchups:
Quarterback: AJ McCarron vs. Jarrett Lee/Jordan Jefferson. Alabama has a "care taker" in AJ McCarron who in his first year as a starting quarterback at Alabama has improved as the season has gone on. Prior to his last game against Tennessee, McCarron had a completion percentage of at least 70 in 4 of the previous five games and has had at least a 1:1 ration for touchdowns to interceptions since his second start. On the other hand, LSU has two quarterbacks in Jordan Jefferson and Jarrett Lee. Jefferson did not play in the first four games, and only had four carries in his first game against Kentucky. Jefferson gas only thrown 10 passes this year (6 of them completions for 123 yards for 2 touchdowns) but he also has a dangerous weapon with his feet rushing for 111 years in the four games. On the other hand, Jarrett Lee has started every game and is a pocket quarterback who has had a positive touchdown to interception ratio in every game but one (where he had a 1:1 ratio at Mississippi State).
EDGE: LSU. In many situations I don't like to give the edge to a team that switches off quarterbacks as that usually means that a team doesn't have a quarterback that they trust. In this instance, Lee has been effective and Jefferson brings a chance of pace, I feel it's a great compliment to LSU's offense and an attempt to complicate a great Alabama defense.
Running back: Spencer Ware/Michael Ford/Alfred Blue vs. Trent Richardson /Eddie Lacy. Spencer Ware was suspended for LSU's game against Auburn but might be available to play in the game against Alabama. If Ware (who has 512 yards rushing with 6 touchdowns) doesn't play, then fellow sophomores Michael Ford (441 yards rushing and 6 touchdowns) and Alfred Blue (252 yards rushing with 4 touchdowns) will start in his place. On the other hand, Alabama has Heisman hopeful Trent Richardson (989 yards rushing with 17 touchdowns) and sophomore backup Eddie Lacy (465 yards rushing with 5 touchdowns).
Edge: Alabama. The Crimson Tide running game has been very impressive this year and since Jim McElwain has been in charge of the Alabama offense, the Tide has been committed to the running game. If Spencer Ware plays for LSU, then the Tigers will close the gap with the running game edge.
Wide Receivers/Tight Ends: Ruben Randle/Odell Beckham/Deangelo Peterson vs. Marquis Maze/ Darius Hanks/Brad Smelley. The Tigers aren't a dominant passing offense, as they like to control the game on the ground (176 passing attempts to 352 rushing attempts). At the same time, Randle (33 receptions for 638 yards and 7 touchdowns) and Peterson (12 receptions for 137 yards) are upper classmen and prepared to play in a big game but also have a freshman with a lot of potential with Odell Beckham (27 receptions for 334 yards). As for Alabama, Maze, Hanks and Smelley are all seniors and like the LSU wide receivers and tight ends have played in big games (2010 National Championship game). The Crimson Tide also tends to rely on the running game much more than their passing game (228 passing attempts and 314 carries on the year).
Edge: Tie. Neither LSU nor Alabama has an impressive passing game and if one of these teams reaches the national championship game, it won't be because of their passing games. The Tide don't have a receiver that has caught more than two touchdowns on the year and the Tigers only have one wide receiver that has caught more than 2 touchdowns on the year. These teams tend to put up points on the ground and on defense.
Offensive Line: Will Blackwell/Chris Faulk/Bob Hebert/P.J. Lonergan/Alex Hurst vs. Barret Jones/Chance Warmack/William Vlachos/Anthony Steen/D.J. Fluker. As shown in the running statistics and limited amount of sacks that each team has had this season (LSU 7, Alabama 12), both of the lines have done a tremendous job so far. The Tigers are lead by Seniors Will Blackwell and Bob Hebert along with juniors Alex Hurst and P.J. Lonergan and sophomore Chris Faulk. The Tigers line has done a tremendous job this year paving the way for a solid running game. As for Alabama, they are lead by senior William Vlachos, along with juniors Barret Jones and Chance Warmack along with sophomores Anthony Steen and D.J. Fluker. Vlachos, Warmack, and Jones have a very good chance at starting on Sunday as soon as next year.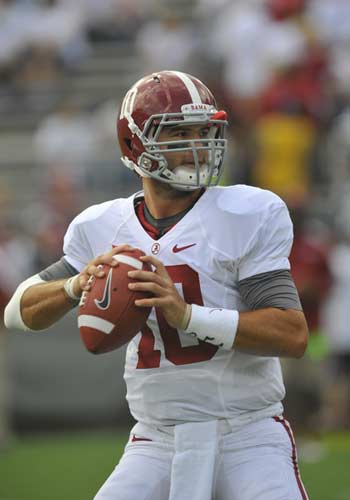 Alabama QB A.J. AJ McCarron (10). The Alabama Crimson Tide defeated the Penn State Nittany Lions 27-11 at Beaver Stadium in State College, PA.
---
Edge: Alabama. Like the other positions, this was a very difficult decision to make as both lines have been fantastic this year but I decided to give the slight edge to Alabama. This edge could have easily been considered a tie but I decided to give the edge to Alabama because their offensive line is a little more experienced than the Tigers line and the LSU offensive line has suffered a few injuries. With that said, I feel the LSU line is excellent and as good as any offensive line in college football.
Defensive Line: Kendrick Adams/Michael Brockers/Bennie Logan/Sam Montgomery vs. Damion Square/Jesse Williams/Josh Chapman. The Tigers are lead Sam Montgomery, who has 4 sacks and 7 tackles for a loss and Bennie Logan, who has 16 tackles, 5 tackles for a loss and 2 sacks from the interior lineman position. LSU has also received a great life from defensive end Barkevious Mingo who has added 19 tackles, 7 ½ tackles for a loss, and 4 sacks as well. The Tigers (who play a 4-3 defense) have received a tremendous lift from there defensive line this year. As Alabama, thy play a 3-4 scheme and have also received great pressure from the defensive line. The Crimson Tide only have 17 sacks this year but have done a great job at pressuring the opponents quarterbacks. The Tide's defensive line is lead by Jesse Williams who has 3 ½ tackles for loss and Josh Chapman with 2 ½ tackles for a loss.
Edge: LSU. Once again, the Alabama line is nothing to take lightly, but this more of a tribute to the dominance shown by the LSU defensive line so far. Also, in a 4-3 scheme, teams depend on the defensive line to get pressure and don't blitz as much, while in a 3-4 scheme you see the linebackers blitzing more and having more pressure on the opposing quarterbacks.
Linebackers: Stefoin Francois/Kevin Minter/Ryan Baker vs. Jerrell Harris/Courtney Upshaw/Dont'a Hightower/Nico Johnson. For LSU, they are lead by Ryan Baker who has 33 tackles, 2 tackles for a loss, and a ½ sack. They have also received some help from senior Stefoin Francois and sophomore Kevin Minter (30 tackles). This linebacker core has two seniors and has been solid for LSU all year. As for Alabama, they have one of, if not the best linebacker core in college football, lead by preseason all American Dont'a Hightower (48 tackles, 6 tackles for a loss. a sack ½, and a interception). Alabama also have another dominant linebacker in Courtney Upshaw who has 11 ½ tackles for a loss, 4 ½ sacks and an interception along with reliable linebackers Jerrell Harris and Nico Johnson.
Edge: Alabama. Like how the 4-3 scheme shows how dominant the defensive line can be (LSU) in the 3-4 defensive scheme (Alabama) has many different chances to excel and succeed in this defense. The Crimson Tide will eventually have many of these players playing in the NFL as soon as next year.
Secondary: Morris Claiborne/Brandon Taylor/Eric Reid/Tyrann Mathieu vs. Dre Kirkpatrick/DeQuan Mezie/Mark Barron/Robert Lester. The Tigers were without star cornerback Tyrann Mathieu last week, as he was suspended for the previous game against Auburn. In seven games, Mathieu has 42 tackles, 5 tackles for a loss, and 2 interceptions. The Tigers also have a great safety with senior Brandon Taylor who has 38 tackles and two interceptions on the season. Lastly, the Tigers also have another great cornerback with junior Morris Claiborne (with 30 tackles and 3 interceptions) and sophomore safety Eric Reid (43 tackles and a interception). As for Alabama, they have a tremendous secondary lead by all American Mark Barron who has 40 tackles and 3 ½ tackles for a loss. Barron might have been the preseason "All-American" but the others in the Alabama secondary are as good as Barron. Senior cornerback DeQuan Menzie has been all over the secondary this year with 2 ½ tackles for loss and a sack ½, while defending the number one receiver every week. As good as Menzie has been this year Dre Kirkpatrick has also been very good this year with two tackles for a loss and 19 tackles. Also, Robert Lester has been great in the Alabama secondary with 22 tackles and an interception from the safety position.
Edge: LSU. Like the offensive line debate, this was a debate that came down to the wire and was very close but in the end decided to choose LSU's secondary over Alabama's. This is on the condition of course that Mathieu plays in the game and isn't suspended as if he isn't suspended; we will see two of the best secondary's in the nation.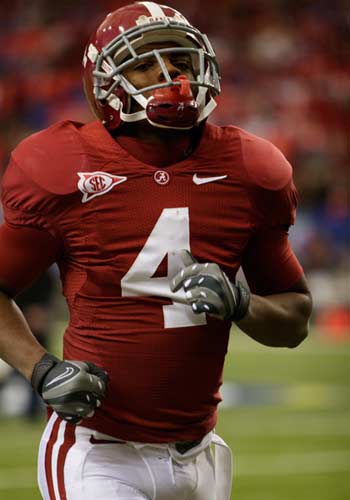 Alabama's Marquis Maze in Alabama Crimson Tide 32-13 victory over the Florida Gators in the SEC Championship at the Georgia Dome iin Atlanta GA.
---
Special Teams: Drew Alleman/Brad Wing/Morris Claiborne/Tyrann Mathieu vs. Cody Mandell/Cade Foster/Marquis Maze. Drew Alleman has been very effective this year as he has made 10 of 12 kicks and has only missed one field goal under 49 yards. Freshman Brad Wing has had 15 punts inside of the 20-yard line and 11 of his 31 punts have gone at least 50 yards or more. Lastly, Morris Claiborne already has a 99-yard touchdown this year and averages 29.5 yards per kick return, while Tyrann Mathieu averages 7.9 per runt return. As for Alabama, they have Cade Foster who has only attempted on three field goals and connected on only one so far (though it was 45 yards). As for the punting aspects for Alabama, Cody Mandell has punted 27 times and placed 7 inside of the 20-yard line with one reaching 50 yards or more. Lastly, Marquis Maze has been a effective punt and kick returner this year with a average of 13 yards per punt return (one going for a 83 yard touchdown) while also having a 29.8 kick return average at the same time.
Edge: LSU. You never know what Les Miles has up his sleeve on special teams, as he has been very creative on his special teams. To his credit, some of the moves have backfired, but many have been game changers and significant for previous LSU teams. On 4th down, don't ever be surprised by a Les Miles fake.
Head Coaches: Les Miles (98-38) vs. Nick Saban (138-53-1). This is a rare matchup to have two coaches face off who have won a national championship, let alone one who has won two BCS National Championships. The head to head matchup for the two coaches is tied at 2-2 with Miles winning the last matchup in Baton Rouge by a score of 24-21.
Edge: Saban. This is a great matchup between two elite head coaches in college football. At the same time, the reason I decided to give the edge to Nick Saban over Les Miles was some of the decision Miles has made in the past. Like I previously said, Les Miles has tremendous courage to make a decision that can change a game by 180 degrees. This at times can be at times a great thing, but at other times can lead to a disaster.
The Result
Predictions: LSU 20 Alabama 24. This game has all of the ingredients of becoming an instant classic: division rivals, incredible players, national championship coaches, and one other thing…oh that's right the inside track to making the national championship game. I feel that Trent Richardson should have a fine day on the ground while Spencer Ware getting back in the lineup should also rejuvenate him in the ground game. I feel both quarterbacks might struggle with these elite defenses and make a few poor decisions.
Read More:
---
What do you think?
We'd love to hear your comments and/or opinions. If you submit them here, other visitors can read them, rate them and comment on them. An e-mail address is not required.
---
From LSU vs Alabama Preview to NCAA Football Blog | Sports Blog | NFL Football Blog | NFL Football Archives | College Football Archives | MLB Baseball Blog | College Baseball Blog | MLB Baseball Archives | NBA Basketball Blog | NCAA Basketball Blog | NBA Basketball Archives | NCAA Basketball Archives | Fantasy Football | Fantasy Basketball | Fantasy Baseball | Soccer Archives | Olympics Archives | Stupid Athletes Archives | Other Archives | Football Forum | Basketball Forum | Baseball Forum | NFL Football Store | NBA Basketball Store | MLB Baseball Store | NCAA Football Store | NCAA Basketball Store | NCAA Baseball Store | Fatheads | NFL Football Tickets | NBA Basketball Tickets | MLB Baseball Tickets | NCAA Football Tickets | NCAA Basketball Tickets | NCAA Baseball Tickets |
---
Home Page
About Us | Contact Us | Site Search | Advertise | Terms of Use |
---