Los Angeles Lakers Recover After Mike Brown's Coaching Debacle
By Lorenzo Tanos
As I write this article, the Lakers have just lost to the San Antonio Spurs at home, 84-82, following a late three-point shot from Danny Green. No shame in that, actually. The Lakers did, after all, hold down the Spurs to 84 points. But that was with Bernie Bickerstaff still serving as interim head coach. In a few days, Mike D'Antoni will be debuting as the Lakers' new head coach for the 2012-13 season. Yes, the Mike D'Antoni of "seven seconds or less" fame or infamy, a man who isn't exactly associated with hard-nosed defensive teams. On a lighter note, ever notice that all these coaches involved in so-called "coaching carousels" share the same first name as arguably the greatest NBA player of all time? Mike Woodson replaced Mike D'Antoni in New York, now D'Antoni is replacing Mike Brown in L.A.
Now on to the serious stuff. I will admit that as a Lakers fan for 25 years and counting, I wanted to maintain my integrity and not look like a "homer" when grading Brown as Lakers coach back when I did those 2012-13 team previews. In all fairness, he can coach defense. And I personally like the Princeton offense when it's run by a good coach, say, Pete Carril or John Thompson (Jr. or III) in the NCAA, or Eddie Jordan in the NBA. But in retrospect, C+ for Mike Brown was too good a grade for the guy. Why, pray tell? Because he failed the Lakers and their fans in one crucial area, considering the talent level of the players they added. He couldn't get the new-look Lakers to jell. I wasn't panicking when the Lakers went 0-8 in preseason play because preseason games are mainly an opportunity to test rotations and see which young guys or new recruits would click. But when the Lakers went 1-4 on Brown's watch, something wasn't right. You don't add Dwight Howard and Steve Nash to a team with Kobe Bryant and Pau Gasol and go 1-4 right out of the gate. And take note, the bench, oftentimes an Achilles heel for the Lakers, was bolstered by some reliable hands, namely Antawn Jamison and Jodie Meeks. It wasn't the Lakers' poor defense per se. It did have something to do with those surprisingly bad losses to lesser squads such as the Utah Jazz and Portland Trailblazers, but that wasn't it. So what was it, really, that put Mike Brown's head on the figurative chopping block?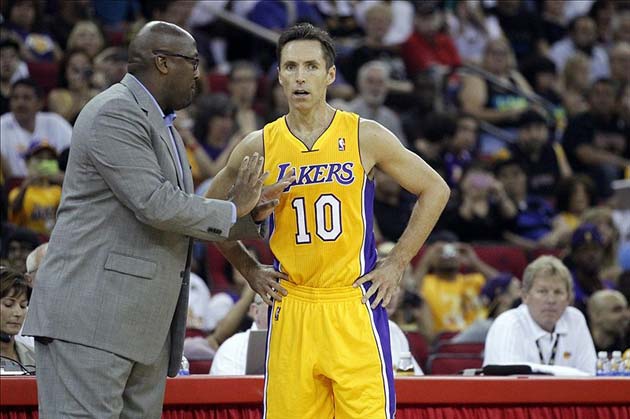 ---
Chemistry, or lack thereof. Most other coaches would have focused on making sure Howard and Nash clicked right away with their new teammates. They would have made sure Jamison and Meeks got their share of touches and minutes as top guns off the bench. Unfortunately, Brown didn't. He was way over his head and couldn't get his men to play as a cohesive unit. Heck, even the "too many cooks" JailBlazers with the fat and druggy Shawn Kemp, an over-the-hill Scottie Pippen and a host of other talented, yet troubled stars had better chemistry. Mike Brown had failed in that ever-so-crucial area of developing team chemistry with a lineup featuring four bona fide All-Star candidates and a one-time All-Star turned defensive stopper/role player/owner of the most out-there name this side of (the NFL WR formerly known as) Chad Ochocinco and God Shammgod (apparently, his real name).
I was never a big fan of D'Antoni as a coach. His Suns and Knicks were fun to watch, but at the end of the day, he couldn't get them to play defense. Still, I'm not lamenting the fact that the Lakers couldn't come to terms with Phil Jackson and had to "settle" with D'Antoni. I see him as someone who can make an effective pick-and-roll duo out of Howard and Nash. He won't be shy to use his bench, and he has the potential to get the star-studded Lakers on the same page, his failure to do so with the Melo and Amar'e-led Knicks notwithstanding. (His stint with the Suns was relatively trouble-free, after all.) And of course, a D'Antoni-coached team is always exciting – reiterating a point I made in another entry, I'm a man of extremes, I either like watching go-go-go basketball or defensive chess matches where neither team reaches 80 points. I'm still wary about his ability to instill defensive intensity, but I see D'Antoni being able to help the Lakers live up to their potential through better chemistry.
He's not the Zen Master, but nonetheless, I'd go with the new Mike on the Lakers' coaching staff rather than the old one.
---
What do you think?

We'd love to hear your comments and/or opinions. If you submit them here, other visitors can read them, rate them and comment on them. An e-mail address is not required.
---
From Los Angeles Lakers Recover After Mike Brown's Coaching Debacle to NBA Basketball Blog | Sports Blog | NFL Football Blog | NCAA Football Blog | NFL Football Archives | College Football Archives | MLB Baseball Blog | College Baseball Blog | MLB Baseball Archives | NCAA Basketball Blog | NBA Basketball Archives | NCAA Basketball Archives | Fantasy Football | Fantasy Basketball | Fantasy Baseball | Soccer Archives | Olympics Archives | Stupid Athletes Archives | Other Archives | Football Forum | Basketball Forum | Baseball Forum | NFL Football Store | NBA Basketball Store | MLB Baseball Store | NCAA Football Store | NCAA Basketball Store | NCAA Baseball Store | Fatheads | NFL Football Tickets | NBA Basketball Tickets | MLB Baseball Tickets | NCAA Football Tickets | NCAA Basketball Tickets | NCAA Baseball Tickets |
---
Home Page
About Us | Contact Us | Site Search | Advertise | Terms of Use |
---