Longest Basketball Losing Streaks
By Dennis Berry

Shock End 20 Game Losing Streak
Finally the Tulsa Shock can put it behind them.

After two months they were finally able to put one in the win column after beating the Los Angeles Sparks 77-75 in LA on Friday night. Sheryl Swoopes hit the game winning shot with two seconds left in the game. It was their first road win of the year; their other win came at home on June 18 against the Washington Mystics.
It has been a rough transition for the Shock since they left Detroit after the 2009 season. While they were in Detroit the Shock went to the WNBA Finals four times from 2003-2008. They made it to the finals three straight years: 2006, 2007, and 2008. The Shock won the WNBA Championship three times: 2003, 2006, and 2008.

Then in 2009 the Shock were bought and relocated to Tulsa. The move made sense for financial reasons. Even though the Shock had success in Detroit, they would never grab the cities attention. Not with the Tigers (MLB), Lions (NFL), Pistons (NBA), and Red Wings (NHL) in town. Moving to Tulsa meant that they would be the only professional franchisee in town. Times have been rough in Tulsa, though. Last year the Shock went 6-28. They were the only team in the league that did not reach double digit wins. Then this season they went 0-6 to start the year before finally winning their first game.

That of course was followed by the 20 game losing streak.

Of course this version of the Shock is not the same as what was in Detroit. Gone are coaches Bill Laimbeer and Rick Mahorn who would lead the Shock to their success in Detroit. Also gone are players Cheryl Ford and former Finals MVP Katie Smith. The Shock with General Manager Nolan Richardson have to try and rebuild.

The Shock can take comfort knowing they did not have the worst losing streak in pro basketball.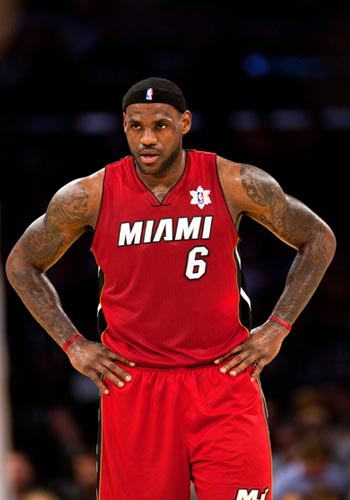 That honor belongs to the Cleveland Cavaliers. The Cavaliers lost 26 games in row. From December 18, 2010 to February 11, 2011 the Cavaliers could not win. It made the season even harder for the fans of Cleveland.

Of course the reason for Cleveland's record losing streak can be put on one person: LeBron James.

That might not be true, but many in Cleveland would probably go along with it. When James left Cleveland it left a huge hole in the Cavs lineup. He was everything for them. The offense was run through James. So it's not surprising that Cleveland struggled on the court.

There are so many different levels of basketball that there many different levels of losing streaks, as the list below will show.

Level
Team
Losing Streak
NBA
Cleveland Cavaliers
26
WNBA
Tulsa Shock
20
NCAA
Division I (M)
NJIT Highlanders
51
Division I (W)
LIU Blackbirds
58
Division II (M)
Olivet Comets
46
SW Minnesota St Mustangs
Division II (W)
Notre Dame de Namar Argonauts
70
Division III (M)
Caltech Beavers
310 (conference)
Division III (W)
Schreiner Mountaineers
83
Upon completion of this, I found out that the Shock now have a two game winning streak. They defeated the Connecticut Sun 83-72 at home Sunday afternoon.

So losing streaks come and go. They are a part of sports. Most of the time there is usually a team out there with one worse than yours...unless you are the Washington Generals.


What do you think?

We'd love to hear your comments and/or opinions. If you submit them here, other visitors can read them, rate them and comment on them. An e-mail address is not required.