Kentucky-Louisville Rivalry
By Dennis Berry

Exhibition Games Add More History (and Controversy) to Kentucky-Louisville Rivalry
Over the last few weeks, basketball has been the talk of Kentucky. While that is nothing out of the norm for the Bluegrass State, this is more than just the usual hoops debate between fans. This involves two teams that are not in the state but it has a strong connection to it.
This involves the Dominican Republic national team, coached by John Calipari and a group of former players from the University of Kentucky. It also involves two former coaches from Kentucky and Louisville. It even involves Louisville's home arena. More importantly, it involves the basketball-crazy fans of both schools.

While the Kentucky-Louisville rivalry gets plenty of attention nationally in basketball, the game is always showcased nationally, you don't usually hear about it unless the schools are playing in the "Battle for the Bluegrass" which Kentucky holds a 28-14 lead in the series.

So why, at the start of August is this rivalry making news, when we should all be getting ready for the start of college football and the NFL? It is interesting because the rivalry has found its way into an exhibition basketball game. That's right, a game that does not even count, excect in Kentucky.

It all started when Kentucky coach John Calipari accepted the head coaching job of the Dominican Republic national basketball team. The Dominican Republic has never qualified for the Olympics and with the success that Calipari has had over his career, the Dominican Republic reached out to him for help. He accepted and now the team is preparing for the FIBA Americas Tournament in Lexington, Ky.

That is not really what renewed the fans' rivalry. That would happen later on, but first a little background.

At the end of July when it was announced that the Dominican Republic would be taking on a group of former Kentucky players in an exhibition game at Rupp Arena. A team with John Wall, Rajon Rondo, Demarcus Cousins, and Tayshaun Prince other former Wildcat players would go against the Dominican Republic. To go along with that, former Kentucky coach Joe B. Hall would coach the team.

Or so everyone thought. Following the announcement, it became unclear whether Hall would coach the team. Kentucky could have no involvement in this game, so it us unknown if Hall could coach the team of former Kentucky players. Once news broke that Hall would not coach the team, Kentucky fans took to the internet in a "Free Joe B" campaign, similar to the "Free Enes" campaign for former student Enes Kanter.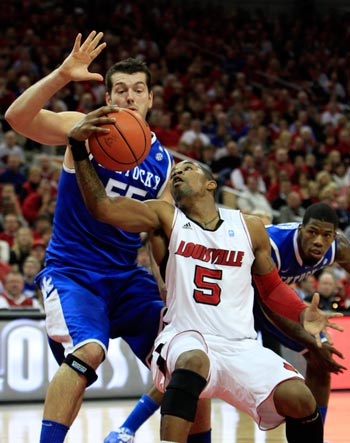 The NCAA had to release a statement about the situation:
"Public speculation, fueled by inaccurate media reporting, incorrectly assumed the NCAA denied former Kentucky coach Joe B. Hall the opportunity to coach in an exhibition game against the Dominican Republic. In reality, the University of Kentucky withdrew its involvement and association with this event due to a conflict with member mandated NCAA bylaws. These bylaws prohibit member schools from participating in events that pay former players and raise funds to benefit teams that include prospective student-athletes."

So Hall would not be able to coach the group of former Wildcat players after all. Calipari did the next best thing, he had Hall join his Dominican Republic team staff. So with Hall once again involved in the game, Kentucky fans seemed content.

Then the game crossed into the Kentucky/Louisville rivalry when it was announced that a second exhibition game would be played. This game would be played in Louisville and it would happen at the new KFC YUM! Center. This announcement was not taken too well by some Cardinal faithful. When you look at their response on some message boards, you see the dislike.

On Louisville's Scout.com message board, Inside the Ville, Louisville fans voiced their displeasure. One post by the user "CardinalNine" may have summed it up best for Louisville fans.

"If this is true, what b***** that would be."

Another user "cards76" try to spin it another way.

"Cal or UK players should never get to be the headliner in the YUM CENTER. Going there would be like dating a person who cheated on you. It would be damaged goods. Someone needs to put a stop to that thought."

Over on Louisville's Rivals.com website, Cardinalsports.com, there was a more sensible talk about the event. Still Louisville fans thought about what could happen.  A user on the site "J-Rye_UL" thought about what Kentucky fans may do.

"I can only imagine how many UK logos will be carved into the seats ..."

Louisville coach Rick Pitino said he had no problem with the exhibition game taking place at the YUM! Center.

"That's a public facility, it's our homecourt during the season, but obviously anybody can go in there," Pitino said. "Lady Gaga can go in there, or the Dominican team can go in there."

Then the next bombshell was dropped on Louisville fans. It came in the form of the announcement that Hall of Famer and former Louisville coach Denny Crum would coach the group of former Kentucky players. Drum and Hall have a radio show "The Joe B and Denny Show" and that is where Crum first said he would be happy to coach. The official announcement came on August 3.

Again Louisville took to the boards. Once again on a Louisville message board the user "pressureD" voiced his displeasure with the announcement of Crum's involvement.

"Denny already said on his radio show that he'd be happy to coach them if his schedule allowed... disgusting if you ask me." User "CardinalPride1985" said that he will lose respect for the coach that lead Louisville to two national titles and built Louisville into a major player in college basketball. "Only that's exactly what it is. Cisco and Sosa are Dominican natives so they have no choice. If Crum participates I will lose all respect for him. This IS a UK only event and the inclusion of UL alums is just a slap in the face."

The Cardinal faithful took another hit just a few days before the exhibition games took place. At a Dominican Republic practice reporters talked to former Louisville players and now Dominican Republic Edgar Sosa and Francisco Garcia about practicing in Lexington and playing for Coach Calipari.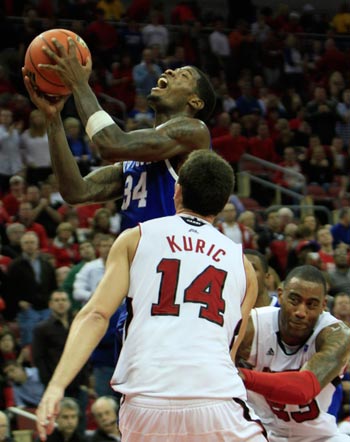 Both players knew that their statements may rub Louisville fans the wrong way.

"At this point in my life, I no longer go to Louisville," Sosa said Friday. "I'm always going to be a Cardinal, but right now, I'm playing for the Dominican National Team, I'm no longer playing for Louisville. And I'm not going to lie: I love playing for Coach Cal. He's given me a lot of opportunity and a lot of freedom to show my game, and I'm excited."

"I've got a very good relationship with Coach (Rick) Pitino," Garcia said. "The truth is the truth. I don't think (U of L fans) would be mad at me or anything like that. I'm not at Louisville anymore. I love Louisville and my times there were great. A great three years, and I will always remember those times. Right now, I'm playing for my national team, and Coach Cal's doing a pretty good job."

The whole time Kentucky fans have been enjoying the comments of Louisville fans. This is just added fuel to a rivalry that has been going on for a long time, but the game between the two has only been continuous since the 1980's.

Louisville owned the 1980's. Louisville's win in the 1983 Elite Eight was the first meeting between the two since 1959. Louisville won two NCAA titles in the 80's and the Kentucky scandal that put them on probation gave Cardinal fans a lot to brag about.

The 1990's belonged to Kentucky. With Rick Pitino and Kentucky off probation, it was not long until Kentucky had bragging rights again. With a 7-3 record against Louisville with four Final Fours and two national titles, Kentucky fans ruled the Bluegrass.

Then in early 2000's Louisville had plenty to brag about when Louisville hired Rick Pitino to coach after he left the Celtics. Although Kentucky was 6-4 against Louisville from 2000-2009, Louisville had Pitino and went to a Final Four.

Now with John Calipari, the rivalry appears ready to reach a new level. Kentucky is once again on top, winning the last two against Louisville and reaching the Final Four this past season. The series of exhibition games is just another way that Kentucky fans can gloat over their rivals in Louisville.

After these games, we have to wait until New Years Eve 2011 for the next series in the "Battle for the Bluegrass." Louisville fans will hope their team will be able to give them something to brag about again against Kentucky fans.


What do you think?
We'd love to hear your comments and/or opinions. If you submit them here, other visitors can read them, rate them and comment on them. An e-mail address is not required.