Kentucky - Indiana Rivalry Put on Hold
By Dennis Berry

This past week one of the best nonconference rivalries in college basketball was put on ice. The Indiana-Kentucky basketball series will not be played next season for the first time since 1969 – unless they meet in the NCAA Tournament.
It was announced on Wednesday afternoon that the two schools will not meet on the hardwood next year during the regular season. The two schools could not come to an agreement on where the games would be played. Indiana wanted to keep playing the games on campus in Bloomington and Lexington. Kentucky wanted to move it to neutral sites in Indianapolis and Louisville.

College basketball fans across the country should be upset that this rivalry is being put on hold. Not just because it is one of the best rivalries in college basketball, either. They should be upset because it was just starting to get good again.

This year was one of the best years in the history of the two schools. This was after the series has been down. The 2000s were not kind to both schools. They both had down points. Kentucky had two years under Billy Gillispie that most fans want to forget. Indiana was forced to rebuild their program after violations under former coach Kelvin Sampson.

Kentucky dominated the series going 9-2 against Indiana from 2000 to 2010.

This past season reminded everyone just how good this series could be. There was the classic game in December. That was when a number one ranked Kentucky team came to Bloomington. It was the first true road game for the young Wildcats. The Hoosiers played perhaps their best game of the year. They won 73-72 on a buzzer beating three point shot from Christian Watford that sent Assembly Hall into madness.

Kentucky would have their revenge, though. It would happen during the the Sweet 16 in Atlanta. In what was one of the best NCAA Tournament games in 2012.The Wildcats defeated the Hoosiers 102-90. Indiana tried to make it a fast paced game and Kentucky was ready for the challenge. The Wildcats had too many weapons and the Hoosiers, while they played well, looked like a team that had not been in that type of atmosphere before.

Kentucky fans can always point to that win as part of their team's march to the school's eighth national championship.

Then last week it was announced that the two schools will not play each other next year. At this time it is unknown when the schools will play each other. The rivalry is on hold due to what appears to be differences where the game should be played.

Indiana wants to play the games on campus. The majority of the games played in this rivalry have been played in the two schools arenas – Assembly Hall and Rupp Arena. The Hoosiers believe that is where they should be played. A rivalry like this should be played where the home teams has a distinct advantage.

Kentucky wants to play the game in neutral sites, presumably in Louisville and Indianapolis. This is how the rivalry was played from the late 80's to 2005. Originally it was part of the Big Four Classic that involved a match up of Kentucky, Indiana, Louisville, and Notre Dame. It stayed that way after that series was ended.

You can see the reasoning behind both sides.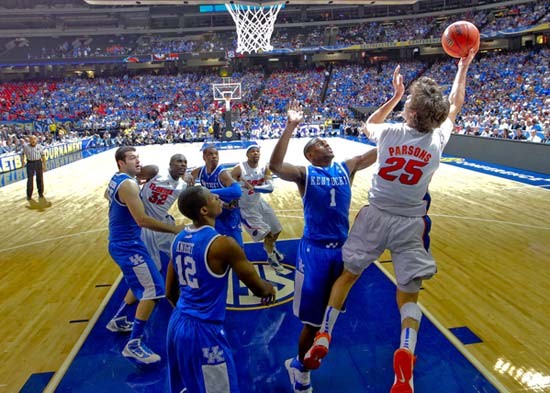 Kentucky wants to play at neutral sites because it will prepare them for a Sweet 16/Elite 8 atmosphere in the NCAA Tournament. Under John Calipari the Wildcats will probably always have a mix of young star players. So it makes sense for Calipari to schedule games like this to prepare young players for what March will be like.

Indiana wants to play home at home because it gives them a better shot at winning. The Hoosiers are back to being able to recruit top players, but they will probably not bring in the talent like Kentucky does, which has had the last four number one recruiting classes under Calipari. Indiana realizes that if it has a home game every other year that will give them a better shot at winning against a young, inexperienced road team that Kentucky will have most years.

Perhaps another reason for the rivalry being put on hold is friendship. It is no secret that Tom Crean and John Calipari are good friends. It has to be hard on a friendship when you coach at two schools that have a rivalry as heated as the Hoosiers and Wildcats. Putting the rivalry on hold means that they do not have to play against each other.

For now we have to wait for this great rivalry to resume. It will be put on hold with Kentucky leading the series 32-24. Hopefully in the future the series will return. Perhaps they can come up with a plan to play two games at home and two at neutral sites in a four year window.

Hopefully the two schools will be able to work out a plan, because Indiana and Kentucky should play against each other every basketball season.


What do you think?
We'd love to hear your comments and/or opinions. If you submit them here, other visitors can read them, rate them and comment on them. An e-mail address is not required.