Kentucky and Vanderbilt Players Go Opposite Way on NBA Draft
By Dennis Berry

Wednesday was a day for NBA Draft news for the Kentucky Wildcats and the Vanderbilt Commodores. One team found out that three key players will be returning for the 2011-2012 season. The other announced that three of its key players are going to "test the waters" by declaring themselves eligible for the draft.
In case you needed to be told which school goes with the news; Vanderbilt will have players returning, Kentucky may not.

For Vanderbilt, next season looks better after the trio of Festus Ezeli, John Jenkins, and Jeffery Taylor announced they will be back in Nashville next season. They were the three top scorers on a Vanderbilt team that went 23-11 and made the NCAA Tournament. The trio accounted for 47 points a game for Vanderbilt last season.

Jenkins and Taylor are one of the best duos in the SEC. Jenkins was the SEC scoring leader at 19.5 points a game. Taylor was 12 in the conference at 14.7 points a game. Ezeli was the third leading scoring on the team, averaging 13 points a game. He also added a low post presence averaging 6.3 rebounds and 2.6 blocks, while shooting 59% from the floor.

The returning trio will be joined by the SEC assists per game leader in Brad Tinsley , Lance Goulbourne, Steve Tchiengang, Rod Odom, and Kyle Fuller. All who played in 34 games last season and who averaged at least 14 minutes a game. The Commodores will be one of the most experienced teams in the SEC next season.

Vanderbilt will hope that the return of their three top players and a solid recruiting class can help make the Commodores one of the favorites in the SEC. While the talent will be there for Vanderbilt, this team still has yet to prove that. This is a team that has not been out of the first round of the NCAA Tournament since 2007. A streak they hope to break next year.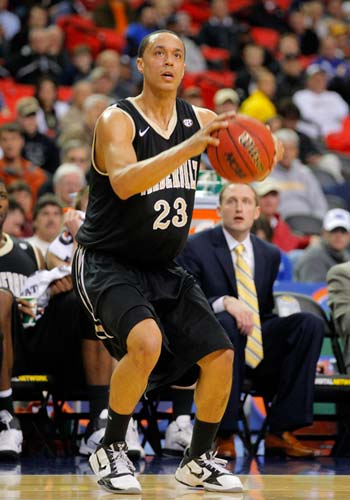 For Kentucky, freshmen Brandon Knight, Terrence Jones, and Junior DeAndre Liggins all declared for the NBA Draft. They also stated, however, that they will not sign with an agent which allows them to be able to return to school if they do not feel good about their draft status. They will have until May 8 to pull out of the draft.

Right now it appears that they want to get evaluated by scouts and see where they fall in line with the draft. Each of the Wildcats' trio seemed to be on different levels in the draft.

Knight appears to be a Top 10 pick. His NBA stock rose with the Wildcats run in the NCAA Tournament. He hit game winning shots against Princeton and Ohio State. He shot the ball extremely well and showed he could lead an offense in clutch situations.

Jones was seen as a Top Five pick early in the season, but struggled somewhat in the second half of the season. While he was a factor in the Wildcats Final Four run, he was not the scorer and play maker he was early in the season. He has since fallen somewhere to 10-15 on some mock drafts.

Liggins is the most interesting case. He has a NBA body at 6'6" and is known as a lock down defense player. He is not known as a big time scorer, but his shooting percentage and offensive game did improve this past season. It still might be considered limited by scouts. He is at best a second round pick, but perhaps could play his way into a late first round selection.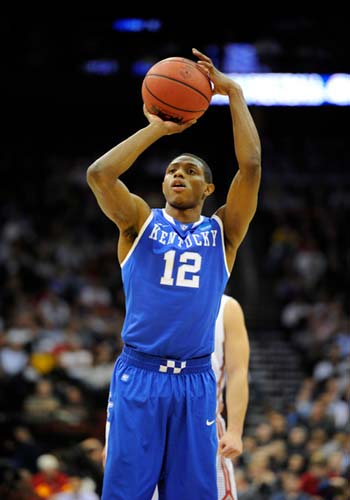 This is an tough year for the NBA Draft with a lockout that appears will happen this summer when the collective bargaining agreement expires. Many of the top names, like Ohio State's Jared Sullinger, Baylor's Perry Jones, and North Carolina's Harrison Barnes all announcing they will return to school next season.

The three will see what scouts tell them. The only one that seems a lock to leave at this time is Knight. His stock cannot get much higher than it is at this time. With Jones and Liggins, they may simply being going to see what they need to improve in their game in order to get drafted higher.

If Liggins can improve his shot more and prove that he is a scoring threat at all times, he can move into a late first round pick. For Jones, he probably needs to show that he is not so dependent on his left hand, which is his shooting hand. In the post last season, Jones was not always comfortable using his right hand. If he does that and shows he can play with greater intensity on the floor, he could rise to a top five pick next season.

It would be surprising to see all three leave. It would be surprising to see all three return. Kentucky fans are getting used to this and are prepared with another top ranked recruiting class coming into Lexington next season. That class, which is being talked about as one of the best in history, will be enough to once again make the Wildcats a contender for the SEC and NCAA Titles. Although most Kentucky fans would like to see all three players return to Kentucky and make the Wildcats one of the favorites to win the NCAA Championship.

So as Kentucky fans wait to see how the next couple of weeks will affect their team, Vanderbilt fans already know what they have next season.

What do you think?

We'd love to hear your comments and/or opinions. If you submit them here, other visitors can read them, rate them and comment on them. An e-mail address is not required.